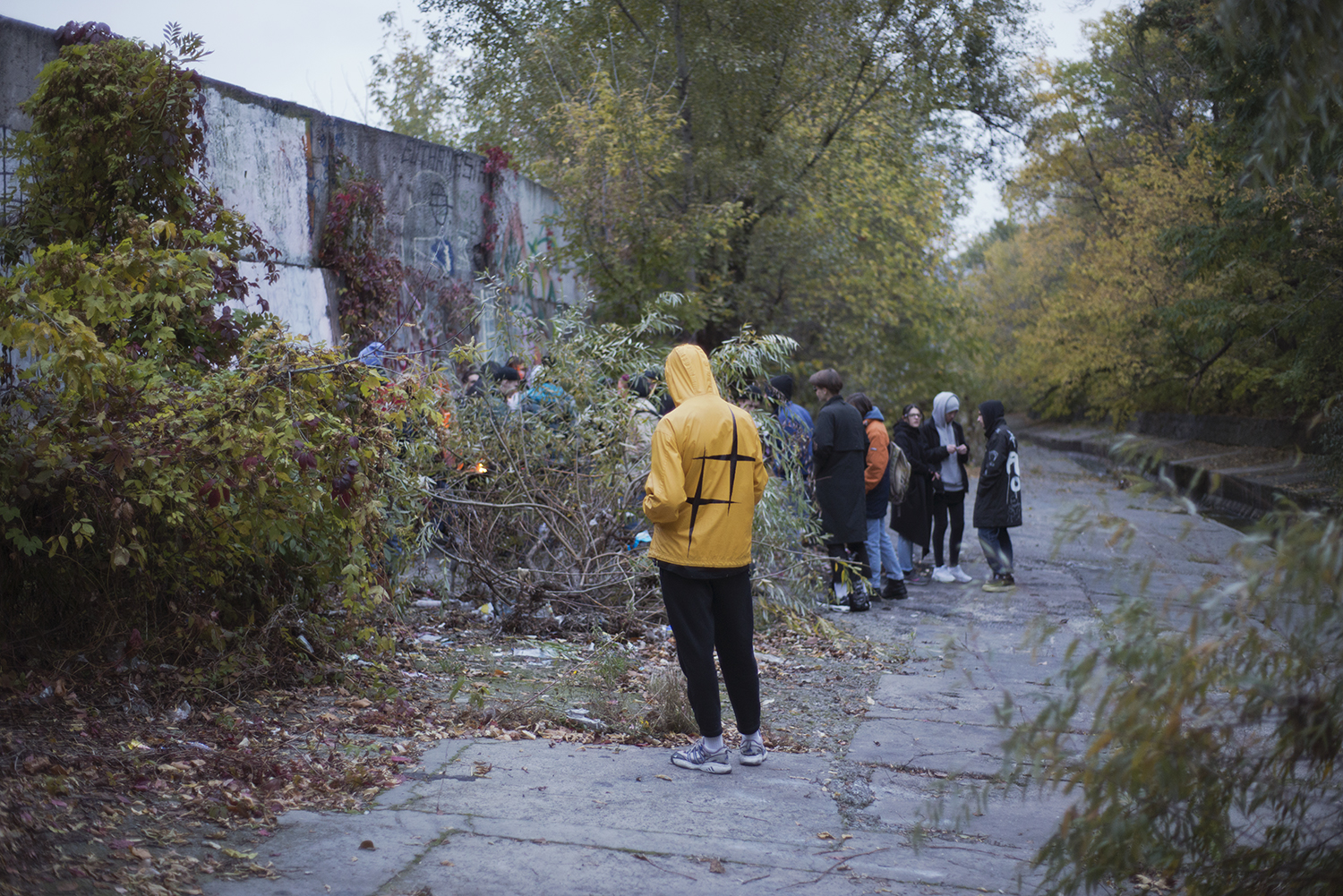 What people do at night—how they party, where they party, what they wear, what they listen to—can reveal so much more about a city and those who live there than any data set. Nightlife is about escapism, and what could be more revelatory about a place than how people look to leave behind its realities?
A series of photographs, originally due to be on show at Liverpool's Open Eye Gallery in an exhibition titled The Time We Call Our Own, showcases images from various personal projects shot across the world. It uses nightlife as a portal to "learn new ways of being together, and perhaps find a shared language of escapism that we can use to combat the toe-tapping waking hours of everyday life."
Each of the projects on show are shot in very different places and span four decades, but they each offer a distinct sense of place—both geographic and temporal. The curators explain that they are seeking to "investigate notions of visibility, champion these tightly-knit scenes and allow us to witness the ever-enduring regions of society that counteract the norm."
While most of the images were shot since 2000, one of the highlights of the show is an older series, in which Yorkshire-based photographer Amelia Lonsdale presents a selection of photographs taken in the 1980s by her New Romantic mother and her mother's then-boyfriend. The Dandyish pair made most of their outfits themselves, and photographed each other before they went out: the resulting images are an adorable snapshot of a moment in time, their poses studiously intense, barnets lacquered so hard you can almost smell the hairspray from the images alone.
Untitled, DISKO Series, Pabradė, Lithuania 2001. Andrew Miksys.
Another standout is from a place we hardly ever, if at all, see documented through its youth culture. Photographer Andrew Miksys' Disko series, shot at Lithuanian village discos throughout the 2000s, showcases a place and a generation in a strange state of flux and confusion—one foot in its Soviet past, one decked out in Western fashions that feel oddly ill-at-ease with the parties' settings in former soviet offices, prisons and municipal facilities.
"The Friday or Saturday night disco was one of the few places in most villages where people could go to feel modern and get a little crazy"
"Lithuania changed a lot during the 2000s," says Miskys. "It went from being a former Soviet republic to an EU member state. Culturally, the shift was quite dramatic. The future was filled with possibility, but the past weighed heavily on everything. The Friday or Saturday night disco was one of the few places in most villages where people could go to feel modern and get a little crazy." The photographer has said that during his time shooting these parties, he'd sometimes rummage in the venues' backrooms—finding discarded paintings of Lenin, gas marks and other jarring relics of the country's very recent Soviet Union rule.
The shonky, somewhat DIY vibe of such parties—and a sense of trying to wring a semblance of nocturnal freedom from political and sociocultural wreckage—is reflected in Mirjam Wirz' series of photographs. He documents the "sonidos" of Latin America—mobile parties in the shape of gatherings around hastily assembled mobile sound systems. He captured these Cumbia-soundtracked parties across Mexico and Colombia, situated in unlikely venues such as streets, courtyards and even people's living rooms. The parties speak not only of a glorious showcase of a defiant, making-shit-happen spiritedness, but also of a sense of community.  
While going out clubbing might seem a distant memory for people across the world, these images vividly bring to life the ways in which people make the best of their surroundings. They capture how vital music, community and hedonism can be when it comes to countering the drudgeries of life, and how they can offer a form of escape. For now, though, we'll have to make do with Zoom.