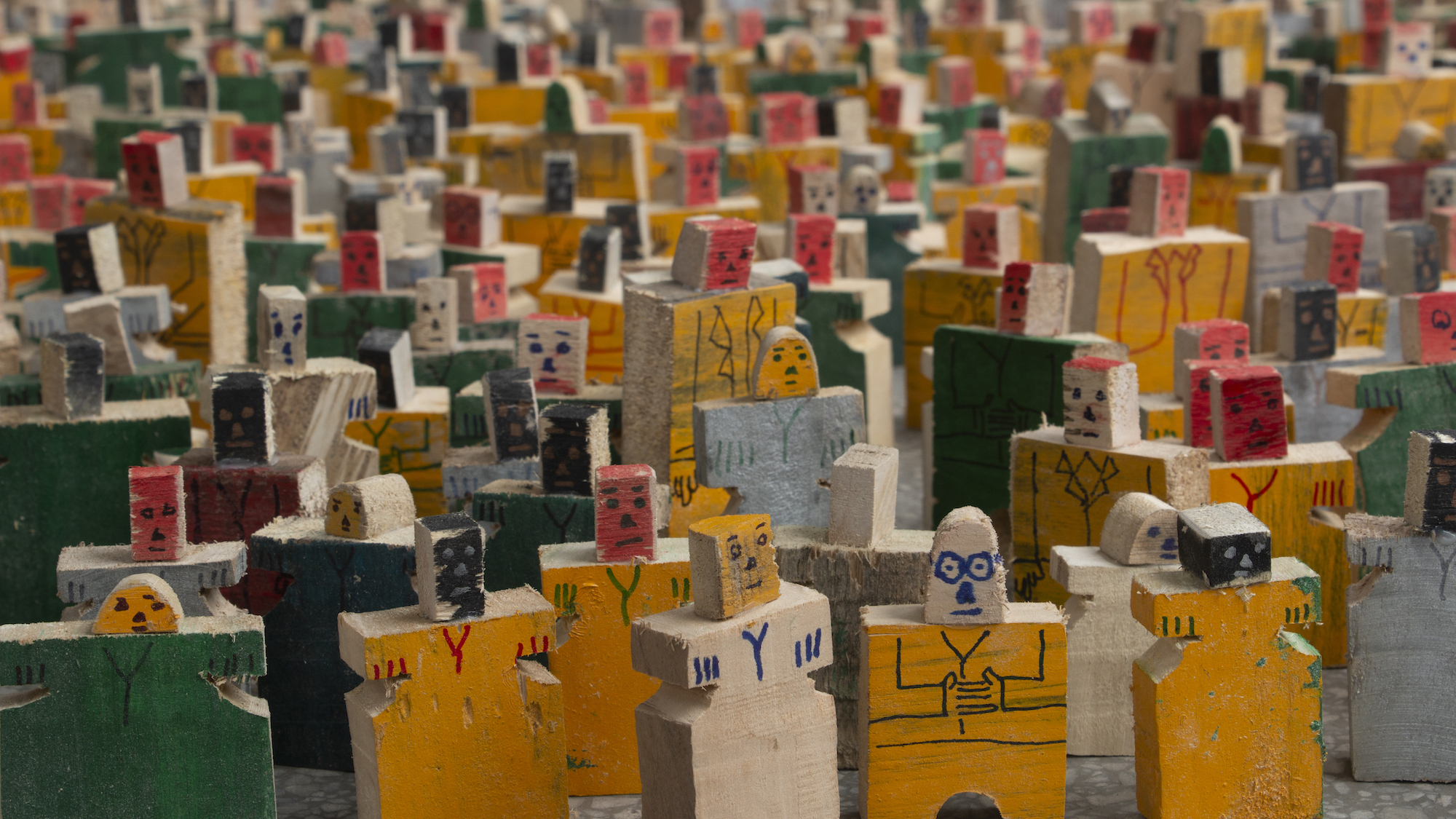 What treasures can be found in the streets of cities around the world? From discarded wood to scrap metal, an artist only has to look around to find the basis for potential new works. Forgotten materials like these sit at the heart of Abdulrazaq Awofeso's sculptural practice. Working between Lagos, South Africa and Europe, the Nigerian artist makes use of materials that tell a story not only of their local environment but of unseen power dynamics that span the globe.
In his new exhibition at Ikon Gallery in Birmingham, Awofeso reuses wooden pallet boxes to create sculptural figures that fill the gallery with their collective presence. Once used to transport goods around the world, from fruit and vegetables to clothing and electronics, these wooden boxes have been reshaped as totemic figures with their own characters and personalities. From a bespectacled figure in a pale pink coat to a smiling woman with flowing hair, they assume assembled traits and details drawn from his travels, while still remaining ambiguous in their exact cultural origins.
A reflection on the international migration of people, as well as on the corruption and exploitation that can arise from this, Awofeso raises questions about who is able to travel and why, and what it means to arrive anew in a foreign land.
If you could save only one item from your studio, what would it be?
My angle grinder. It's hybrid so you can use it for multiple purposes by changing the top, from sanding to grinding iron. You can cut metals, wood, granite, sculpt, mark surfaces and a whole lot more.
What was the last art material you bought to use in your work?
Two 10-litre paint cans. These two are in addition to the others I already have although smaller in size. As my work progresses and the need arises, I acquire and seek what is necessary. I've previously been using enamel paints from Lagos, and I have found the switch to water-based paint here interesting.
What is your go-to song when you're working in the studio?
I don't have any particular go-to song. Unlike most artists I know, who tend to listen to slow, jazz, classical, melancholic songs whilst working, I gyrate with fast-paced music like Afrobeats and Afropop from a new generation of contemporary musicians. I like to gyrate and those songs do it for me. At times I pause work and dance to my favourite lines. I work and dance. I can't just keep calm once my favourite songs come on, I must either dance, sing along or just be a bit dramatic at least.