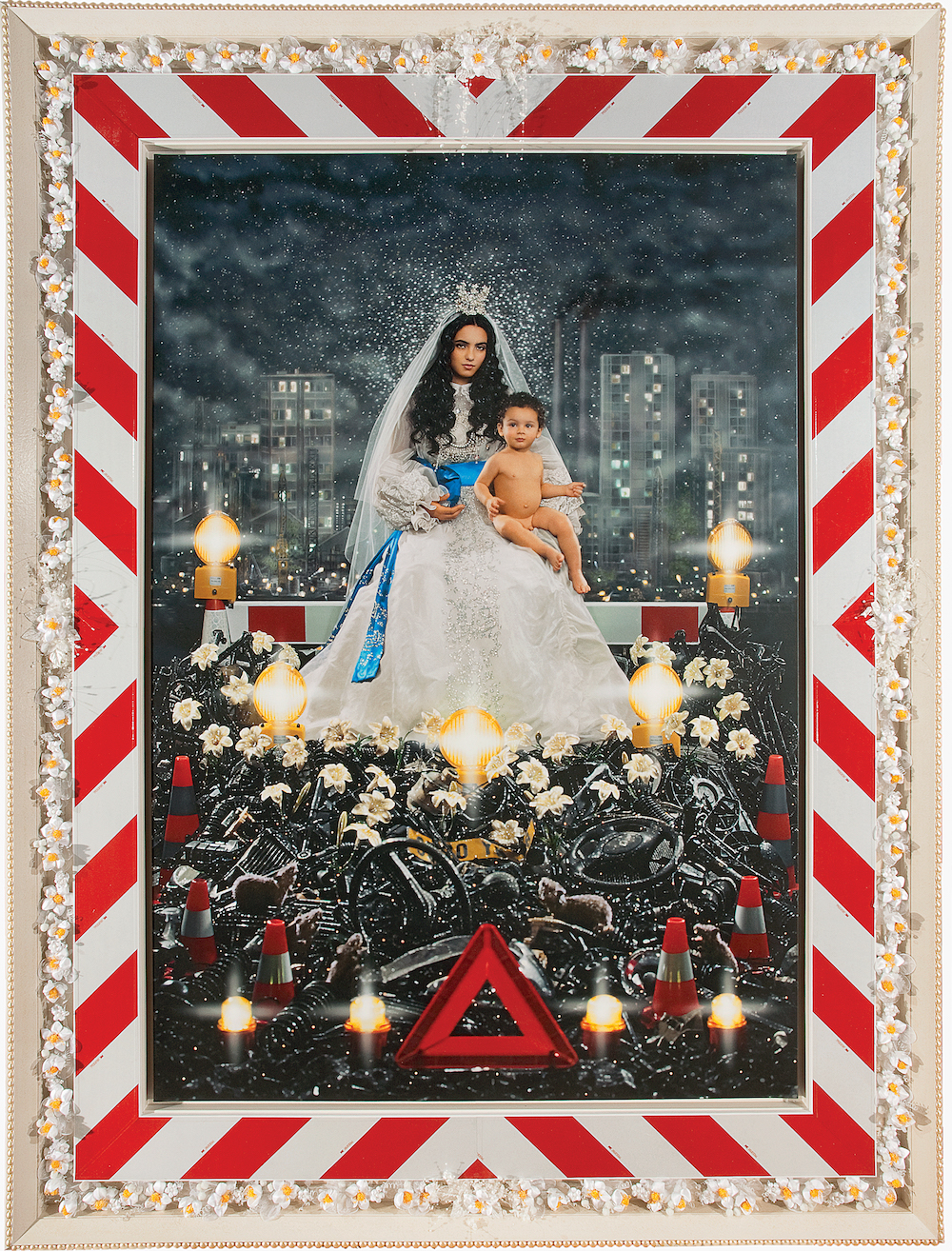 Set sail for Le Havre! This year is the Norman harbour's 500-year anniversary and, as part of the celebration, Pierre et Gilles will have their fourth retrospective. It's a suitable location as the sea is an important factor for the pair—maritime stripes make many appearances, alongside jaunty sailor hats, and the sea itself, glittering and disco ball-like even in shipwreck mode, as in the pair's Dans le port du Havre. 
It was love at first sight for the real-life partners, who met at a party thrown by blossom-obsessed designer Kenzo in 1974. A year later they were already moving in together, dropping anchor in Le Pré-Saint-Gervais, where they still live and work jointly. The romance, perhaps, spills out into the work also, and even in the more revolting moments (think, the shiny coiled poo in Le Petit Matelot) there is a sumptuous and joyful quality that underlines it all—contemporary Baroque at its finest.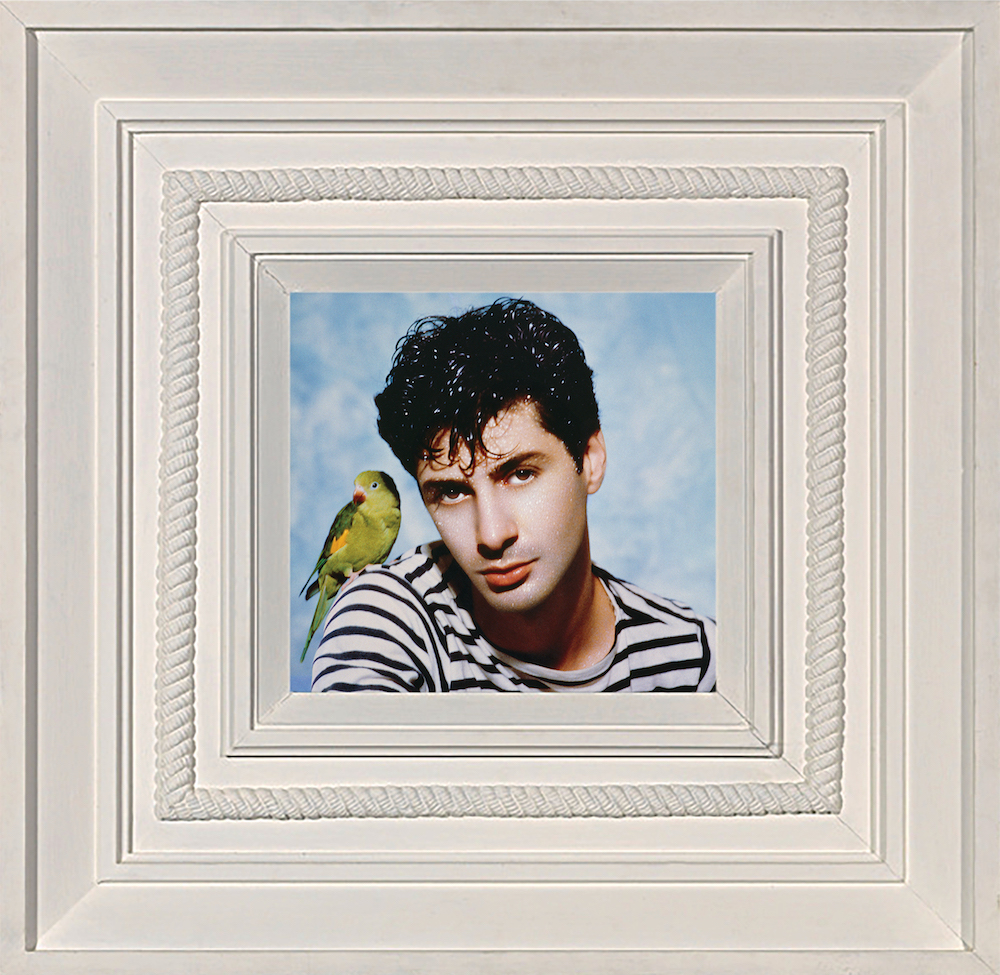 All their models, famous and anonymous, have made a stopover at the duo's underground studio (even if they have to take the goods elevator to get there instead of the classic spiral staircase—case in point, Catherine Deneuve and the white gigantic dress she w0re for La Reine Blanche in 1991). Once their subjects are immersed in their home, Pierre et Gilles start working their magic. The former takes pictures, while the latter hand paints them up—there is strictly no Photoshop allowed on their images. 
Of the many commissions they have completed over the years—Gilles would say 1,000; Pierre, half that—there is always a similar treatment of their sitters, who are magnified, and enhanced physically, without losing their individual spark or personality. All have wrinkle-free skin, ethereal figures, and candy-coloured backgrounds. Gilles spends days, sometimes weeks, on Pierre's shots, polishing away every apparent flaw. The result is mesmerizing. They design their intricate sets together, with accessories (paper flowers, plastic toys, teddy bears…) from their personal treasure chests hung to tulle walls. The more layers, the blurrier and dreamier the landscape. 
Their rainbow-tainted works are often deemed superficial and kitsch. This is precisely the ill-fitting presumption that the show's commissioner Sophie Dupleix wanted to debunk, within the framework of Le Havre's 500-year anniversary.
"There is more to their work than bubbly portraits. Some prove to be more complex than they seem," she says, inviting us to take a walk on the wild and dark side of Pierre et Gilles. The MuMa's retrospective consists of three parts. Opposite the Norman beach cabins, which Pierre and Gilles decorated especially for the show, are canvases they picked out from the museum's impressionist collections, followed by thematic rooms tracing back their life and career together as an emblematic duo.
You have been living and working together for over forty years. Which pieces are you most proud of?
Gilles: We love them all equally, as we would our children. There is a different story behind each and every one of them. Take Adam et Eve (1981). It is our first truly religious subject. It was first commissioned and then rejected by the Figaro, before ending up on Actuel's front page. Dans le port du Havre marks a shift toward darker themes and colours in our work. 
Pierre: I would have to say Étienne Daho's album cover from 1984 because it contributed to our fame. 
The story of how Michael Jackson asked you to portray him until he realized you had immortalized Madonna first is famous. How would you have captured the King of Pop?
Gilles: As a king or Krishna, because Indian gods seem androgynous and unreal.
Pierre: And this is only one option among many others…
Do you always go with the flow or, on the contrary, tend to keep your models on their toes? 
Gilles: Our designs are tailor-made, as in fashion. We are usually friends with our models. Otherwise, we get to know them progressively, through conversations or work sessions. We are open to suggestions but it does not mean that we take them all into account. As a movie director chooses the perfect actor for his role, we seek the perfect role for our actors. 
What is your definition of the word Kitsch?
Gilles: It depends on the country you are in. The word has unfortunately lost all its meaning.
Pierre: Kitsch is for people who do not want to see what there is to be seen. 
The second part of the exhibition consists of canvases you have selected from the museum's collections. How did you pick them?
Gilles: I have frequented most of them since I was a child. 
True. Gilles, you were born here in Le Havre. What kind of relationship have you both developed with the city? What is your main stopover when you get here?
Pierre et Gilles (in chorus): Le Bout du Monde [a secluded pebble beach]!
Pierre: We come here three or four times a year, for Christmas, the summer, on the weekend. We like to stroll about. Le Havre is a rather quiet city. 
Gilles: With the 500-year celebrations, it might be a different story though…
Pierre, you photograph the models. Gilles, you paint over and enhance the images taken by Pierre. Have you ever exchanged roles? For the sake of rocking the boat a little?
Pierre: Never. I sometimes sketch for myself but that is it. To each, his own task. 
Why call your dog (an adorable 12-year-old Jack Russel Terrier, which always appears either in their arms or in tow) Toto? 
Pierre: Our previous Terrier was Lili. And before her, we had a parrot called Bibic. I guess we like names made of two identical syllables. 
Which fits you to a T! Toto conveys the idea of symmetry and balance, two ideas which have kept your collaboration afloat for so many years…
Gilles: You are free to interpret this pattern as you like.
'Pierre et Gilles. Clair-Obscur' shows until 20 August at the Andre Malraux Museum of Modern Art (MuMa) in Le Havre. muma-lehavre.fr