There are few greater pleasures in life than cycling through empty streets as the sun creeps up in the small hours of the summer morning. Devoid of cars, the city takes on a strange new character, and the cool breeze is all the more welcome after a night of dancing into oblivion. It is liberating to be out after dark, when the shuttered shop fronts and closed curtains seem to mimic their sleeping inhabitants, turning a blind eye to the activity outside. London is a city with a history of strong nightlife culture, having birthed iconic clubs from The Roxy to Heaven to Plastic People. In recent years however, rapid gentrification and eye-watering luxury flat developments have knocked its crown, and the London mayor has gone so far as to appoint a "night tsar" to fight back against club closures and early bedtimes.
Against this backdrop, Art Night couldn't have arrived in the city at a better time. As London's largest free contemporary arts festival, it orchestrates the all-night opening of more than fifty cultural institutions and local venues, focusing each year on a different area of the city to explore its distinctive identity, culture and architecture. This year, in partnership with the Hayward Gallery, the Thames riverbank between the South Bank and Battersea Power Station takes the stage, via Vauxhall and Nine Elms. It is an area at the centre of much of the immense redevelopment taking place in London, and in particular the controversial transformation of the iconic Battersea Power Station into luxury flats.
"There are few greater pleasures in life than cycling through empty streets as the sun creeps up in the small hours of the summer morning"
The clash of interests makes this year's Art Night inevitably political. The capital's growing wealth divide, with news of penthouses left empty and the decline of social housing, is explicitly addressed by many of the exhibiting artists—and the shadow of the Grenfell tragedy is never far out of sight. As entire streets are increasingly privatized by developers, the right to congregate in public and peacefully protest is being quietly eroded; the decline of social spaces and nightclubs in the city is reflective of a wider loss of liberty. It is a growing divide that makes the culminating event of Art Night all the more unexpected: a club night will take place within Battersea Power Station itself, organized by Lisson Gallery, running until 4am.
The festival runs from 6pm on Saturday 7 July to 6am on Sunday, with twelve projects curated by the Hayward Gallery team, and more than fifty additional projects selected from an open submission process for Art Night Open. It is impossible to see everything, but follow our suggested bicycle trail to explore the many-varied highlights from the festival. Last year, over 75,000 people attended Art Night, demonstrating that there is a real desire for after-dark adventure. Join them, and discover a different side to the city—one that is firmly for its people.
6pm — Sebastian Kite, Duggie Fields and Alterazioni Video at Bargehouse at Oxo Tower Wharf
This expansive space is populated with seven projects, so it's a good place to get stuck in and explore. Don't like one of them? Just move onto the next without having to trek across town (just yet). Architect and artist Sebastian Kite's installation plays with light and darkness within an enclosed pavilion, where a dancer brings the 1984-esque interrogation room to life, while the question of identity within the urban environment—of resident and outsider—is expanded upon by Duggie Fields in a new digital film. Over in another room, artist collective Alterazioni Video showcase a film written and directed with an indigenous tribe in Ethiopia, in which a future resistance movement is imagined through the modern-day "tumblr-dependent" reliance on digital technology.
6:30pm — Bosco Sodi at National Theatre
Next it's on to the elegantly hulking National Theatre, where Mexican artist Bosco Sodi is building a wall made of 1600 clay bricks on its riverfront terrace. Each brick has been made in Mexico with the help of local craftsmen and individually signed by the artist. You and other passers-by are invited to help dismantle it and take a brick onwards with you, taking part in a performance that shows how barriers can be broken down through collective action.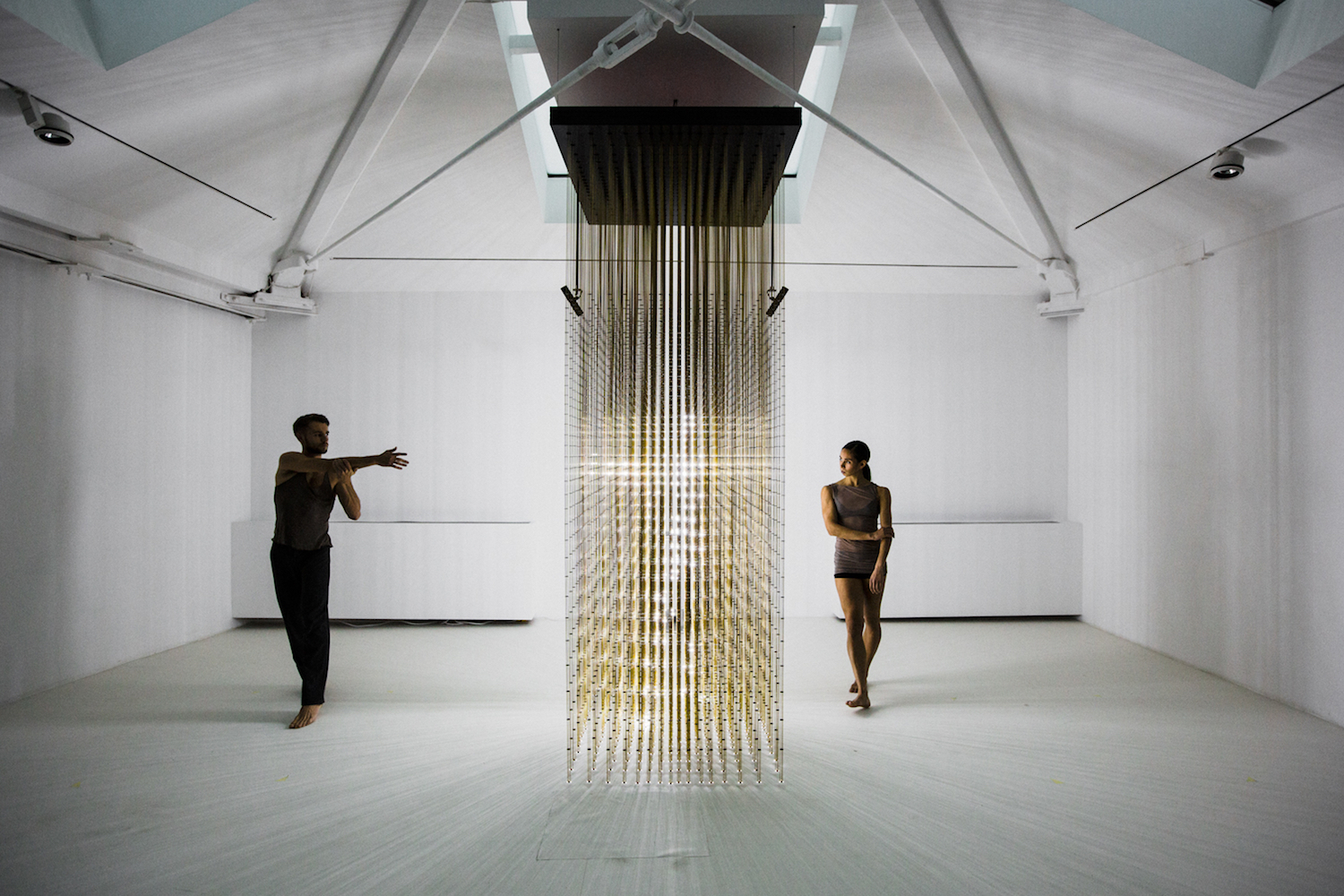 7pm — Random International / Studio Wayne McGregor at 31 Albert Embankment
In one of the most-buzzed about events of the night, Random International (the artist collective behind the wildly successful Rain Room of 2012) have teamed up with Studio Wayne McGregor. Random International have devised a responsive sculpture that transforms moving reflections into light within layers of glass—their first permanent outdoor sculpture in the UK. Dancers from Studio Wayne McGregor interact with the installation in a newly choreographed work, with hourly performances throughout the night.
7:45pm — Cécile B. Evans at Spectrecom Studios
At this green screen film and TV studio tucked away in Kennington, find Cécile B. Evans directing a cast and crew, using live action, puppets, set pieces and chroma blue screen to tape scripted scenes in front of a live studio audience. Known for her exploration of contemporary relationships in the digital age, she is currently developing a fictional TV show about a socially progressive housing estate, the architect who imagined it, and the tenants who become increasingly alienated from its promises. The performance presented at Art Night is the final episode of this project.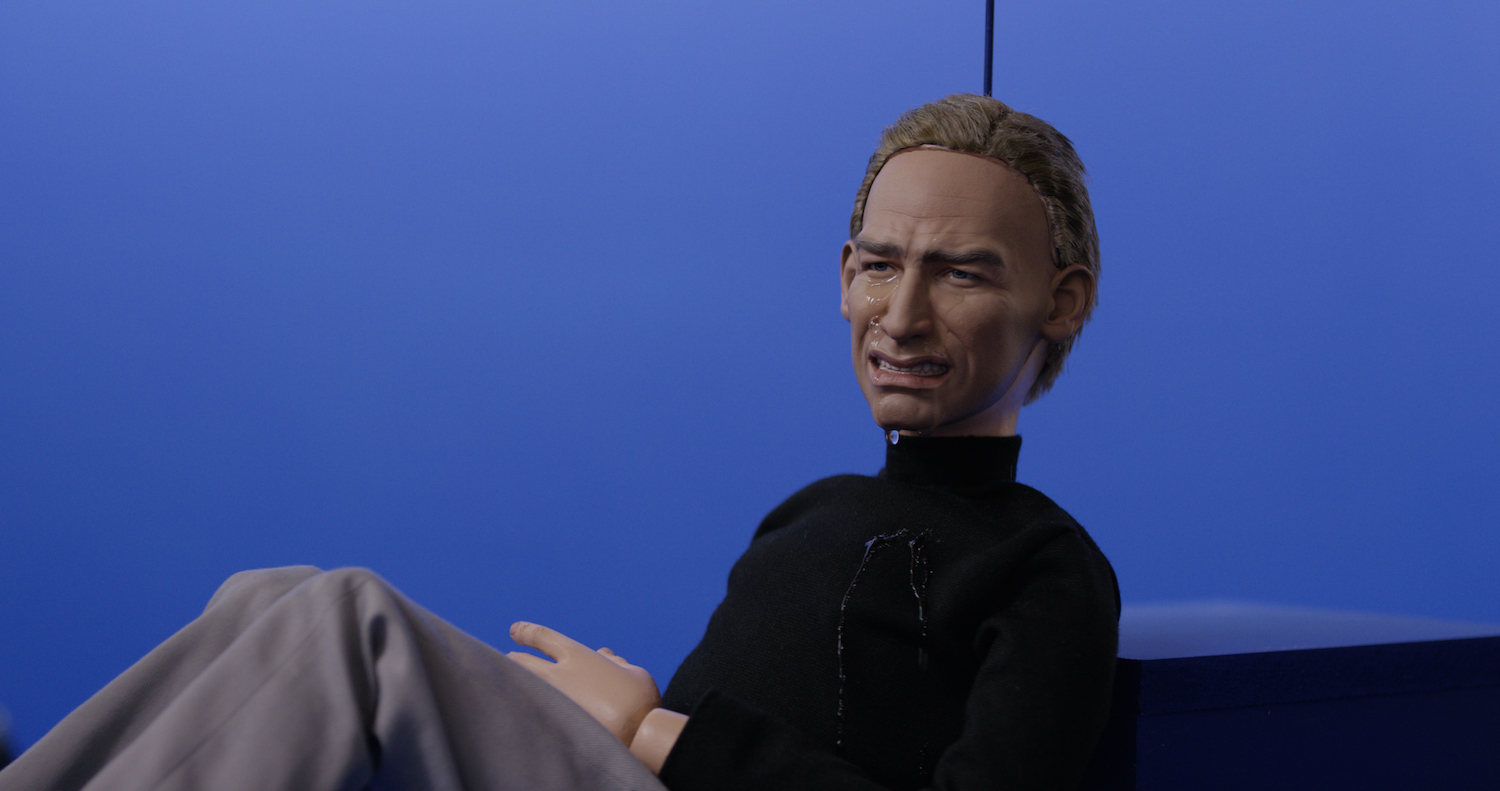 8:30pm – Prem Sahib at Vauxhall Park
Explore Prem Sahib's large-scale, monolithic sculpture, which measures exactly 500 sq ft—the standard size of a typical new-build luxury apartment in the capital. It explicitly references the changing landscape of the local area, from worker's tenements to high-rise glass constructions, where the average one-bedroom flat now costs £700,000. Sahib is also interested in the historic gay cruising spots that the nearby Vauxhall Pleasure Gardens once offered, where pavilions and walkways were transformed into notoriously transgressive spaces after dark. The structure is also a nod to those historic meeting points.
9:15pm — Miao Ying at Embassy Gardens Marketing Suite
In surely one of the most uncanny experiences of the night, head on to the offices of a real-life luxury development, where Chinese artist Miao Ying has set up her first VR work. Aspirational photographs of cocktails on the roof terrace, basement swimming pools and super-size double beds form the backdrop to the artist's exploration of "lifestyle hypnotism", in which you are cast as a consumer in search of a utopian idea of home.
9:45pm — Larry Achiampong at Riverlight Estate
Back on your bike and speed over to a new performance by British-Ghanaian Larry Achiampong, who was recently nominated with David Blandy for the Jarman Award. Best known for his video works that explore post-colonial identity and otherness, here he presents a live performance and installation in which he develops a hyperreal landscape filled with allusions to video games and science fiction.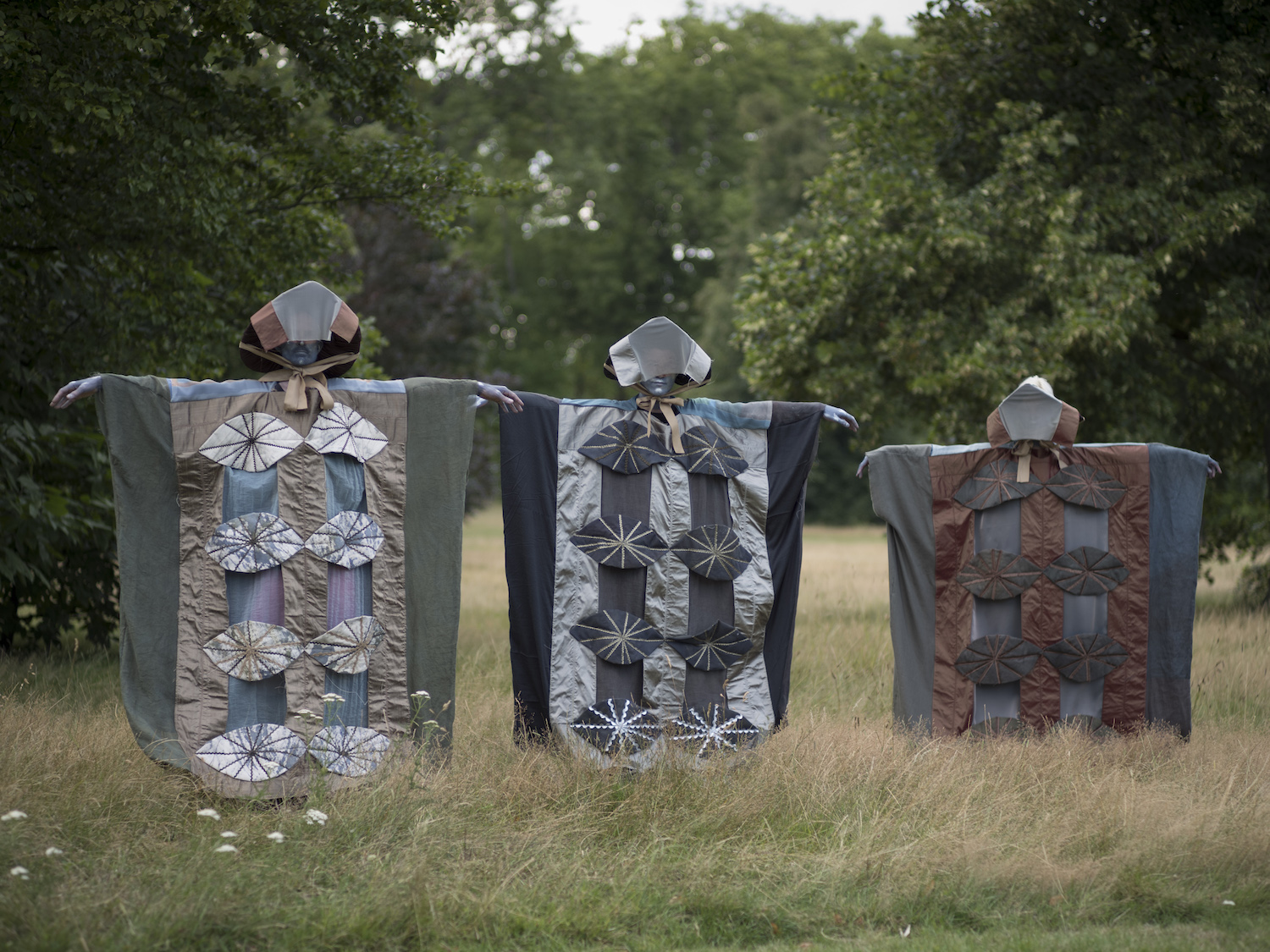 10:30pm — Tamara Henderson at Covent Garden Flower Market
The Covent Garden Flower Market operates six nights a week, closing only on Saturday night—allowing Art Night to take over its vast, hangar-like space in a rare collaboration. Take the opportunity to experience Tamara Henderson's performance amidst the shuttered market corridors, where a cast of characters assumes an ever-evolving identity based on materials found at the Flower Market, processing slowly through the space in a surreal ode to the life-cycle of plants and flowers.
11pm — Adam Christensen, Monica Espinosa, Anneke Kampman and Erica Scourti at Pump House Gallery
Make time for We Are Having a Little Flirt, a collection of performances presented by the four artists, as part of the ongoing (and excellently titled) exhibition at the gallery. Have you ever fully considered the phrase "to charm the pants off someone"? What are the possibilities of flirting, and where can it lead to? Songs and readings explore emotions and bodily form, linking them to urban infrastructure and the social space of the city. Bonus points if you flirt with someone while you're there.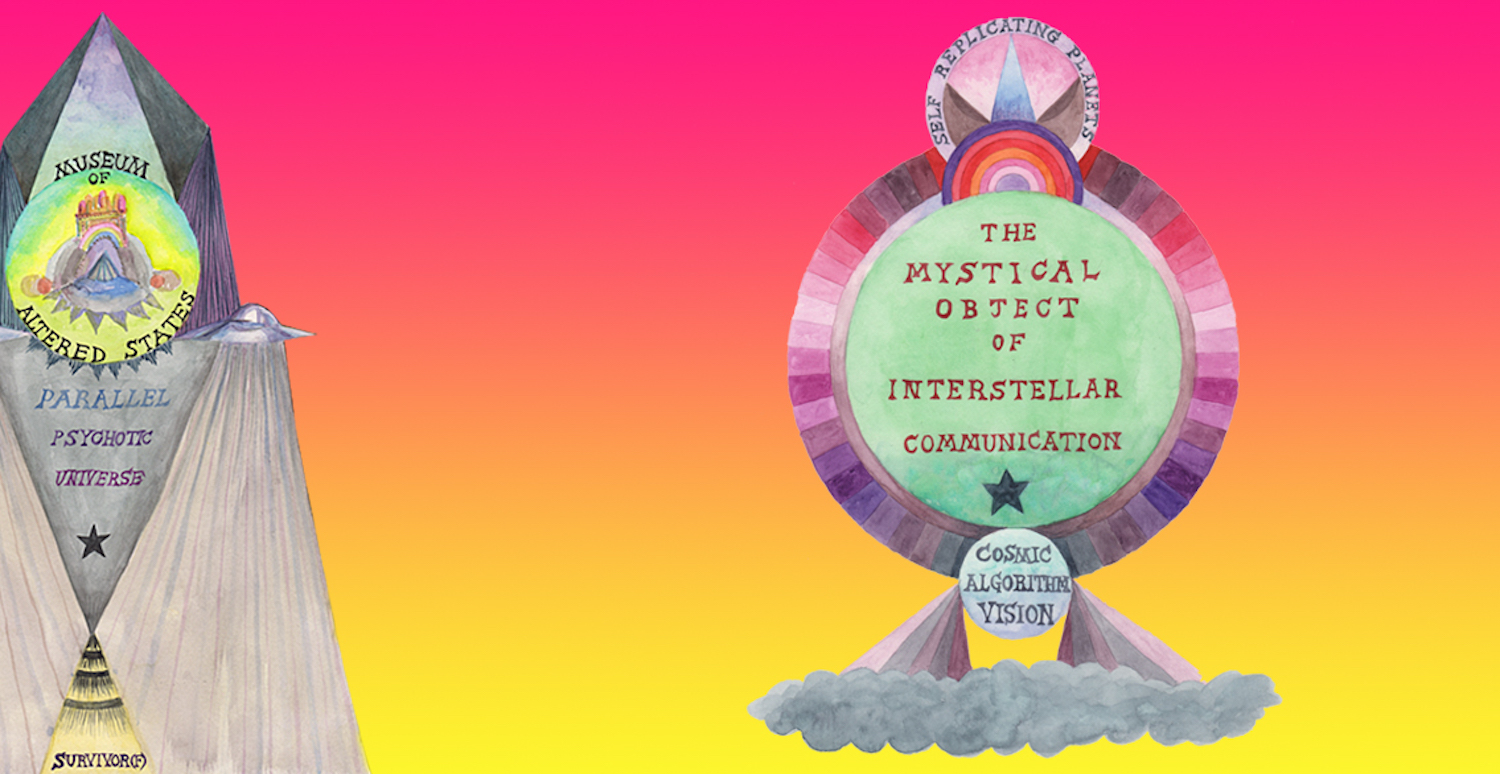 12am — Suzanne Treister and Lisson Gallery Club Night at Battersea Power Station
Cycle towards the towering chimneys that distinguish the iconic symbol of the city's industrial heartland, long decommissioned and now under extensive redevelopment. A new mural by Suzanne Treister takes these chimneys as its motif, rendered in delicate watercolours and blown up across an eighty-metre-long hoarding. Psychedelic symbols combined with the imagery of older technologies infuse the work with a mystical tone, reflecting on the relics of change and the rapidly advancing shift to an alternative future.
Peek at the murals as you queue for the club night taking place within the power station itself, where Hans Berg and Nathalie Djurberg (Elephant's very own former cover stars) and Haroon Mirza take to the decks, hosted by Lisson Gallery. Don't miss their accompanying film screenings within these historic surroundings, and take in this icon of London before its transformation is complete. Thames Clipper boats run an extended service for Art Night until 4am; if after all that cycling your legs need a rest, hop on its final service just before the party ends.
4am — Anal House Meltdown at Bloc South
If you have the energy, take the boat one stop to Anal House Meltdown, the queer club night organised by Prem Sahib, Eddie Peake and George Henry Longly. It's a London Pride special tonight, so glam up and be ready to dance 'til dawn.