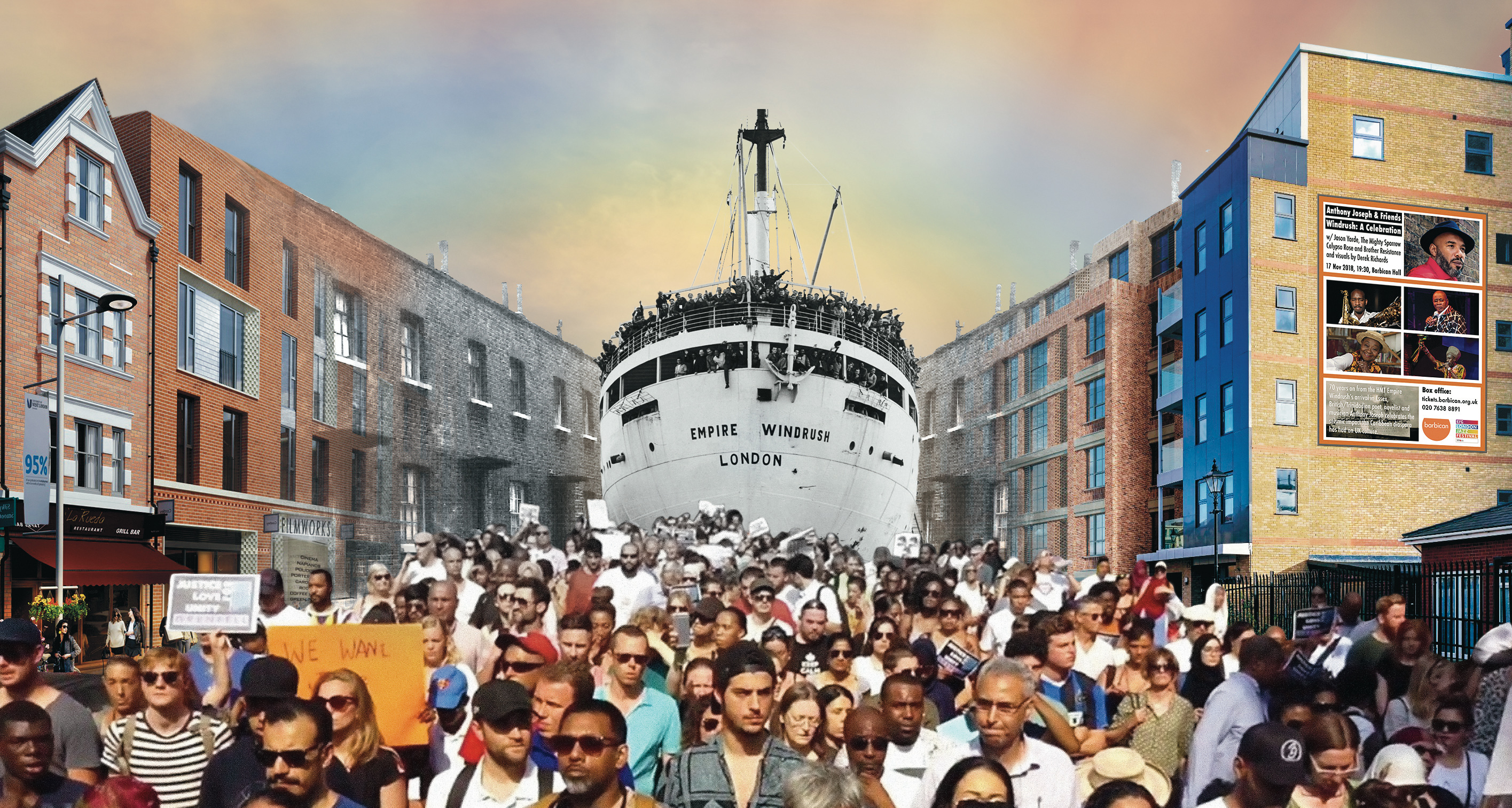 On 22 June, 1948, passengers disembarked from the HMT Empire Windrush at Tilbury Dock in Essex. Several hundred of these passengers had boarded the ship in Kingston, Jamaica, and many had travelled from around the Caribbean to Britain: a country actively inviting immigration from Commonwealth nations as it sought to rebuild itself after WWII. The Windrush generation and its legacy marked a vital sea change for British culture; it's arguable that it defined modern Britain in addition to its seismic influence way beyond, through contributions from infrastructure to pop culture. On a personal level, for later currents of global arrivals (including myself, born in Baghdad and raised around Britain since infancy), a sense of "Britishness" is specifically shaped by post-Windrush identity.
"How do we look at seventy years of musical and cultural impact?" reflects British-Trinidadian musician, poet, novelist and academic Anthony Joseph, whose latest live concert Windrush: A Celebration is a highlight of a vast programme of Windrush anniversary events. "Caribbean people have been coming to Britain since the 1800s, but since the 1940s, the diaspora has gone through a series of waves of consciousness. The Windrush generation was coming to what they considered the mother country, trying to fit in and find a place, yet experiencing rejection and denial. We need to address the fact that that the Caribbean is not just Jamaica; I wanted to look at the influence of Trinidad in the 1950s, and how calypso merged into jazz."
"The generation of the 1960s and '70s were much more assertive: it brought radical voices like Linton Kwesi Johnson and Benjamin Zephaniah, who are now widely celebrated. Now we have twenty-first-century musicians like Gaika—the Warp-signed digital dancehall artist/producer—who can change, shift and critique paradigms, and question what it means to be British."
"We have musicians who can change, shift and critique paradigms, and question what it means to be British"
The impact of the Windrush generation is also undeniably visual. The Windrush itself evokes what Joseph describes as "picture postcard" images of dapper passengers (predominantly men) leaving the boat; both that vivid nostalgia and the emotive and political expressions around it have been captured in archive collections such as the British Library's recent Windrush: Songs In A Strange Land exhibition. The post-Windrush era has brought a rich and reflective range of visual artists, yet also a sense that black British artists have historically been side-lined in "high art" and mainstream gallery culture.
Responses to this exclusion have included varied ground-breaking collectives, such as the Caribbean Artists Movement (CAM), co-founded by writers, academics and activists John La Rose, Andrew Salkey and Edward Kamau Braithwaite in 1966; the youthful force of the BLK Art Group founded in the Midlands in 1982; and in 21st-century arts platforms like the black female and non-binary centred Black Blossoms. The BLK Art Group's galvanising political visuals and explorations of racism and identity included Eddie Chambers's Destruction Of The National Front (1979) and Keith Piper's graphic, collage and video project Go West Young Man; its associates included the likes of Lubaina Himid (who won the 2017 Turner Prize at the age of 64), and Sonia Boyce, who spoke of "a mass systemic amnesia" in Brenda Emmanus's excellent recent BBC art doc Whoever Heard Of A Black Artist? Britain's Hidden Art History.
Boyce's own works have evoked an incredibly powerful and moving blend of personal and political identity, not least in her 1986 drawing on paper, She ain't holding them up, she's holding on (Some English Rose). That dynamic of "Britishness" is also reflected in the portraits of broad-ranging contemporary talents such as Tam Joseph and Chris Ofili, as well as in the international perspectives of pieces such as American-Nigerian artist Njideka Akunyili Crosby's Remain, Thriving (2018): a large-scale Windrush anniversary mural at Brixton tube station in South London.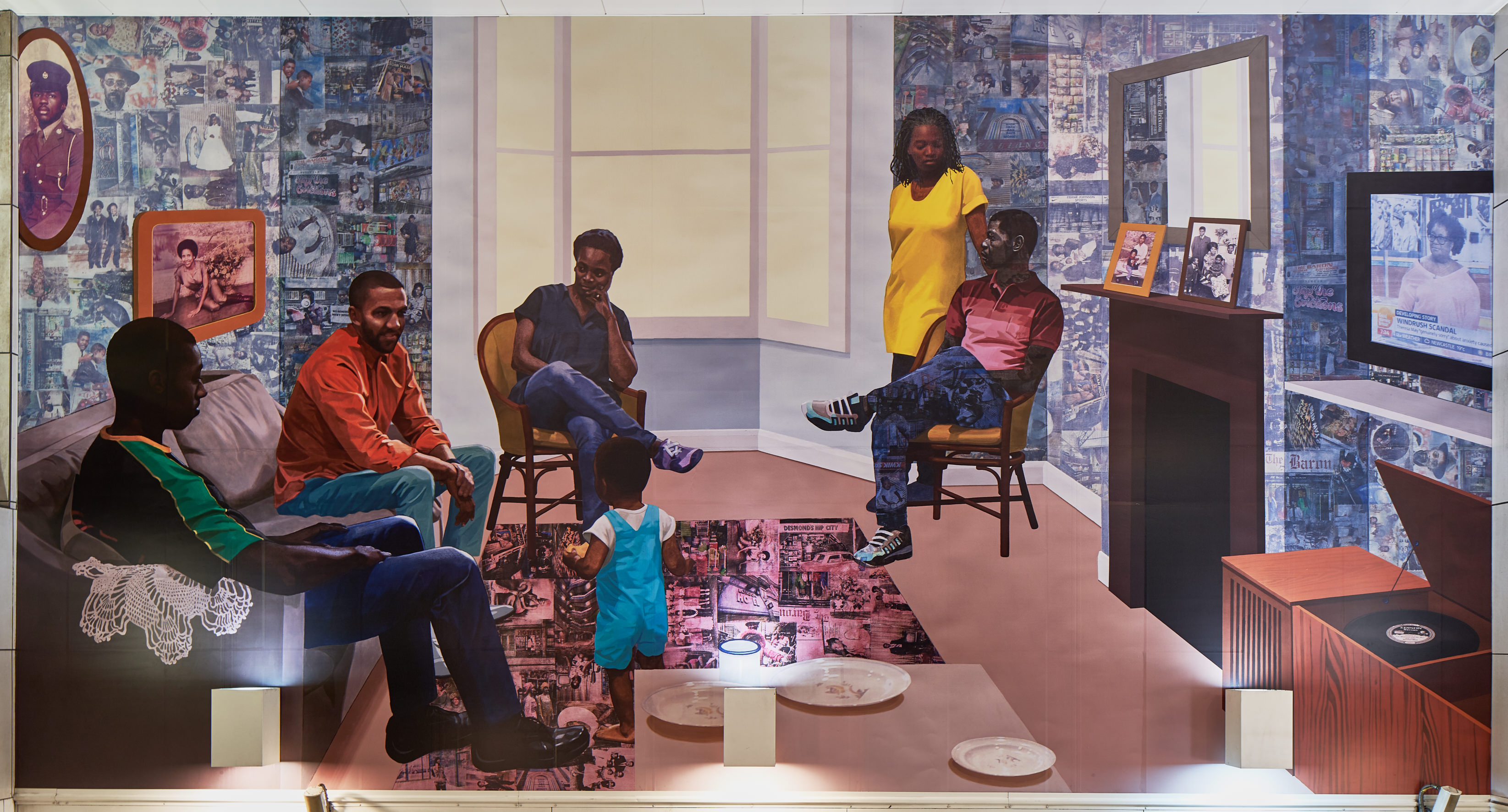 "There's something special about the way that things happen in Britain; maybe it's to do with the fact that we're an island that's constantly moving, shifting, changing, responding"
"The hybridity that is UK-wide is a legacy of the Windrush generation," points out Mark Miller, Circuit National Lead and convenor of youth programmes at Tate Britain/Tate Modern. "There's something special about the way that things happen in Britain; maybe it's to do with the fact that we're an island that's constantly moving, shifting, changing, responding and trying its best to come together. When art looks at our sense of belonging, and who's represented and who isn't, it also enables young people to unpick and critique their own experience."
The modern political climate also raises new considerations and questions about identity, particularly in light of the government "Windrush Scandal" which emerged this year; this has seen Commonwealth nationals living and long established in Britain wrongly threatened with deportation and deprived of healthcare and work rights. One of the original Windrush passengers was Trinidadian calypso pioneer Lord Kitchener (also the focus of a recent novel/biography by Anthony Joseph); a vintage Pathe clip memorably depicts "Kitch" serenading a news reporter with his signature tune London Is The Place For Me. Joseph's Windrush: A Celebration concert puts contrasting spins on that much-loved anthem.
Joseph notes that calypso's jaunty riffs are also subversive: richly laced with hidden meanings, and responses to oppression. "Of course, calypso has always been revolutionary music; there is sharpness behind the smile!" he says. The visuals for Windrush: A Celebration have been created by the ever-innovative Derek Richards (Black Top, Cage Street Memorial): a musician turned multi-media artist, who describes himself as a direct descendent of the Windrush generation. "Britain was transformed by its opening up to Caribbean influences, and communication channels extended to the world," says Richards. "It changed visual culture, and the way people spoke: it brought this hybrid of Jamaican patois and Cockney. It spawned new music out of symbiotic relationships, including ska and hip hop. The visuals for this show reflect that ongoing migration that was once physical, and now continues electronically."