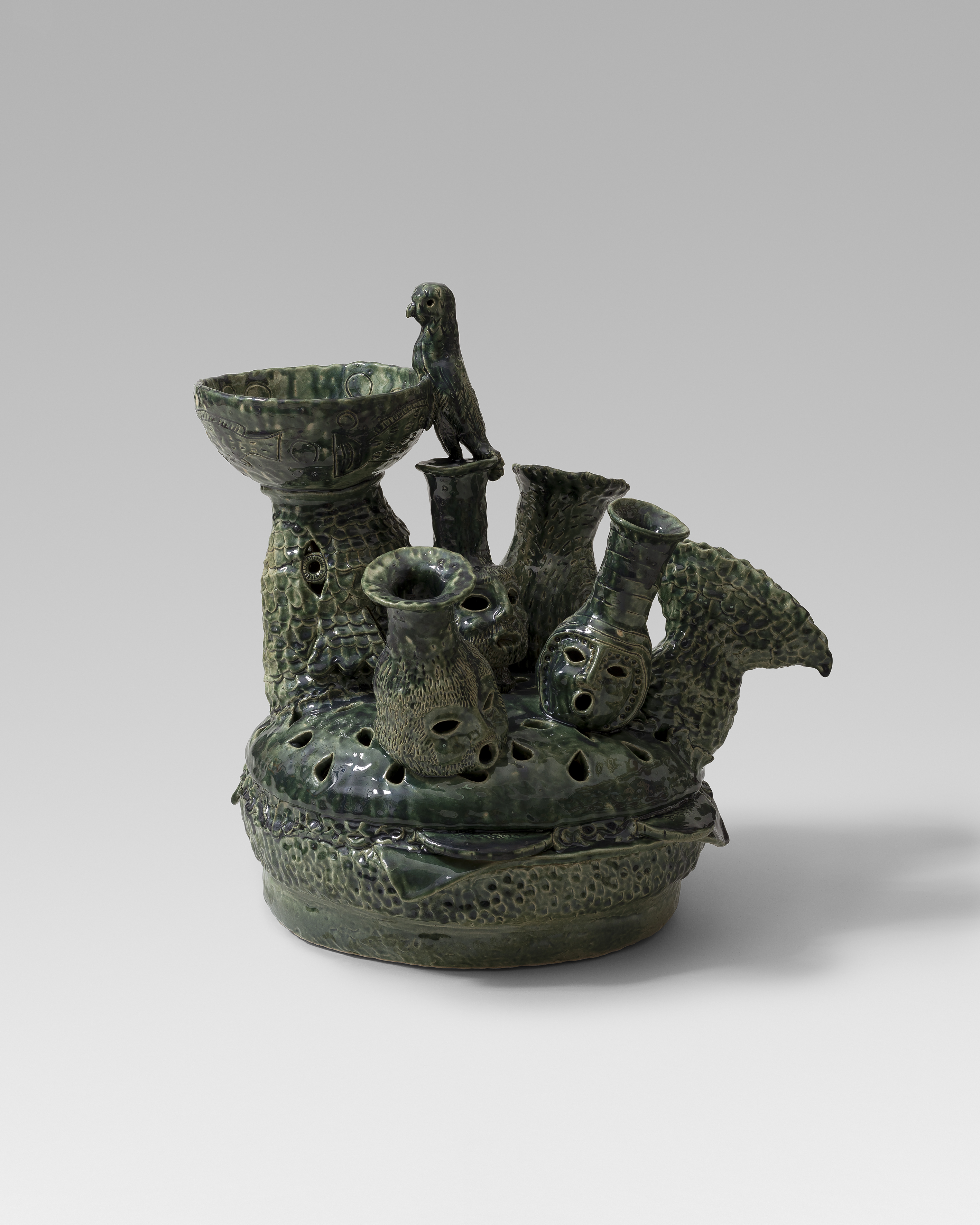 Eric Croes's sculptures are guaranteed to bring a smile to your face. His use of colour, honed during years working previously as a painter—he stopped five years ago to begin a successful ceramics practice—is vibrant and complex, sometimes applied in a single pop to one pot-like sculpture, at other times used rainbow-like, down the length of a totemic stack of forms. Many faces appear from his works, both sinister and comical, and they often resemble well-known objects, such as cacti, teapots, fruit and animals. For his new show at Richard Heller Gallery in Los Angeles, the Belgian artist invited his family to take photographs of their daily lives, from which he selected objects and took inspiration for his new forms. "Like it or not," he says, "our families have a great influence on our lives."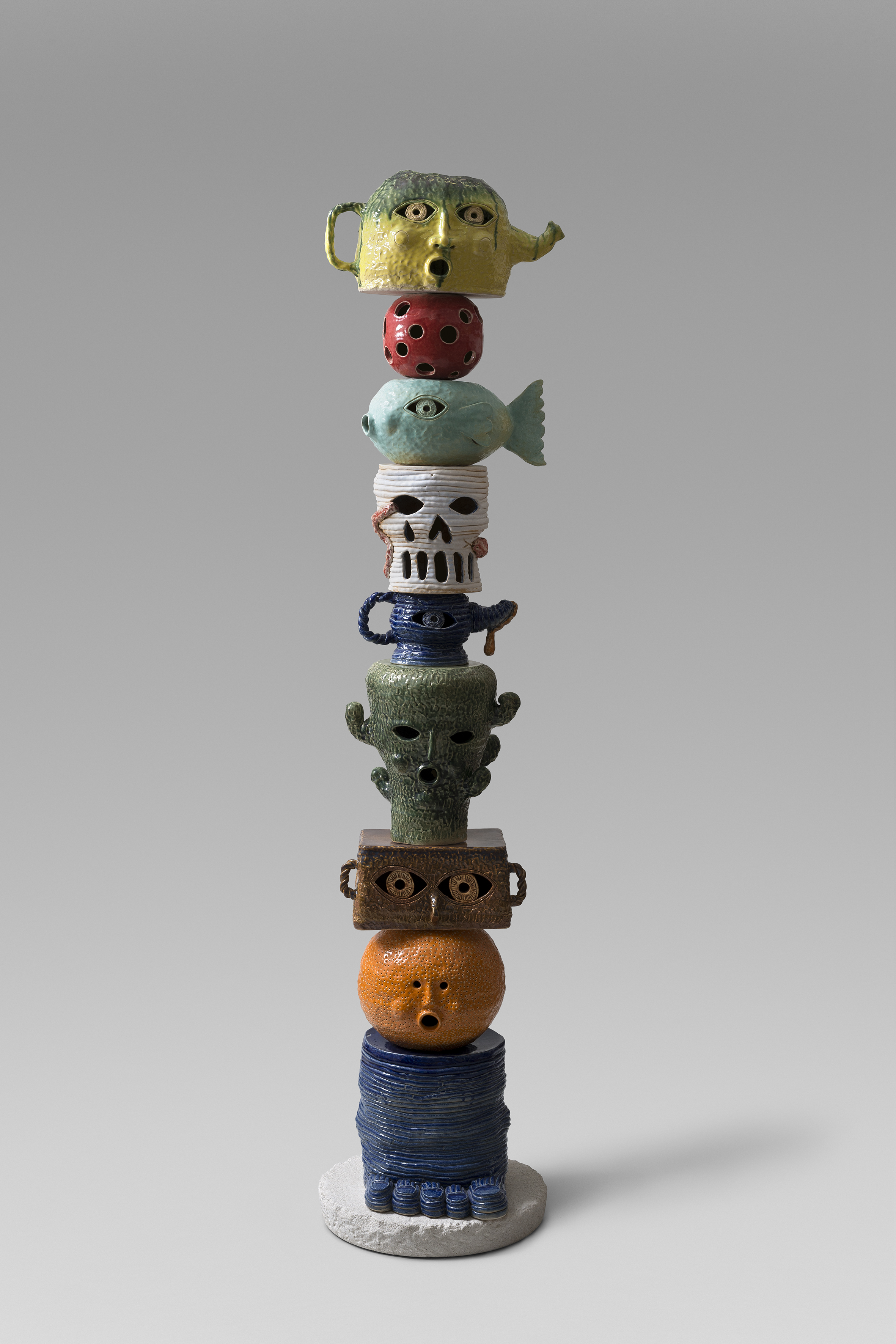 Can you tell me a little about your upcoming show at Richard Heller Gallery?
The name of the show is F Like Family (a reference to one of my past exhibitions Abécédaire). For this series I gave a disposable camera to my boyfriend, the artist Simon Demeuter, along with each member of my close family (my father, my two brothers, and my sister). I asked them to shoot images of their daily life in a free way. I collaged together selected elements of the resulting photographs as references for this new body of ceramic sculptures.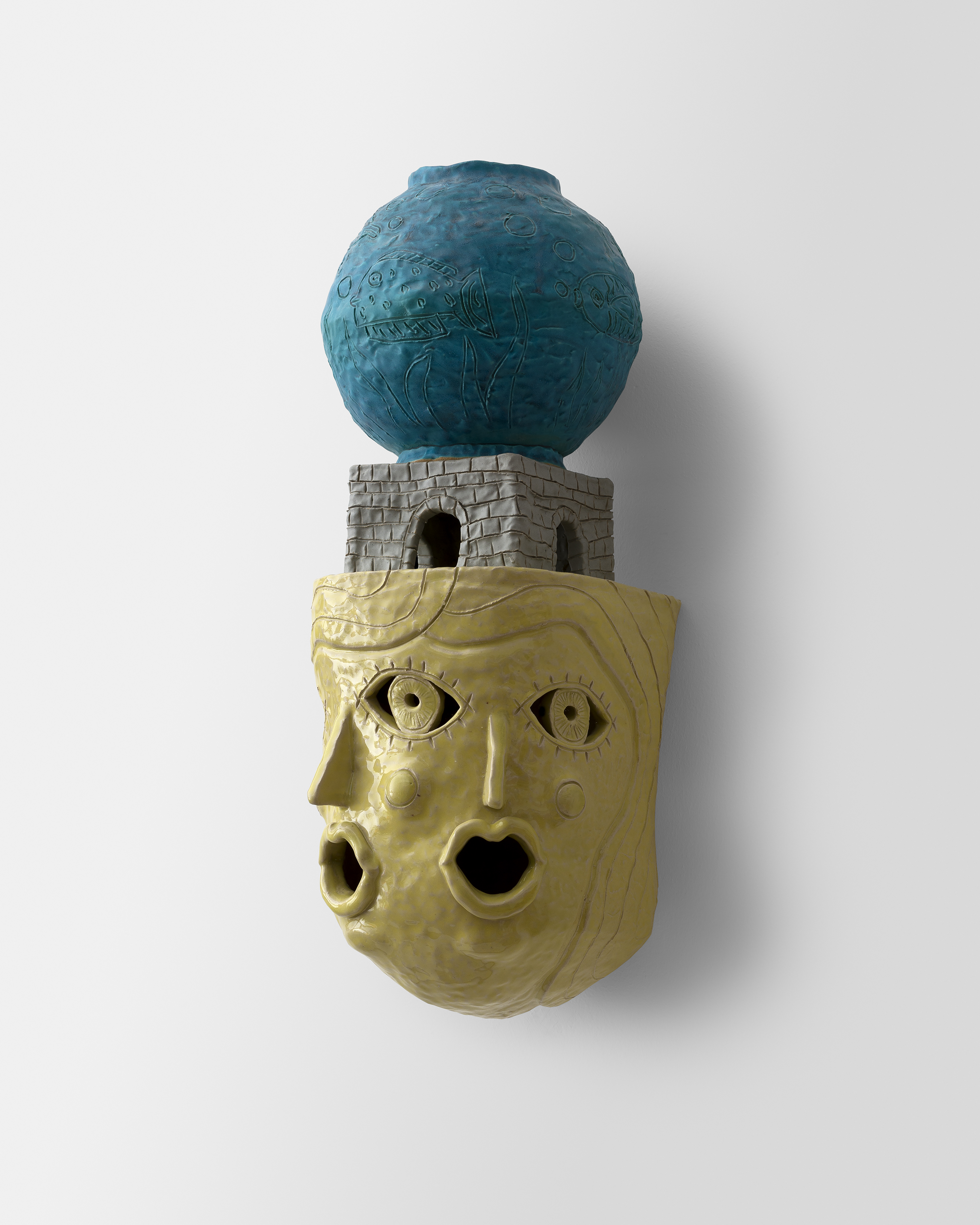 Like it or not, our families have a great influence on our lives. The concept for this body of work was to find a way to have family shape not only my life but also to influence the shapes of my sculptures. As a declaration of love, I have brought my family along to the exhibition for my first trip and solo exhibition in the US.
The titles and forms of the sculptures are composed with each element giving protection to the other. Much in the spirit of Native American totem poles, the two totemic sculptures, Giant with Left Foot and Giant with Right Foot function as guardians, lucky charms, and ancestors of my loving grandparents (who look after not only me and my family but also offer protection to the other individual sculptures in the exhibition).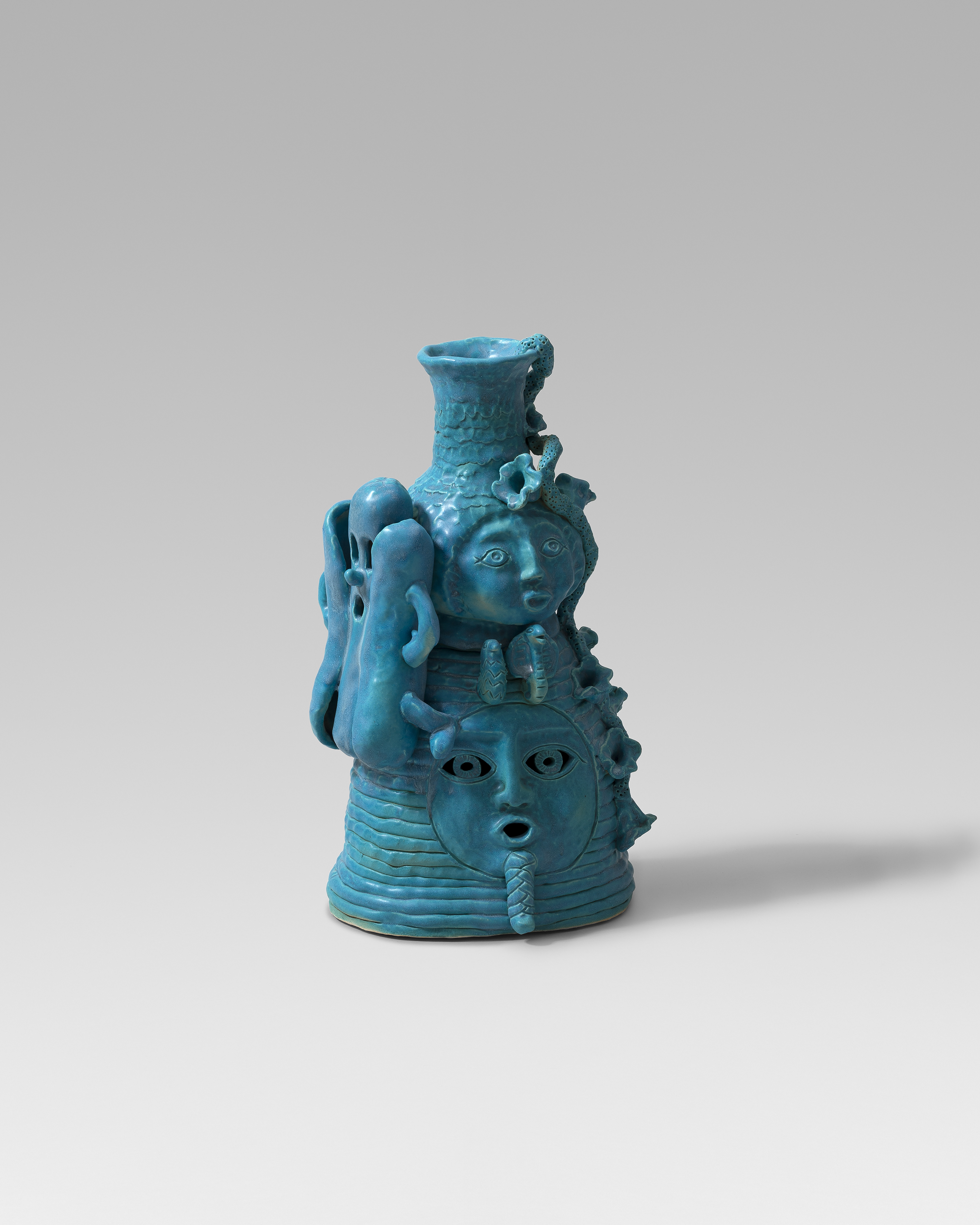 Your work combines a comedic, joyful and hands-on aesthetic with traditional shapes and forms—what are your key influences?
I find my inspiration in the archeological objects that I see in old museums and in legends and popular tales. I read lot of essays, in the folk art tradition, and I also take inspiration from the reports I watch on television.
"The spirit and the themes of my painting are still there, but thanks to the medium of ceramics my gestures are more instinctive and clumsy"
Five years ago you gave up painting to begin ceramics. Has this felt like a brand-new practice, or have you carried over a lot of your learnings and way of working from painting? And what has it allowed you to express that painting might not have?
I made ceramics when I was teenager with my brother. We went to the youth club to make comic characters. But I really learned ceramics and glazed five years ago when I started to study again at an evening class. I have kept my first vocation of colourist from painting, but I find a deepness of colour in sculpture that I never found in painting. The spirit and the themes of my painting are still there, but thanks to the medium of ceramics my gestures are more instinctive and clumsy, which generates new forms and continual research.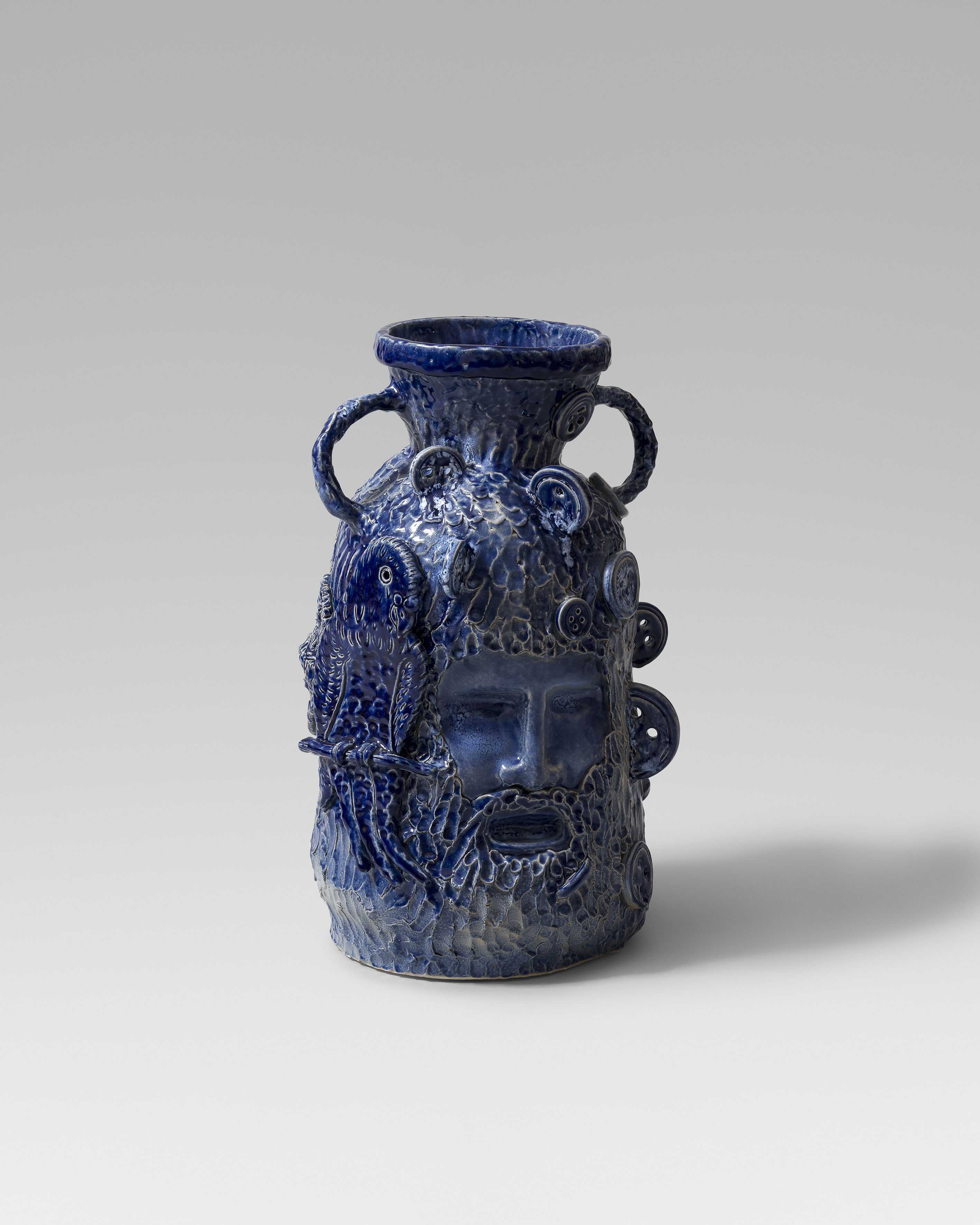 You've spoken about your practice as being personal. How do you bring this into the work, and do you find making work a cathartic exercise?
I try to talk about my personal feelings and my own souvenirs without boring the spectator. For this I have imposed a kind of set of rules. Similarly to the participation of my family and the collage in my show at Richard Heller Gallery, or with the use of exquisite corpse (which I made with my boyfriend), drawing is like the beginning of my sculptures. I need to tell a story to the spectator through a kind of magical/mystical object/sculpture.
Your works look like creatures with their own personalities. Do you think of them as beings in their own right?
I like the simple and primitive gesture to make three holes or dots on a sheet and you have a face. I make lot of giant heads and funny faces like that. Why not to create a real golem one day?
Eric Croes: F Like Family
Until 9 March at Richard Heller Gallery, Los Angeles
VISIT WEBSITE