I walk into a barely lit room with a pounding beat emitting from a club-sized rig system set up in the corner. I'm here to see Blind Audition, a show by Garrett Nelson and Richie Shazam at Kunsthalle Basel. The only decor is two long white-curtained, stage-like booths, and a few viewers are sitting on the cold parquet floor, their backs supported by the gallery walls.
I take an unassigned floor-seat and let the music wash over me—this seems to be what is expected of the viewer, placed, as is natural inside a museum or gallery space, in a state of surrender, waiting for the work to take hold. Listening to techno beats at an almost uncomfortably loud volume, without dancing, is a somewhat melancholic act. It brings back memories of dawn mornings on uppers unable to sleep, even though you are fatigued from your own (or a chemically induced) ecstatic mood. Or alternatively, it brings back those moments when your life melts down inside a club and all you can do is collapse into your own existential inertia. In Blind Audition these two states are flashed before the viewers' eyes over the course of an hour—the performance is a mass of sexual headiness, fear and idolatry.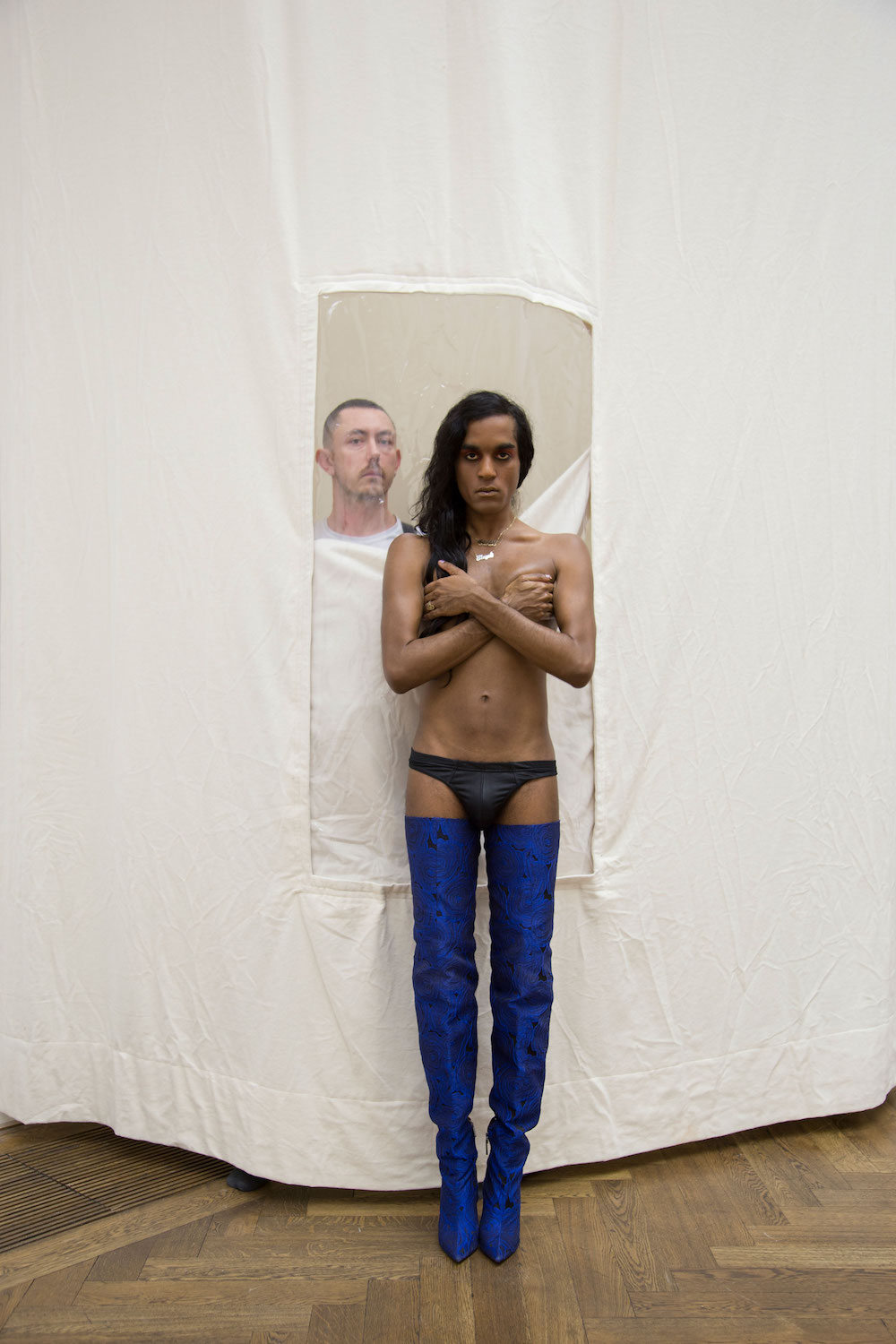 Blind Audition was part of the month of New Swiss Performance Now at Kunsthalle Basel and was performed on a five-hour loop over the course of the two days. It was Nelson who was initially invited by the Kunsthalle but he decided to relinquish his solo title for a more collaborative approach while researching the idea of blind auditions; a method used by companies to evaluate job skills. In a blind audition the candidate typically performs from behind a wall or screen. The purpose is to ensure that the decision makers do not make snap judgements relating to biases based on appearance, gender, race etc. Nelson says he was drawn to Shazam, the queer artist and model because "she has been so often used by brands as a stamp of approval, to say we are inclusive and diverse and this became a topic in both the monologue and our general discourse".
This is not the first time that Nelson has paid a living homage to another performative body via his practice. Last year he released the book Leaving the Chelsea with an Egg which contained a previously unpublished excerpt from the memoirs of Viva Hoffmann, a performer and movie star best known for her roles in Andy Warhol's films. Nelson worked with Hoffmann to release the novelette that outlines her affair and subsequent abortion with the photographer William Eggleston in the mid-1970s. Nelson has explained that his practice at the moment is centred around asking the question "Who are the women and the muses that haven't been given a voice?" and how he can aid that voice in becoming heard. Saying that, Nelson is definitely not offering up a sweet saccharine moment of platforming lost voices. He is aiding them with all the riotous force these muses have been known for, Shazam delivers the lines best as she yells "This is not an aesthetic, this is me, this is a body and most people are not ready for that spice."
Both artists throughout Blind Audition use this tactic of recall to revisit their own individual moments of self-perception and sexual awakening. Lines like "He wouldn't stop. He turned me on. I was about to get Jeffrey Dahmer-ed. A #MeToo moment" and "I remember scenes of Miss Congeniality playing on the screen before the money was inserted—Sandra Bullock's judgemental eyes seeping into my soul as I desired to get off" pay homage to both Joe Brainard's book I Remember…, originally published in the 1970s, and to the audience that's listening. Nelson readily admits "I'm talking to the viewers, I'm asking them, 'Which "I remember" do you remember? Which ones give you goosebumps because you remember them too?'"
It's impossible not to read this work in the current context of #MeToo. When asked about it Nelson replies, "#MeToo is so someone else's movement, it just rolled over the queer scene. It's a very heteronormative moment." In this regard I can imagine Blind Audition offers a moment of peace in a burgeoning sexually politically correct climate for those who do not fit in. What is both engaging and naively enchanting is the way Shazam and Nelson tackle conservative views of sex, the body and gender but not in the typical universalized #woke safe space way. They are instead allowing fetish to be celebrated and all the violated bodies of history to transgress this newly inflicted status quo as Nelson wryly states, "It doesn't need to be everyone's moment."
Shazam is quite a different character to Hoffman and they are generations apart. But you can also find so many overlaps in their lives. Both spent time on the New York party circuit, both found themselves as starlets of a scene promising to be alternative and inclusive and both found themselves later becoming objectified units of cultural pleasure. Shazam states in the fourth act of Blind Audition "I am a failing business. My body is a failing business. My art is a failing business. My life is a failing business. What does a failing business do? A failing business goes bankrupt and ceases to exist." These lines pay reverence to hundreds of muses. Implicitly Shazam ignites images of Marsha P Johnson, Romy Haag, Edie Sedgwick and countless other personal idols. Her self-confessional monotone opens up a seance-like feeling inside the institution to all those tragic figures who were exploited for their otherness.
Photography: Ignacio Fanti