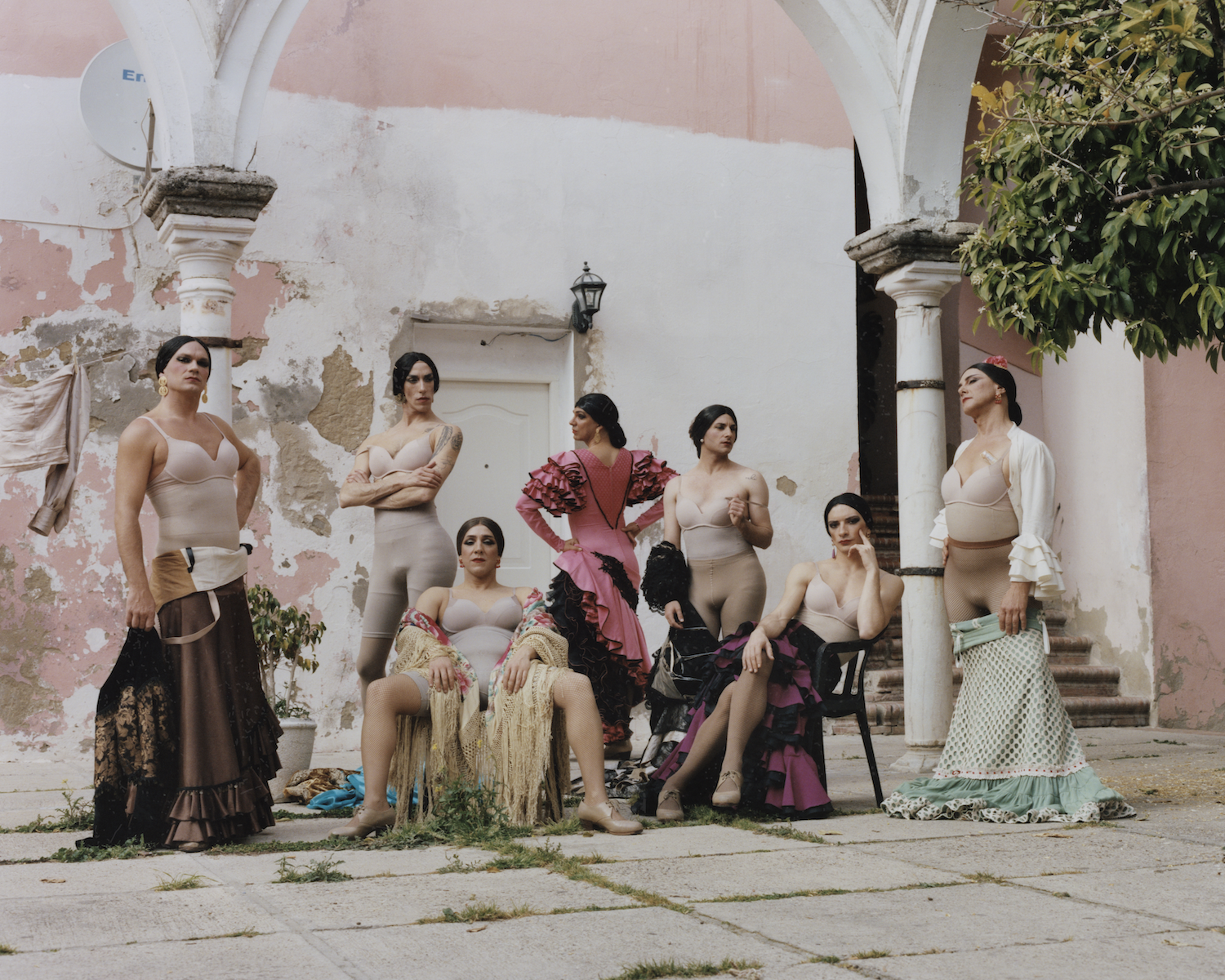 When Camila Falquez was offered a solo show last year by New York gallerist Hannah Traore, she had never given much thought to exhibiting her images within a gallery context. At the time she was preoccupied with her career shooting fashion editorials and portraits for El Pais, the New York Times, and various editions of Vogue.
The Colombian photographer, who today lives between Barcelona and New York, initially imagined a whole new body of work for the exhibition. "I had this idea that I had to 'create' the show," Falquez recalls, and considered travelling to India to shoot a new project.
The people around her interrupted that thinking, contending that her existing body of work, replete with performers and drag queens, was rich enough to plumb. So she combed through her archives, and "just realised that slowly, every time I did an assignment, I've been creating this series that is connected. I've been working towards the show without knowing." Ultimately she came to a new resolution: "I didn't have to travel. I had this show already on my hard-drive."
Her debut exhibition title came from a chance upwards glance while walking in Bushwick, the Brooklyn neighbourhood where her studio is located. A huge mural of two indigenous figures, captioned Gods That Walk Among Us, precisely distilled her philosophy of uplifting her own community.
"Every time I did an assignment, I've been creating this series that is connected. I've been working towards the show without knowing"
The show assembles 28 exuberant photographs, with each of the subject's pronouns indicated in the credits. The earliest, taken in 2018, features a ballet dancer named James. "I vividly remember that moment because after that photo, I started to understand my true style," Falquez notes. "I knew what I wanted to do, which is a mix of performance and surrealism and playing with colour."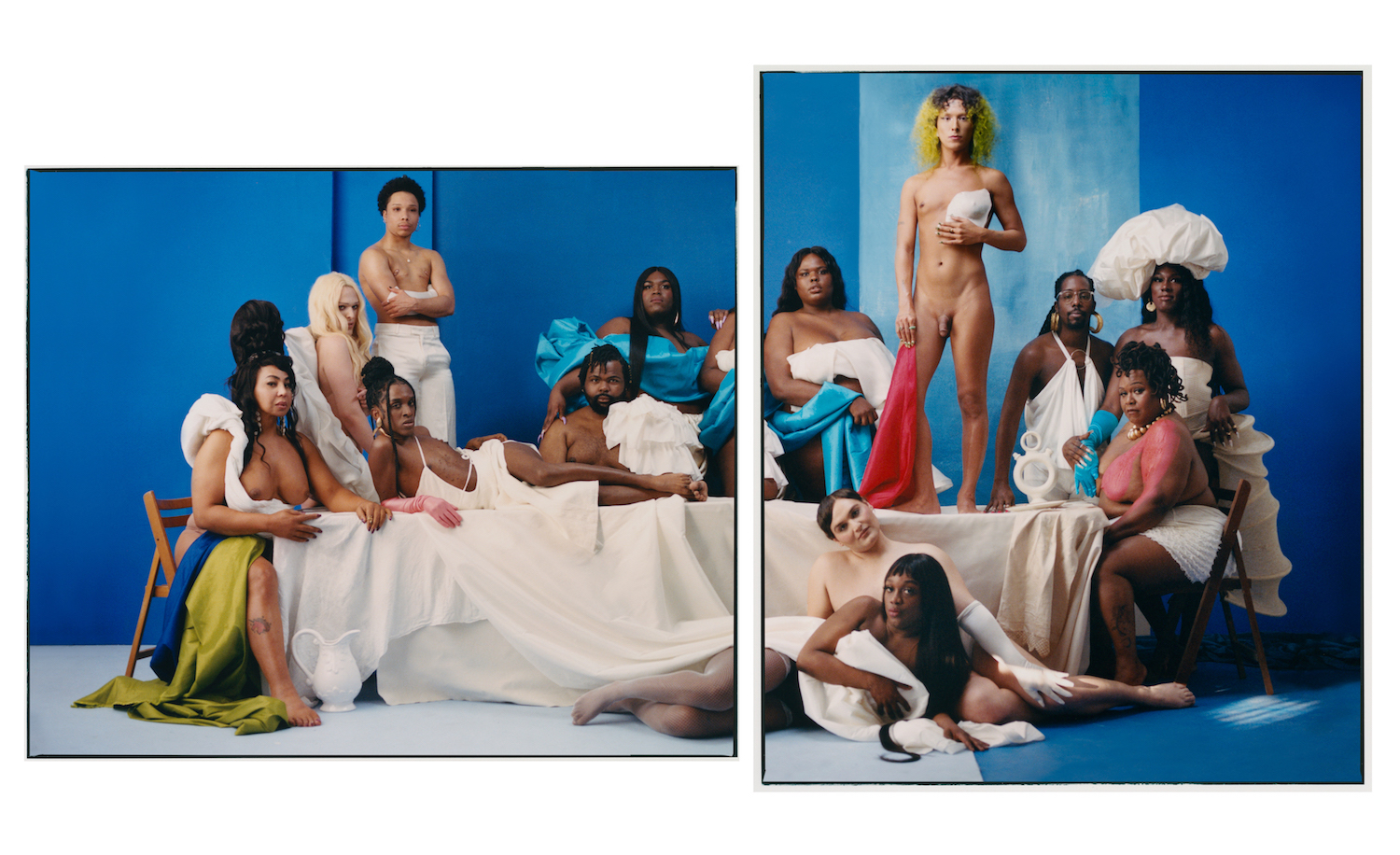 This show functions as a statement piece, and a new facet of her visual career. "I want to present differently than just using a physical reproduction of something you've seen already on the internet," she says. Falquez added artisan flourishes to the images to make each an objet: unique pieces rather than editions. The images are framed with silk she sourced from Spain, drawing a fitting parallel to the way fabrics are wielded within the photos themselves, with gestural beauty.
When photographing within her studio, Falquez takes on a theatre director approach, painting the sets and spiking the scene with boisterous music ("you can't hear this music and no one is really even dancing in the photos, but it's part of the creative process"). She gathers a vast team: hair, makeup, styling, lighting, backdrops.
The scenography is treated like live sculpture, with no retouching afterwards. "There's no 'let's add this in post'. Whatever is in front of us is what will be in the photo," she explains. The directness of her approach is as symbolic as it is pragmatic. "We're not from another dimension: we are here in front of you in everyday life."
"I started to understand my true style. I knew what I wanted to do, which is a mix of performance and surrealism and playing with colour"
The narrow spectrum of beauty that has dominated Western culture is overthrown in Falquez's casting and gaze. "I've always had this capacity of seeing beauty in places people don't see it," she says. "When I took my first trip abroad alone, I wouldn't go to the big monuments; I was just sitting in any corner, watching people." She prefers working with non-professional models over professionals or celebrities, because "they don't know about the beauty I see in them, so it's just this discovery process that I really enjoy."
Toñita (She/Her), 2021 (left). Liz Vanette (She/Her), 2021 (right)