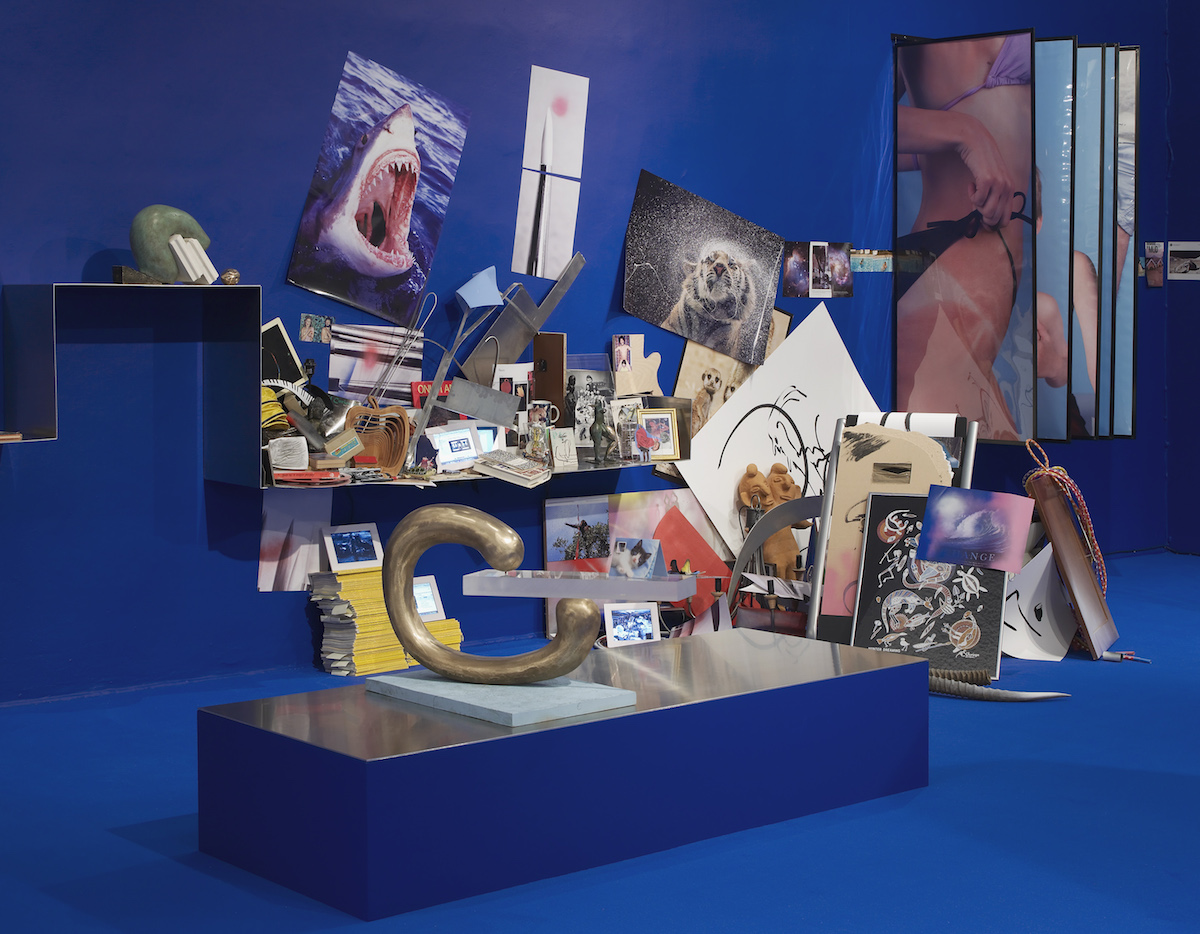 Anxiety in the age of the internet is a now-common topic of discussion, as we wake up to the far-reaching influence of networked technology on how we communicate and collaborate. There's no denying that it plays a vital part in how we form a connection with one another today. Camille Henrot is an artist who knows this well. As familiar with viral internet memes as she is classic anthropology, she reflects the information overload that we are faced with online and frames it within the bigger picture of human interaction throughout time. The Pale Fox, first staged in 2014 at Chisenhale Gallery in London, brings to life these many layers, with more than 400 photographs, sculptures, books and drawings displayed amidst a single Yves Klein-blue room.
Henrot mostly bought the items for the installation from eBay or borrowed them from museums, while others she produced herself. There are carved animal figurines, alabaster pieces of fruit, miniature bronze statues; postcards and posters are stuck to the wall, and a stack of National Geographics sit on the floor––their distinctive yellow spines on show. It is an enveloping space, this single windowless blue room filled with curiosities, and it is easy to lose yourself in the array. The arrangement of objects feels highly personal. The gallery becomes like a bedroom, messy and multi-layered. Wandering amidst it all, it is as if the intangible interconnections of the mind have been brought to life.
The installation extends from an earlier film of Henrot's titled Grosse Fatigue, which won her the Silver Lion at the Venice Biennale in 2013. Translated as "great exhaustion", it attempts to tell the story of the creation of the universe, combining mythical, religious, historic and scientific narratives, while a flow of images flash by simultaneously on a desktop computer. The Pale Fox takes these overlapping and contradictory narratives from the computer screen and into an immersive space. While images rush past at rapid speed in Henrot's film, leaving the viewer breathlessly overwhelmed with any attempt to keep up, her physical installation allows for pause to consider the items at hand. Each journey through the space is personal, with one person crouching to examine an information sheet on tree species, while another peers upwards on the other side of the room at a comic strip. It is meditative, playful and brazenly epic in ambition.
The Pale Fox from which the exhibition takes it title is a character from an anthropological study of the West African Dogon people. The book details their assimilation of multiple belief systems, encompassing elements from physics, astrophysics, agriculture, molecular biology, as well as mathematics and metaphysics––a fitting model for Henrot's approach. Insatiable and obsessive curiosity guides both artist and viewer, as we begin to reconsider the potential for these objects, snippets and sketches to co-exist rather than contradict one another. Even as we are faced with the overwhelming excess of images and information online, The Pale Fox reminds us of the pleasure to be found in taking the time to widen our perspective on the world.
Camille Henrot, The Pale Fox, 2014. Installation view, Chisenhale Gallery 2014. Commissioned and produced by Chisenhale Gallery in partnership with Kunsthal Charlottenborg, Copenhagen; Bétonsalon – Centre for art and research, Paris and Westfälischer Kunstverein, Münster. Courtesy Kamel Mennour, Paris and Johann König, Berlin. Photo: Andy Keate. © ADAGP