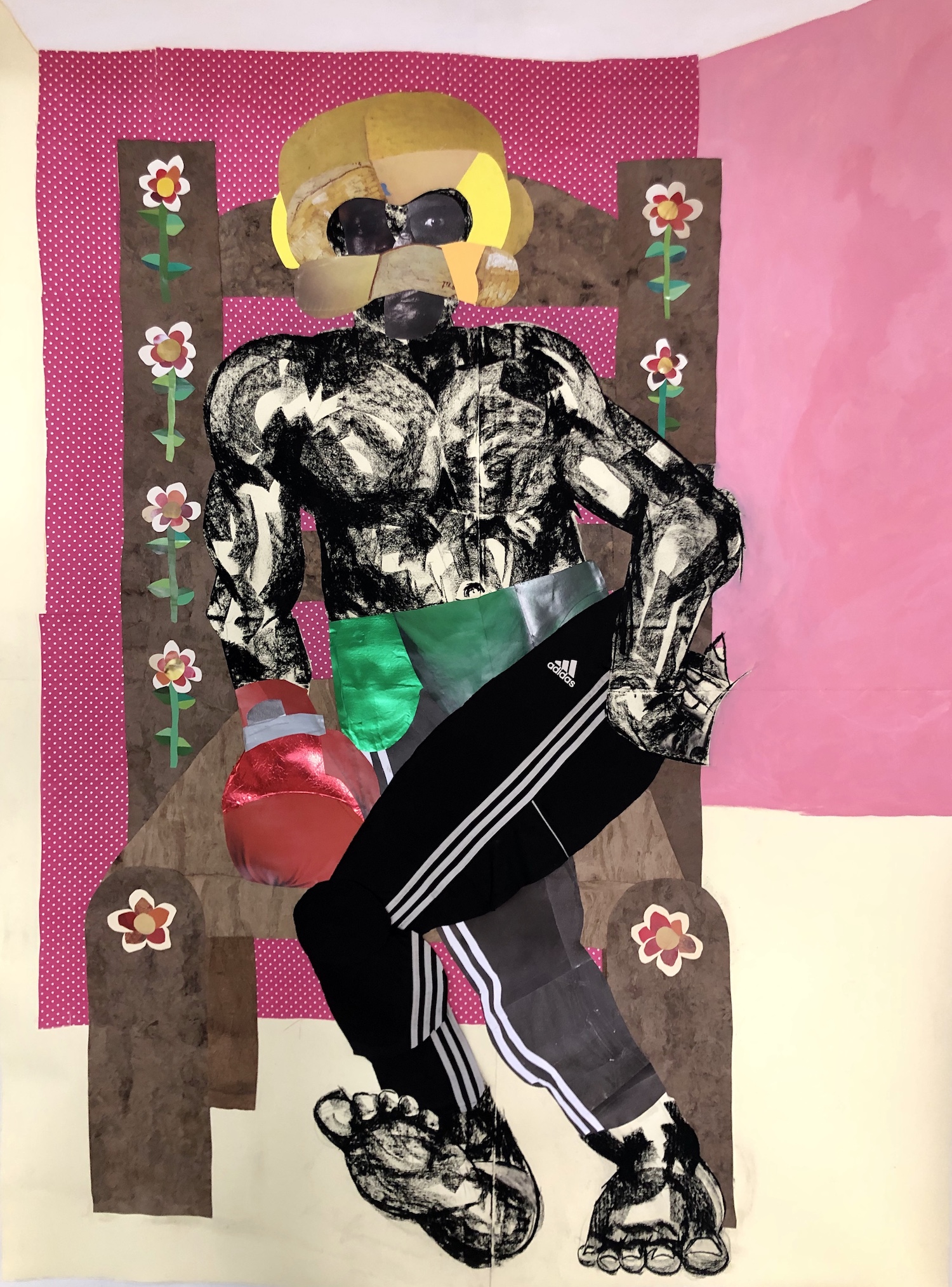 On a surface level, collage can be a wonderful commingling of textures and materials that wouldn't otherwise come together. Beyond this sumptuous, layered aesthetic, it can also act as a rich storytelling technique, a way to build narratives and create insightful portraits.For artist Clotilde Jiménez, collage has become a way for the artist to digest, explore and unpack his own experiences. Yet there's a universal symbolism interwoven through every piece, which allows the artist examine "rigid definitions of 'Blackness'" and larger narratives around sexuality and gender.  
"I think my life is like anyone else's life to a certain degree. I don't think I have this solely unique experience," says Jiménez. "It's just I think not everyone has the ability to look it in the face. My work is diving head first into it, and as these are universal problems and topics in some way or another, I think that's how people can enter the work."
Left: Pose No.5, 2020, Right: Pose No.6, 2020. Courtesy of the Artist and Mariane Ibrahim
By using his own experiences as queer and Black hispanic, Jiménez hopes to highlight the stories of those who have previously been marginalised and ignored. In a new series of collages, currently on show at Mariane Ibrahim in Chicago, he examines the intersection of athleticism and queerness. More specifically, the series grapples with his personal, and once estranged, relationship with his father, a bodybuilder and boxer.
"I don't think I have this solely unique experience. It's just I think not everyone has the ability to look it in the face"
As a result, bodybuilding and boxing motifs appear throughout the works as the artist plays with notions of the body. Figures are posed and positioned ready to brawl, big and imposing. Their textured limbs are captured in charcoal cutouts, but contrasted with colourful boxing headgear and shorts. Throughout, Jiménez has retained that sense of whimsy and play that make his works come to life.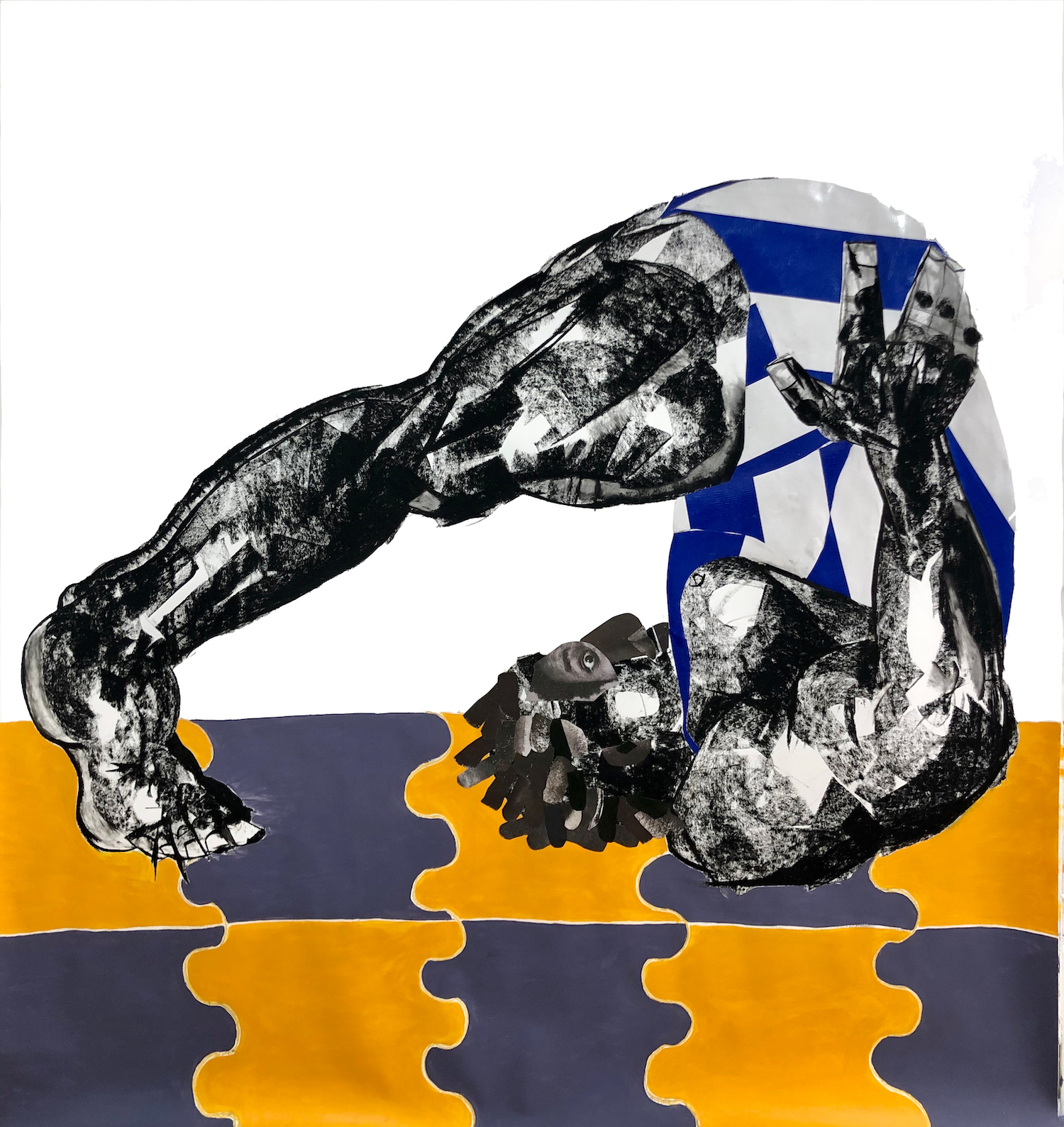 "I try to use my environment as a kind of foundation for what materials I should be using or what I want to use," he says. "Although I still use magazine cutouts and wallpaper, I'm also looking at the materials that are just in my everyday life here." The artist has just recently moved to Mexico City and he says the thick, plastic table cloths that local sellers often display fruit on top have provided new inspiration. The green, blue and yellow colour palette of his newest pieces also reflect the bustling city.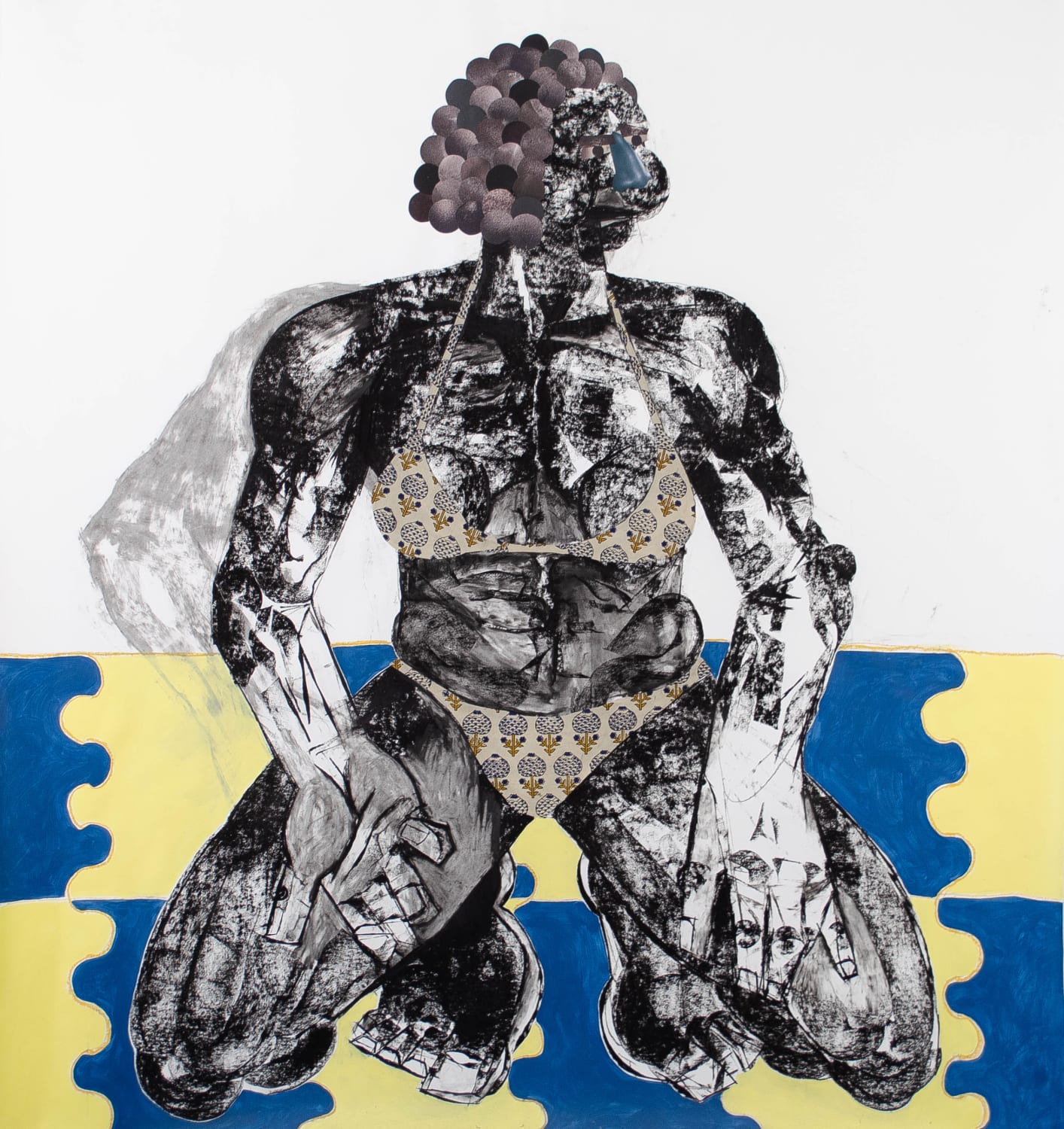 Jiménez is careful not to pigeonhole his work or push it into a specific style, but instead it's more about developing the most comfortable way of making art. "Some of the issues I'm exploring are about gender and sexuality, and my relationship to Black masculinity, so I'm still trying to unpack a lot of things," explains the artist.
"Maybe that's what all art is: a conversation starter, a fancy ice breaker"
"These things are a lot for me to take in, so the way I go about it is to simplify it so it makes sense to me. I think that's the way I create as well." The result is simplified but dynamic forms, colour palettes full of warmth, and plain but textured backgrounds.
Jiménez's images interrogate race, gender and sexuality. As a viewer you're easily swept into his collages, and not just because of their generous scale. This sense of openness between the artist and his audience is conscious, as Jiménez wants to start a dialogue with his work. "I hope people use the work as a kind of catalyst to start having certain conversations," he concludes "Maybe that's what all art is: a conversation starter, a fancy ice breaker."