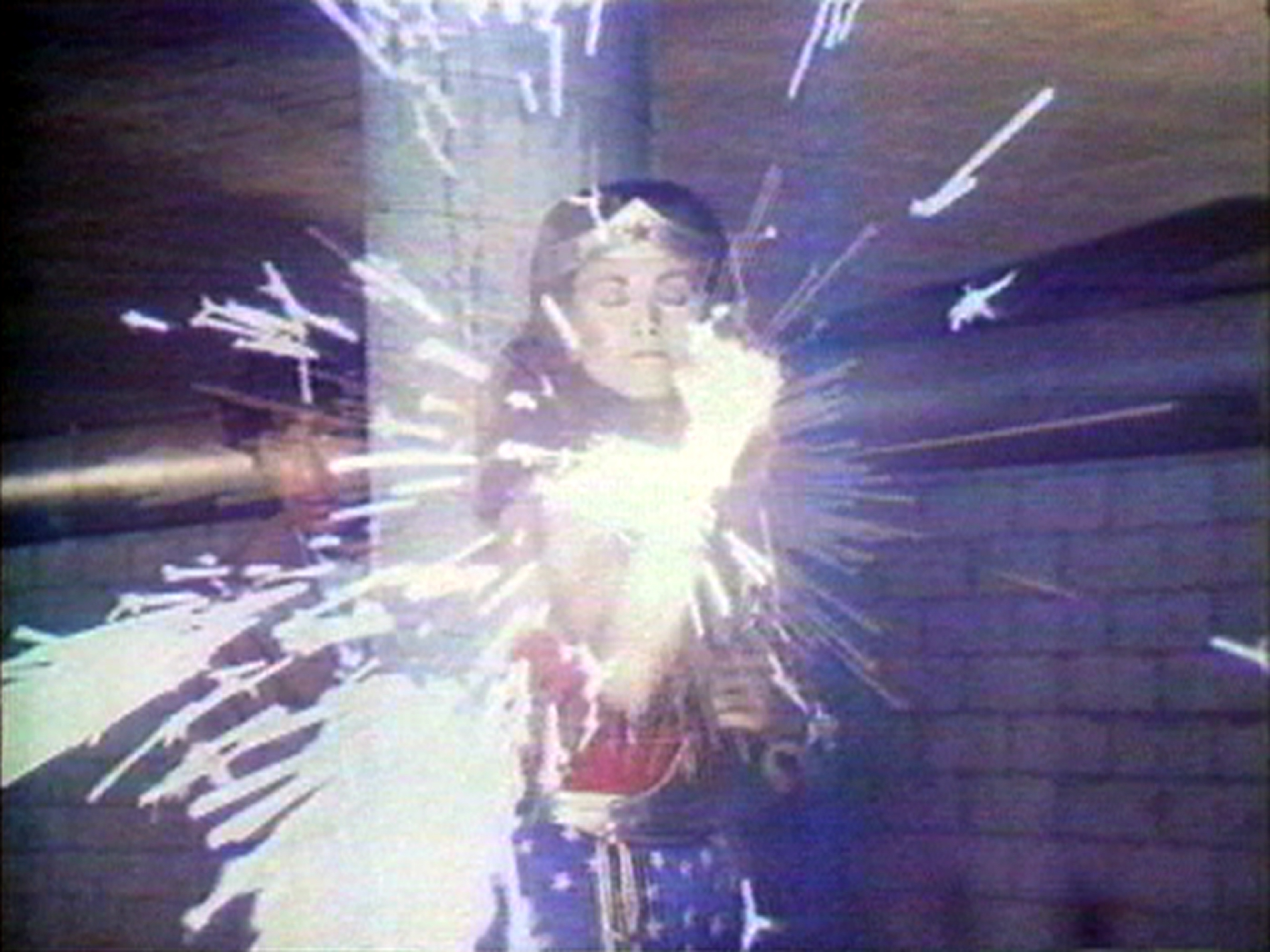 Technology/Transformation: Wonder Woman is hypnotic and exhausting. In her 1978 video work, Birnbaum spins her protagonist in an endless cycle of transformation, blasting, in a flash of light, from the everyday Diana Prince to warrior princess and back again. The piece, as with much of Birnbaum's work, tackles the portrayal of women—in this case, on 1970s television—and the disempowering play between supposed strength and sexuality. The video work will be housed in the final section of Into the Unknown at the Barbican Centre, which focuses on the limits and potential transformations of the human body.
What first interested you in working with Wonder Woman as a subject for Technology/Transformation: Wonder Woman?
I started working with video in 1975 and what I saw by the year 1977 was just how important television was as our dominant language in America. Most people were watching, according to the Nielsen ratings, for seven hours and twenty minutes a day. I was trying to look at the shows that were predominantly in primetime that had the widest audience. There were a number of shows that I call "technology transformation"—I only did Wonder Woman but there were other shows at that time like The Six Million Dollar Man, The Bionic Woman, The Incredible Hulk. I felt that Wonder Woman set up a paradigm that was impossible for me to contend with. Commercial television had put forth a programme of the kind of woman that I could never be. I was trying to look for a way to grab hold of that imagery and alter it, play with it, appropriate it and fight back against the medium that was delivering that kind of image to us.
It was amazing to me when I first got her image. I only had a black-and-white TV so I didn't realize how powerful that image was in full colour. You have this wasp-waisted woman who's dressed in red, white and blue with stars coming out from her breasts. The character came from popular comics. Its history is way before its history on television and it was just the form of representation that angered me. I thought: "Why are you showing me this image?"—that was very popular. In the year I did it, Wonder Woman swimsuits were the hottest items for young girls. So I felt that was a lynchpin in a certain way.
Now we have Game of Thrones, Black Widow in the Marvel movies, strong female characters within comic franchises and fantasy still have a very sexualized kind of power. Has the conversation moved on since the Seventies?
Well, there's a resurgence of Wonder Woman now, certainly here [in the US], and I'm quite amazed by that. It's a very conservative political time right now here. I think the image is an idealized Fifties image. Either you're a banal, bland secretary or you're a Wonder Woman, but there's no way to live in-between. Right now in the US we're undergoing a strong attack on women's rights and positioning and it's strange to have a character like Wonder Woman re-emerge in a really strong way here with very large books coming out on her, as well as a popular feature film.
You explore other aspects of science fiction, aside from the use of the female character, such as the visual and aural assault of the repeated explosions and effects. Do you have a particular engagement with the genre or did it simply provide a good basis for exploring your wider interests?
I think actually this came from growing up with Pop Art culture and minimalism and conceptualism.  I was looking for a way to what I call "arrest the moment", especially the moment of transformation. I grew up with a group of artists, here in NYC, who were later labelled the Pictures Generation. Many of these mainly 'downtown' artists like Robert Longo, Jack Goldstein and Cindy Sherman reached into popular culture but they put it into a more static platform, like transferring such images into painting or photography. My goal was to use the medium on itself and the way to get that vocabulary to stand out, to be able to see it for what it was and reveal its hidden agendas, was to do repeat loop editing.
What was it about the moment of transformation, which becomes almost hypnotic in its repetition within your work, that you wanted to explore?
At that time, the special effect was one burst of light that she appears in as a transformed woman. I felt that no one can transform, no real woman can transform, in one burst of light, so I thoroughly rejected that. My thought was to have her caught almost like a little doll, in a jewellery box spinning constantly, who once she's transformed in the role can't get out of it or constantly repeats that transformation from real to wonder. I think that from this use of constant spinning you start to see beyond the immediate subjectification that they gave her and you see, instead of an empowered woman, a woman caught in this role of representation that denies her any way to live in-between.
You've spoken about first coming to video work while in Florence.
I was in Florence partly to get away from America, to be honest, and I, by accident or by fate, ran into this gallery, Centro Diffusione Grafica, run by a wonderful woman, Maria Gloria Bicocchi, and she was encouraging artists who were in Italy, or who came over from other countries and were dealing mainly with flat work, to experiment in video. I fell in love with this exploration. It was one of the first moving-image mediums that allowed us complete, almost instantaneous feedback and a lot of the early work was about that, including my own. I think my work was heavily influenced by artists such as Vito Acconci or Bruce Nauman. That work was very different from Wonder Woman. Also so many writers, theorists and artists were interested in film language but no one was covering television language.
You took on a medium that had been used widely by male artists, to explore feminist issues.
I think one reason I left Florence is I realized the real exploration of the medium and the control of it, those who were editing or shooting, mostly were men. I didn't see a place for me and I think that was especially true of Italy. Coming back to the States, you could see more women artist role models and it hit me: This is something I can explore. It was still male-dominated, as art still is, but there were exceptions that stood out such as Joan Jonas, Mary Lucier and Beryl Korot. When I started, to the point now around forty years later, I do see a difference. I see that prominent institutions like MoMA or the Tate are giving large exhibitions to women and this art is being given a stronger profile and more advocacy.
The style of appropriating material in video works, of chopping, reworking and doing so to highlight subtexts and ironies, forms a huge part of online visual culture now. Did you expect video and video appropriation to form such a significant part of twenty-first-century cultural commentary?
I was not conscious of foreseeing a future of that, I just knew it was a language that needed to be used and analysed. When I did Wonder Woman, I was doing it on an open-reel system without a computer. Years later I was in a postproduction studio watching someone put together what could have been symbolically another kind of Wonder Woman, with computers and repeat edits—just press a button and it repeats thirty times—and that astonished me. I'm kind of amazed that these strategies went into popular culture, but it's nice to understand that you broke ground and were part of starting a movement. I work out of a heartfelt passion, of what I feel needs to be said in the culture, and it's much more that kind of intuitive approach—this needs to be said, this needs to come out—than it is a strategic or analytic approach.
"Into the Unknown" runs from 3 June until 1 September at the Barbican Centre, London.