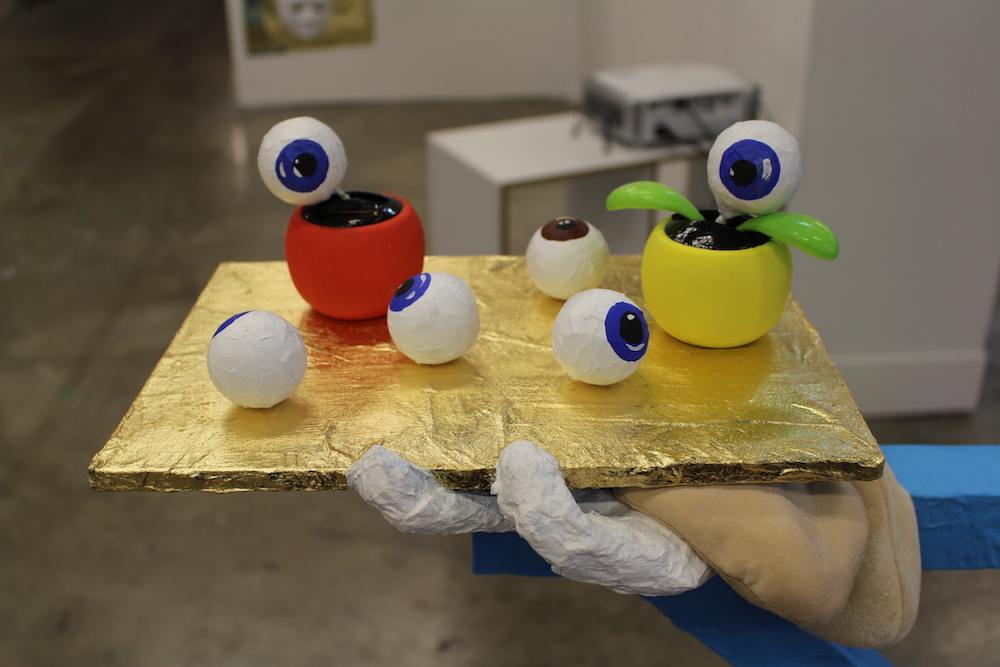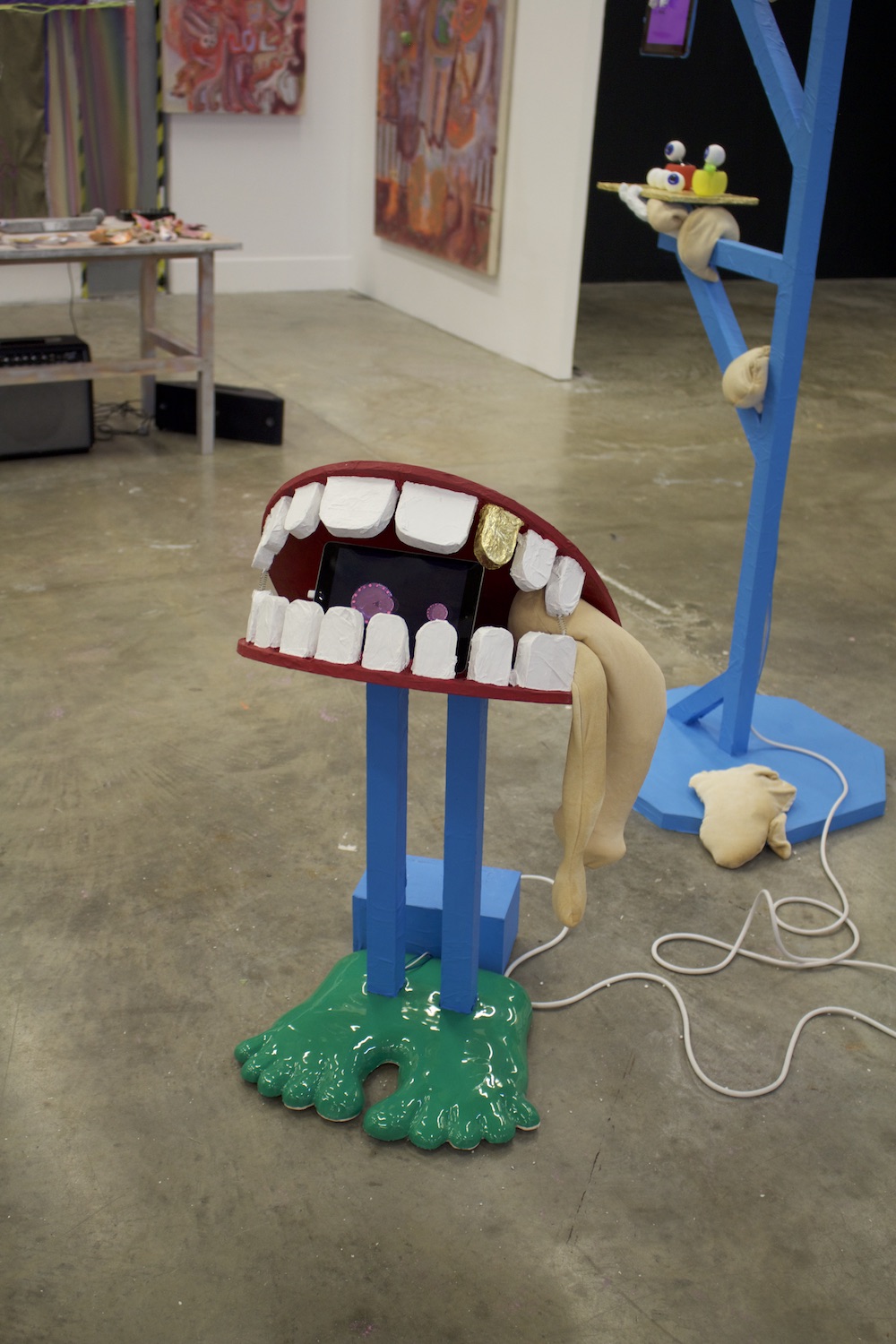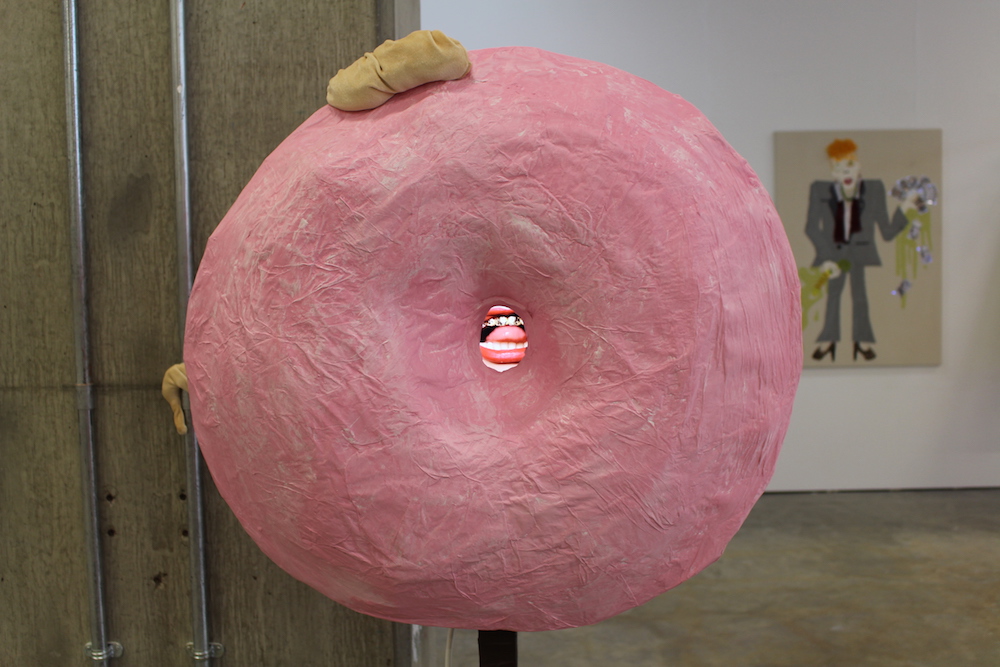 Jessica Oag-Cooper
Graduating with a BA in Fine Art, Jessica Oag-Cooper has a practice which is both personal—her own body is often represented—and universal, addressing ideas such as anxiety, body image and consumption. Drawing parallels with Emma Hart, Oag-Cooper's offbeat, funny and rather erotic pieces within this exhibition (with humerously straightforward names such as Eyeballs Plants, Belly and Teeth) explore the fetishism of fat through sculptures and video works which have elements of animation and children's toys. Horrific and amusing in equal measure. 
Ella Husbands
Ella Husbands has also graduated from BA in Fine Art, choosing the 4D pathway. Her work slices up the space that it inhabits, creating an immersive environment that leads to an uncertainty of footing, with lusciously coloured video projections hitting flat surfaces on a range of planes. The two films projected in Embodied Distortion each address ideas of "urban" and "nature" as experienced through the "sensory overload" that the artist endured during the early stages of Chronic Fatigue Syndrome. The film which inevitably has a softer feel is the one which relates to nature, though a combining of the sides gradually occurs as they overlap, suggesting a conciliation between the two worlds.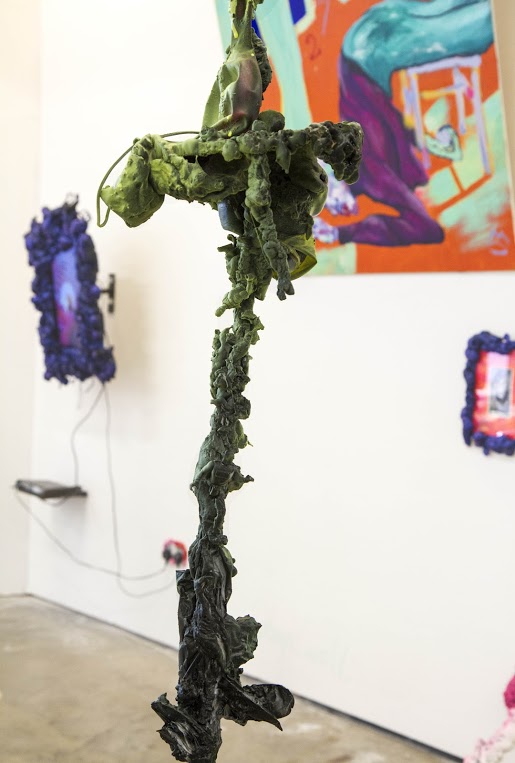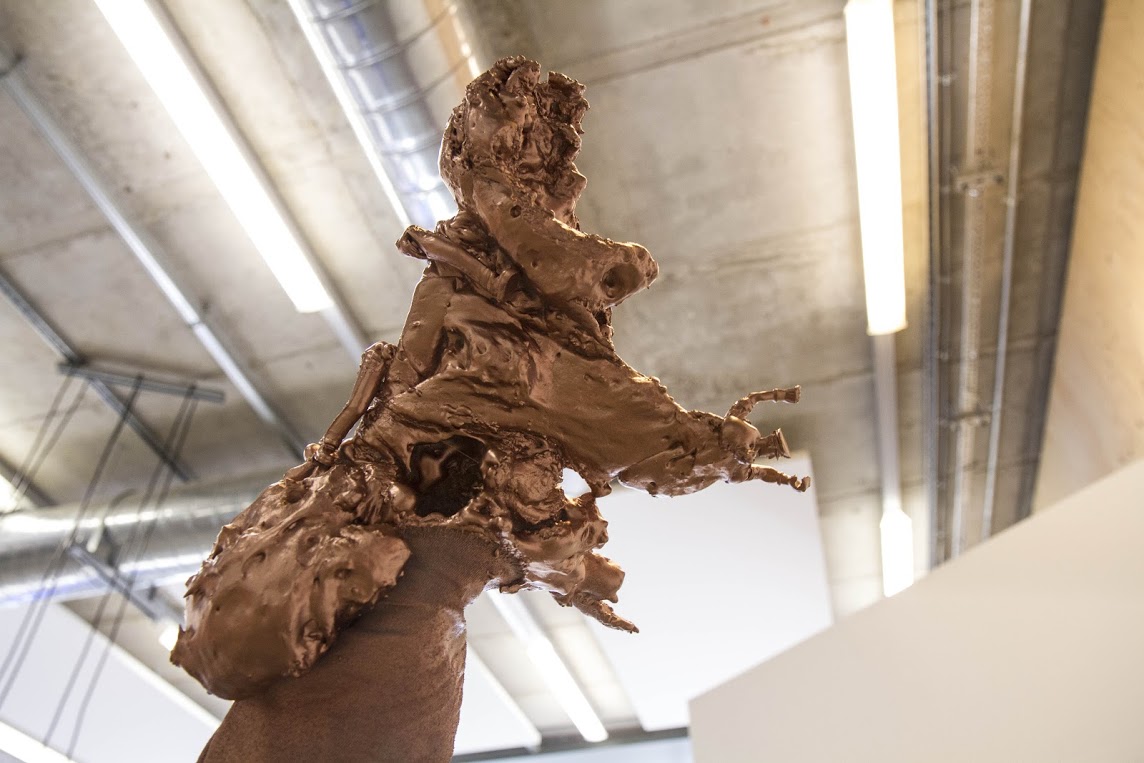 Olwyn Carroll
Olwyn Carroll's works combine stop-motion animation, sculpture and painting, with pieces protruding from awkward points on the wall and organic and man-made forms merging together—bodies, cigarettes and clothes all modelled from the same tactile materials. For Night of Blindness, television monitors are surrounded by unnaturally coloured vegetation, while long ethereal sculptures stand guard nearby and a variety of differently sized canvases hang on the walls. Despite the abundance of colour and content on show, there's a melancholic feel to much of the work, Carroll's crudely finished humans carrying a subtle range of emotions. The artist graduated with a BA in Fine Art has been shortlisted for Woon Foundation Prize at Baltic39.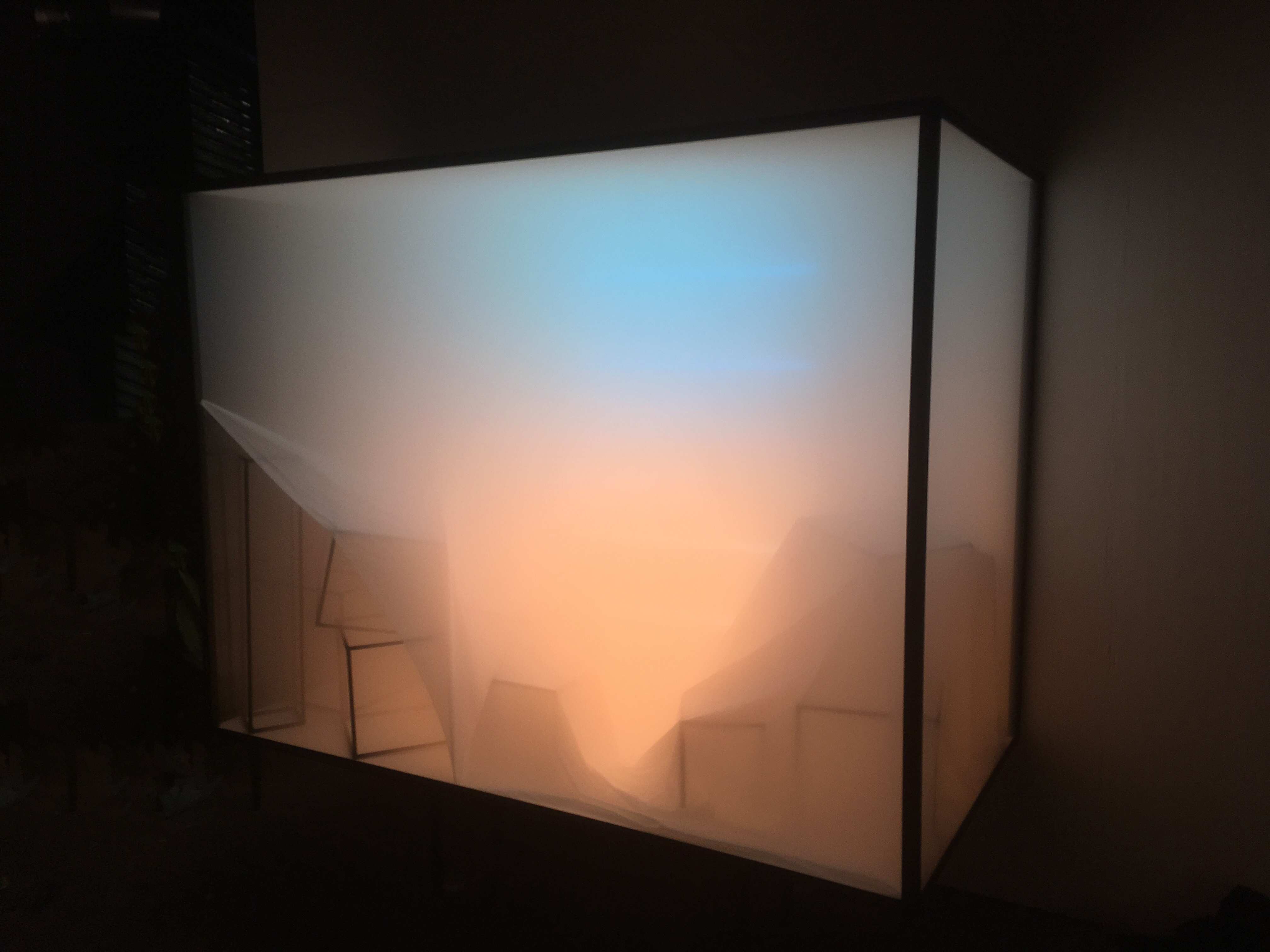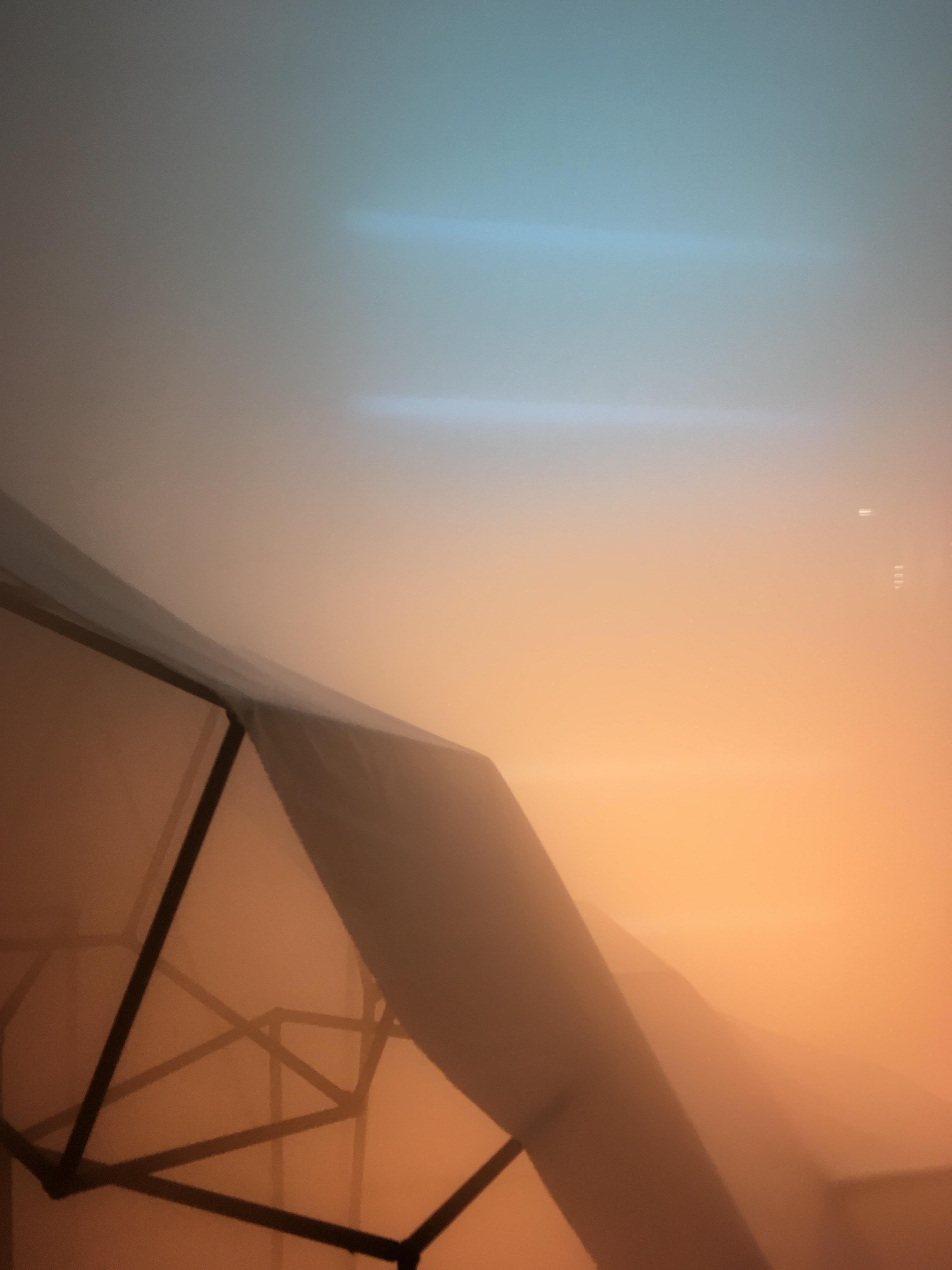 Alexander Forbes
Within the darkened space on CSM's top floor, Alexander Forbes's work stood out as one of the most complex. His pieces have architectural as well as sculptural elements to them, and the success of Fabrication, at CSM's degree show, lies in the blurring between these elements, the metal and fabric structure inside the work veiled to a large degree by the outer fabric and use of coloured lights and smoke—which create an ambient feel not too dissimilar to spaces of relaxation. The gathering of small droplets of sweat-like water to the inside of the outer fabric layer adds a further dimension. Forbes was also on the BA in Fine Art, choosing the 4D pathway.