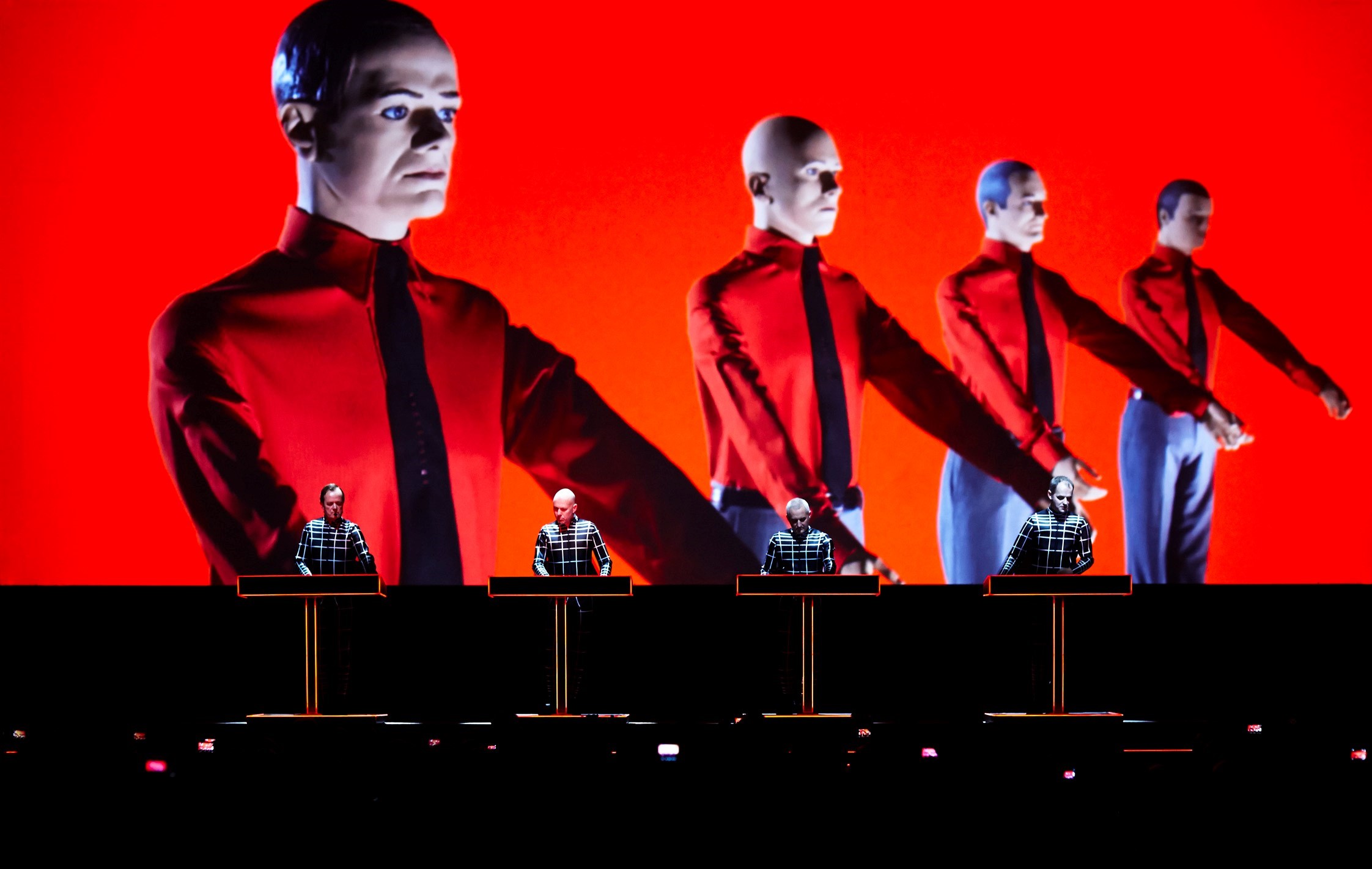 As midnight approached on 24 May 1997, I was in the heaving Trans Europe tent at the Tribal Gathering festival in Luton Hoo, Bedfordshire. I was squashed between a sweetly bookish "old guy" (around 30), my schoolfriend Sophia, and a sweat-drenched raver; all of us buzzing, wide-eyed and waiting for Kraftwerk. When a synthesized voice finally boomed the German quartet's introduction over the speakers, there was a collective roar of ecstasy; as soon as the first track, Numbers, counted in with ultra-sharp visuals (dazzling digits, reminiscent of Tatsuo Miyajima's art), I was hooked.
I had first heard of Kraftwerk via my favourite techno DJs. Tribal Gathering's bill was an all-night electronic feast, featuring names such as Orbital, Roni Size, Two Lone Swordsmen, Laurent Garnier and newbies Daft Punk. The Detroit tent powered down during Kraftwerk's set, as a mark of reverence. By the time the robot doppelgangers emerged from behind the screens, my throat was raw with screaming for the men-machines. More than two decades on, that set still feels like it changed my life.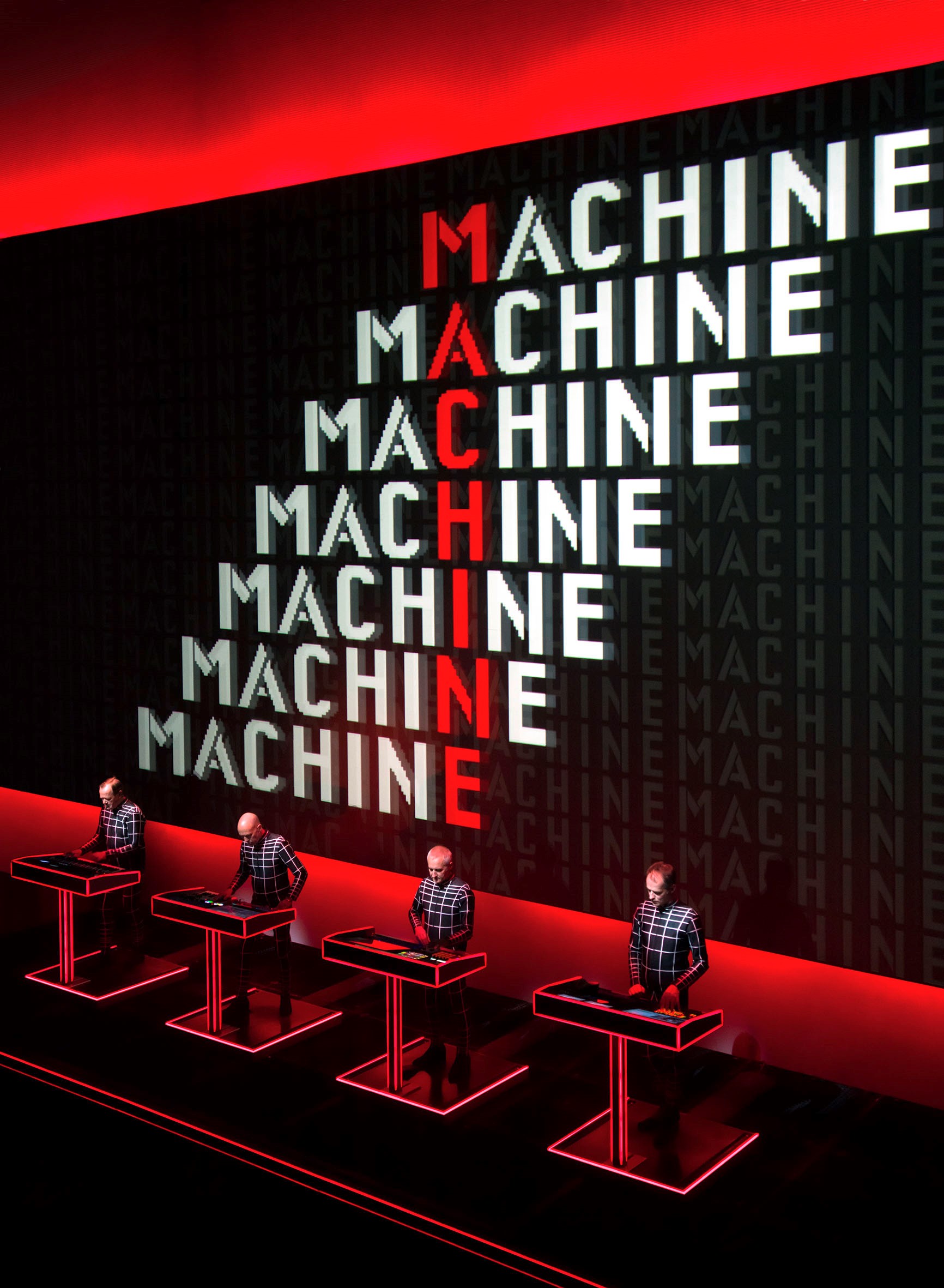 Electronic music wasn't strictly "underground" at that point. Events like Tribal Gathering drew tens of thousands of revellers, and club culture had fired up the pop charts and filtered into high street fashion. Yet a mainstream disdain lingered around the notion of "live" dance music, assuming that it was soulless and visually dull: a blinkered attitude that belied the history and ongoing innovations of electronic forms. That hang-up now seems to be widely redressed, via thriving contemporary electronic music scenes, an array of mega-successful acts, and increasing consideration from galleries and museums.
Kraftwerk inspired a MoMA exhibition back in 2012; more recently, we've had the Vitra Museum's Night Fever in 2018, and shows Sweet Harmony at Saatchi Gallery and Into the Night at the Barbican Centre, in 2019. Now, London's Design Museum reopens post-Lockdown with Electronic: From Kraftwerk to the Chemical Brothers, an "exhibition banger" remixed from a 2019 premiere at Philharmonie de Paris Musée de la Musique.
Jean Christian Meyer, from the collection Lunacy, 1993
The Chemical Brothers. Photo by Tony Pletts
Like many of the musician and visual artist dream teams depicted across Electronic, The Chemical Brothers go way back with their brilliant visual collaborators Adam Smith and Marcus Lyall, who have previously used monikers including Flat Nose George and Vegetable Vision. Their work together has resulted in gloriously surreal, spirit-lifting audio visual live shows, as also documented in the 2012 concert film Don't Think. When I interviewed Smith in 2011, he described The Chemical Brothers' music as "a dream come true in terms of making visuals. Their tracks are full of noises you've never heard before and incredible hooks. It's a bombardment of the senses, with total heart and soul… We use a lot of colours magically emerging from darkness, and primary colours. A lot of that comes from working with primitive projectors in the early days, when we had to compete to stand out. Now we've got amazing Solaris light cylinders and hi-tech stealth screens and more intricate plans, but the style has remained."
I swiftly steer my son away from a display of Chris Cunningham videos ("Ewww, what's that?"), and towards Smith and Lyall's final room: an installation based on their visuals for The Chemical Brothers' blissed-out 2019 anthem Got to Keep On. It is a startling sensation, with blazing strobe lights, massive screen visuals of a dancer in a Leigh Bowery-style body suit, and the scent of dry ice cut with hand sanitiser. It is a full-on, twenty-first-century contrast to the "blacklight room" that was the centre-piece of Tate Liverpool's Keith Haring exhibition over a year ago. It's a weird realisation that this gallery is the closest that most visitors will get to raving for a while. It also feels like a statement that this cannot be the end. Electronic's "future possibilities" extend to future generations: a circle of nightlife.
Electronic: From Kraftwerk to the Chemical Brothers
Until 14 February 2021 at the Design Museum, London
VISIT WEBSITE