Düsseldorf might not be the most immediately prepossessing of German cities. A quick dip into the commercial centre from the Hauptbahnhof reveals almost back-to-back post-war greyness. But venture a little deeper and you'll find much that beguiles: a well-restored medieval old town with charming baroque alleys, prime examples of expressionist architecture and leafy riverside suburbs of elegant Gründerzeit apartment buildings.
With a population of just over 600,000 people, Düsseldorf is dwarfed by nearby arch-rival Cologne. Yet Düsseldorf's cultural presence exceeds that of many European capitals. It has been home at various junctures to Heinrich Heine, Joseph Beuys, Wim Wenders, Neu! and Kraftwerk, as well as one of the largest Japanese communities outside Japan. The city so entranced legendary Krautrocker Klaus Dinger that he named a band after it, La Düsseldorf, whose music abounds with wonder at the neon lights of the revived city.
Left: Installation view of Fang Di, Hit Me!, 2013. Right: Installation view of Yao Qingmei, The Ecdysiast-Molt, 2017. Both Julia Stoschek Collection; Photo Simon Vogel
Art is everywhere in Düsseldorf. There is even a contemporary art venue inside a automobile tunnel, the literally-named Kunst im Tunnel. To explain this profusion, historically-inclined locals might point back 300 years to the reign of Elector Johann Wilhelm II, who assembled an enormous horde of baroque masters, or to the mid-nineteenth century Düsseldorf School of subdued and refined landscape painting.
Düsseldorf's present day artistic superabundance, however, is tied to two factors. The first, inevitably, is its wealth. A stroll down the Königsallee, the city's high-end shopping boulevard—and, with its tree-lined canal, among the most pleasant of its type anywhere—reveals an unquenchable taste for couture, with a business-like tilt towards the understated over the outré. The other driving factor is the Kunstakademie, the state-run art school. Famed initially in the nineteenth century for its landscape painters, its twentieth century alumni list reads like a who's who of contemporary German art: Beuys, the Bechers, Richter, Genzken, Polke, Kiefer and Gursky, to choose just a handful. Current tutors include Peter Doig, Katharina Fritsch and Rosemarie Trockel. Although the academy's imposing historicist home is off-limits except during a five-day annual exhibition, it runs a museum on the Burgplatz showcasing esteemed tutors and alumni, at present ZERO group maestro Otto Piece (until 20 January).
The Kunstakademie stands at both the spiritual and the geographical centre of Düsseldorf's main art institutions. Head north through the Hofgarten or along the Rhine, past the exuberant brick expressionism of the Tonhalle concert hall, and you'll find the Museum Kunstpalast and the NRW-Forum. The former, built around a fragment of Johann Wilhelm's treasure trove—the majority was moved to Munich in the early nineteenth century—is a vast, varied collection that encompasses everything from medieval sculpture to Nam June Paik installations. The glassware collection, a museum-within-a-museum, is compendious and worth a visit on its own. The NRW Forum, meanwhile, focuses on photography and design. Presently closed for installation, from 7 December it will stage a group show on Bauhaus photography and its influence.
Turn south from the Kunstakademie instead, and you'll come to the Grabbeplatz. One side of the square is dominated by the hulking brutalist facade of the Kunsthalle, a temporary exhibition museum that, since 1967, has a history of introducing previously-unknown artists to a European audience. This winter, it is devoting two parallel exhibitions to pioneering curator Harald Szeemann (until 10 January). The Kunstverein, a local artist's association housed in the same building, is currently exhibiting the New York-based artist Ulrike Müller (until 17 February). Until recently, the block also held the Salon des Amateurs, the late-night spot of choice for art teachers and students alike; closed for an indefinite period this November, with all luck it will return renewed.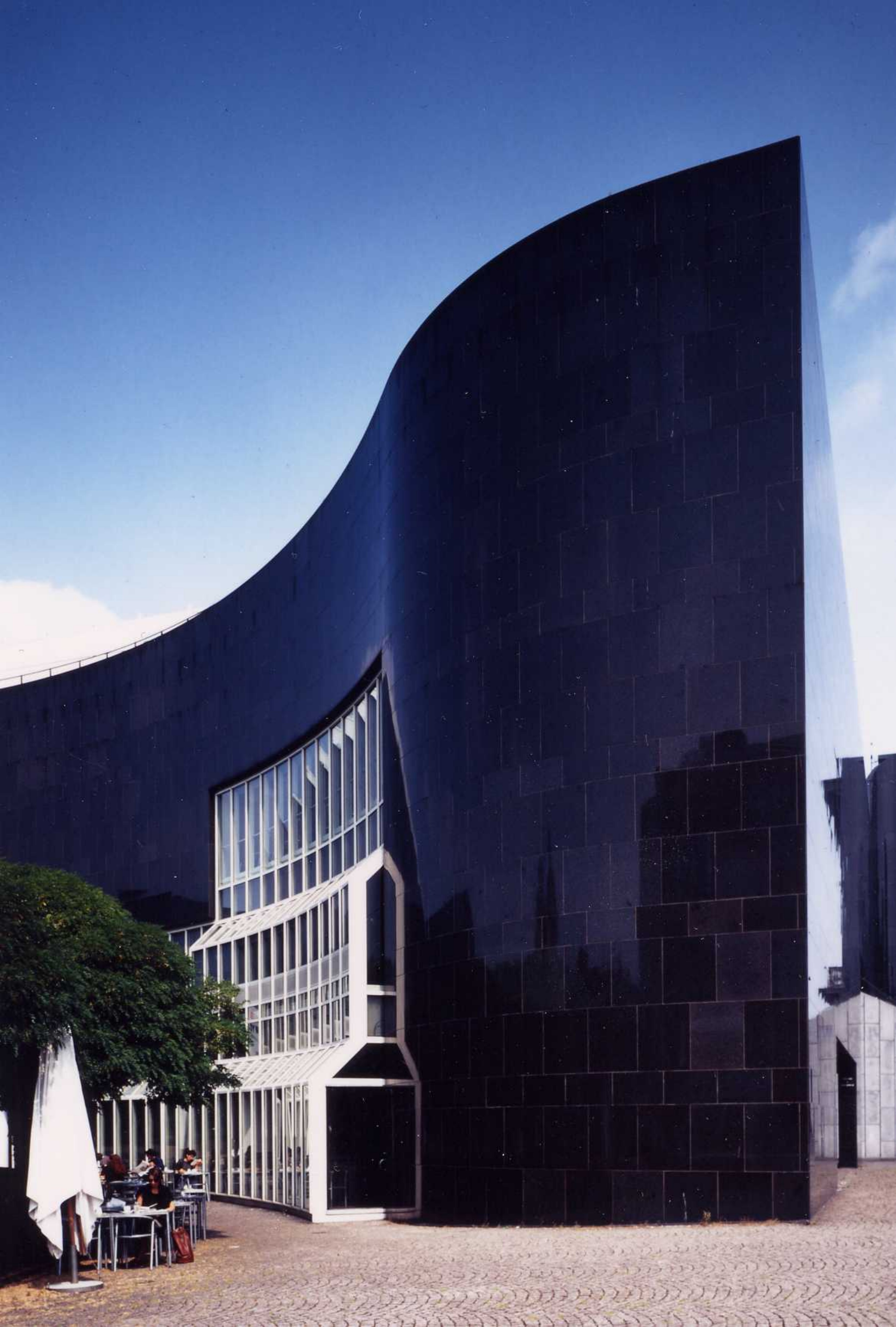 Opposite the Kunsthalle building is K20, part of the Kunstsammlung NRW, the art collection of the state of North Rhine-Westphalia. And what holdings they are. From Klee and Kandinsky to Rothko and Rauschenberg, it represents one of the most comprehensive assemblages of modern European and North American art anywhere. The present exhibition Museum Global: Microhistories of an Ex-centric Modernism (until 3 March) expands this offering further by delving into modernist art produced in various other locales, from Tokyo to Zaira. If you only have time to visit one museum in Düsseldorf, make it this one.
The Kunstsammlung has expanded significantly in the past two decades, opening up K21 in the former regional parliament and a smaller satellite in the former Galerie Albert Schmela, housed within a functionalist structure by the Dutch functionalist Aldo van Eyck. K21, also a must-visit, picks up where K20 leaves off, with an intelligent, eclectic tour through art from the 1980s to today. The exhibition programme is wide-ranging, at present featuring the political-yet-whimsical Chinese video artist Cao Fei (until 13 January) and the American installation artist Lutz Bacher (until 6 January). It also offers one of the great adult playgrounds: Tómas Saraceno's in orbit, in which you can don a boiler suit and clamber over layers of iron mesh strung from the museum's ceiling. It's a genuinely otherworldly experience, unless you make the mistake of looking down to the twenty metre drop below.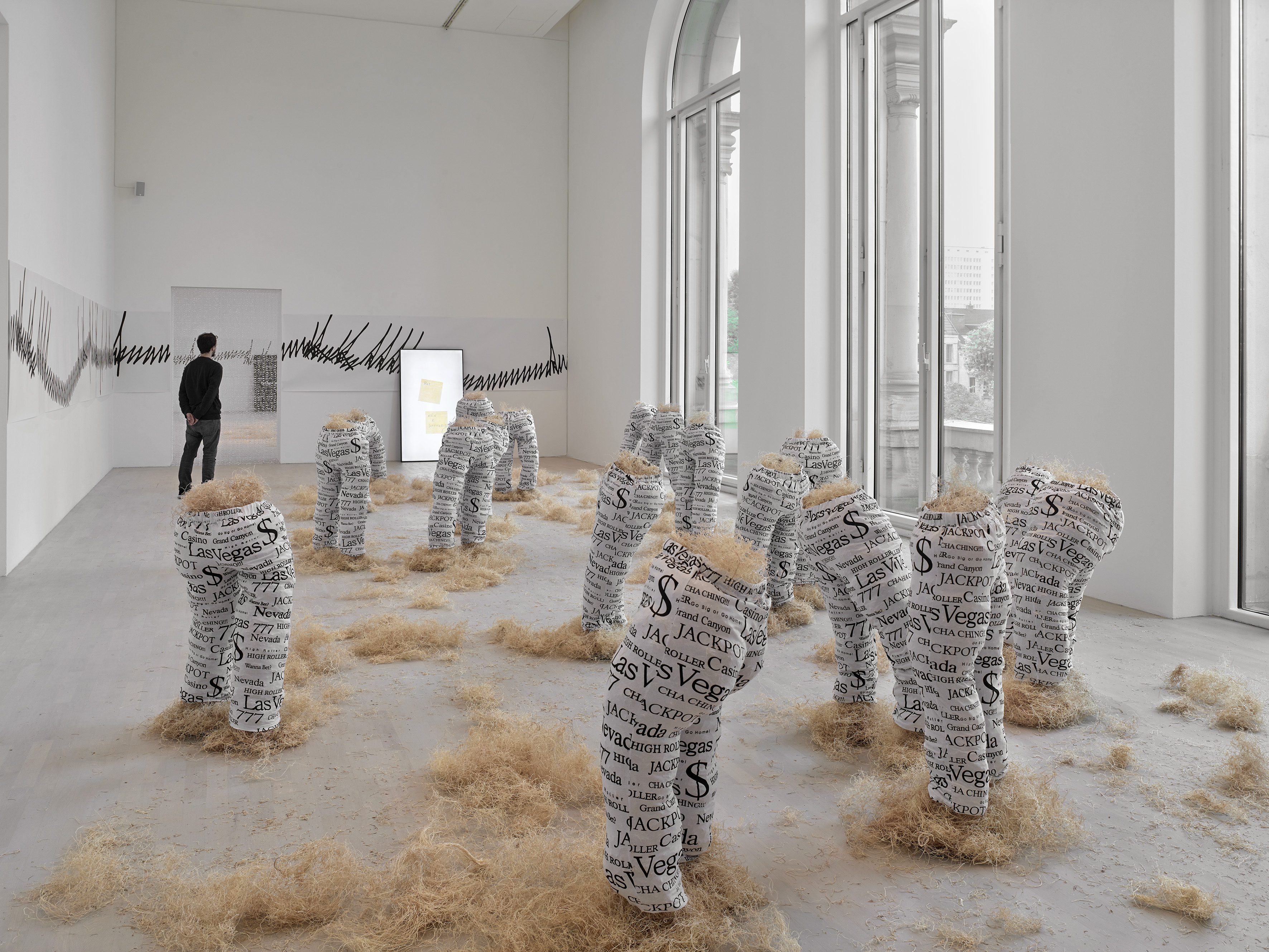 Düsseldorf's gallery scene has a long lineage, stretching back to "Mutter" Johanna Ey, 1920s patron of Otto Dix and Max Ernst. There are now around a hundred, scattered around the centre and well-to-do adjacent districts such as Unterbilk and Flingern. Konrad Fischer Galerie, founded 1967, and Galerie Hans Mayer, founded 1971, provide a direct connection to the post-war boom years; recent insurgents include the adventurous Petra Rinck Galerie and painting-focused Anna Klinchammer Galerie. As of last year, the scene has been galvanized around Art Düsseldorf, a distinctly civilized affair which gathers regional and international galleries side-by-side in a humongous steel works on the edge of town.
The city's private gallery scene goes hand-in-hand with an astonishing variety of foundations, collections and not-for-profit art centres, many housed in expansive structures away from the dense city centre. In Flingern, for instance, there is the Sammlung Philara, owned by real estate magnate Gil Bronner; as well as displaying exhibitions from his collection, it also provides studios for local artists in a former glass factory. The regenerated harbour area now known as the MedienHafen—best known for its Frank Gehry architecture—is home to Kai 10, a non-profit institution showcasing thematic group shows of largely young artists. And across the river in moneyed Oberkassel there is the Julia Stoschek Collection, which only collects art thematically focused around time, with a particular emphasis on the video. The current exhibition, New Metallurgists (until 28 April), is dedicated to young Chinese artists.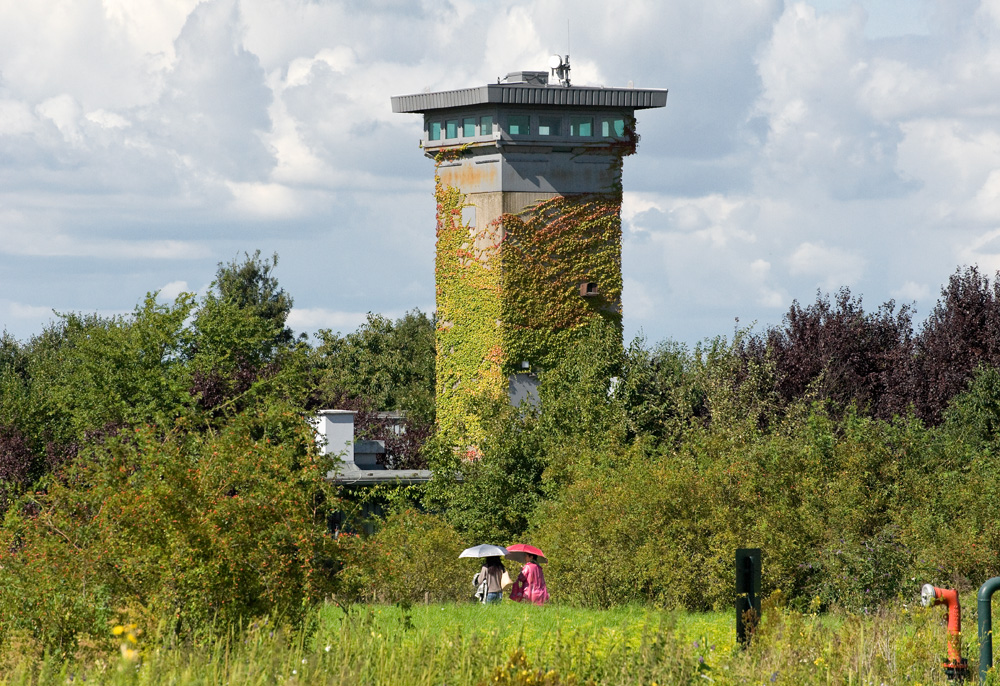 The most extraordinary of all these institutions, however, lies outside Düsseldorf proper, in the rural outskirts of the neighbouring town of Neuss. The Stiftung Insel Hombroich, founded in 1982 by the collector Karl-Henrich Müller, is a series of museums, architectural installations, land art and artists' houses set within an austere, semi-wild landscape, with enough hidden delights for a day of discovery. Since 1994 the site has expanded over a former NATO missile base, with structures by Álvaro Siza, Per Kirkeby and Thomas Schütte, whose Skulpturenhalle museum opened in 2016. Perhaps the most astonishing building of the lot is the Langen Collection, a waterside late modernist designed by Tadao Ando. It frequently shows work from its own and other collections; until 17 March there is a group show of the Hong Kong-based Burger Collection, which includes works by Doug Aitken, Urs Fischer and Mohamed Bourouissa, among others.
Left and right: installation view of How To See [What Isn't There] at Langen Foundation. Courtesy Burger Collection
Along with art, luxury fashion and flash cars, Düsseldorfers enjoy an evening on the cobbles. The Altstadt, often nicknamed "the longest bar in the world", features everything from sleek cocktail bars to warming traditional taverns, as well as a row, Bolkerstrasse, of rather less appealing sports bars. For many locals, the only thing worth drinking is Altbier: a dark, slightly bitter lager, served chilled in small glasses. There are half a dozen breweries which each serve their own variety, as well as hearty German dishes. The Schweinshaxe, a roasted ham hock, is particularly popular. If you cannot stomach a whole thing, the aptly named pork rotisserie Schweine Janes sells takeaway knuckle sandwiches. Those unenthused by enormous wedges of pork can take solace in the city's fine array of Japanese eateries, from the Michelin-starred Nayaga to the classic noodle joint Naniwa.
Duly sated, there is no better way to end a night in Düsseldorf than a promenade up the banks of the Rhine, passing the smooth concrete walls of the Rheinturm TV tower, barely-there suspension bridges and rows of pleasing egg-shaped lamps. It might be one of the most strangely compelling urban views around.