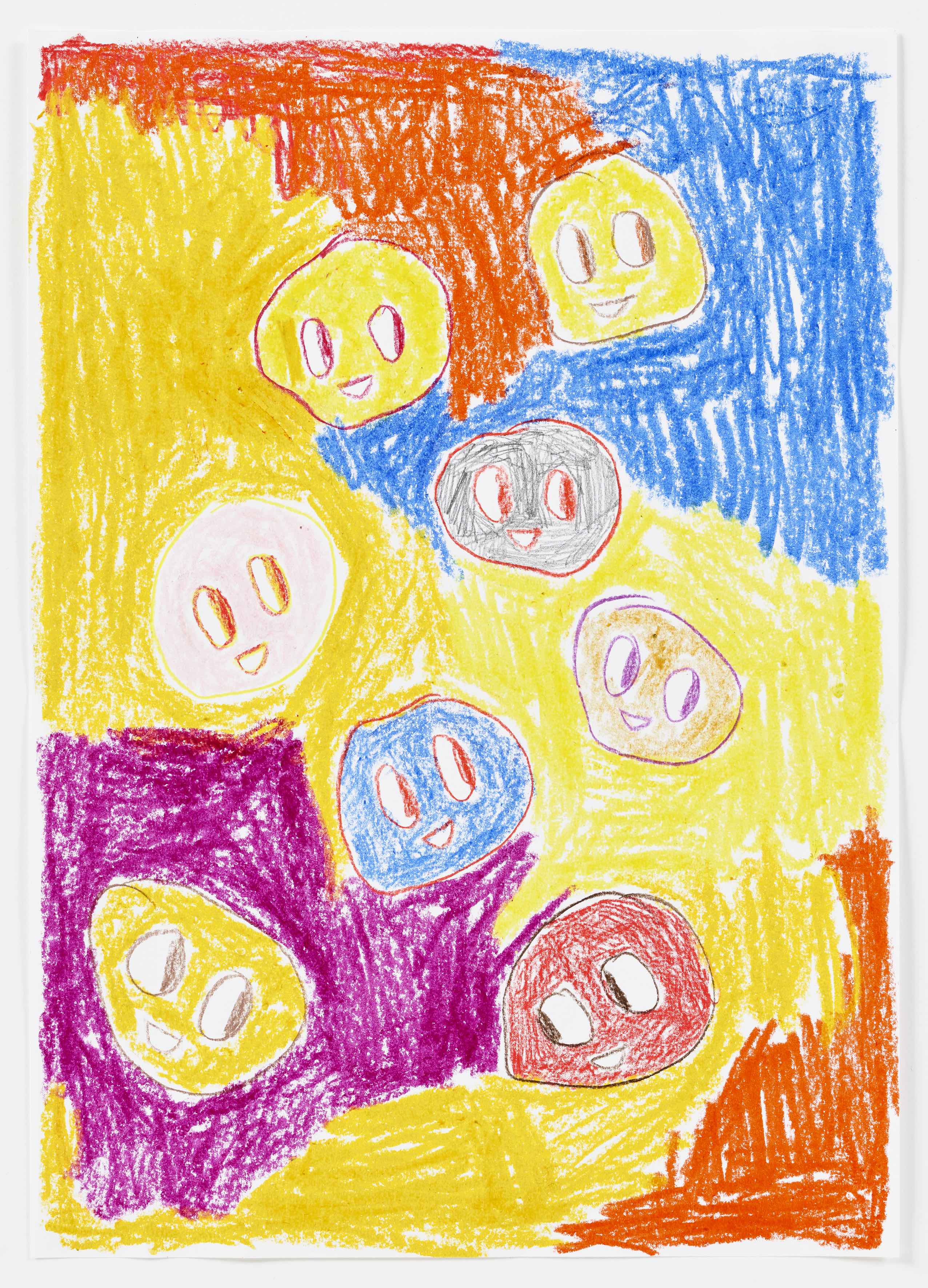 As resolutions wane and our bank balances finally recover from the shock and denial that characterizes January, there is plenty on offer among Berlin's gallery scene that will leave you considering not only the sinister mechanisms of capitalism, but perhaps the notion of reality itself. Because who doesn't enjoy an existential crisis as we near spring?
André Butzer at Galerie Max Hetzler
One of the godfathers of lucid agitation—at least in painting—is André Butzer, who presents his solo show across both Galerie Max Hetzler spaces this month. For Butzer, this show seems like a landmark, as he has finally left his former oeuvre behind. In previous exhibitions, if you didn't know the artist's work you might think it was a duo rather than solo show, as the canvas styles were so different, but this fugue now seems to have all but disappeared. Butzer is best known for his wild, colourfully illustrated chasms filled with faces, often displayed next to black and white minimalist constructions, known as "N-pictures". Now he says he has built a cosmologically constant border crossing "nasaheim" and no longer needs the infinite "N".
Until 3 March
Beobachtung at Dittrich and Schlechtriem
Beobachtung at Dittrich and Schlechtriem also hosts a range of probable worlds, all stacked neatly together in a curiosity cabinet-cum-lab scenario. The collection is stunning, allowing the viewer to easily get lost in the conceptual stories and aesthetic decisions of the artists. To name but a few oddities; Julian Charriere's black and white "terminal" beachscapes—taken in areas that have such a high radioactive content you can only be there a few hours—offer "natural fabricated apparitions". Charriere rubs analogue film in the sand before loading the camera, resulting in ghostly optic trails caused by the toxic chemicals as they dance over the celluloid scenery. In another set of mesmerising works, Andreas Greiner presents a kinetic algae life support machine and an oversized 3D-printed GMO broiler chicken skeleton. He rescued the animal from a factory and left it to live out its lifespan in an animal park, before scanning its bones, which are deformed by the horrifying industrial conditions.
Until 24 February
Coronation at Horse and Pony Fine Arts
Coronation at Horse and Pony Fine Arts is another exhibition focusing on the disjunction of our times. Curated by Àngels Miralda, it aims to move between the spaces of nostalgia and hope that define today's digital generations. Miralda calls for a historical re-enactment and gestural re-think of our past and future selves. She has enlisted Syrian artist Khaled Barakeh, who is best known for his ability to see between the cracks of aesthetic social politics; Valinia Svoronou, whose work launches from a point of the fictive real; and Thomas Yeomans, whose media work is seductively dystopian, often playing with a method of unveiling via a plot or theory in set frames.
Until 18 February
Martin Kohout at Exile
Martin Kohout also maps with the seduction of moving image in his third solo show at Exile, where he will present his new film Slides, scored by Kareem Lotfy. Kohout is best known for his rough digital underground aesthetics, exporting youth culture via the readymade, into bizarre and humorous narrations of "our" modern times. The artist's recent book Puffy Grip Logic invites various authors to engage in a structure known as a gamebook, which allows the reader to take various routes and detours throughout the narration. Kohout always seems to assume the position of desire, but the reality is much more like a dreaming fear.
From 3 February to 3 March
Jordan Wolfson at Schinkel Pavillon
Lastly, Schinkel Pavillon presents Jordan Wolfson, best known for his humanoid robot, who swivelled her hips back in 2014 while dressed in a micro white dress and thigh-high vinyl boots, sporting blonde curls trailing down her back and a pole impaled through her chest. Wolfson has been an "it boy" of the art world ever since. For better or worse, you can bet that controversy and the digitally uncanny will not be far away from whatever he shows.
From 10 February to 1 April