Wenzel Hablik: Expressionist Utopias at Martin Gropius-Bau
Alongside Picasso, Kandinsky and Kokoschka, Wenzel Hablik was considered to be one of the godfathers of expressionist utopian thought. This large-scale retrospective includes architectural paintings and drawings as well as designs for interiors, furniture and crockery. Hablik used the wildest pinks, aqua blues, deep reds and ochres, and often seemed to rewrite the entire logic of oils. His application looks more like an image under black light than the traditional palettes of his peers, and his flying machines, cryptic geometric castles and beach landscapes remain breathtaking even in our contemporary world of CGI.
Until 14 January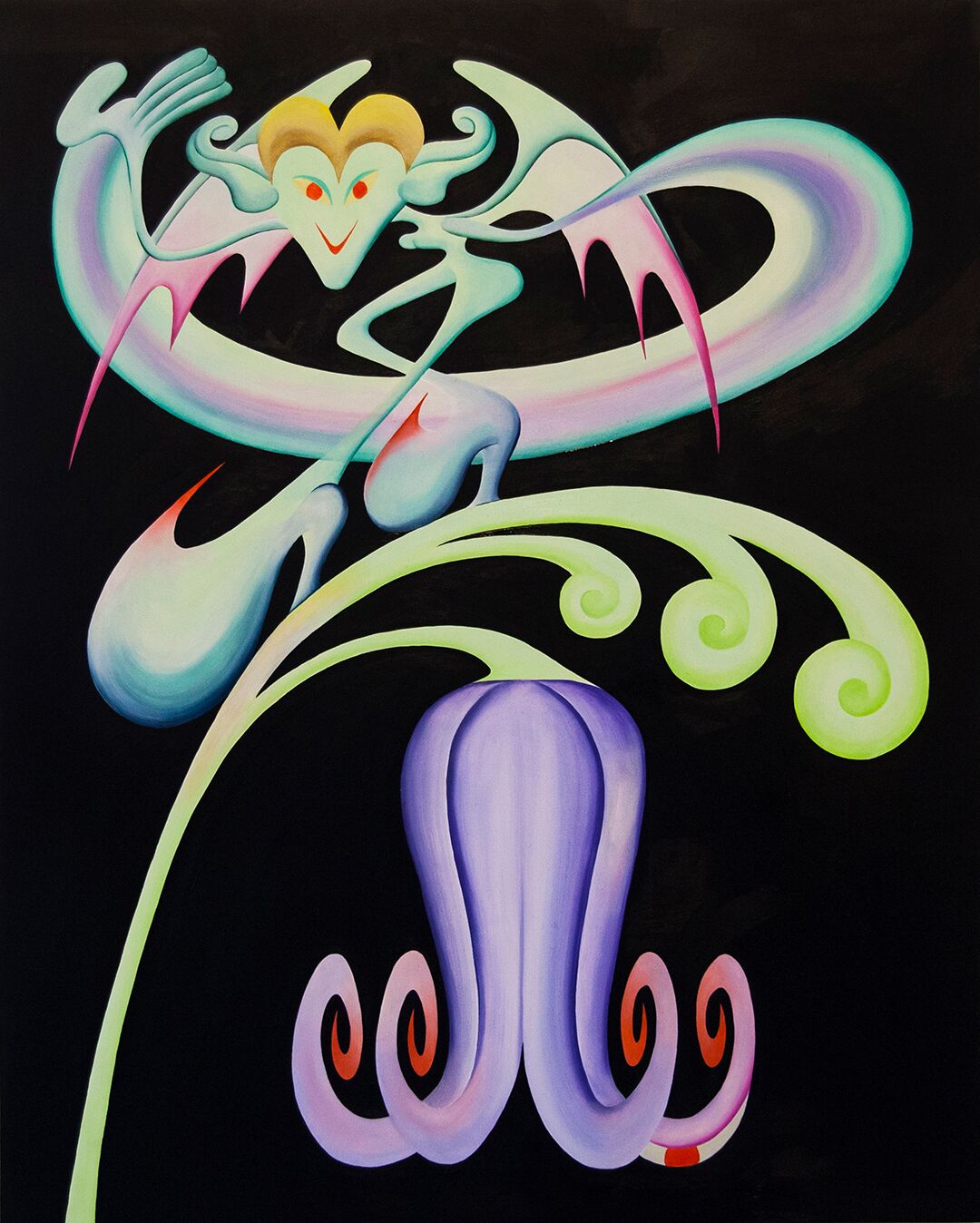 Maren Karlson: Soft Fists at Pushkin and Gogol
Maren Karlson's electrifying folk narratives also have a certain sci-fi war flavour, lining the walls of Pushkin and Gogol until the end of the month. Her unique approach to contemporary visual myth-making has been applied to textiles, paper and canvas. Fungus is her departure point as she illustrates a secret community highlighted by graffiti-like warning systems: "If 'death baby' is growing in your garden, someone close to you will die soon." On the opening night, Karlson flitted between guests handing out tiny pink mushrooms and free zines featuring the words of Sylvia Plath and Kat Bjelland. Her work is cute and playful but always a subtle altercation, a venomous feminism sits between twerking fairies, doll-eyed breasts and LSD-induced landscapes.
Until 20 January
KONKRET1987 Alexandre Bavard at Gr_und
Another artist who is considerably younger than Hablik but also exploring the sci-fi universe is Alexandre Bavard. After his twenty-day residency at Gr_und he fills the white cube with an intentional meta-riot; a battle of horror. Halloween masks of mummies, apes and Frankenstein fists are remoulded and joined in various postures to mimic a hyper-breed entity. These new creatures are frozen in action; a cryogenic system of a war that may never happen beyond the artist mind, but could become reality all too easily.
Until 20 January
Barbara Kapusta: Empathetic Creatures at Ashley
Barbara Kapusta is not exactly sci-fi, but there are elements of the mystic in her practice, as well as an interest in female-led narratives within the genre. She is typically concerned with the verbal and non-verbal gestures of communication between humans and the objects they find themselves surrounded by. Using sculpture, videos and text the artist conceives an imaginary post-apocalyptic community informed by daily life and turns its inhabitants into poetic effigies.
Until 24 January
Transmediale 2018
On the last day of the month Transmediale 2018 opens its doors, under the theme "face value". This year the art, culture and technology festival looks specifically at the processes of value creation, and how it has contributed to the extreme political, economic and culturally divided terrain we now find ourselves in. The five-day festival includes contributions from Zach Blas, Aria Dean, Demystification Committee, James Ferraro, Yuk Hui, Lawrence Lek, Angela Nagle, Yuri Pattison and Nina Power. With that line-up, one might feel that this world has a more plausible idea of the future.
Until 4 February