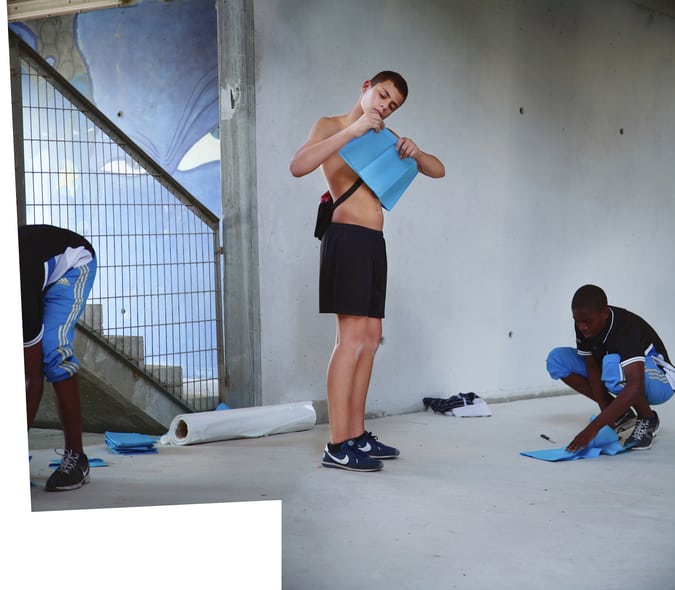 Football fever is spreading as Russia gears up for the World Cup 2018, which kicks off in just a few hours. The tournament has a remarkably unifying effect worldwide—for a competition built on nation-to-nation rivalry—as football fans share their excitement on social media and beyond. Even those who are resolutely self-identified football agnostics frequently find themselves swept up in the action, as it's just too good to miss out on—and no one likes a spoilsport.
The World Cup represents a curious balance of power, performance, celebrity and fanaticism, all of which make for great television—and the highs, lows, elation and frustration that the experience of watching a match is built on. It is also a resolutely nationalist event, although some take a somewhat tongue-in-cheek attitude to this collective identity. Several international friends of mine will cheer their country on with an aggression unheard of in our usual conversations, suddenly lost to the unexpected joy of accepting their part in something larger than just them alone.
Above and right: Soufiane Ababri, Bedwork : antihero, 2018, courtesy the artist and Praz-Delavallade, Paris/Los Angeles
"The World Cup represents a curious balance of power, performance, celebrity and fanaticism, all of which make for great television"
Football reflects the tensions that bubble just beneath the surface of society, and can reveal surprising emotions and impulses in the people who we think we know best. It's unsurprising that numerous artists in recent years have responded to these tensions and the collective energy of the game in all its beauty—and its ugliness. A new exhibition, Par Amour de Jeu 1998-2018, at Magasins généraux takes football as its theme, exploring the personal, political and—at times—humorous works by more than thirty international artists.
One artist included is Hank Willis Thomas, well-known for his investigations into the ways in which we process the images and mass-media communications that saturate modern-day society. His work questions the influence of race, gender and social status on these interactions, examining identity politics and power. In a recent exhibition at Ben Brown Fine Arts, he took football as his starting point, creating shiny chromed sculptures of disembodied limbs at play (several which are now on display at Magasins généraux) and quilts made from football jerseys. In it he highlighted the heavy reliance of the highly lucrative football industry on the labour and skill of international players, who are often of African origin, drawing an uncomfortable parallel between skirmishes on the pitch and the battlefields of history.
Petra Cortright, stills from footvball/faerie, 2009, courtesy the artist
Another artist featured in the exhibition is Russian photographer Boris Mikhailov, who captures the often difficult-to-look-at underside of everyday human life, from addiction to homelessness, which many find it easier to turn away from. In his Football series, he captures at-times unnerving scenes of a couple ostensibly playing kickabout, which take on a darkly sexualized tone as the ball is pushed aggressively up the woman's skirt. Meanwhile, in Petra Cortright's video of herself juggling a football in a glaringly pink, digitally luminescent dress, the tone is lighter—seductive rather than sinister.
Courtesy the artist and Ben Brown Fine Arts, London/Hong Kong
Hank Willis Thomas, Perseverance, 2017
Over in Germany, football was also a highlight at Public Art Munich this year; titled Game Changers, the event brought together more than twenty artists, who were each assigned a site significant in Munich's history to work with. Artist Massimo Furlan responded with a reenactment of the 1974 East Germany–West Germany World Cup match, complete with original commentaries, returning to a game that was the only direct battle between the two sides of the then German state. This was a match with high stakes, not only a game but a political encounter, filled with the tension, fear and aggression of an uncertain national legacy.
Above and right: Boris Mikhaïlov, from Football series, 2000, courtesy the artist, Galerie Barbara Weiss, Berlin, and Suzanne Tarasieve, Paris
For each artist tackling the world's most popular sport, it is a vehicle to confront the challenges of collective belonging and national identity, from past and present. Football at its best creates communities and, although at times this unity is manifested in aggressive terms, it offers a sense of solidarity able to transcend class, race and gender. At its worst, football can generate fierce division, descending to bigotry and violence. It is a game that holds a mirror up to society, channeling suppressed anger, fear and, of course, the pure joy of a win—it is beautiful, it is terrible and it is utterly irresistible.
Par Amour du Jeu 1998-2018
Until 5 August 2018 at
Magasins

généraux VISIT WEBSITE