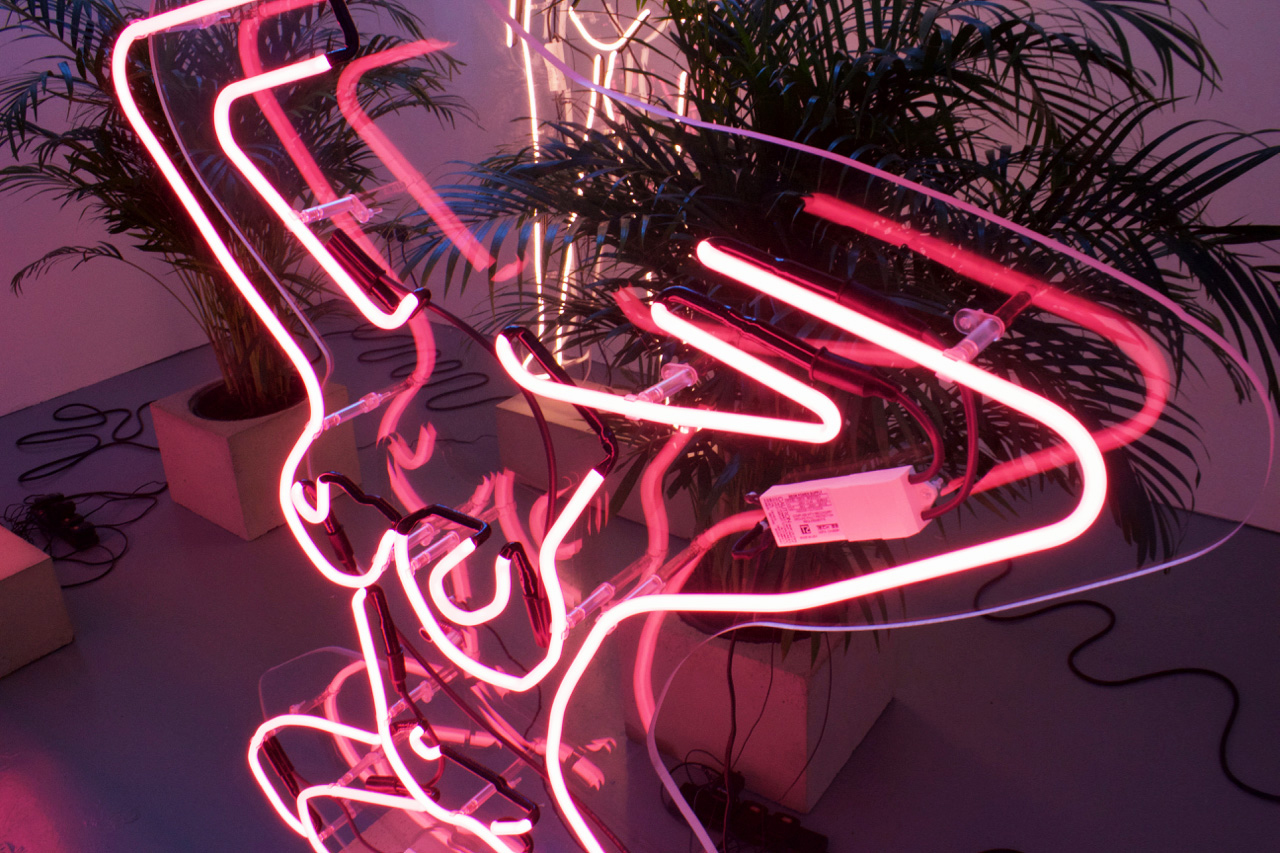 At the art week–which is held every summer alongside two photography weeks, a design week and an interior design and architecture week–brash and shiny materials were not in short supply, with glitter, plastic and rubber tape used in multiple works and many shades of vibrant pink and chalky pastels.
Sculptures formed a key part of the show with some of the strongest coming from the University of Hertfordshire. Fine art graduate Lil Cahill presented crumbling plaster towers in powdery pink and mauve, surrounded by dolls' sets of china and painted ice cream cones, forming disturbing fairy castles. On the same floor, Lily Rankine breathed new life into plastic bags, food containers and thrown-out toys, brought together on blue plastic sheets, sprinkled with glitter stars and splats of pink paint. Her sculptures were set off by classmate Eleanor Jane Montgomery's neon red and blue paintings that hung on the surrounding walls. The pair collaborated closely to produce the exhibition.
"It's been a challenging experience, "Montgomery told me, "because the space is very different to what we are used to, but it's been great to see our work on display outside of our university."
Students from Leeds College of Art—who won the best collective prize at the end of the week that was judged, in part, by Elephant—continued the sculpture trend and showcased Romily Alice's widely popular neon nudes. Jessica Wilkinson, also of Leeds College of Art, uses reels and reels of tape in primary shades, wrapped around itself repeatedly to create abstract sculptures whose bold stripes contrast with their curved outlines.

Francesca Hobbs, one of two runners up in the Free Range awards, created the most design driven of all the 3D works, with her appropriately egg-shaped creation, hand formed with thousands of long threads hanging in its lining. The structure left enough space for one visitor at a time (or two very small ones) to climb inside. The other runner up was painter Laura Coyne—who stood out in an exhibition that included a surprisingly economical number of painters.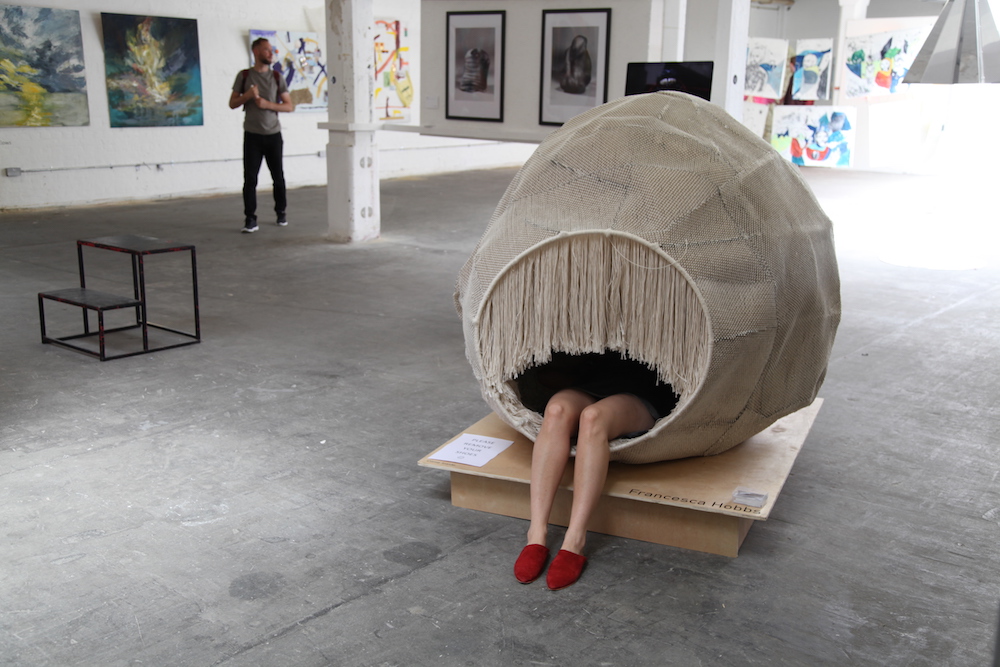 Video was another well-explored medium at the show. Sheer Enticement was a standout work by Batley School of Art graduate Natalie Davies, parodying pop culture aesthetics with clips of glitter-filled pills being dropped into coloured liquids and close-ups of glossy cherries. Eleanor Dolan also presented her vicious stop-frame animation, depicting meat, mud and a violently chewing mouth which drew parallels with Samuel Beckett's ferocious dramatic monologue Not I. The first prize of the Art Week Free Range Award went to a collection of hyper, lucid film works by Clive Kudakwashe and Jessica Thomas from the University of Bournemouth.
Natalie Davies, Sheer Enticement
Natalie Davies, Sheer Enticement