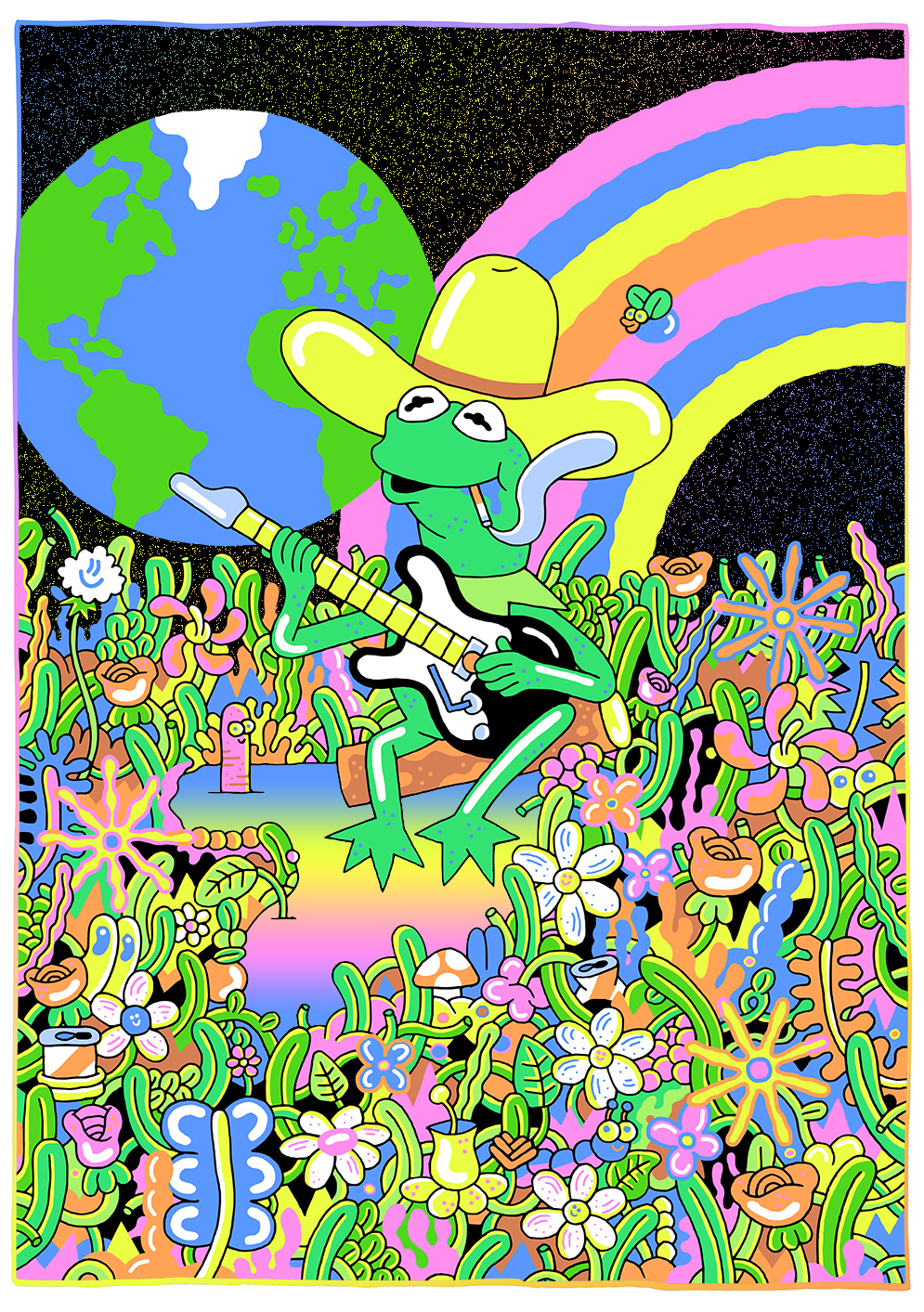 Illustrator Sam Taylor's work is instantly recognisable: bold line work, bright colours, goofy character design and a tonne of different pop culture references collide, whether in his personal projects or in work for brands like Nike, Samsung and Old Blue Last Beer; or editorial commissions for publications such as Bloomberg Businessweek, The Guardian and Time Out London. Everything is underpinned with a massive dollop of humour; and so it was a little surprising—and rather sweet—when Taylor sent over his track listing for his Studio Soundtrack, which was decidedly earnest.
He says that these genres, spanning "Somewhere in the classic rock, soft rock, folk rock, outlaw country, heartland, singer-songwriter zone" is what he ends up listening to most days as he works; though for this list he set himself the rule of not veering into the territory of soul ("which means I didn't include Bill Withers") or anything "too modern"—the most recent track, he reckons, is from 1990, in the shape of Silver Stallion by outlaw country supergroup, The Highwaymen.
Taylor aligns these music selections with the ethos of his own work and process. "Most of the music I've selected here is story-heavy, well produced and succinct," he says. "It's all pretty easy to understand when you hear the lyrics, there's nothing flabby. This is how I want my work to look. Riding the line of busy and balanced. It's all about having just the right amount of chaos per illustration. Also, I like things to be funny and poignant at the same time, or have some kind of dualism; Randy Newman is the perfect example of this." A less apt example of this might be the first tape that Taylor bought, which he makes no bones about admitting was Mysterious Girl by Peter Andre.
"I like things to be funny and poignant at the same time, or have some kind of dualism"
Alongside the kind of music showcased on his playlist, when he's working Taylor also tells us he's a "big rap head", and is also partial to the odd podcast or several while he works. His current favourites range from The Adam Buxton Show to Business Wars, Desert Island Discs, "whatever latest thing Limmy is doing" and "football stuff, anything about Leicester City" as well as "whatever new crime thing everyone is talking about." The podcast/music pendulum is in constant vacillation: "If I've listened to too much music I'll switch to a podcast and vice versa," he says. "I'm constantly trying to get entertained and sometimes learn stuff."
Sam Taylor, Willie Nelson, personal work
Sam Taylor, Black Sabbath, personal work
As with most artists and illustrators, music has had a huge impact on Taylor's work. "Like most people, music impacts my life in general. So therefore it impacts my practise," he says. "I might get an idea from a song for a drawing; this could be a theme or any silly little idea that I sparks up in my mind… It's not a very complicated process, if I find it interesting or it sounds fun to draw, then I'll probably incorporate it into an illustration."
Music is also a vital resource when he's between client projects, but needs to keep his drawing practice on the go. He tells us he makes "fan-art" when he can't think of anything else to draw. "I think it's important to keep drawing even when you don't have ideas, and then sometimes something good comes along. Draw, draw, draw, that's the secret. Even if you think it's crap or unsatisfying, you have to do it."
Here's Sam Taylor's full tracklisting:
Warren Zevon – Excitable Boy
Steely Dan – Dirty Work
John Lennon – Mind Games
The Highwaymen – Silver Stallion
Willie Nelson – Me and Bobby McGee
George Harrison – Awaiting On You All
Judee Sill – Jesus Was a Cross Maker
Gerry Rafferty – Right Down The Line
Squeeze – Tempted
Van Morrison – And It Stoned Me
Randy Newman – A Wedding In Cherokee County
Todd Rundgren – I Saw The Light
Joan Armatrading – Down To Zero
Bob Seger & The Silver Bullet Band – Night Moves
Kermit (From the 1979 Muppet Film) – Rainbow Connection