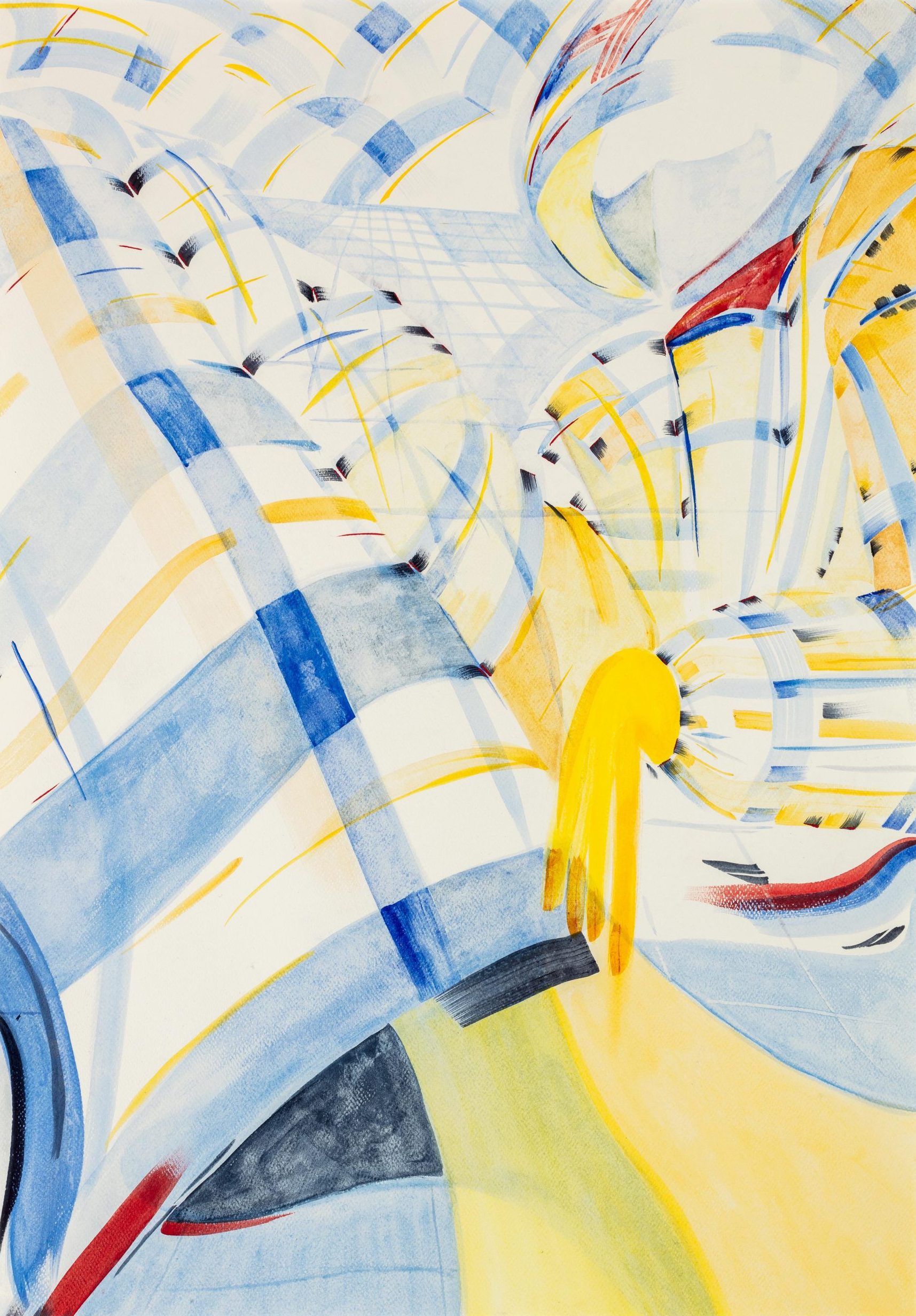 Hannah Tilson's canvases hum with energy. She is a dynamic mark-maker, creating vibrant paintings with a range of punchy colours and capturing an electric sense of movement. The British artist studied at the Slade in London before joining the Royal Drawing School's scholarship programme. Her works, some of which are described as self-portraits, hint at bodily forms, with bulbous spheres in place of heads and limbs covered in heavily patterned clothes. Her figures appear to be in motion, offering the suggestion of a person rather than a complete form.
Tilson was recently part of a group show at Badr El Jundi gallery in Malaga, curated by Gabriela Vera, in which five artists were invited to respond to an analogy written by Pablo Neruda. "Salvaje y dulce" (translated to "savage and sweet") is used to describe the duality that exists within a single person, and the exhibition was a celebration of opposites. In this context, Tilson's complex works could be seen as a refusal to be pinned down, her figures containing an inherent unknowability. Tilson also plays trombone and sings in a band, and the influence of music can clearly be seen in her lively paintings.
If you could save only one item from your studio, what would it be?
My sketchbooks, or my most recent sketchbook if I can only take one! Drawing is really important to my work and I note down thoughts and quotes in my sketchbooks every day. I also try to keep colour swatches of all the pigments I use in each piece. This would be a sad thing to lose and an impossible thing to replace.
What was the last art material you bought to use in your work?
Over the last year, I started making my own paint. My most recent purchase was rabbit skin glue and gelatin. I am trying to find my favourite binder. Gelatin is practically see-through, so keeps almost the exact same colour of the pigments. The yellowey tone in rabbit skin glue can affect pale colours, but it has a less chalky finish, so I like to use both techniques. The funny thing about painting is you find yourself buying things that could have been on someone's shopping list 300 years ago!
What is your go-to song when you're working in the studio?
I have a playlist I listened to a lot in my final year at Slade, which is full of upbeat house and dance music, from Kerri Chandler to The Bucketheads. It's the kind of music that after five or six tracks you notice yourself vibrating slightly. When I am working on my paintings, I get to a point where my eyes start to buzz from the clashing patterns. When the shapes start to oscillate together, I tend to find it to be a successful painting.
"I would love to paint large sets and place pattern-covered figures in them, then draw and paint from them"
Which single work of art would you choose to live alongside?
Florine Stettheimer's The Cathedrals of Broadway. I did a term exchange at the New York Studio School and visited the Met as often as I could. I saw her paintings here for the first time and was blown away by them and the immense frames surrounding the works.
"This would be a sad thing to lose and an impossible thing to replace"
If money was no object, what would you most like to experiment with in your work?
I would love to paint large sets and place pattern-covered figures in them, then draw and paint from them. And have a beautiful array of pigments to work from… so not too much to ask.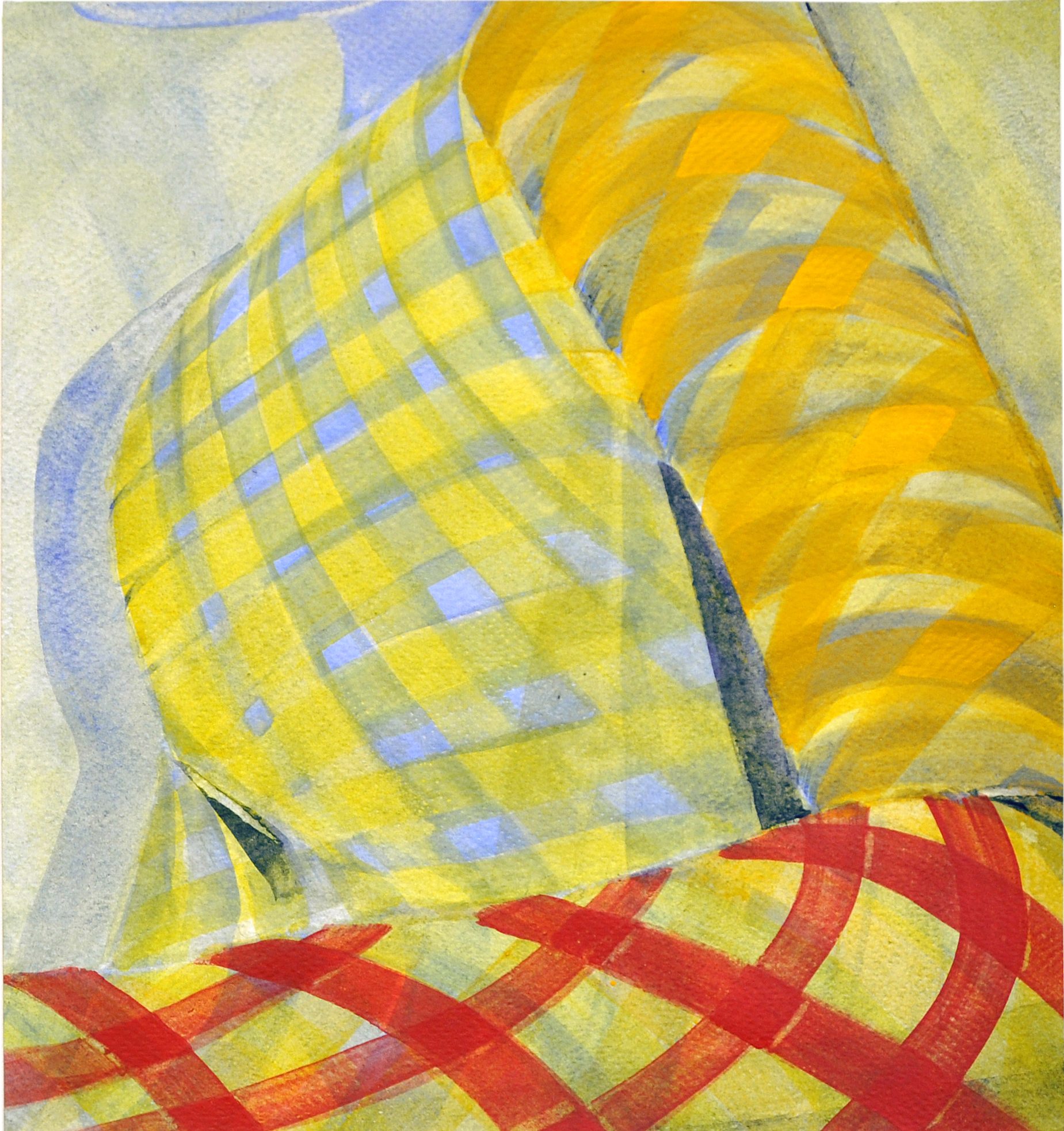 Tell us a pet peeve of yours when it comes to the art world.
Being a musician in a band, as well as an artist, I would say the lack of crossover spaces that link music and art in an accessible way.
What is your favourite gallery or museum space around the world, and why?
The Peggy Guggenheim Collection in Venice is a very special place for me. Not only is her collection extraordinary, but it is rare to see art hanging in such an intimate way, in what was once her home, surrounded by lived-in furniture.
Emily Steer is Elephant's editor