In 'The Arabella Freeman Series' — the main focus of her solo show at P-P-O-W Gallery — the artist draws on art depictions of the American Civil War, legal and academic texts to expose the country's systemic racism and envision an alternative
"I felt myself moving through the limits of the female role. I used the flower as a symbol of femininity… the petals of the flower are parting, and one can see an inviting but undefined space, the space beyond the confines of our own femininity… my longing for transcendence… my first steps in being able to make clear, abstract images of my feelings as a woman," American feminist artist Judy Chicago wrote in her powerful, autobiographical book Through The Flower: My Struggle as a Woman Artist (1975). Glancing at its 276 pages — which were inspired by the work of author Anaïs Nin, an early mentor of Chicago — it doesn't take much to understand why the artist's uncompromising memoir served as an initiation into art-making or a "call to arms", for the painter Hilary Harkness. "I thought long and hard about this path," she tells Elephant, speaking over Zoom from her studio. "I remember thinking, 'There is already so much great art in the world: what could be my contribution?'" 
A biochemistry graduate from the University of California Berkeley (1993), Harkness recalls how "it wasn't until I read that book that I realised there could be room for my voice at all." Having gone on to receive an MFA from Yale University School of Art in 1996, the scientist-cum-artist turned her childhood inclination towards creative self-expression into a vehicle for her exploration of the self. "I am from the Upper Midwest, Michigan. My father worked for a paper mill while most of my older family relatives — my grandparents and great-grandparents — were autoworkers, you know, the whole Detroit thing," Harkness explains. "Because of my dad, I had a closet full of paper, huge paper, much larger than my current paintings, and I would spend my days drawing, writing stories and novels — I could get lost into it." Rather than pursuing a career as a doctor, like "people from my background tend to do if they manage to attend a good college", Harkness embraced art as a means of confronting the different preconceptions traditionally forced onto women with the goal of envisioning a world of her own.
"Frida Kahlo came to me in a dream when I was an undergraduate and told me what to paint," the artist explains, thinking back to the time she was tasked with writing a paper on the pioneering Mexican artist and the Chicano Art Movement's fight against sexism. Around the same time, she had visited simultaneous retrospectives of Jean-Michel Basquiat and Agnes Martin — the abstract, minimalist painter — held at New York's Whitney Museum, both of which "had an equal impact on me and blew my mind". The combination of these two experiences provided her with an early sense of direction for the development of her own practice. "I have always been interested in how sexism is embedded in language, whether written or visual," Harkness says. "In the dream, Frida wanted me to paint women with blue eyes and pubic hair as eyelashes, and I listened to her." With most of her earliest pieces dating back to the early 2000s, the artist was nudged towards self-portraiture by the suffocating gender and identity politics of the time: "because I have always had a twisted sensibility and an erotic imagination, I wanted to convey how I felt pressed between the many stereotypes that defined people's view of women," she says of the female-dominated, uncanny utopias that have manifested in her work since the very beginning.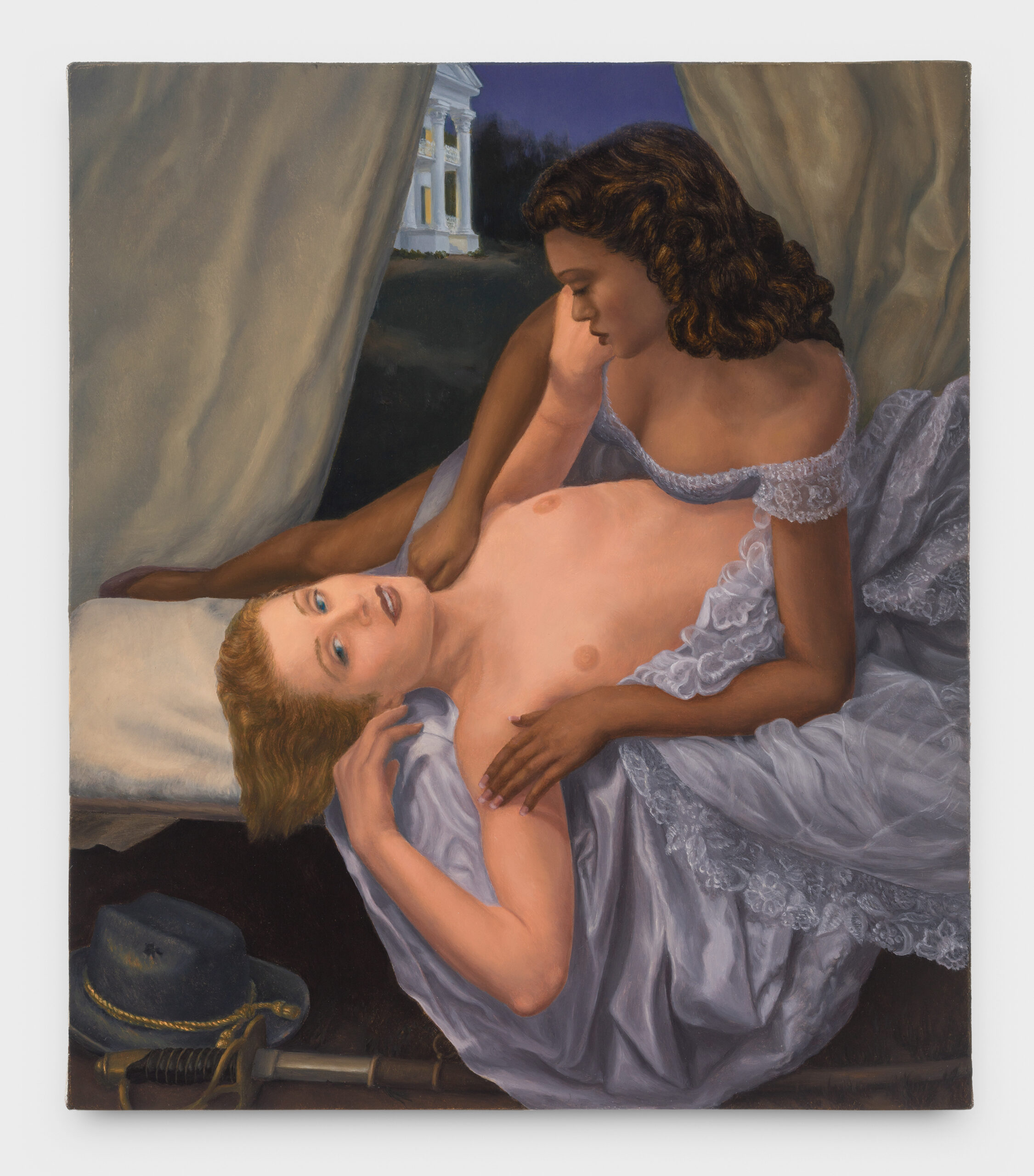 Adopting a self-professed "revisionist" approach to the hegemonic narratives that distort our understanding of reality — from toxic beauty standards and gender roles to the erasure of women's footprint in the social, political and cultural discourse and history as a whole — in her art, Harkness turns society upside down to restitute a portrait of womanhood that breaks free from conventions. "In our messy image-laden culture, common representations of women show them as benign, unlikely to cause trouble, but Harkness's figures act out, act up, and cause trouble. They are trouble-makers," writer and cultural critic Lynne Tillman writes in her essay Hilary Harkness: Queer Visions (2023), which is set to be published as part of the artist's forthcoming debut monograph Hilary Harkness: Everything For You (Black Dog Press, 2024) next spring. A testament to her larger-than-life view of the female sphere, Harkness's At home at war (2000-2015) presents viewers with all-women, sadomasochistic orgies and promiscuous sex parties, pseudo-military operations led by a storm of model-passing, semi-naked female sailors and soldiers, and other freakish happenings taking over the meticulously compartmentalised architectural spaces of ships, submarines, luxurious buildings and dungeons alike. The paintings in this body of work convey the artist's desire to put female bodies on centre stage, defying the expectations of the audience.
Part of Prisoners from the Front, Harkness's ongoing solo exhibition at New York's P·P·O·W gallery (through 11 November), a selection of canvases from her Life with Alice and Gertrude (2007-2016) series casts new light on "the transgressive and tumultuous relationship" between writers Alice B. Toklas and Gertrude Stein — one of the most iconic lesbian couples of the 20th century. An intimate look into the art-filled, intellectual world of Paris' bourgeoisie at the height of the Belle Epoque, the paintings include references to personalities of the time, such as Paul Gaugin, Henri Matisse, Picasso and Ernest Hemingway. Bringing together vibrantly painted vignettes of life charting the highs and lows of Toklas and Stein's romance, including moments of suspected infidelity, this body of work reflects the artist's ability to translate the emotional complexity of their love into scenes that move the public. In another one of Harkness's meta-paintings now on view in her largest survey to date, Experienced People Needed (2018), the painter rewrites the story of Jackson Pollock's 1943 debut exhibition at Peggy Guggenheim's NYC-based The Art of This Century Gallery to celebrate overlooked artists that, at the time, had yet to be recognised, including Jacob Lawrence, Bill Taylor and, most importantly, Lee Krasner — his wife.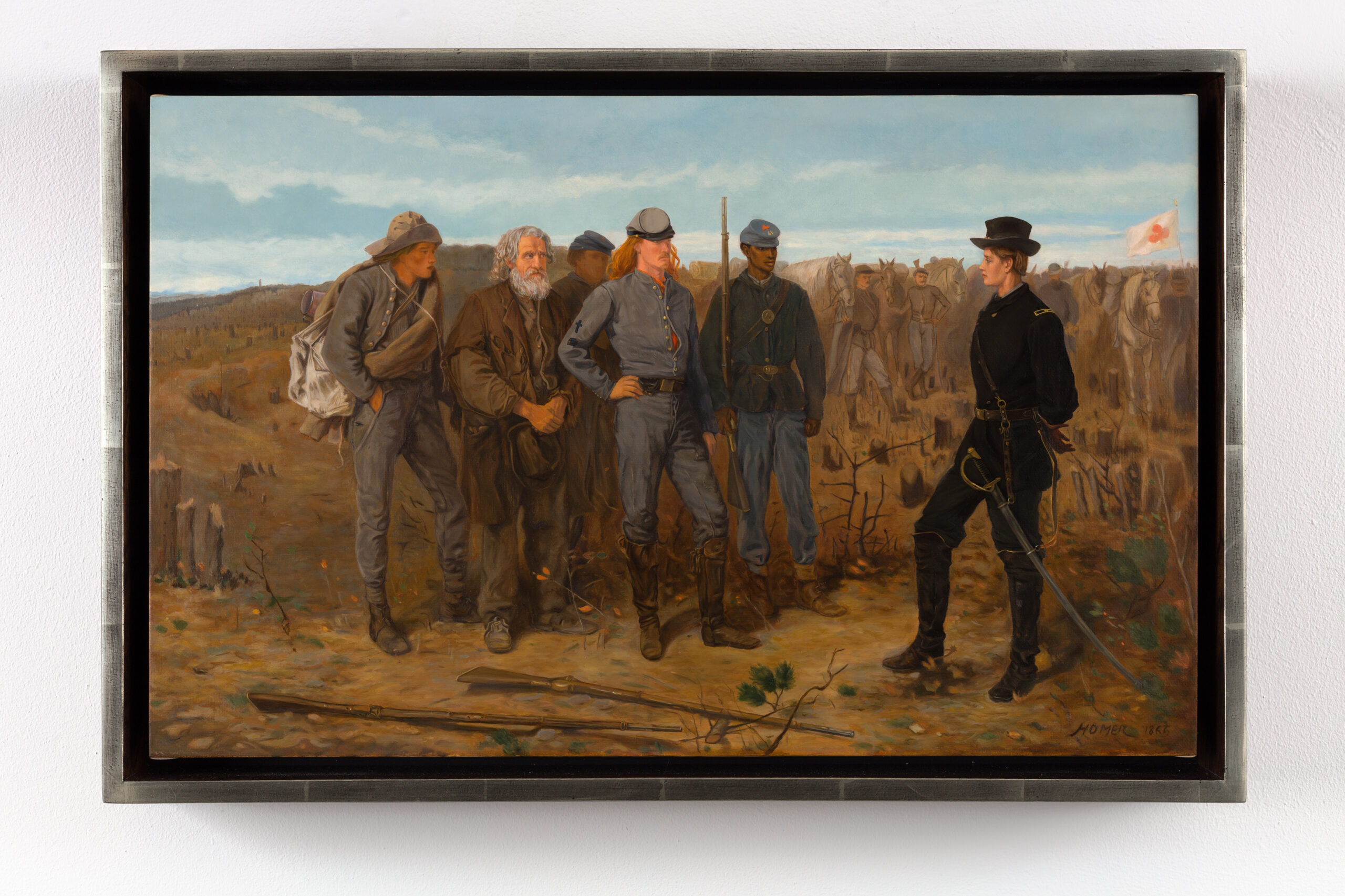 Of all the projects featured in the show, The Arabella Freeman Series (2019-2023), Harkness's latest creative endeavour, deserves special attention. Conceived as "a love letter, or a bedtime story" to her wife Ara, an African American woman she has been with since 2015, this episodic project began to take shape in 2018 when the artist participated in the Metropolitan Museum of Art's Copyist Program. While recreating Winslow Homer's iconic Civil War era painting Prisoners from the Front (1866), Harkness decided to disrupt its narrative by changing one of the figures into a Black Union soldier. The decision, she explains, came after a series of events, including visits from Ara's family while she was painting, observations of museum-goers interacting with the artwork and other visual cultural references. "One day, Ara and I were watching Steve McQueen's 2013 film 12 Years A Slave, which follows the path to freedom of Solomon Northup — a free-born African American who was re-enslaved following his sudden kidnap — and I begin to wonder, 'why can't we know more about Northup's experiences as a free Black man in the North? What was it like to be free in 19th-century America? And what did his family have to go through to reach that state?'" Looking for answers and faced with more questions, Harkness dived into legal and academic texts that proved how "the life of free African Americans in the 18th and 19th centuries was hindered by constantly changing laws restricting their rights, which prevented them from getting ahead". For her, the project became an opportunity to reflect on the "ancestral past of Ara's family, challenge our visual understanding of American mythology and make people curious about this specific chapter of US history", she explains.
From the disproportion between free Black women and men, which often led the former into mixed-status marriages that — due to the scarce legal agency recognised to African American wives — saw them fight against the re-enslavement of their children and endure indentured servitude to their partners' owners in the name of their marital union; to the taxes, Black women were subjected to as opposed to their white counterparts; African Americans' inability to own dogs or guns as an example of laws passed from the 1600s through the Civil War; and the complex realities of Black "freedom", which could include forced exile; The Arabella Freeman Series focuses on a fictitious, Black, free and prosperous landowning Virginian family, the Freemans, to question the factuality of the historical records in relation to queer lives, the lives of free African Americans, Homer's creative process and the personal lives of the figures he painted. "Starting in 1806, newly freed African Americans based in Virginia were asked to leave within 12 months," the artist explains, giving an example of how being "free" didn't necessarily equate with better living conditions. She adds that, shortly thereafter, 13 nearby states enacted laws that made it virtually impossible for them to settle elsewhere. "Painting the story of a wealthy, Black-free family headed by a woman was like threading a needle on understanding how exactly they got their wealth and held onto it," Harkness says of the rationale behind her latest project.
In one of Harkness's unforeseen plot twists, this series follows the evolution of the relationship between Charles Freeman — the African American portrayed in her copy of Homer's Prisoners from the Front (2018) — and the undiscussed protagonist of the original canvas, Union General Francis Channing Barlow. Inspired by the General's androgynous features, awkward body language and stare, the artist decided to give in to her fantasy of a hypothetical affair binding the two soldiers. Throughout the visual collection, the audience is invited to familiarise themselves with a colourful cast of characters, which includes among the others, Charles' older sister, Arabella, the heir apparent of their family home; Harriet, their younger sibling; Mrs. Freeman, who runs a medical and midwifery practice; Justine, her assistant and Arabella's love interest; as well as their white neighbours, the Beaumonts, who have been plotting ways to take over the Freemans' land for generations. Set within the intricate sociocultural framework of the American Civil War, The Arabella Freeman Series is Harkness's attempt at visualising an anti-racist, queer world.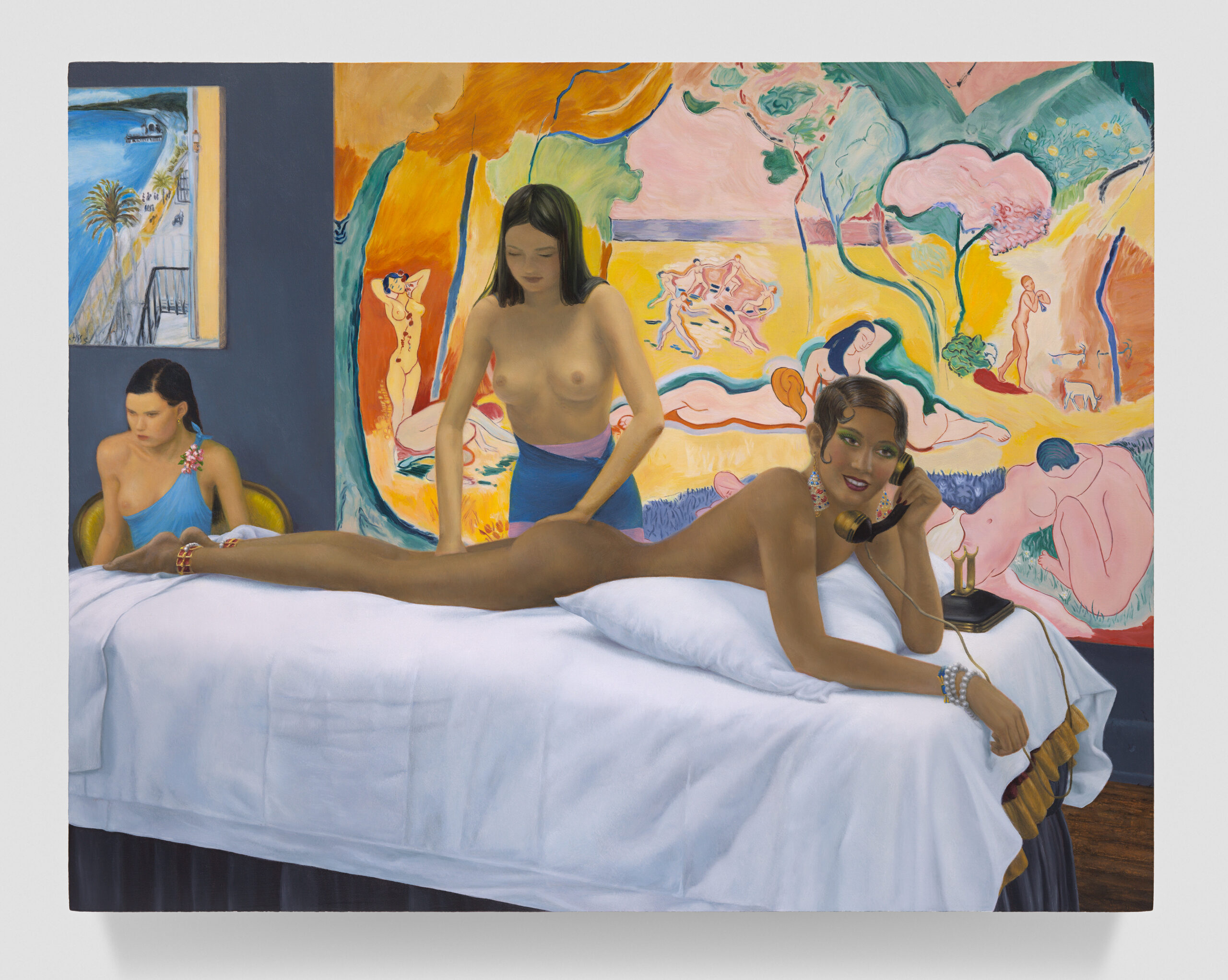 Accompanied by a narrative zine written and designed by the artist and released at the opening of her New York exhibition, this body of work sees her grapple with the darkest sides of American history with an investigative eye and an openly provocative intent. In it, we see General Barlow, a transgender man, giving birth in the chaos of the battlefield, missed ménage à trois, passion-fuelled sexual encounters and the benign dose of family drama that characterises every household. Partly developed based on real-time insights and feedback from Ara and her relatives, the canvases of The Arabella Freeman Series testify to Harkness's power to immerse the audience in a "mid-air" dimension mending reality and wishful imagination. Standing out against the artist's softly rendered, majestic Virginian settings (which are her interpretations of Russian landscapes by 19th-century painters Ivan Ivanovich Shishkin and Isaac Levitan) that offer the backdrop to this tale, her figures appear more akin to Homer's true-to-life subjects than to those inhabiting her earlier, signature cross-sections. It is an aesthetic shift that, similarly to her departure from the "wonderlands" captured in her previous works, finds its roots in Harkness's personal and creative evolution.
"With this series, I wanted to pay homage to Ara's story to show how success is a multigenerational project," she says. "My goal was to convey her strength and resilience, which is what got her where she is today." As for the resonance of the project in itself, Harkness seems ready to "pass the baton" to the next storyteller eager to "bring the nuances and complexities of our shared histories to life" by capturing things that aren't easily represented through painting. "All I hope is that viewers will find food for thought in these canvases that will have them consider the past, present and future of America," Harkness says. "Perhaps the zine will fall into the hands of academics, filmmakers, artists and other creators able to reach more people than I can. Whether that happens or not, what I know for a fact is that I want things to get better."
Words by Gilda Bruno. Images courtesy P-P-O-W Gallery.