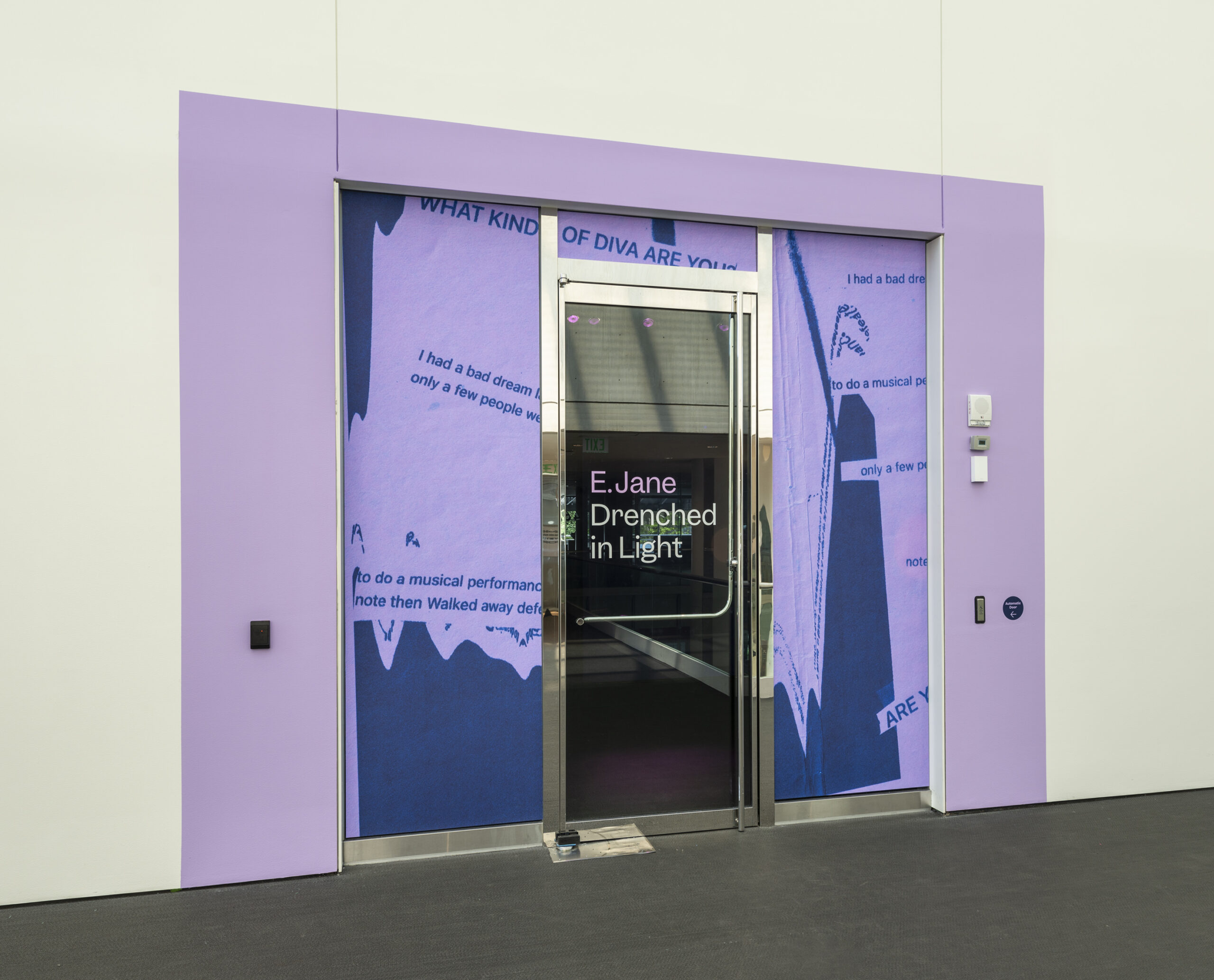 E. Jane spent years researching Black femme performers. Their alter ego MHYSA continues to channel their archive with her third album.
E. Jane is a world-builder who contains multitudes, including their underground pop star alter ego MHYSA.
Their universe is technicolour and rhythmic: luminescent pink and lavender hues set to a soundtrack of vocal powerhouses. It is steeped in past and present history, filtered through fantasy that, when you spend enough time with it, eventually gives way to a softer, more empathetic future that centres the inner lives of Black women.
While the New York-based multidisciplinary artist's work is research-based and built upon countless hours of footage of iconic divas, Jane grounds the concept in MHYSA's physical performance and moving soundscapes. The musician's third album, "Release Control," a synthesis of Southern rap, experimental pop, R&B, and ambient electronic music, comes out on October 6.
"I'm putting my body on the line. I'm not just judging these women from afar. I want to see how hard it is."
"I'm putting my body on the line. I'm not just judging these women from afar. I want to see how hard it is," Jane emphasises. "Studying the labour of Black women is a big part of my practice."
The term diva originated in the nineteenth century to describe the lead female singer in opera (there was also the divo for men), Jane explains. Now, the word is often associated with a misogynistic, negative connotation: a woman, often Black, whose ambition and self-worth overshadow her talent. Today, the term's colloquial use, they suggest, tells us more about America's limited understanding of what a successful Black woman should deserve and strive for.
Jane is reclaiming what it means to be a diva through their art, while MHYSA serves as a conductor of sorts. She is a student of the divas that Jane has studied: Whitney Houston, Janet Jackson, and Beyonce. MHYSA is the embodiment of Jane's practice, and she is constantly evolving, leaving a trail of her genesis online and through Jane's work.
While MHYSA is grounded in the present, Jane is an archivist of Black divas across time. They are a new voice in Afrofuturism.
Jane's four-dimensional work often creates a dialogue between the countless Black women who have blazed the trail for a new generation of performers like MHYSA. They place performances and video essays in immersive yet decluttered installations: subjects' names have been painted on walls, photos printed on fabric and hung from the ceiling, monitors placed on the floor like giant iPhones and soft seats planted in front of projections.
In the case of Jane's installation last year, "Where there's love overflowing," at New York venue the Kitchen, visitors took turns standing inside a shimmering, pink tulle bag to watch a recording of MHYSA's live-streamed performance "When I Think of Home, I Think of a Bag." (She originally sang the cover of "Home" from The Wiz from inside the same bag at Canada Gallery.) At the show's closing night, MHYSA performed  the song with a full band for the first time.
"Now, the word diva is often associated with a misogynistic, negative connotation: a woman, often Black, whose ambition and self-worth overshadows her talent."
With Jane's first solo museum show at the Museum of Fine Arts Boston, "Drenched in Light," underway, MHYSA — their persona they have been developing for nearly a decade — is entering a new era. The reintroduction of MHYSA will take place at Pioneer Works in Brooklyn on September 29 with a live set featuring all-new music. The show is the second event in the series HERETICS, curated by writer Jane Ursula Harris, which features artists who combine performance art and music.
"When I think of MHYSA, I think of the term Gesamtkunstwerk, the total art of everything," they say. "I'm deciding the cover art, I'm playing with merch, and the promo images. It's all in-house right now," adding that this also includes the tradition of working with collaborators to bring their vision to life: in this case, Dreamcrusher did the album design.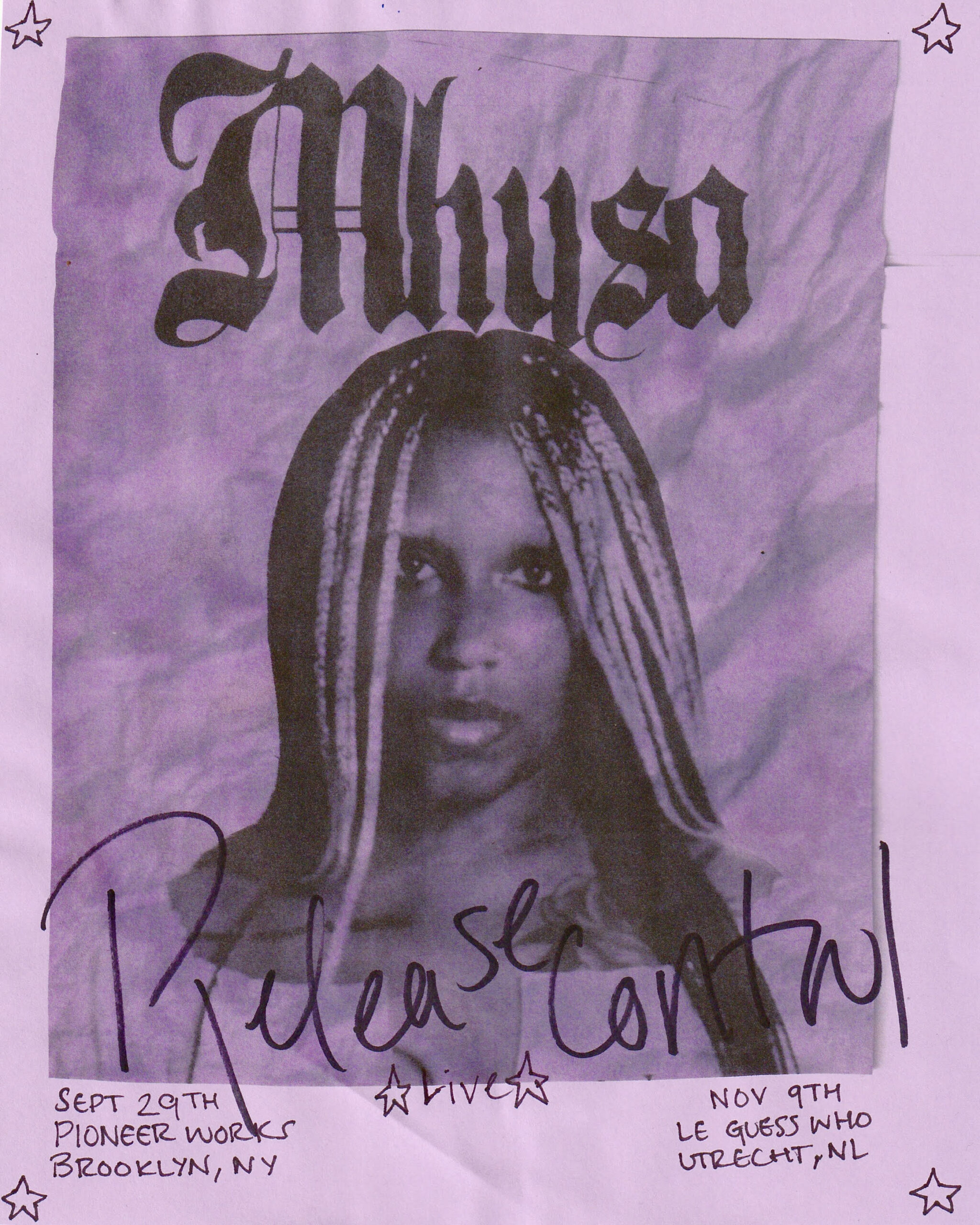 Going on tour as MHYSA opened up Jane's eyes to the level of work expected from performers. "The language that agents use made me think a lot about the relationship between America's colonial past and music," they say. "There's still language that agents use, words like buying talent, that are really nefarious to me."
They cite writer Robyn Crawford's memoir about her friendship with Whitney Houston and Claudia Jones's essay "An End to the Neglect of the Problems of the Negro Woman" as key texts in understanding the expectations of Black female performers. "What could we do to be better as a world? What would it look like?" they ask.
"In a state where Black people are expected to be hypervisible, the right to hide when you want is already a utopian demand. How do we refuse that surveillance? How do we play with that surveillance?"
At Boston MFA, pages of Jane's "Diva Zine" expand onto the walls. Excerpts from Zora Neale Hurston's writing are collaged with found images from Jane's archive. In the middle of the room, a set of three large, round floor cushions face a wall with a projection of their video essay "LetMEbeaWomanTM.mp4," 2020. The video begins with a glitchy black and white clip of Diahann Carroll accepting a Tony Award for Best Lead Actress for her performance in "No Strings." Carroll made history as the first Black woman to win in that category.
"I wanted this. I really wanted this," she says, as purple sparkles scatter across the screen as Summer Walker softly croons, "and you let me be a woman."
Here, the notion of the diva is deconstructed, unearthing the corners of a collective psyche so often ignored or whitewashed by popular culture. Jane shows the labour that it takes to keep up the persona of divadom. They show divas present and past, like Summer Walker and Diahann Carroll, in a nonlinear dialogue, striving and excelling — tired and frustrated — as an emblem of
the American dream built on the back of slavery and Black creativity and memorialized on the
Internet in digital clips.