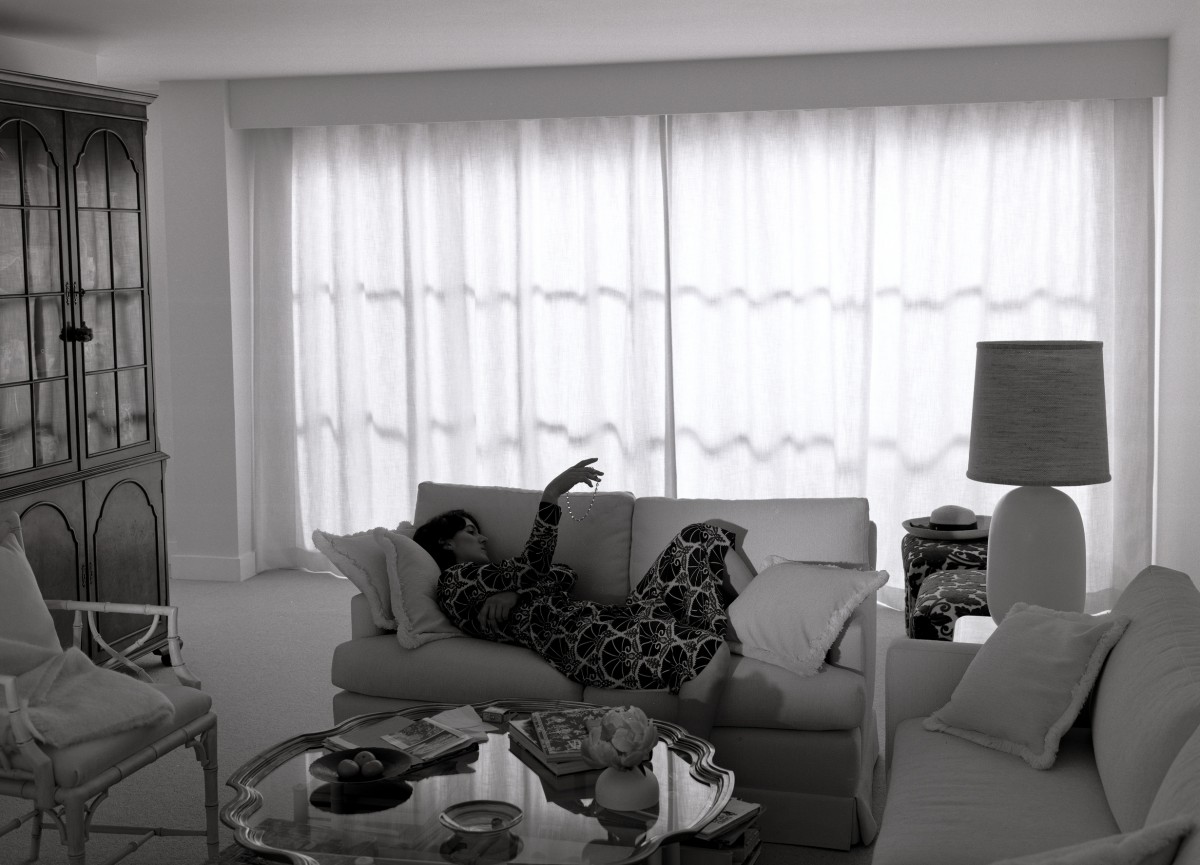 Canadian photographer Jeff Wall has always worked somewhere between truth and fiction, a murky middle space described as "near documentary". His images are highly detailed, often bringing a crystal clarity to suburban or everyday scenes. There is always something off in his photographs: an outfit is slightly too neat to be true documentary, the lighting too perfect, the action too forced.
Wall keeps his images on the razor-thin line between real and fake. A Woman with a Necklace, currently on display in Wall's solo show at White Cube in London, is inspired by a very real place, the artist's childhood home. The photograph was created in 2021, soon after the role of the domestic interior had warped from cosy safe place to isolation cell. This information allows the viewer to build their own narratives. Is the woman lying across the sofa his mother, or an imagined figure? Has she passed out drunk on a Sunday afternoon or is she simply sleeping? Her solitude could be either snug or lonely.
"At his best, Wall simultaneously celebrates his medium while exposing its flaws"
Her pose appears too rigid for her to be asleep, as though her entire body is napping except for her alert right arm and delicately placed fingers, over which the necklace is draped. The lighting and pose call to mind cinematic imagery, in which the ordinary is elevated with a heightened sense of beauty and crispness, and the body performs as naturally as it can while keeping in mind ideal angles and eyelines.
The light flooding through the semi-opaque white curtains is too consistent and bright to be natural sunlight. It may have been created by giant floodlights, which Wall has used in the past to illuminate entire street scenes. The artist's use of monochrome highlights this fixation with light: a soft warmth cocoons the entire image, even in its grey tones.
At his best, Wall simultaneously celebrates his medium while exposing its flaws. Despite its enormous potential, a photographic image will never capture reality in its entirety. Wall creates a scene that feels crisp and real enough that the viewer could be in the room with his subject, then introduces just enough irregularity to break the illusion.
Emily Steer is Elephant's editor
Jeff Wall is at White Cube, Mason's Yard, London, until 25 June