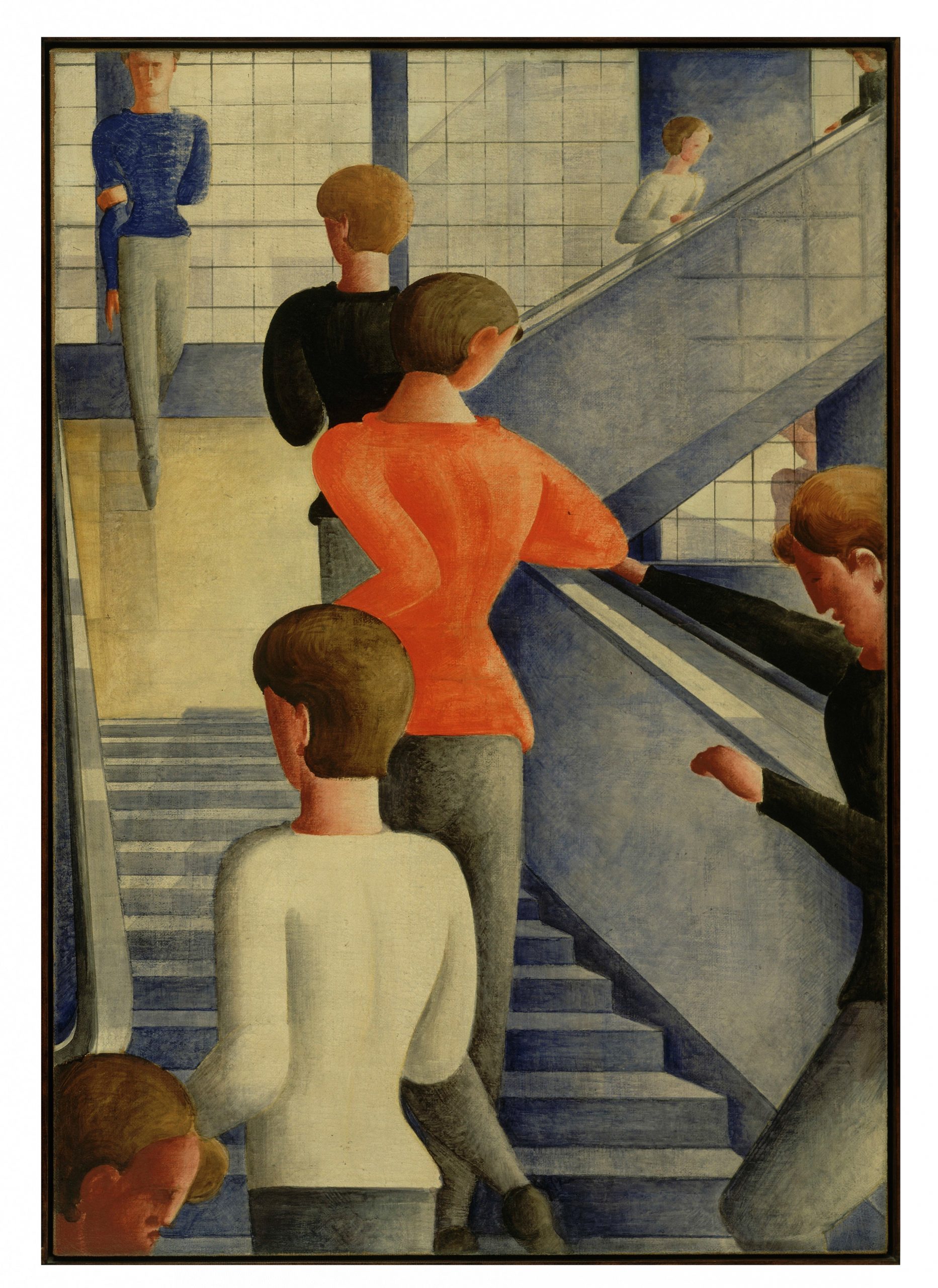 Under the Influence invites artists to discuss a work that has had a profound impact on their practice. In this edition painter, sculptor and graphic artist Jacqueline de Jong reflects on the way that her Upstairs-Downstairs series was influenced by Oskar Schlemmer's Bauhaus Stairway
There are lots of things I like very much about Oskar Schlemmer, and the German Expressionists generally. For my original Upstairs-Downstairs series (1984-88), his painting Bauhaus Stairway triggered me very much, because the person in the painting is going upwards, but looks backwards. That's quite an unusual way of walking up stairs.
When I saw it again, a month ago in MoMA, New York, I thought it was very funny. And it's not only Schlemmer. There are also many other artists who use this motif: Marcel Duchamp used it in Nude Descending a Staircase, No. 2, for example.
In my series, the stairs are doing a similar thing: going both up and down. But the construction and colour of Bauhaus Stairway also influenced me very much, too, something which extends to all the Expressionists of that period.
There's also the influence of Francis Bacon in the construction of my Upstairs-Downstairs paintings, although you can't see it as much in these newly displayed works on paper as in the larger installation, which originally hung in Amsterdam Town Hall. Some of those paintings are very figurative, very Bacon-like, mostly the portrait-oriented pieces. There are shades of Dada and Surrealism in there, too.
Contrasting the uniformity of the stairs with the moving bodies of the figures was intentional. When I look at the images, I use the vertical and the horizontal very differently in these works to the paintings. On paper, I create a distinct difference between vertical and horizontal. In paintings, most are horizontal, again determined by the building.
"The person in the painting is going upwards, but looks backwards. That's quite an unusual way of walking up stairs"
The drawings were not in my original show. When I had the show at Amsterdam's Gallery Brinkman in the 1980s, it was just before the paintings were installed at Amsterdam Town Hall, for which they were originally commissioned.
The commission was to cover the walls of the elevators and the staircases. My first intention had been to create more paintings, but five years ago parts of the building were demolished, so if I had done that now there wouldn't be anything left. They were then acquired by the Amsterdam Museum.