Nude bodies reach out to one another, in search of tender caresses. Figures undress themselves and each other, or lie reclining in sensual poses, some in intimate domestic settings, others in secluded outdoor landscapes. Hands and mouths lose themselves in the thrill of longing embraces. Is it art or is it porn? Well, actually, it's porn.
Twenty-seven-year-old artist Joao Gabriel's inspirations range from Italian Renaissance painters like Titian and Tintoretto to Spanish masters like Velázquez and Goya—but underground gay porn films from the seventies were the starting point for his latest series of works. They are on display for the first time at The Ryder in London, which just opened its second gallery in Madrid this autumn. Based in the city of Caldas da Rainha, the artist's first UK solo show looks beyond the groping naked bodies of these erotic movies, to discover something far more essential about gay identity.
For paintings inspired by porn, the works do not feel the slightest pornographic at first glance. On the contrary, they are tender, intimate, pictorial. However, the artist would argue that this an inaccurate distinction to make. What attracted him to these old porn films, like Young Olympians or Boys in the Sand, was not their salaciousness but rather the innocence of the scenes they depicted—their rebellious but playful sense of adventure and freedom. "They are very joyful; sometimes they have humour," he says. "You can see the actors are relaxed."
"This was pre-AIDS," he continues, "so it transports you to a moment when that trauma didn't exist yet—everything was promising and liberating." Born in the early nineties, Gabriel did not witness the worst of Europe's AIDS crisis himself,  but the trauma is still very much alive among gay men even his own age, he says. These films therefore acted as a telescope into an alternate world, one that might not be so far from that of young gay men today.
"At a young age, it was very important to see queer cinema. I remember I finally felt I was not alone"
Erotica has, over the centuries, been a means of documenting deeply clandestine aspects of society—those related to desire, intimacy and pleasure. "I see these films almost as documentaries of the sexual liberation these people were experiencing," says Gabriel. "You can feel a strong will to imagine and create different narratives; the filmmakers are searching for new ways of telling the story." With the absence of homosexual depictions in other consumer media of the time, these old pornos have the potential to represent the lives and experiences of gay men of the time: a clandestine world that lay on the margins of the mainstream.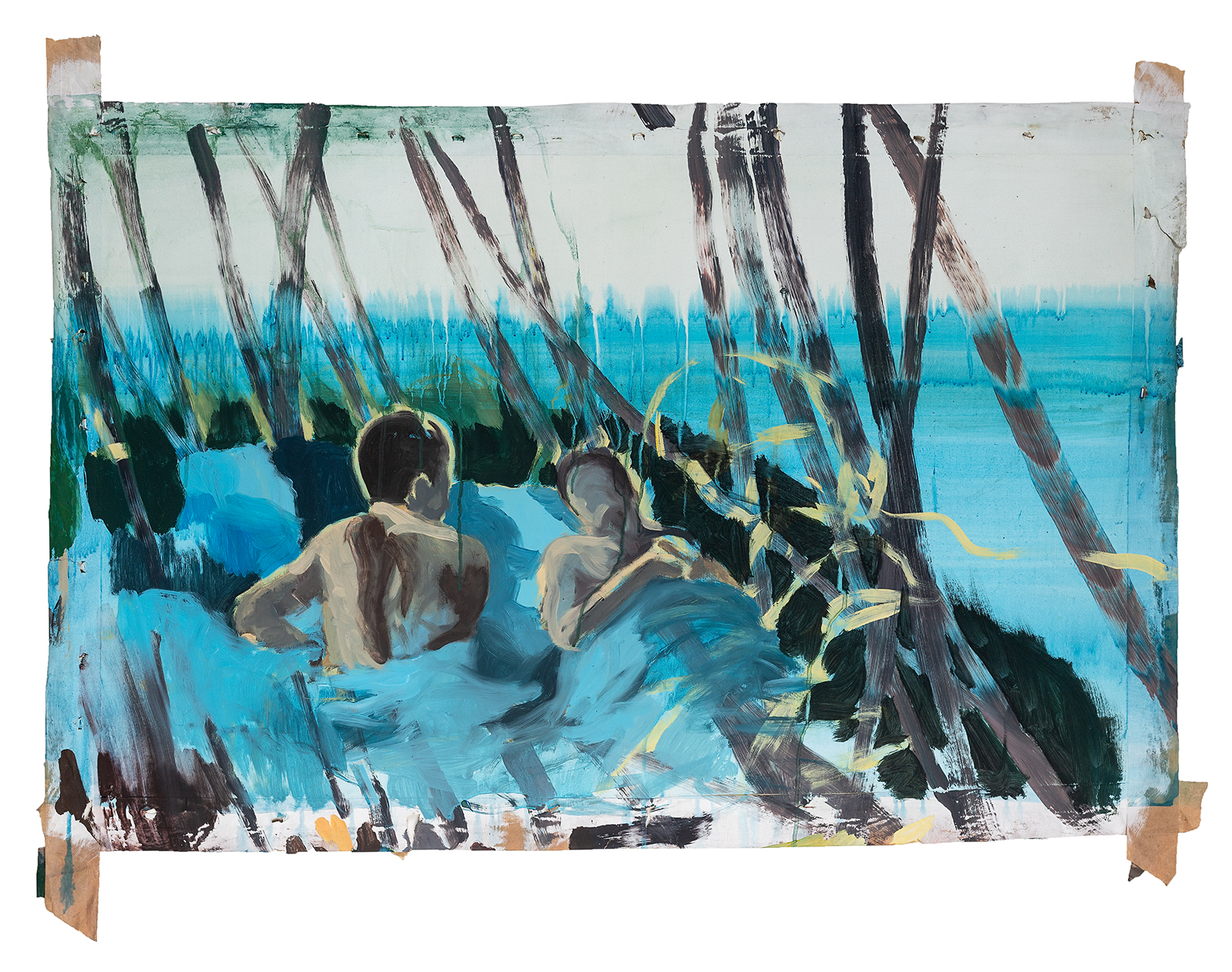 Even during his own lifetime, the artist feels that these representations that were hard to come by, back when he was growing up in Leiria, Portugal. "For me, at a young age, it was very important to see queer cinema. I remember I finally felt I was not alone when I suddenly saw a gay-themed movie on national television." So, the mode of consumption is also essential: "People would see them at a theatre," he explains, "so they were made for the community and addressing matters people could relate to in their own lives."
The crackly quality of VHS was something else that caught Gabriel's attention. The strong brushwork visible in his paintings have similarly blurry quality, while the faceless figures create a sense of anonymity. "I don't really like outlines," he says; and, by obscuring the vision of what exactly is going on, he adds to the voyeuristic quality of the viewer's experience, as if we might be looking at something we shouldn't.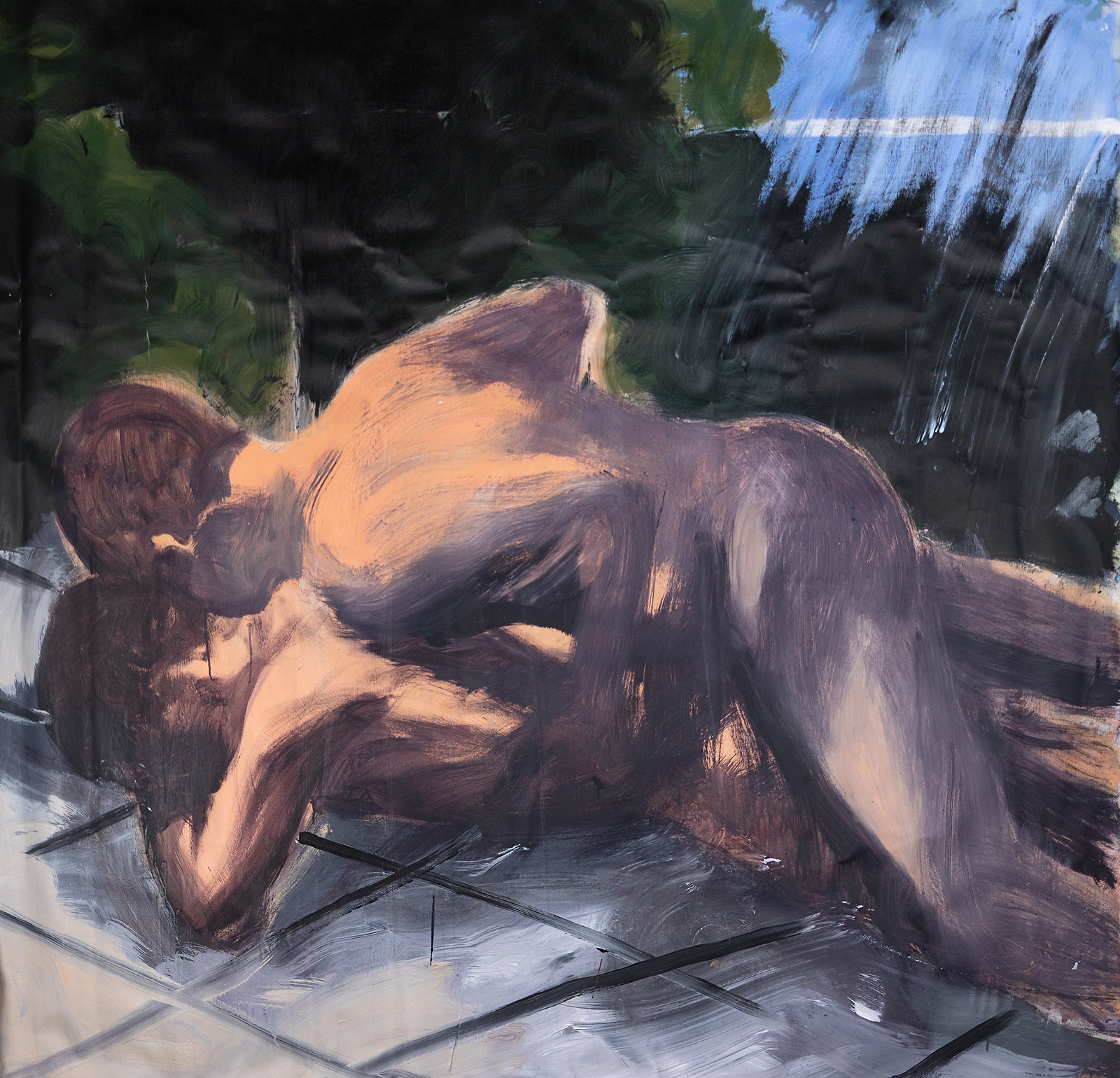 For Gabriel, real eroticism emerges from these hidden stories; from the tenderness of the in-between moments that lie on the borders of the official narrative. His intentions were clear from the start: "I wanted to create eroticism and represent men engaging in romantic and sexual activities, but I never wanted to be as explicit as pornography." In fact, it is not the sex act itself that interested him. "I like to portray the moments before or after sex. They are the most erotic," he adds. "You can dream about what's going to happen after, or what happened before."
By tapping into the poetics of the pornographic, the paintings create what the artist describes as an "open space for dreaming and creating fantasies". And with fantasy, carried out in a space of privacy, comes the dream of freedom, both for these characters to engage in sexual love with one another, and for this young painter to represent all the complexities of desire on the canvas.