Among the many artists around the world who have used the pandemic as a creative stimulus is Jonathan Chambalin, a multidimensional artist from Lagos, Nigeria. Using experimental cinemagraphs, sound and photography in his work, Chambalin's work varies from video to documentary photography—including a project that follows Lagos' domestic migrant population as they approach retirement age.
Nigeria, with a population of 195.9 million, has experienced a relatively low death count from Covid-19, recording just over 1000 deaths from the disease at the time of writing. But the alertness—and at times near paranoia—which inspired Chambalin to create Counting the Days will be familiar to many around the globe. The works take the artist's feelings of disbelief, suspicion and worry and repurpose them using a vibrant palette. He draws on graphic design, collage and advertising to create what at times resemble distorted infographics. For Chambalin, the process has been cathartic. "Chronicling how my behaviour was evolving [during lockdown] became a coping mechanism," he says.
Counting the Days emerged from the lockdown period. How and where did you spend that time?
I would like to think of myself as a periodic nomad between Benin City and Lagos, Nigeria. The former is the best place to paint and create work because of the peace and cultural presence; the latter is where I get the inspiration for my work based on day-to-day activities. I was about to visit Benin City when the lockdown in Nigeria began, so I was stuck in Lagos.
About a month in, it became overwhelming because of my mental health: the paused plans, deafening solitude, the paranoia relating to the possibility having with the virus due to any negligence, and the process of learning new "habits" for interaction. When I decided to confront myself by creating art, it was a dynamic process, because chronicling how my behaviour was evolving became a coping mechanism.
"I wanted to create a surreal environment to reflect my internal thoughts about how that person in the mall could have sneezed correctly"
Some of the art created during the pandemic has used its symbols, tropes and rituals in quite a clumsy way, but works like Elbow Salvation feel natural and contemplative. What was your mindset in integrating the visual idiom of the pandemic into your work?
My thinking during this period has been to make the best results out of worst case scenarios, so it started out by reading about developing rooms for film photographs (red rooms) and how they help the viewing process, so from that I decided to experiment with photography, Photoshop filters, discarded paper and the oil pastel that was left from my dwindled art supply. I reflected colours onto paper, photographed the result and used a red filter to try to bring out colours through over-saturation.
Elbow Salvation was inspired by the time I went out to get groceries in a packed stall: I was waiting for my turn when I noticed people around me weren't complying with the guidelines for prevention. As I was heading out someone sneezed in front of me; I came home paranoid and scared even though I was wearing a mask. With the piece, I wanted to create a surreal environment to reflect my internal thoughts about how that person in the mall could have sneezed correctly. The entire work is like a collaged living organism reflecting my state of mind in that particular moment, while the background stays true to my motto that colour and vibrancy can be found even in derelict and discarded experiences.
Left: Covidiot, Right: Clout Pill and Nine Lives. Both 2020
There's also an absurdist, almost psychedelic quality to Counting the Days, especially Covidiot and Clout Pill and 9 Lives. Are you trying to explore something beyond just Covid-19 here?
Lockdown made me depend heavily on certain phenomena as sources of entertainment or enlightenment. With Covidiot, I show myself with cleansing materials that are almost instinctively never far away from me, and I show how I barricaded myself from movement and contact from people who "don't believe the virus exists". I also highlighted a popular suggestion by Donald Trump to inject bleach into the body as a form of cleansing; I used this as a real-world symbol for how people have been misled during this period.
On the other hand, Clout Pill and 9 Lives shows my relationship with the internet and my preferred channels to monitor the data associated with the pandemic: the daily infections, quarantine radio etc. The piece shows the documentation of cultural flux that will affect our behaviours far beyond the pandemic.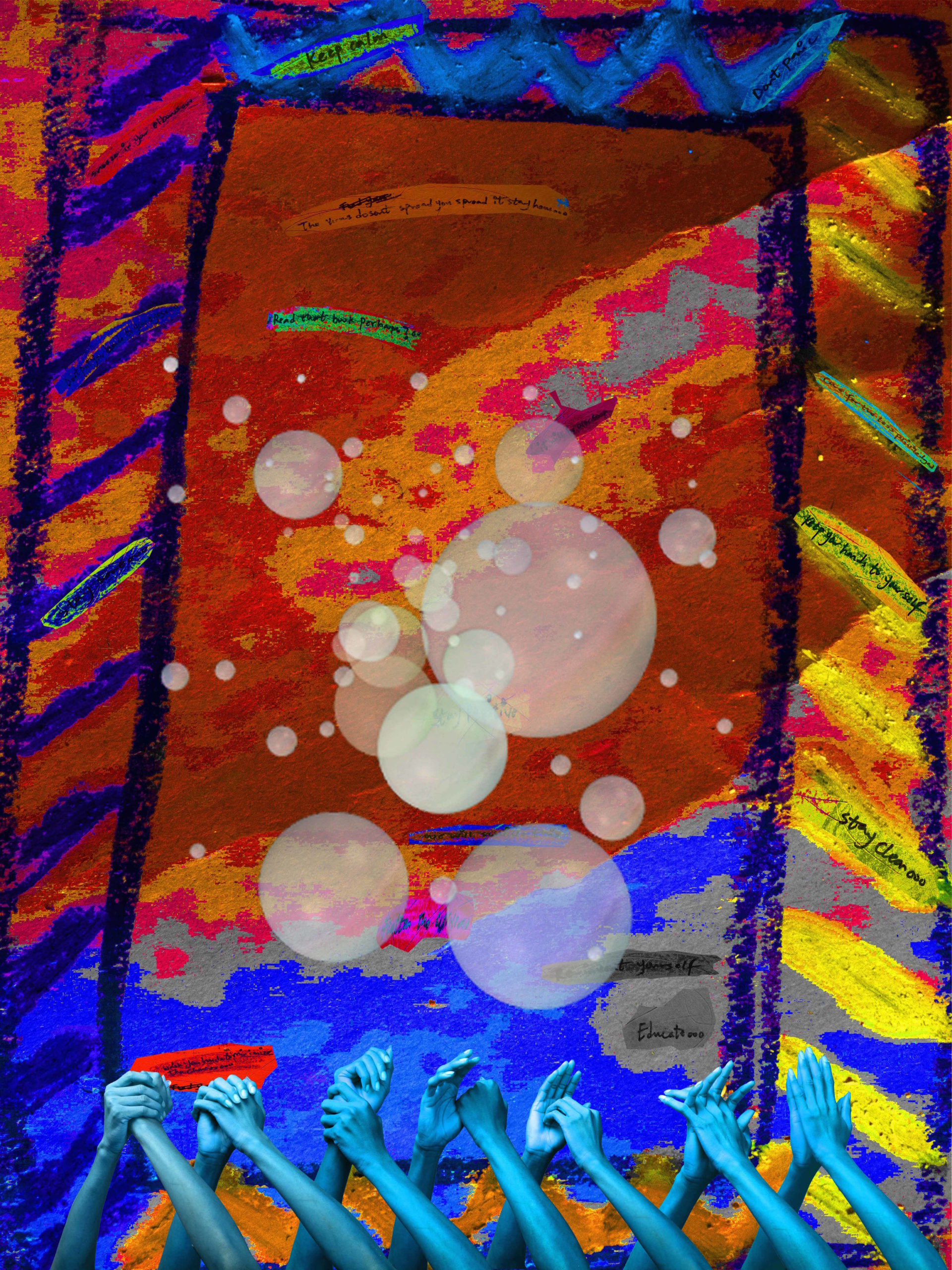 "This period taught me spontaneity, patience and self-confrontation. It allowed me to be truly vulnerable"
In your artistic statement, you write that you "see the mind as a subconscious archive curated by human interaction". How does this relate to Counting the Days?
It is scientifically proven that the human brain extracts about 11 million pieces of information from the surrounding environment, mainly through the body's sense organs. This data is then compressed, and this takes place due to recurring behavioural patterns as a reaction to a person's previous interactions with that scenario. In Counting the Days,  I show my brain readjusting these reflex actions.
For example, I normally wake up by 5:00 am to beat the Lagos traffic, but the evening during remote working, my body clock kept waking me up at that time. So I had to unlearn that aspect of my subconscious archive. Instances like this are what make this series very personal to me—it chronicles an entire period of my life in which my mind is naturally evolving.
The title: Counting the Days, refers to this process of waiting for a time of safety. How will these ideas of (im)patience and relearning in adversity affect your work going forward?
This period taught me spontaneity, patience and self-confrontation. It allowed me to be truly vulnerable in choosing artistic expression as a form of therapy. Many things that I have discovered about both myself and my practice will recur in my future work.