Elephant and Artsy have come together to present This Artwork Changed My Life, a creative collaboration that shares the stories of life-changing encounters with art. A new piece will be published every two weeks on both Elephant and Artsy. Together, our publications want to celebrate the personal and transformative power of art. 
Out today on Artsy is Laura Bannister on Tracey Moffatt's Up in the Sky. 
I graduated from art school in 2015, and work in a communications agency today. We work with clients; sometimes this involves a campaign, other times it's something ambiguously called a "messaging document". It is the world of brands, cultural consultancy, strategists and start-ups who claim to do things differently. It is not—when I was a student reading Susan Sontag, John Berger and printouts of now defunct art magazines—what I thought I would be doing with my life.
2015 was also the final year of K-Hole, a collective of five twenty-somethings in New York. During the group's short lifespan from their inception in 2011, they held a launch at MoMa PS1 and later went viral for coining the term "normcore". Their output was modest; five PDFs that they called trend forecasting reports, yet the reception was significant. They worked with MTV and Kickstarter, were covered by the New York Times, name-dropped by celebrities from Katy Perry to Courtney Love, exhibited at the Moscow Biennale, and featured in a show curated by Hans Ulrich Obrist. They're now recorded in Rhizome's Net Art Anthology, saved for posterity in their history of art on the internet.
When I was still making paintings, I was interested in digital screens and what the internet might mean for this physical media. The history of painting seemed to be wrapped up in our relationship with surfaces: the printing press, photography, text, advertising and so on. The things I made were filled with soft gradients and references to technology; I'm not saying they were good. But it was the direction I wanted to push my work in, to smash art history up against contemporary culture and see what happens.
I can't remember exactly how I found them, but when I stumbled upon K-Hole I was hooked. Their aesthetic was one of blocky all caps typefaces, minimalist stock photography infused with poetic suggestion, and crisp infographics with cryptic insights. Together, it felt like it was saying something powerful about the world, almost accidentally. It felt like it could be art. The prose style was strange: one part marketing speak, another part theory. I couldn't get enough.
"They took what their day jobs gave them—as consultants and as copywriters for brands—and used it to grasp something real about the world"
In fact, what they showed me was something else; something simpler than I'd like to admit. They took what their day jobs gave them—as consultants and as copywriters for brands—and used it to grasp something real about the world. It's a lesson I continue to learn to this day. Without K-Hole, entering the realm of marketing and communications and, crucially, not working in a gallery, would have felt like a death sentence. Not literally, of course, but a death of who I felt I was or was meant to be.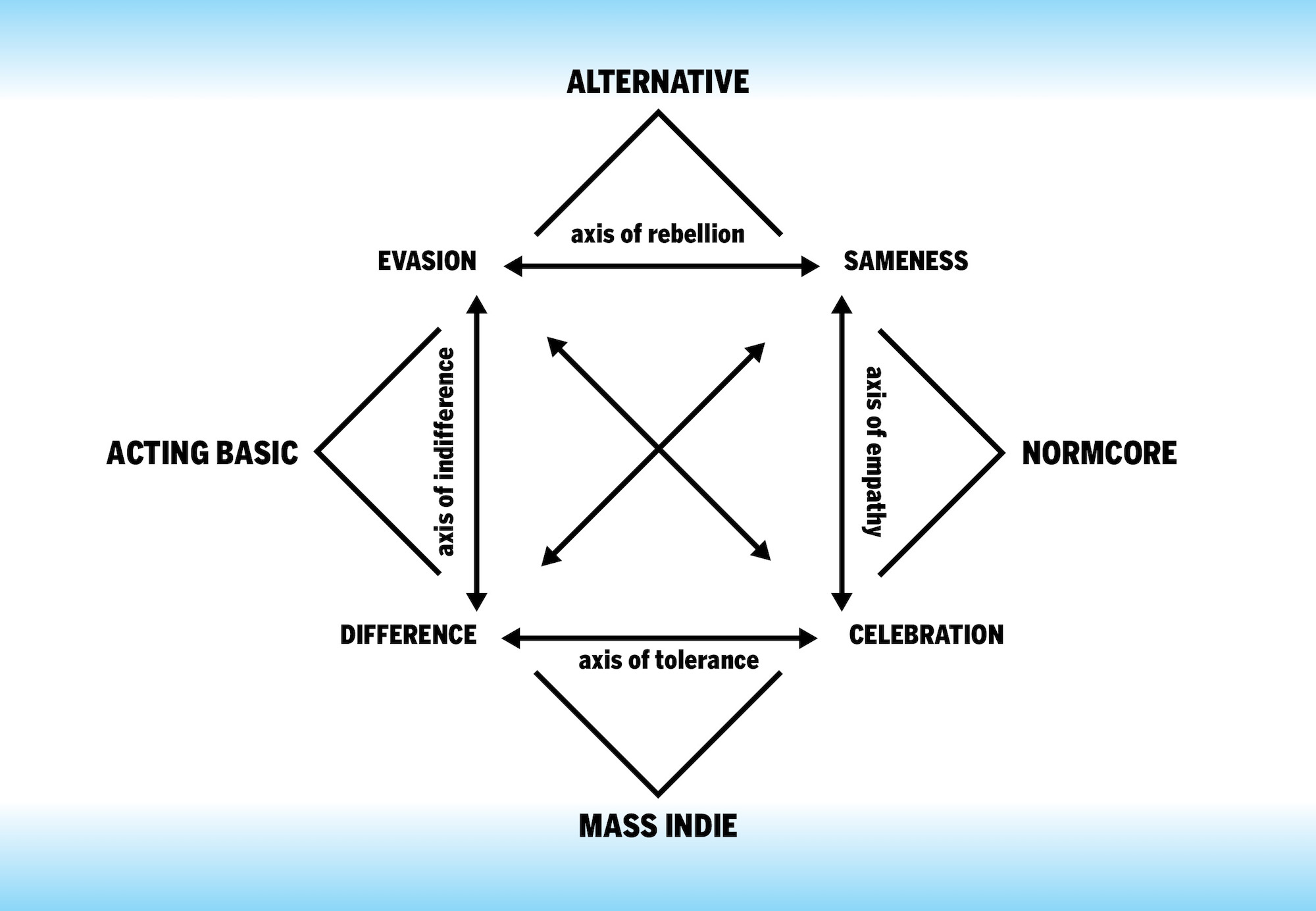 Trend forecasting is the kind of market research that brands (mainly fashion and retail, but lots of advertising agencies too) pay for. Normally this is done by suits in corporate offices, desperate to tap into whatever will be cool for the next three to six months. "A lot of marketing, lifestyle marketing for instance, revolves around our demographic living in global cities working in art and media," Emily Segal, one of the K-Hole founders told T Magazine in 2019. And it's this straddling of art, media and marketing trends that defined the collective's five "reports", released in the form of PDFs.
The subjects they explored ranged from "strategies of visibility", thinking about ad campaigns and Venmo, as well as individualism in the age of algorithms, anxiety and the future. K-Hole were many things: a thought provoking collective; a group of artists riffing on the strange new possibilities of dissemination that the internet enabled. Through all this, they articulated a keen awareness of how technology would collapse cultural boundaries. At art school, I talked about it to anyone who would listen.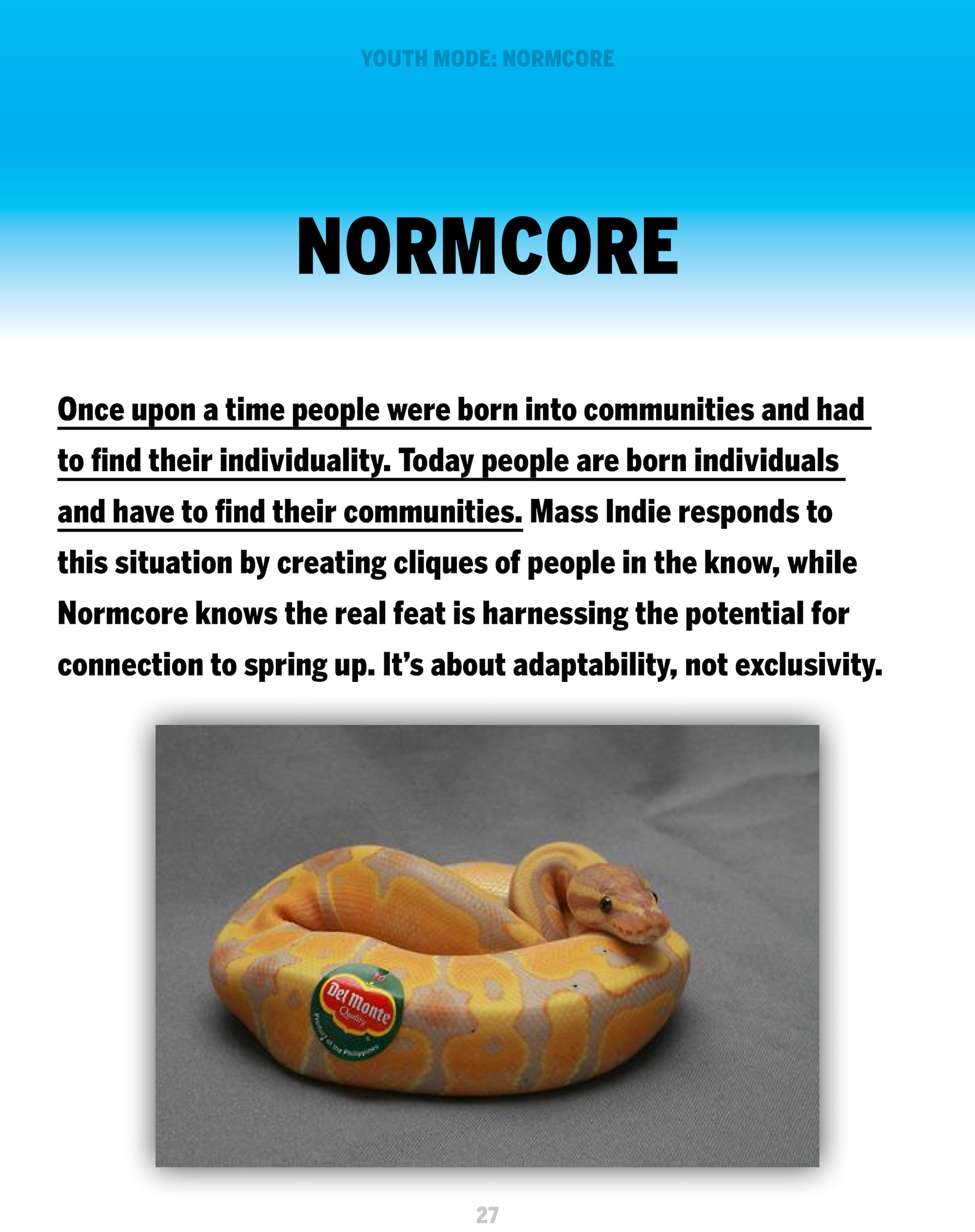 K-Hole coined phrases like FragMOREtation and Normcore, walking a fine line between parody and a cynical play with style and trend. But behind the performance, each report they released contained lists and case studies that outlined a tongue-in-cheek perspective on cultural phenomena that felt like cultural criticism keeping pace with what was happening in the world. Balancing an ambiguous line between satire and critique, it was never quite clear who the audience were. Perhaps the artists were exploring the fringes of corporate culture and its potential for a creative project. Or was this marketing, using a strong fluidity with art, to prove their urban youth credentials?
"K-Hole were many things, and articulated a keen awareness of how technology would collapse cultural boundaries"
The year I finished art school, I hung around working in a local gallery as I tried to make a living. It wasn't long before I headed off to London to find a job and to see what the world had to offer. I found what I would almost certainly declare the worst job ever, as a museum invigilator, and stayed in it for far too long. I spent long hours in a gallery, bored out of mind, and eventually began to obsessively check Twitter. I don't think I've fully recovered from becoming so Very Online, but it did kickstart my journey into the world of communications, where my publishing experience and media literacy is useful. My peers have similar hustles.
I'm not surprised that so many of us work between many worlds—secretly in the service industry, or dismissively in an office, with a creative project on the side. There are serious problems in the art world, if you're not rich. I wonder how many of us truly want to be in this particular world and all the inequalities that define it. For many who have "made it" they describe what they're doing as "just" this or that. Perhaps we all just want to be near the art, and around other people who are too.
I don't want everything to look like K-Hole did; it was very of its moment. But they showed me how the decision to follow something other than the art school to gallery pipeline was valid, and potentially more interesting creatively. They articulated the present on their own terms, as I wish more artists would. It's only now that I'm immersed in the world they were describing that it feels even more real.
Did an artwork change your life?
Artsy and Elephant are looking for new and experienced writers alike to share their own essays about one specific work of art that had a personal impact. If you'd like to contribute, send a 100-word synopsis of your story to office@elephant.art with the subject line "This Artwork Changed My Life."
Head to Artsy to read their latest story in the series, a piece on Tracey Moffat's Up in the Sky
READ NOW