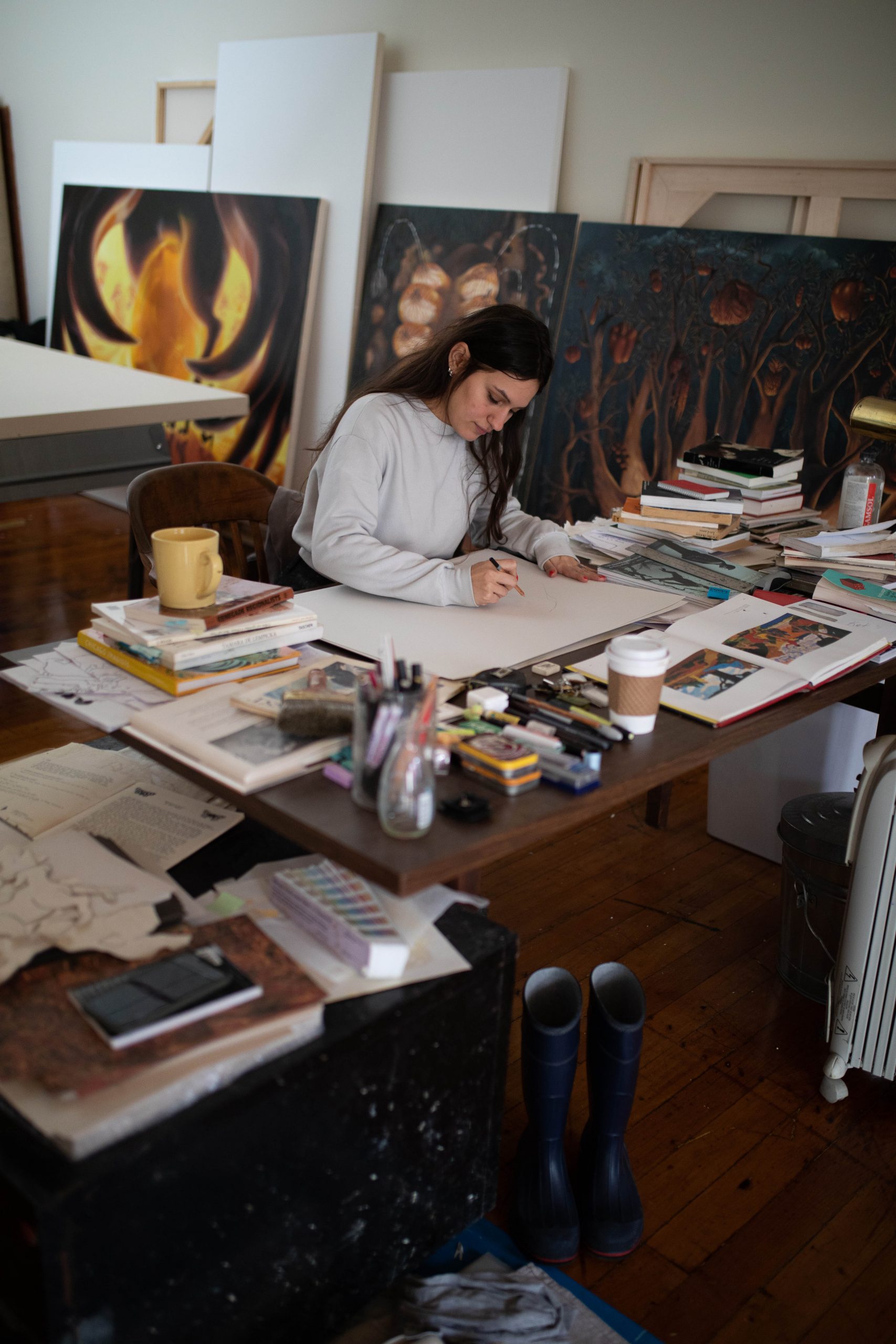 The sight of animal meat and bones is so ubiquitous that it often fails to shock. Painter Kat Lyons, however, manages to imbue fleshy carcasses with a fresh sense of horror. Until recently based on a small livestock farm in Sharon, Connecticut, her highly detailed technique and complex understanding of colour adds a surreal, nightmarish edge. It calls to mind the theatrical horror of heavy metal visuals, in which raw animal energy meets the cold thud of human-made tools.
In one work, viewers looking down on a live bull's head can see a gooey circle of exposed brain. That animal in turn watches a fellow bull levitating in the air, with its skin flayed and body butchered at the limbs and neck. Perhaps this other bull is his future self? In another painting, intricately detailed snails slime their way over a pile of shiny grapes that resemble bloody innards.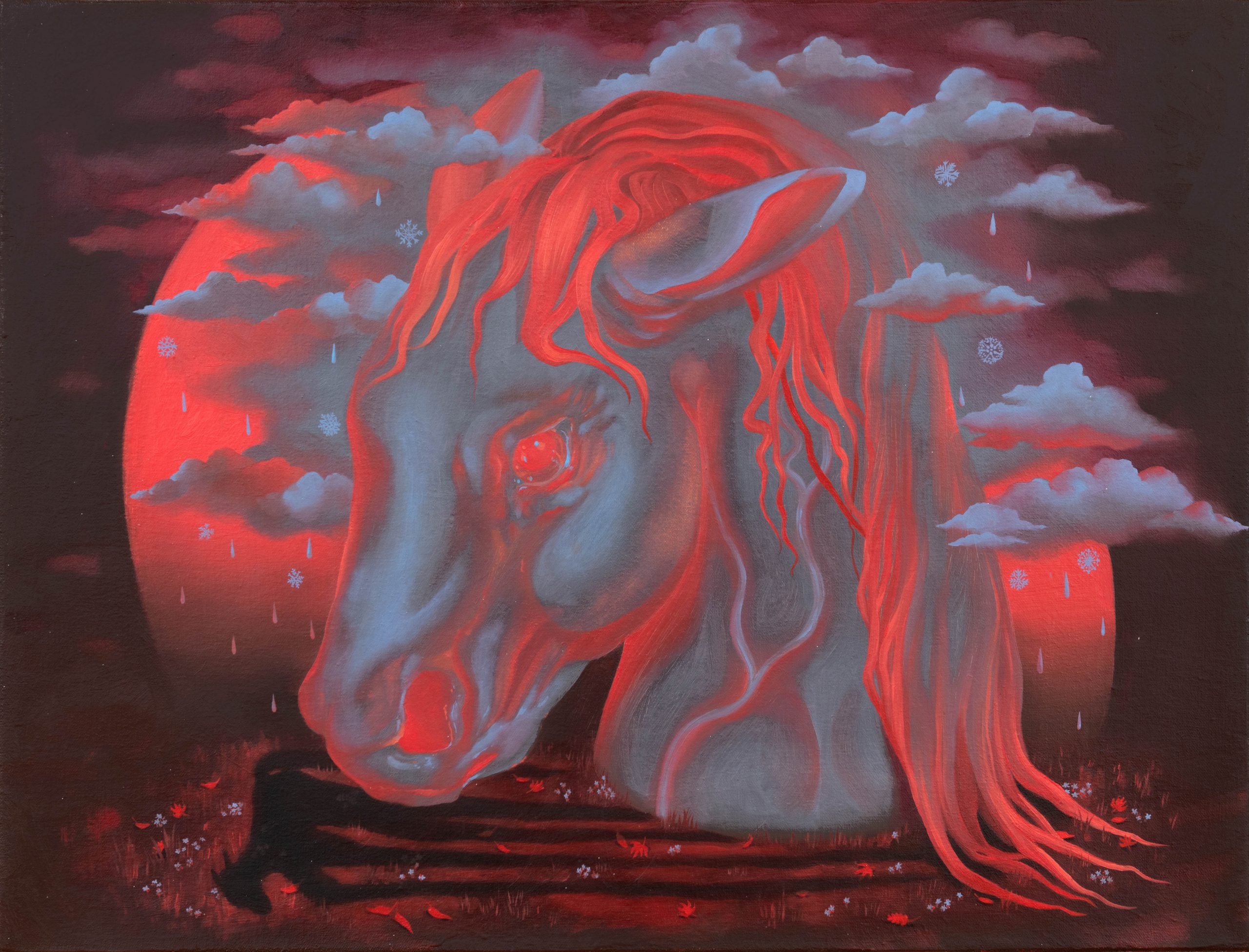 Lyons visualises the dark violence of consumption, interrogating the ways in which animals are categorised: pet, meat, pest, prey. She also brings in questions about labour and grief, and explores how issues such as loss factor into such a practical environment.
Early Paradise, the artist's new show at Pilar Corrias, draws on her own experiences and investigates this space as a whole, right down to the ants who are crushed under-wheel by vehicles transporting feed for the farm's official residents.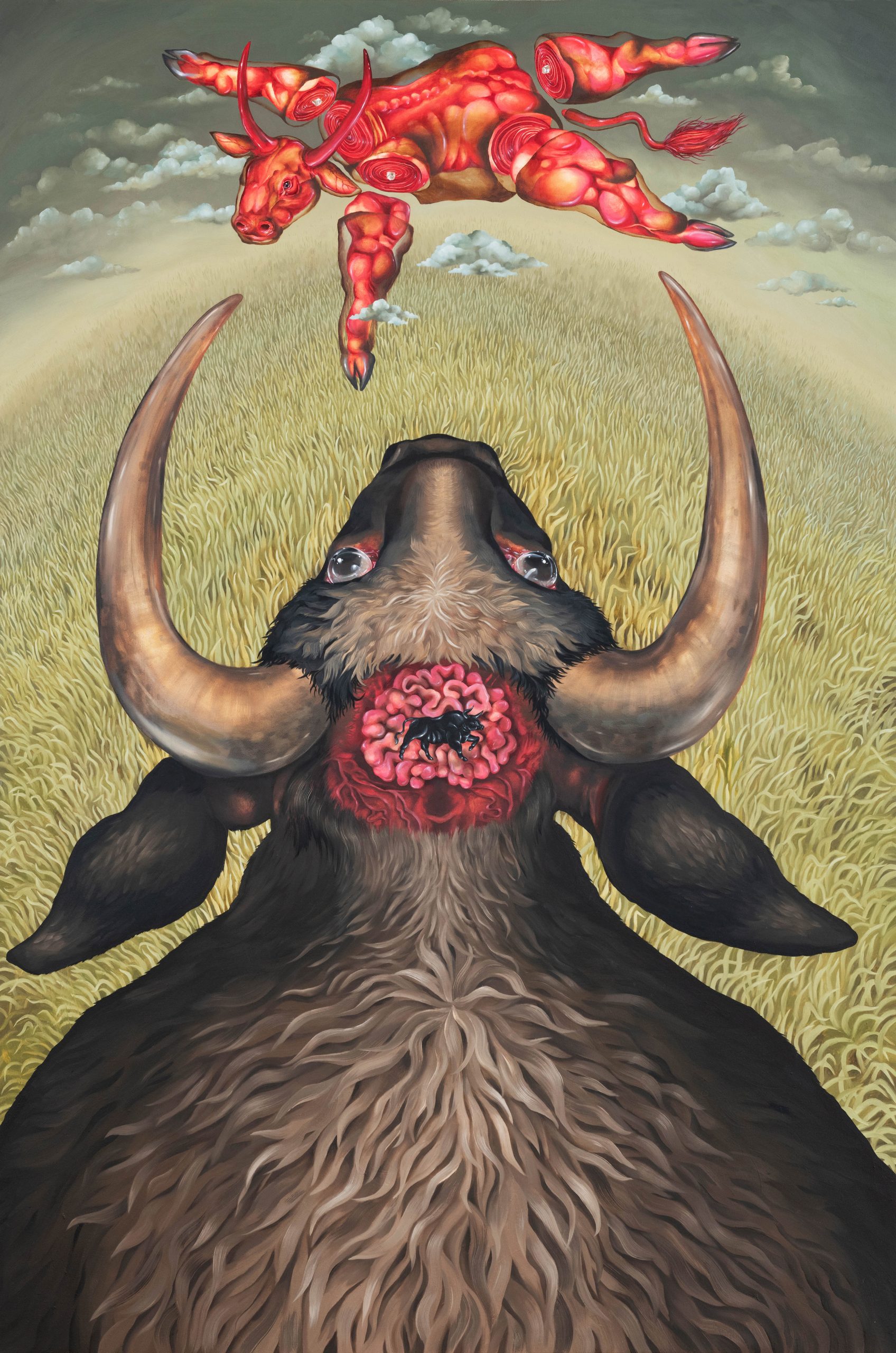 If you could save only one item from your studio, what would it be?
A frog talisman I picked up from a tag sale the day I moved into my first NYC studio. I have hung it on or above the door of every studio since. I am convinced it continues to bring me safety and luck. Over the years, people have given me small charms and objects that I attach to its frame, a collection of the people I have met.
"Someday I will make a blue monochromatic painting and maybe not totally hate it"
What was the last art material you bought to use in your work.?
A variety of blues from Williamsburg Oil Paints. I feel so uncomfortable with the colour, so I am trying my best to bring more of it into the work. Someday I will make a blue monochromatic painting and maybe not totally hate it.
What is your go-to song when you're working in the studio?
I don't listen to music much in the studio, at least not in the past two years. Living in a small town away from my friends in NYC, I wasn't interacting with many people. I found myself listening to various radio platforms a lot, so many great conversations that helped me feel more social and connected to the world. I love being surrounded by conversation without the expectation to participate. I think my responses sometimes end up in the paintings.