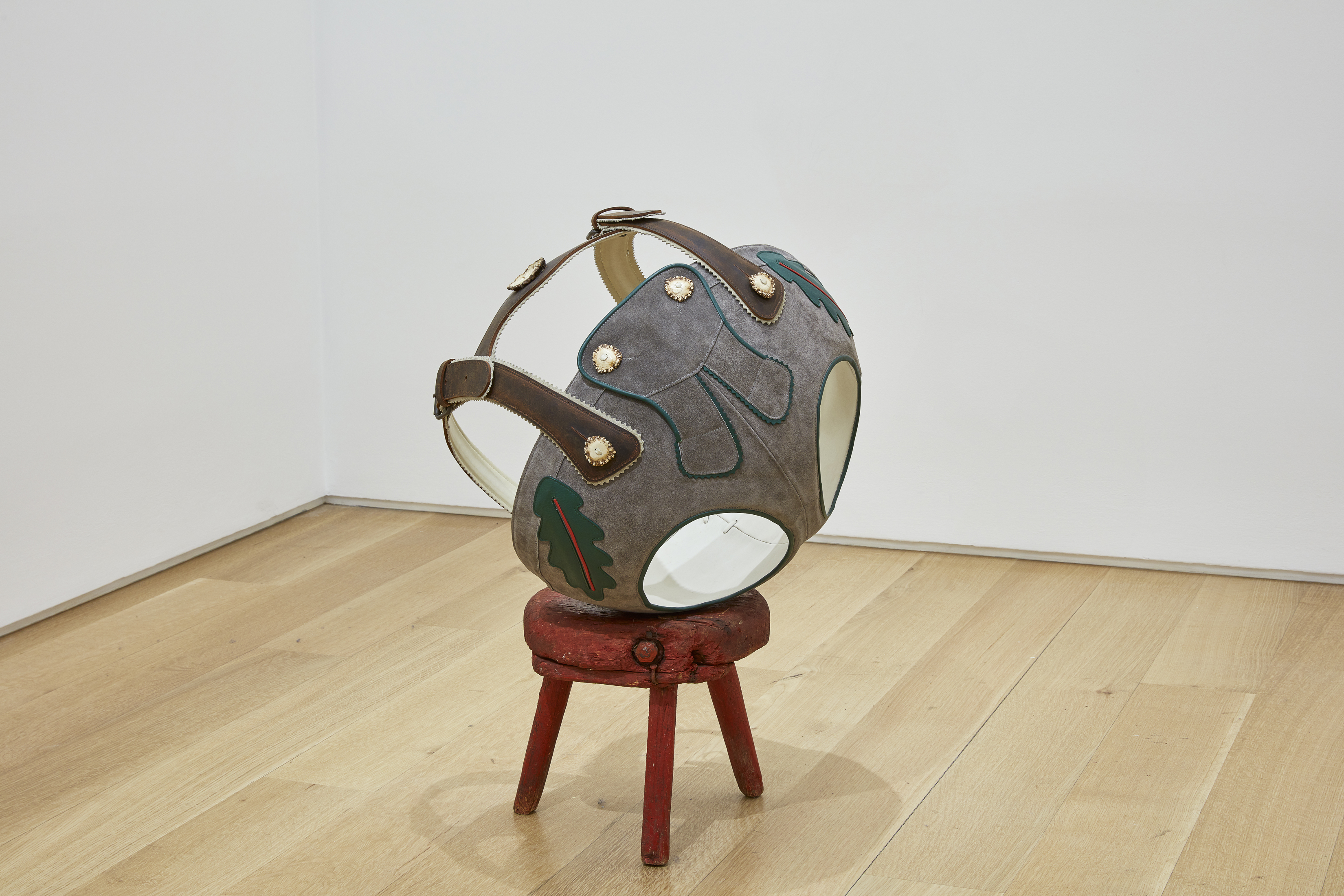 I suspect that Lars Fisk has something of a perfectionist streak. When I arrive at London's Marlborough Gallery, where the Brooklyn-based artist is staging his first UK solo exhibition, he is surmounting a ladder, making adjustments to his humongous Houseboatball (2020). This is exactly what it sounds like: a houseboat, of the variety common on London's canals, transmuted into an improbably spherical sculpture. But whereas the majority of Fisk's works take the form of a single, pristine sphere, Houseboatball is bedecked with peripheral objects. There is a toy horse, a solar panel, a butterfly net and a dangling smartphone. And, attached to the boat-ball, there is a second ball of scrunched up tarpaulin.
Fisk sourced all these materials, including the folk art, pot plants and furniture which sits inside his spherical boat, at a canal scrapyard in Leighton Buzzard. "This boat was a whole new exploration," explains Fisk as he descends the ladder, "because I allowed myself to break my own bounds and explore the extraneous explosion of stuff. That's why I'm up there on a ladder, leaving you to wait. I can't stop myself from having fun with it."
Left: Tudor Ball, 2019. Marlborough London at Frieze Sculpture Park 2019. Photo by Stephen White; Right: Installation View, Lars Fisk: Wattle & Daub, Marlborough, London. Courtesy Marlborough. Photo by Luke Walker
Houseboatball is the largest and most elaborate work in the Marlborough show, titled Wattle & Daub. It gathers nine works, seven of which are the rotund marvels which he has concocted since 1996. There are three Treeballs, for which an ash from Vermont (1998), a cedar from his mother's residence in Maine (2019), and a shagbark hickory from fashion designer Rachel Comey's house in upstate New York (2019) have been re-formed into texturally distinct orbs. There is the Tudor Ball (2019), a variant of which was seen at last year's Frieze Sculpture Park, which squeezes into shape a mock-Tudor house, and 2002ball (2020), the latest in a series of compressed cars, this one compacted from an early 1970s BMW. Finally, the Lederhosenball (2019) takes the much-mocked Tyrollean breaches and transforms them into a doughty globule. 
There is an absurdity to these works, which turn myriad subjects from nature, architecture, design and popular culture into improbably perfect spheres. Fisk was drawn to the sphere because of its incongruity. "It was," he says, "a non-sensical form. The sphere rarely occurs in our day-to-day life. It's so dynamic, so unstable." Early on, before he began matching his sculptures with thematically-appropriate bases and pins, this instability caused Fisk problems. "I had an installation at Dartmouth College," he recounts, "that only lasted one night. The fraternity brothers came along, rolled it down a hill, and smashed it into the wall of the museum. That was very sad."
"I don't want it to be crafted in a way that shows the human hand"
Play is just one association. Balls also suggest the cosmic. "If an entire world consisted of just a parking lot," says Fisk, "then it might be like my Parking Lot Ball." Many of the works in Marlborough are fixed in a tilted position, as if in orbit. Balls can also betoken the very small. "Spheres do occur," the artist continues, "in the micro, such as in a seed or an egg. And so I think we bring in these associations of other meanings. They could be a single unit—what would one unit of an architectural style look like?—or a young version." The Tudor Ball could be a building's newborn, preparing to expand onto the mound of soil that surrounds it.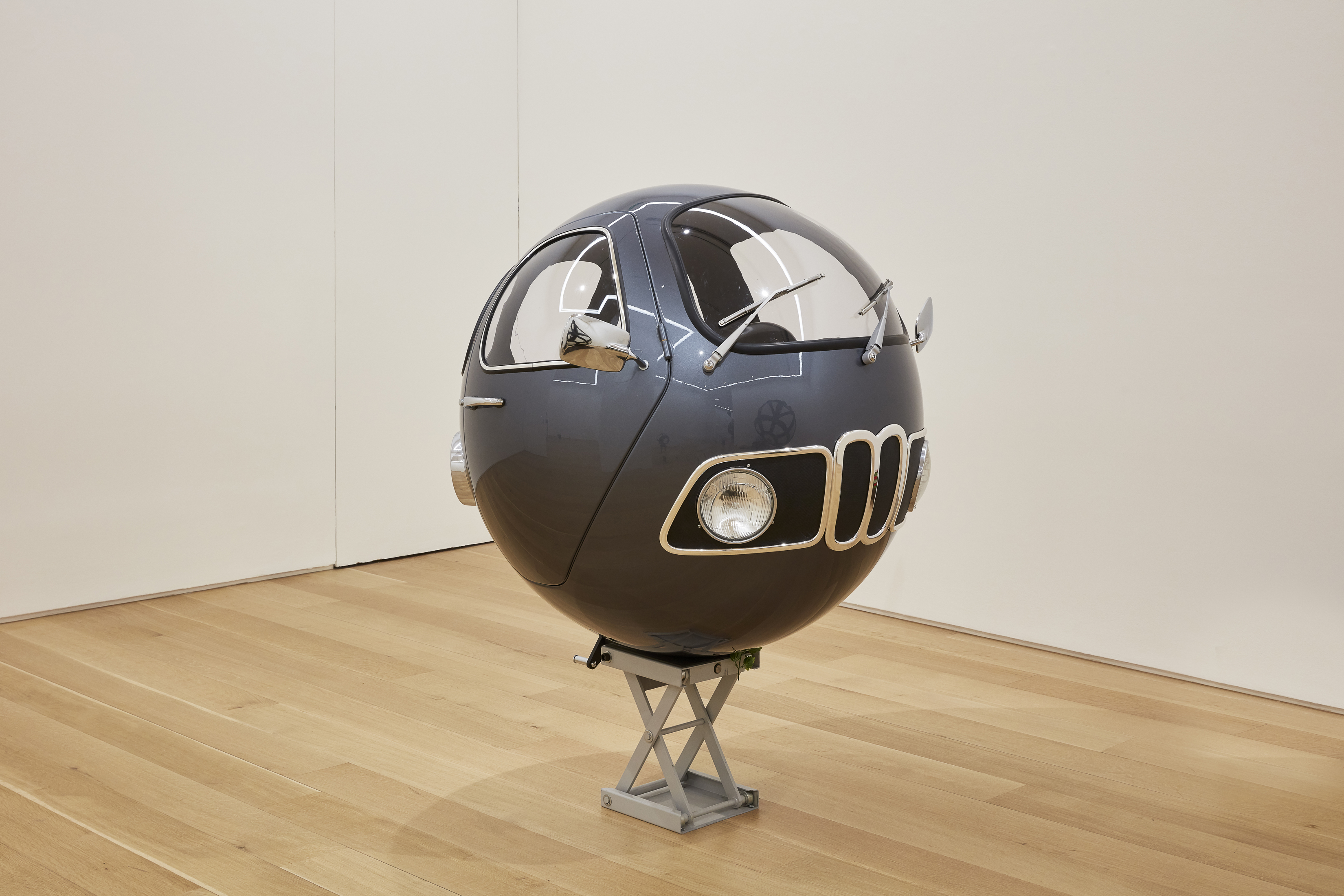 As we pass, Fisk stoops to pat this soil with his hands, smoothing it out in time for the opening reception that evening. This fastidiousness is apparent in the sculptures themselves. Each is made from the same materials as the object or place it represents. To create them, Fisk has tried his hand at a bewildering array of production techniques, from thatching to upholstery. "Parts," as he has it, "have to be tweaked and bent-heated and distorted and twisted and finagled into shape."  
For Tudor Ball, he steam-bent green lumber in a home-built steam box. On occasions where it would be too difficult to complete a structure himself, as with the 2002ball, he works with factories. Each of the works at Marlborough is the result of arduous labour, though you wouldn't know it from their seamless appearance. "I try," says Fisk, "to extract myself from all of this. I don't want it to be crafted in a way that shows the human hand."
Fisk's meticulousness might reach an extreme in two new works. At first glance, Droplet (Active Environment) (2020) seems an enormous leap from what has come before. A softly whirring device, it contains a single—perfectly spherical—drop of water in an atmospheric chamber that prevents it from evaporation. The idea came to Fisk at the kitchen sink. "I saw that certain soap detergents, or a mixture of olive oil, would create these perfect drops of water," he recalls.  
To work out how to combat evaporation, Fisk contacted physicists, and his idea moved from the kitchen to the laboratory. "You need zero wind," he enthuses, "high humidity, and a little air pressure. We've got about 3 tsi pressure and about 99 per cent humidity. The theory is that this will be preserved indefinitely." In Fisk's hands, even H2O can be rendered spherical—if given the right condition. The nearby Droplet (Passive Environment) (2020) features the same marvel without the ideal atmosphere; it is expected to collapse within twenty-four hours of its inception.
"I get very obsessive, and then I have to get out of the studio, and go and live life"
Fisk spent eighteen months on the new sculptures for Wattle & Daub, and plans to follow it with a period of rest. "I get very obsessive," he says, "and then I have to get out of the studio, and go and live life. And then I can go and observe again." It's clear from Fisk's ebullience that he'll be springing back into action before long. As we pass Houseboatball once more and examine its intricacies, his eyes light up. "I think I want to make it sail-worthy," he says, before explaining exactly how to achieve this. You wouldn't bet against him.