An animated avatar of a young girl has amassed more than one billion views on YouTube since 2017, and yet she barely does anything at all. She just sits silently in her headphones and studies at a desk as down-tempo music plays in the background. It is a far cry from the attention-grabbing influencer culture that often dominates online. Jade, as the girl is known, gives a quiet, unassuming vibe to study and relax to, and sometimes to emulate. Before I knew it, I became one of her followers, too.
When French YouTube channel ChilledCow began livestreaming 24/7 chill-hop in 2015, they resurrected the intimacy of bedroom and cassette culture, and with it, the nostalgia of unlicensed radio stations. From its downtempo music, which blends mellow, low-fidelity (lo-fi) hip-hop beats and moody yet relaxing tunes, came a fan base. Then came their most popular creation, Lofi Girl.
The 10-million-subscriber channel and its continuous playlist of atmospheric, background-like music might seem unremarkable at first. Yet ChilledCow has now expanded to include a music label, a live chat, Reddit and Instagram accounts, a 600,000-member strong Discord Channel, and even merchandise. In 2020, ChilledCow produced one of the longest videos ever uploaded to the internet, with 13,000 hours of continuous music. It was only interrupted when YouTube briefly suspended the channel.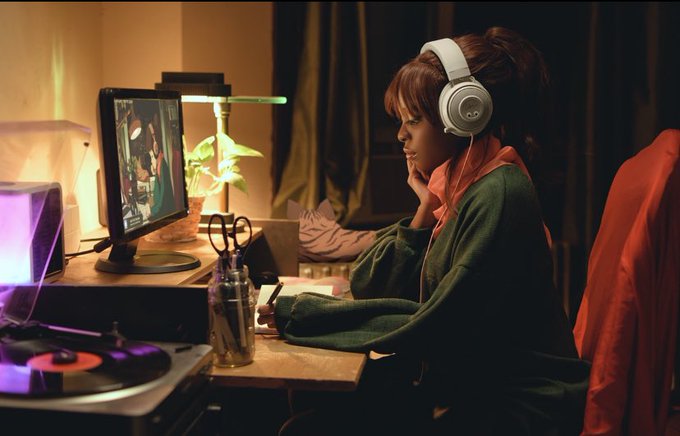 The lo-fi movement, made popular by musical artists such as J Dilla and Nujabes during the 1990s, resurfaced in the 2000s via Japanese anime and popular YouTube channels such as Chillhop Music and College Music. But it was ChilledCow's immediate adoption of aesthetics infused with the influence of Hayao Miyazaki and Studio Ghibli alongside their chilled music that would come to define them. An online community quickly followed.
ChilledCow initially used the studious image of teenage character Shizuku Tsukishima, from the animated feature Whisper of the Heart (1995). Hit by repeated copyright infringements, ChilledCow needed a new muse, so they put out an open call to artists for a new design.
"Lofi Girl's popularity hints at a craving for slowness and a desire for authenticity in an oversaturated digital culture"
Colombian artist Juan Pablo Machado won the call: his character Jade was a performative rendition of a lo-fi listener, faithful to the spirit of the channel and music. Known by her left profile, Jade is a Ghibliesque, left-handed young woman sitting at her desk. Wearing a cozy sweater, she handwrites notes besides her MacBook, stationary, potted plants, stack of books, and bookshelves.
A cat gently moves its tail by her window outside which stretches the cityscape of Lyon, France. The animated loop is slow and gentle. Jade concentrates on her homework but she sometimes turns her head to check on her cat and the view. She listens to music on her lo-fi branded headphones.