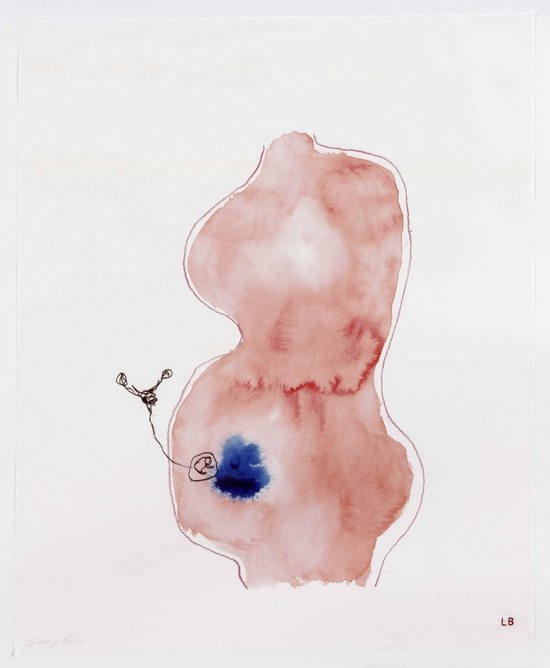 Shown originally at Hauser & Wirth's now extant Old Bond Street space in London in 2011 (and more recently again at White Cube Bermondsey this summer in the superb Dreamers Awake—the cross-generational focus on female surrealism) the collaboration between Tracey Emin and Louise Bourgeois is both characteristic and surprising, pairing two artists who have taken an unflinching and at times searingly raw look at female pain.
I saw the works for the first time this summer and was struck by the smooth fusion of both artists' expressions; sixteen body shapes were created by Bourgeois, who then handed them to Emin to draw into with smaller figures, marks and text ("I carried the images around the world with me from Australia to France, but I was too scared to touch them," Emin said of the process initially). There's something equally soft and robust in the works, from two artists who celebrate the aspects of the female experience that set us apart, and that make us feel both vulnerable and powerful in moments.
Looking for the Mother is the image that had the greatest impact on me, with its round, fleshy, watery depiction of an adult female body that is not fully formed—it looks as though it could pool off into another shape quite easily or leak out of its delicate outer line, and it's missing a head, arms and feet. The much smaller human nesting inside it is also vulnerable, lying next to a large smear of dark, blood-like blue ink. While the fetus sits inside the body, the uterus and ovaries sit outside, unprotected. This simple yet brutal image contains a lingering sense of loss and brings to mind the often unspoken sorrow of abortion and miscarriage.
Image: From Louise Bourgeois and Tracey Emin: Do Not Abandon Me, 18 February – 12 March 2011, Hauser & Wirth London, Old Bond Street
SaveSaveSaveSave