Bridget Riley is a name so familiar that it seems baffling nobody has previously written in-depth about her early years, and how she rose to such a stellar place in our cultural lexicon. A new book from publisher Ridinghouse explores her journey from British wartime beginnings to her rise as darling of the New York art world—and one of the most famous proponents of op art in the world.
Riley was born in south London, before later moving to Cornwall during the war. What is it about Forest Hill exactly? For some, it's best known for its proximity to the Horniman Museum, the site boasting a famously overstuffed walrus. For others, it's (apparently) where Kate Bush lives. It turns out that Bridget Riley was born there too, when the area was a leafier suburb of the capital, and its these sort of details that the book Bridget Riley: A Very Very Person explores with a poetic, lyrical writing style from author Paul Moorhouse.
As Moorhouse points out in the book's preface, "despite the proliferation of words about Riley's art, there is a dearth of information about the artist herself… my main concern is to show that Riley's art is rooted in much wider experience, and it elicits responses that transcend the visual… the life and the work are inseparable, and an appreciation of one illuminates the other."
"The life and the work are inseparable, and an appreciation of one illuminates the other"
A Very Very Person is exhaustive in its exploration of this life, covering everything from Riley's childhood pet cocker spaniel to her school reports (she didn't have the best attendance record) to her parents' concerns around art school and what attending one might mean for her "future need to earn a living" and her marriage prospects. But Moorhouse writes that young Riley "brushed these ideas aside. At this stage the idea of a career repulsed her. The notion of becoming an artist was not even an issue. She simply wanted to learn how to draw and paint."
In 1949 she got her wish, studying at Goldsmiths in south London and living with relatives in Sydenham (albeit now struggling with the rather posh accent she'd picked up during her school years at Cheltenham Ladies' College, according to the book.) During her time at Goldsmiths, Riley doggedly attended exclusively drawing classes, which meant she left the college with no qualifications. She was later awarded a place at the Royal College of Art when she was twenty-one. She subsequently suffered a breakdown, and her father was involved in a catastrophic car accident just before Riley was set to graduate; she never returned to the college to collect her qualification, instead joining her family to help care for her father.
Riley's prospects didn't look great; and A Very Very Person makes you work right to the end to find the turning point—the catalyst that explains when the Bridget Riley who flunked Goldsmiths became Bridget Riley the household name, and one of the few artists that even your mum has heard of. It was as the New York painters began to gain prominence, showing in exhibitions in London, that Riley's interest in abstraction was piqued. "The idea that a painting could be a thing in itself began to take shape", Moorhouse writes. A bedbug-hampered trip to Paris, and a study of the Impressionist's paintings shortly afterwards, proved a revelation for the artist; who soon began copying works by Georges Seurat in a bid to find her own voice.
"A bedbug-hampered trip to Paris proved a revelation for the artist"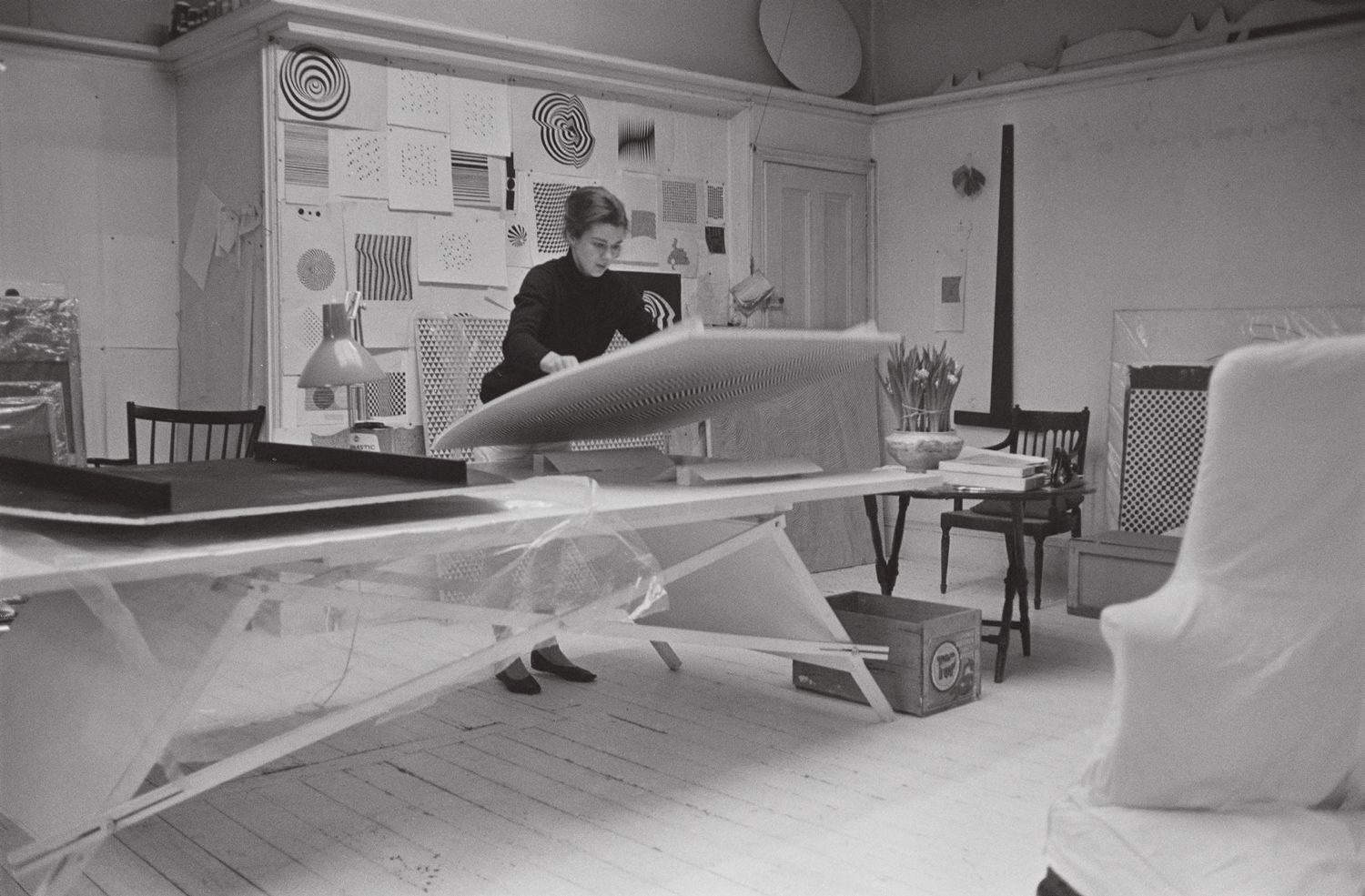 In 1961 Riley created Kiss, a piece that proved significant in the young artist's self-realisation. "With Kiss she had made a crucial advance," Moorhouse writes. "… she realised the importance of starting from purely pictorial elements organised coherently… she had renounced working from life and had created an abstract image with its own, independent identity." This was the first step in her move toward strict geometry—the fundamentals of an image–and her explorations of symmetry, angles and how their arrangement could have a profound impact on the viewer.
Riley soon created her series Movement in Squares, showing for the first time as an artist aged thirty-one in a 1962 London exhibition. Just three years later, Riley had arrived in America to new acclaim: her first solo show in New York sold out; her "look" was splashed all over the pages of Vogue. Before she'd even tuned thirty-four, she'd "achieved a global platform for her work," Moorhouse writes, a position that she holds to this day. It is an intimate, heartening look back at an artist whose name and reputation precedes her; sometimes, it's important to remember that even one of the most successful artists in the world fought for her position, and that it doesn't always come easy.
Bridget Riley: A Very Very Person The Early Years, by Paul Moorhouse
Published by Ridinghouse
VISIT WEBSITE