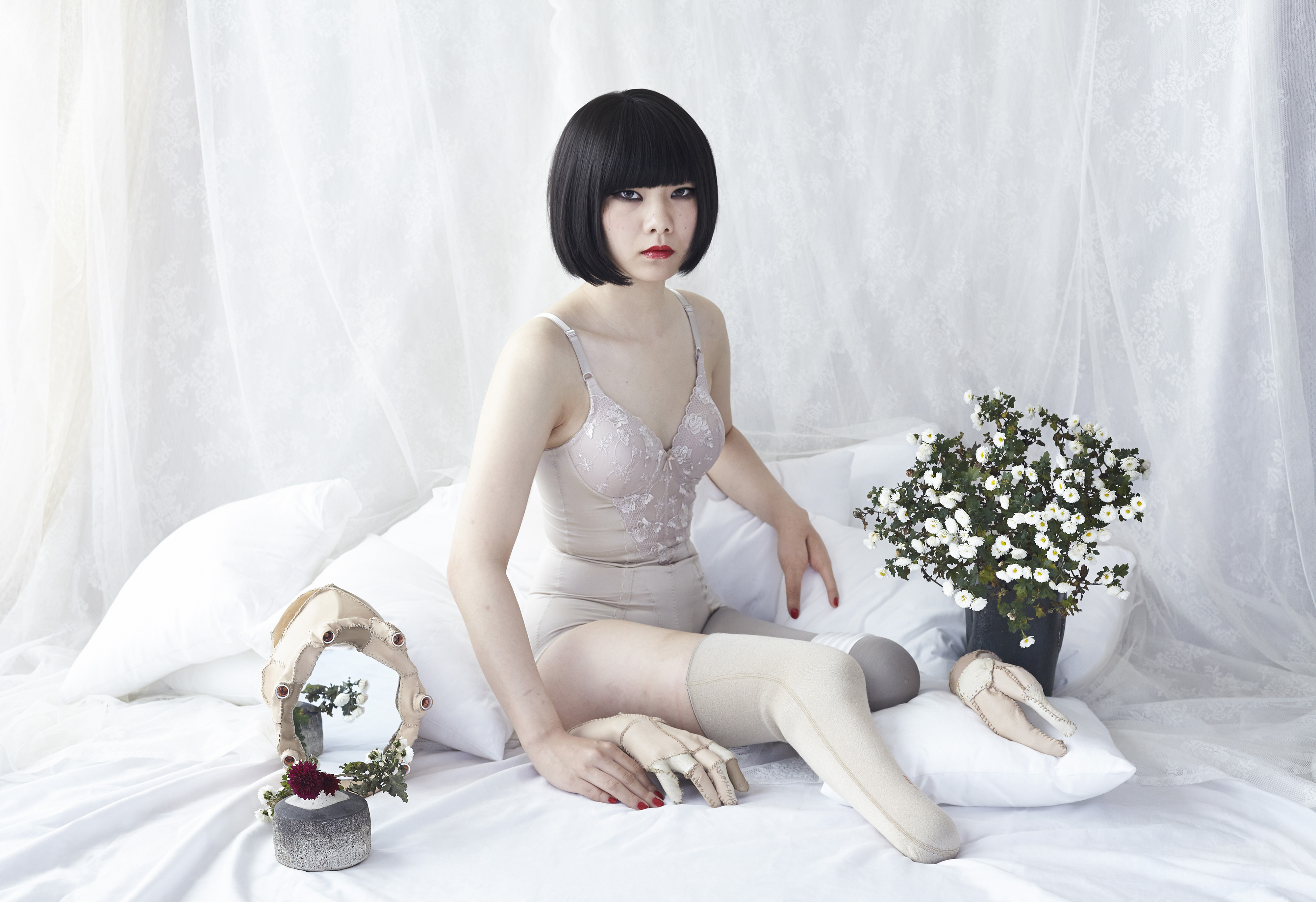 If you stroll down Mortimer Street, just a few moments from the hustle and bustle of London's Oxford Circus, you might well be confronted with a scene that is at odds with the plethora of Italian restaurants, hipster coffee shops and upscale salons that populate the thoroughfare. Through the gigantic windows at White Rainbow (a gallery focused on contemporary artists from Japan) you can see two life-sized and partially dismembered dolls reclining among a vast selection of embroidered textiles, collaged boxes, hair, sea shells and carefully embellished ephemera.
These incredible constructions are the work of Mari Katayama, an artist who uses her experience as differently abled woman (she was born with developmental issues) to create tableaus that seamlessly incorporate her own body into enormous soft sculptures, through carefully considered photographic images, as well as stand-alone objet d'arts.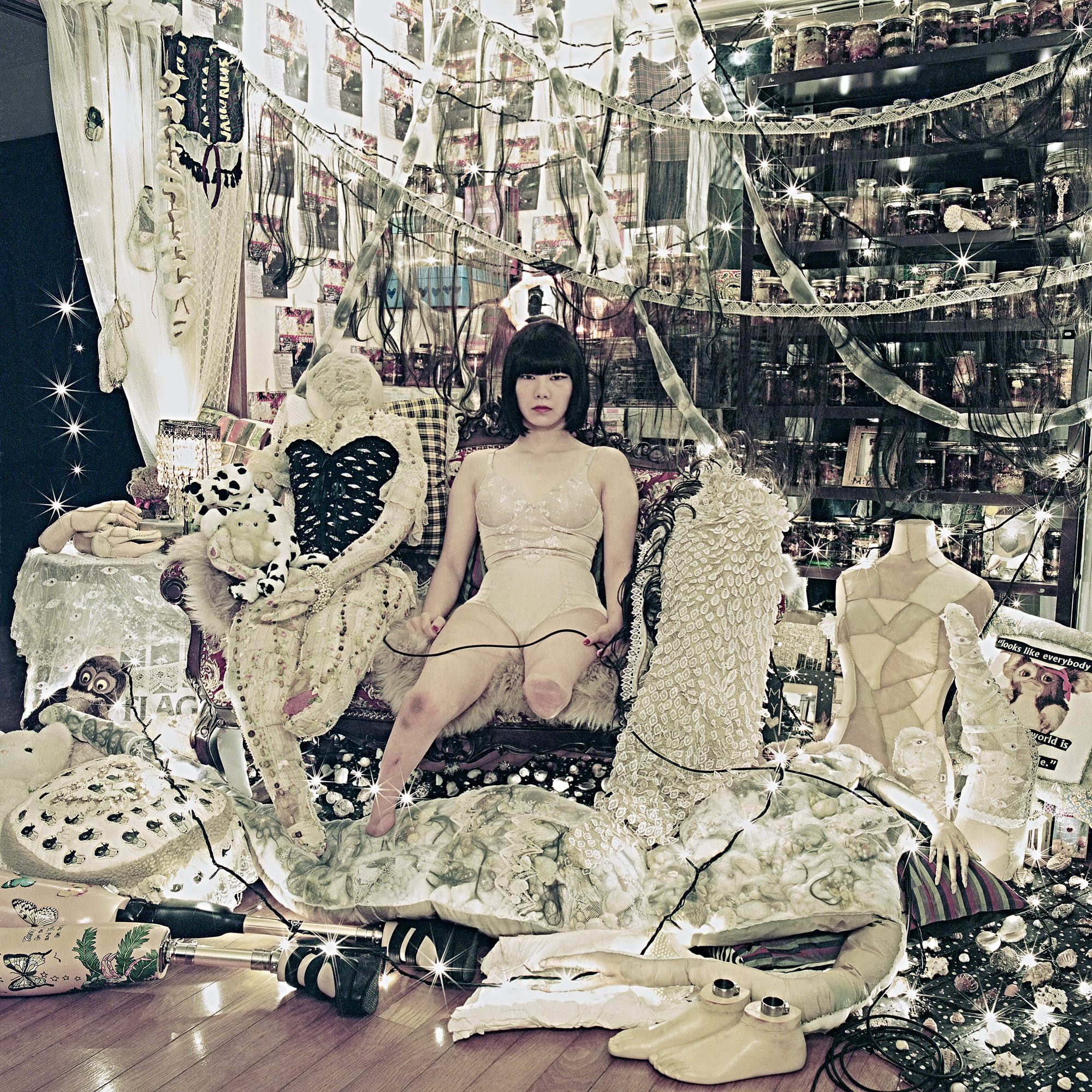 For her first European exhibition (and the last in the gallery's history) titled Broken Heart, Katayama presents these works alongside large-format photographic self-portraits, which incorporate her sculptures and other recurring motifs such as seashells and bespoke shoes. It is impossible not to be seduced by the intricate adornments and embroidery that she creates. They are brimming with allure and the grotesque—in the best possible sense.
For example, in her sculpture Dolls and Boxes, a human figure is covered in ribboning, wears a luxurious corset and has an embroidered face trapped within layers of lace. Its soft textile legs appear dismembered, while two of the artist's prosthetics limbs, covered in intricate illustrations, rest among a strange rope consisting of hair, more lace and a golden zipper.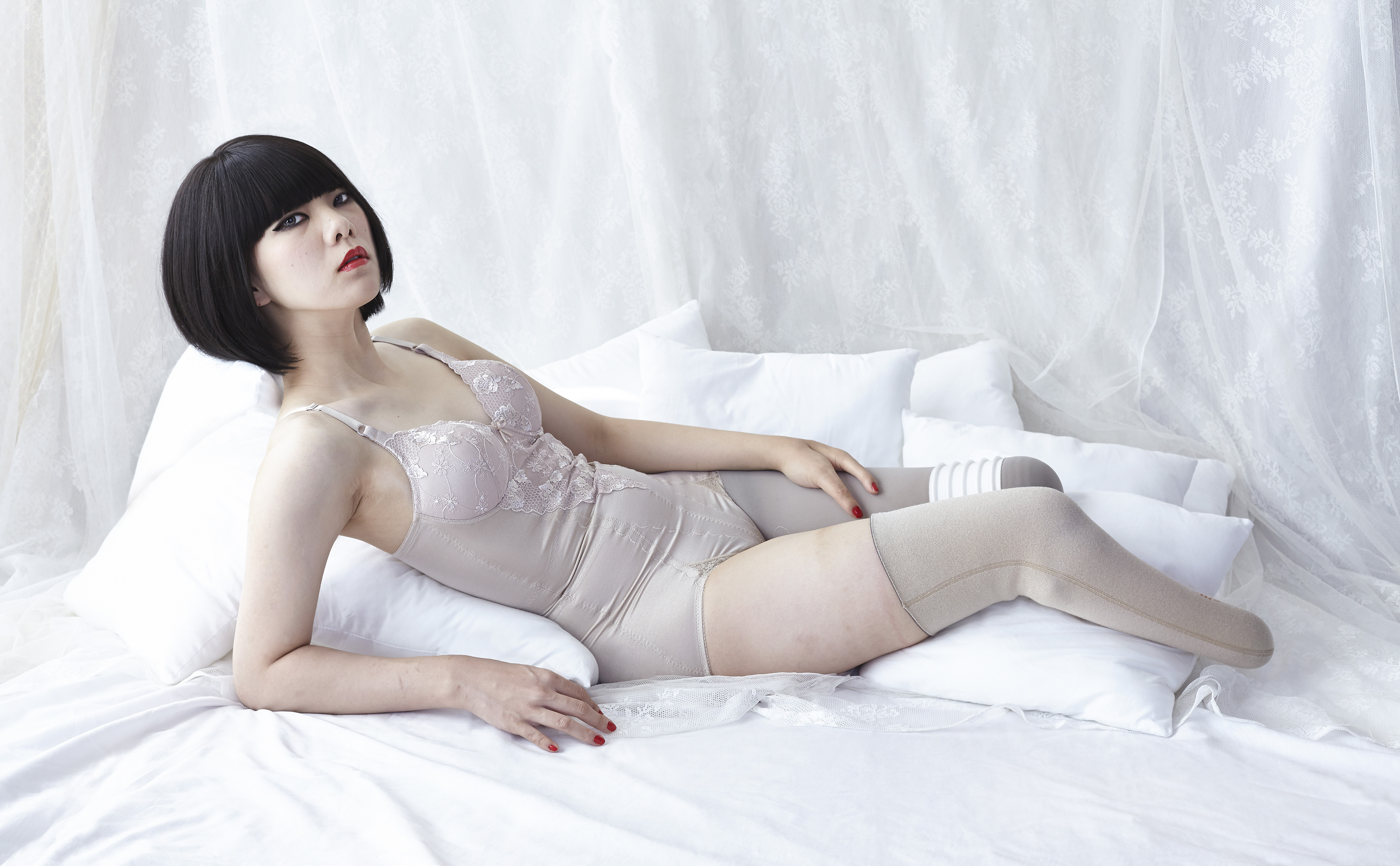 "People can see my work as controversial, but I don't do that on purpose, I just want to present the experiences that I have through my body"
Similarly, Dolls features a segmented body wrapped in pieces of nude leather, accompanied by several fabric limbs stuffed with hair, beads and shells. Its face is a mirror surrounded by bright lights, like one might find in a dressing room. In this moment viewers have the chance to imagine themselves as part of the sculpture via their own reflection, as they lean over a carefully accessorized rope that prevents viewers from crossing the work's threshold.
In the photographic portraits that surround these pieces, the motifs, objects and even poses that Katayama adopts carry through. In You're Mine #1 she reflects the stance seen in Dolls, leaning on one elbow and arching her back slightly. It's a position recognisable in thousands of paintings throughout art history and is unmistakably sensual.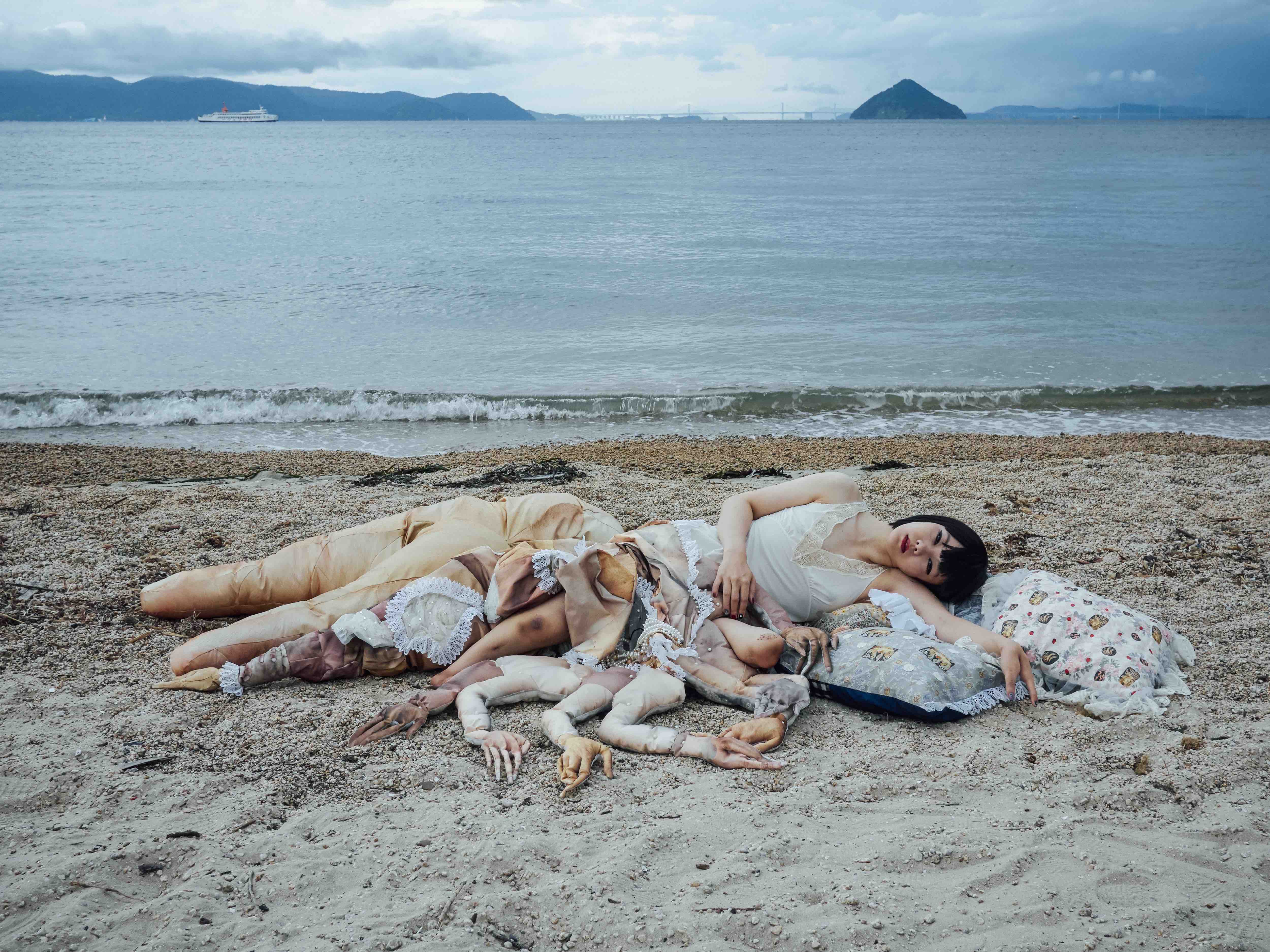 When I met the artist last year in Japan, I asked if she was seeking to redefine what a beautiful and sensual body could be, but it isn't something she thinks about in such clear terms: "I'm not very good at going against society's expectations! People can see my work as controversial, but I don't do that on purpose, I just want to present the experiences that I have through my body, meaning the way I see the world, society, and the atmosphere around us."
In this way, Katayama explores the possibilities of her own body by creating objects that manipulate the way we see her. In Bystander #14, for example, she lies on the beach at Naoshima Island, surrounded by multiple manufactured limbs. It is as if she is a mythical beast that has come forth from the ocean. Likewise, in On The Way Home, she rests among the riverside foliage, appearing as one with her stitched sculpture and the surrounding nature.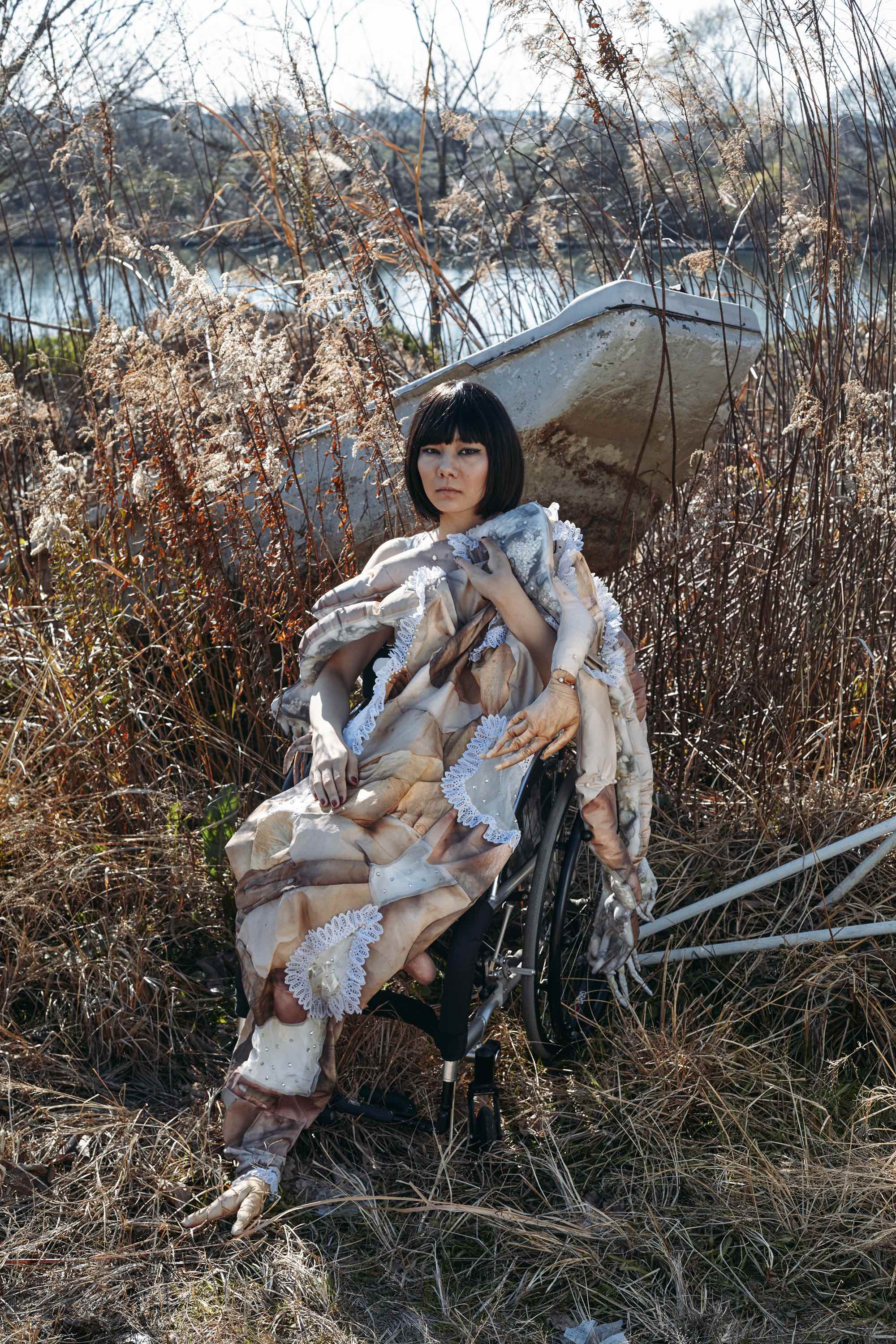 In each of the portraits, the artist's piercing stare has a commanding presence, but she is keen to explain that she doesn't take herself too seriously. "Sometimes I'm just experimenting or joking around," she explains. This was evident at the exhibition opening in London, when she signed her new book Gift by tracing around her two-fingered hand and sketching a cartoon eyeball, once again transforming the traces of her body into something entirely unexpected.
In the past, Katayama has referred to treating her body as a mannequin, dressing up in wigs and makeup to construct her image. However, there are also instances when she lays herself bare, as seen in Cannot Turn The Clock Back #005, presented with other photos from the series—which focus on singular household objects or new diminutive sculptures—in a smaller and darker room. For this portrait Katayama appears wearing a hairnet as opposed to a wig, with visible bruising and scarring on her limbs. It has a rawer sensibility, which transports you from a constructed world of the artist's making, to something that is anchored in a more brutal reality.
Both domains are a joy to explore, not least because the sheer number of objects and adornments that exist (in both the two and three-dimensional sphere) allow for something of an emotive treasure hunt. Katayama's artworks are as much about allowing the viewer to emotionally connect to the articles she depicts, as it is about conveying her own life experience through the manipulation of her body.
During my visit, I saw viewers crouching down to read the text that carefully collaged on stacked boxes visible underneath her mannequin, or standing dangerously close to a portrait in an attempt to trace the line that forms the edges of a textile limb. In this way, you feel as if you are journeying with her, in a land that is uncanny and captivating in equal measure.