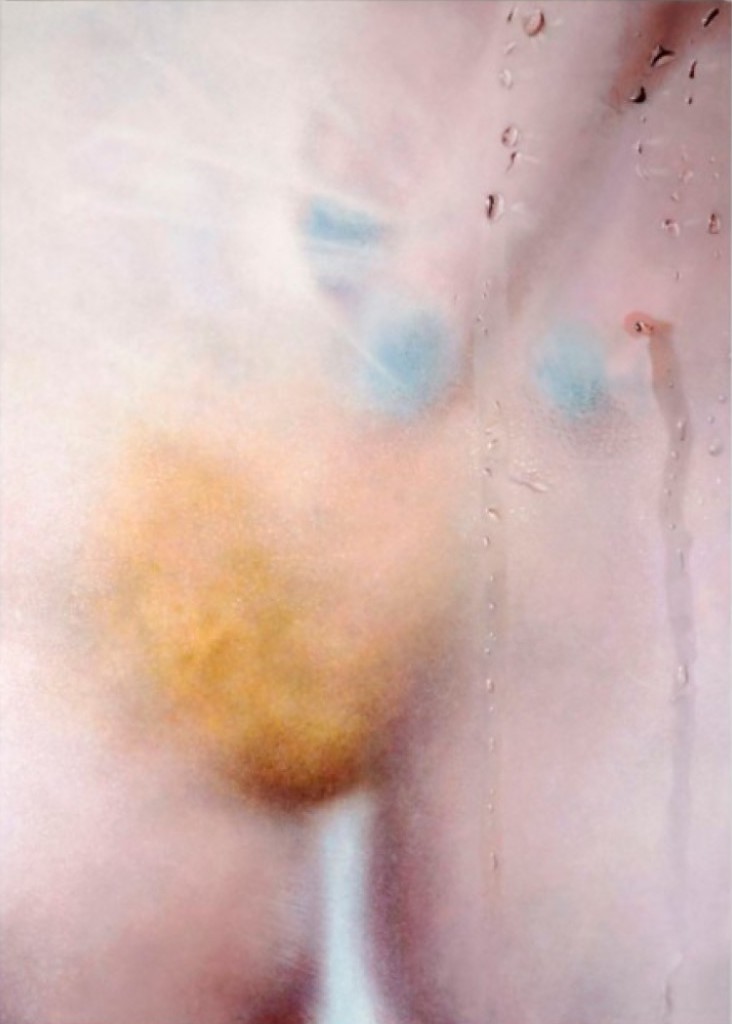 Closed eyes caked in blue glitter and mascara. A muddy foot in a stiletto. Tongues covered in gold or pink sugar crystals. Alluringly made-up models obscured by frosted panes dripping with condensation. Mouths full of jewels, or filth. In the work of Marilyn Minter, who was born in 1948, a soiled sensuality is explored. She interrogates depictions of glamour and adds back in the dirt—or simply the reality—that is slewed away in pursuit of ideal sheen.
Thanks to Instagram, anyone with a camera has had a few years of practice filtering their lives. Now, because of equally popular backlashes against airbrushed physical ideals, they have also had time to challenge the process of altering these images. But this seventy-one-year-old radical artist has been doing this for more than three decades.
We distort our minds when we look at and believe, say, an altered image of a model. This is what Minter calls the "pathology of glamour". In a 2017 New York Times interview, she explains how she responds with images that are "sort of disgusting but absolutely, ravishingly beautiful". This is the aesthetic of her best work: disgusting but also ravishingly beautiful.
Known for her reclamation of sexual imagery of women—including high fashion photography and pornography—for women, Minter was seen by feminists of the eighties and nineties as colluding in female objectification. However, she has been largely vindicated by subsequent waves of feminist thought.
"Because the work plays on images of erotica and titillation, you are intensely aware of your line of sight—especially as a male viewer"
In 2014 she published Plush, a book of photographs of women's public hair. The series began as a Playboy commission that set out to examine pornography, but the results were never published. What followed was the technically brilliant, over-pinked and soft-focused enamel painting Ginger (2016).
Primarily a painter, Minter is also a photographer and video artist. This painting is photorealist, in which everything blurs into everything else. Textures are captured accurately but in a heightened state, playing into this idea of how reality is increasingly enhanced beyond the achievable.
When I first saw Ginger, shown alongside her earlier Pop Art-esque "Porn Grid" paintings (1989), the experience was itself textured and startling. Because the work plays on images of erotica and titillation without itself becoming these, you are intensely aware of your line of sight—especially as a male viewer.
Establishing that Ginger isn't a manipulated or filtered photograph, but a painting on metal, requires getting close and staring long and hard. But once you are there you realize it's only the surface texture that appears realistic: flesh caught through a steamed-up shower door. That hand with the blue fingernails is too large to be real. The glow, flesh tones, and hair colour are curated.
Norms of beauty are heightened in magazine shoots. Minter subverts this, heightening things in a contrary direction: absurdity, vividness, sheer force. This painting on metal seems like a modern update of Gustave Courbet's still-controversial The Origin of the World (1866) but, with its hazy, humid glass, also gives us a window to look at this woman through. It's a masterclass in voyeurism, but one that ultimately throws itself in the face of voyeurism, capturing a moment where a woman can touch herself away from anyone else's eyes, removed at last from their notions of desire.