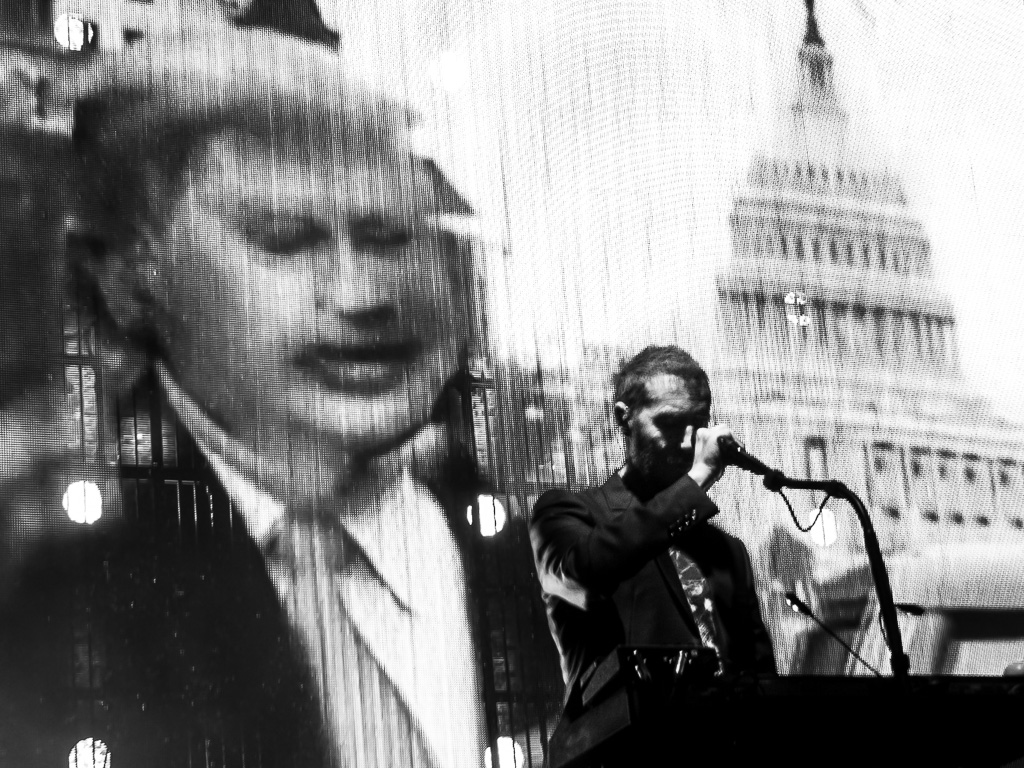 Massive Attack's Mezzanine remains an extraordinary album: a work of suspense and brooding soul that envelopes you entirely. For the London show marking its twenty-first anniversary—the second time that the Bristol outfit have collaborated with doc filmmaker Adam Curtis (Bitter Lake; HyperNormalisation)—the group somehow make the vast O2 venue feel incredibly intimate.
There's an unexpected jolt when the show starts not with the deep, dub-laced rumble of album opener Angel, but a full band take on the Velvet Underground's I Found A Reason—which Massive Attack spliced into their own, shiver-inducing Risingson with mainmen Robert "3D"  Del Naja and Grant "Daddy G" Marshall resuming their persuasively raspy, conspiratorial lead vocals. But the band have never been given to basic nostalgia: in Mezzanine XXI, it feels like we're looking inwards, rather than backwards. The setlist intersperses the album's original intoxicating tracks with cover versions of the far-ranging numbers that provide samples and connective material for Mezzanine; spanning Bauhaus to the Cure and late EDM artist Avicii.  
"I told the promoters that there was going to be no Hollywood ending"
All of Mezzanine's material is here, along with phenomenal guest vocalists Elizabeth Fraser of Cocteau Twins (an ultra-rare performance) and Jamaican roots reggae songwriter and singer Horace Andy, making the experience somehow both unmistakeable and unpredictable. Giant screens and digital columns on either side of the stage transmit Curtis's immaculately spliced visuals: side-eye views of pop culture and political spectres (the London crowds jeer at images of Donald Trump, then cheer excitedly for Judy Garland as Dorothy in The Wizard Of Oz), off-kilter slogans, and an overriding sense of wonder and dread. It also frequently evokes the consumer meltdowns of Jenny Holzer's Protect Me from What I Want…
"I told the promoters that there was going to be no Hollywood ending," laughs Del Naja when we catch up after the show. He admits that the 2013 Manchester International Festival collaboration with Curtis left him with "a feeling of slight disjointedness": Del Naja always comes across as both sweet-natured and a creatively restless soul, fascinated by tech yet committed to humanity, across his music and visual art projects.
"We put so much into the [MIF] production; it's one of the most complex things I've ever worked on, but we could only present it to a select number of people," says Del Naja. "We were playing songs that we wouldn't normally play, and what was interesting was the discomfort of putting it on, as well as the challenge; it was a really powerful feeling."