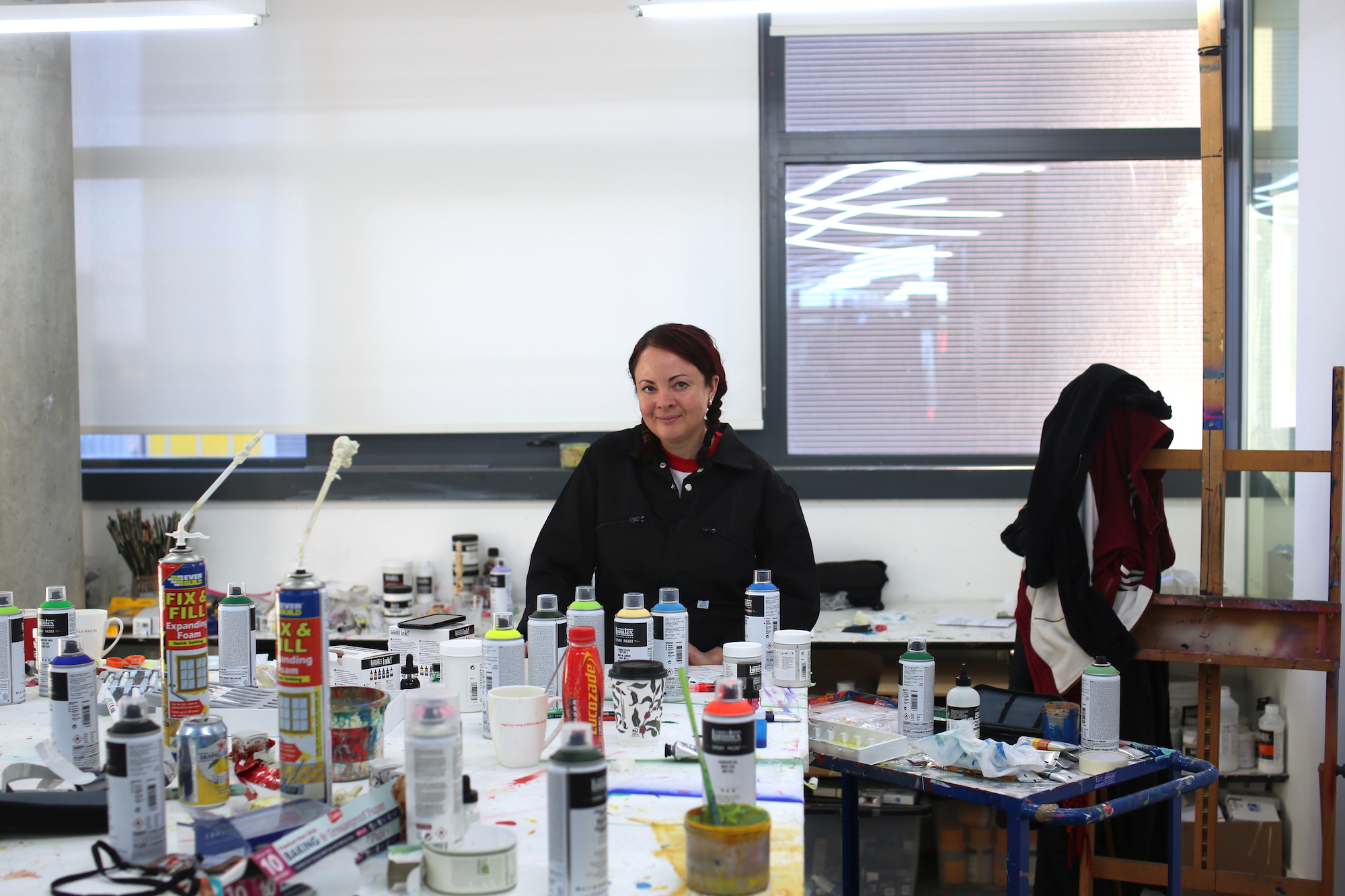 There are two monsters lurking in Cynthia Cruz's studio, but she doesn't seem fazed. With long, wiggly arms protruding from their lumpen torsos, it is fair to say that they look more friendly than fearsome. When we meet, Cruz is the latest artist in residence at Elephant Labs, where creative practitioners are given the opportunity to focus and try out new materials and techniques; situated next to the Winsor & Newton research and development laboratory, all the paints and any other tools an artist could want are also provided.
During her time at Elephant Lab, she has immersed herself in an ever-expanding imaginary landscape of sci-fi-inspired creatures and critters. This rainbow-hued menagerie appear in the paintings that line the studio walls, freewheeling through saturated spray paint gradients. The pair of monsters are built from cardboard and expanding foam. In her early work she made use of digital imagery and video, something which continues to infuse her painting and sculpture in subtle and surprising ways. The world that she creates is a multi-dimensional one, moving from the flat light of the computer screen to the evocative textures of layered paint. Cruz invites imagination, conjuring an alien planet that feels at once futuristic and strangely nostalgic.
Tell me about the projects you've been working on while you've been here.
I've been using my time at the residency to produce work for a two-person show that I have coming up in March at Thames-Side Studios. I've been creating paintings and sculptures, which all very much link together, as the sculptures are basically 3D versions of the paintings. Making the paintings is a very intuitive process; I keep adding layers of paint and washing them off, and start by building an environment that way. From there I can develop them by taking bits away, and adding other parts, after which I can add on textures and patterns. At the end I add the organic forms to basically fit into the world that I built for them.
What are the stories behind your compositions?
My compositions are very sci-fi inspired. These ones are particularly inspired by Star Trek. I'm not sure if you'd be able to recognize any figures because they're pretty abstract; I don't make it too obvious. However, I enjoy taking different elements from these films, for example, in one of my paintings, I create these textured scales, which are a lot like the textures that you can see on some of the alien figures in sci-fi. However, it stays pretty abstract, I don't want you to be able to look at these figures and immediately be able to tell where they're from.
What are your favourite sci-fi films?
I watch a lot of sci-fi movies. I love 2001: A Space Odyssey, and Solaris is another favourite. In terms of Star Trek, my favourites are probably Next Generation or Deep Space Nine. Sci-fi from the seventies seems to be my biggest inspiration.
Are you influenced by that decade more widely?
I think it has definitely snuck into my work. I was born in 1976 and I did use a lot of psychedelics in my youth, so I think there is that unconscious element in there. Another influence is my culture. My parents are Dominican, and I was always raised with bright colours and patterns around the house, and I think that influence can also be found in my work. I think all these different elements of my past pretty much explode across the canvas.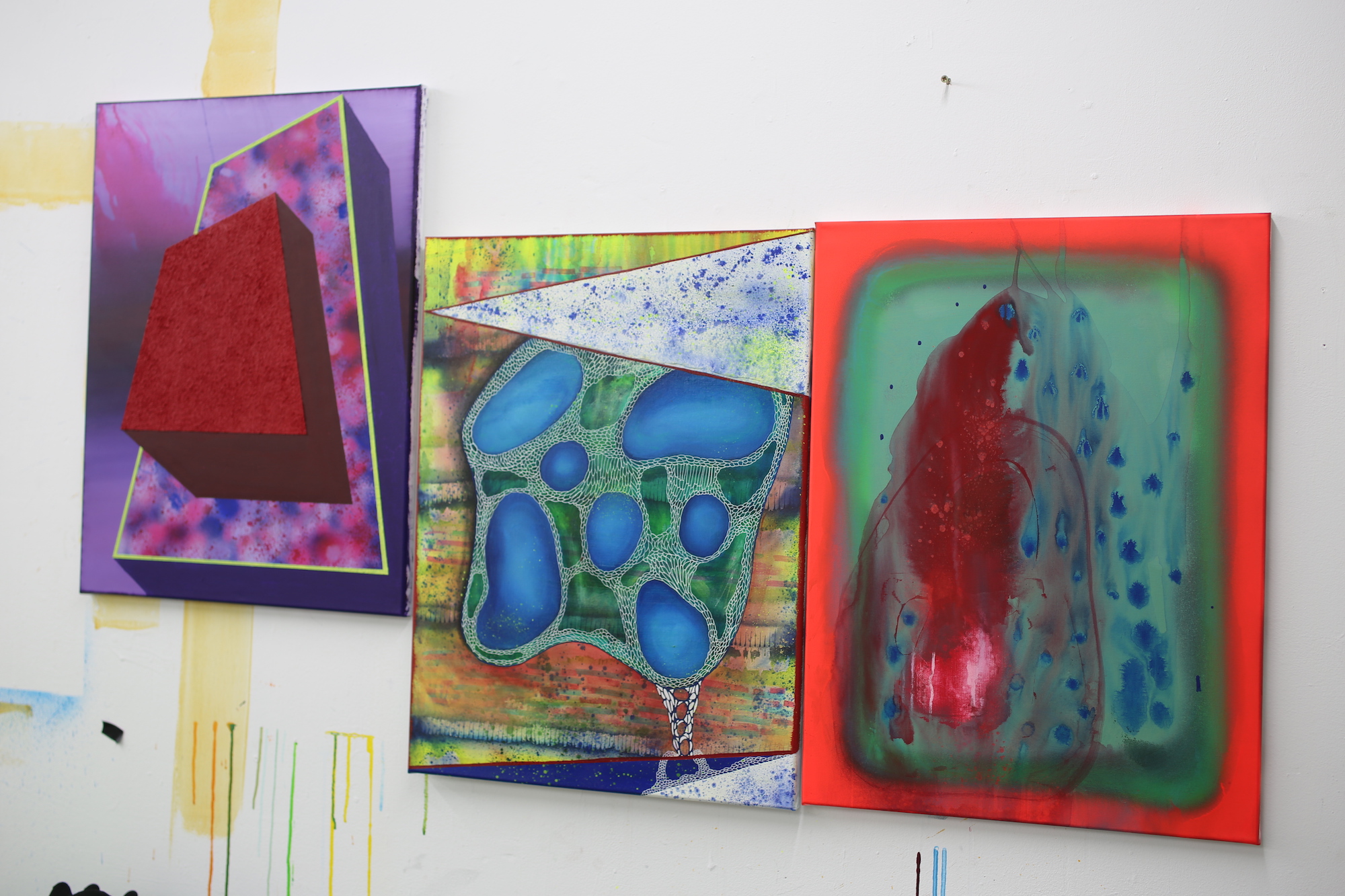 Your 2D and 3D elements greatly complement each other. How do you work with the two in tandem?
I started painting first, and when I did my BA in painting in New World School of the Arts in Miami, I also took sculpture classes. I never really considered sculpture, because painting is my first love. Then once I started playing around with sculpture, I realized that it's necessary for me to have them both. I get frustrated with paint, and then I turn to sculpture and that clears my head so that I'm able to go back to painting. They bounce off each other in a way.
I can see a lot of foam and wool around; what appeals to you about these materials and textures?
Using materials like that actually came about out of necessity because in my old studio, I had absolutely no money but loads of garbage and crap cluttering up the space. I wanted to translate my paintings into sculpture, so I began to experiment with all the cardboard boxes and rubbish bags I had lying around. Thankfully, I'm very good at DIY and just making things work. So I basically taped the boxes and bags together, and started experimenting with covering them in foam, and painting them. I learned how to manipulate the foam and have some control over creating the forms I wanted. I love the texture of the foam; it's actually very reminiscent of a lot of the things you see in sci-fi films, giving the sculptures this cave-like ancient form. I have about seven or eight of those sculptures in my studio, but adding the wool is something I only started doing on this residency.
Why did you add that element of textile to your work?
Oddly enough, it was inspired by a vision I had. Usually when I'm working on a piece, I take a photo of it home and sit with it and stare at it. I know this sounds really weird but eventually the work speaks to me and tells me what to do with it. With these sculptures, I just saw the wool and felt "Oh shit, that's what it needs!" I wait for inspiration, because I don't like to use the same solution every time.
What are some other new materials you've used since you've been here?
I've loved experimenting with new ways of adding texture to my works. I've been using the ceramics stucco and lots of different gel mediums. It was my first time using resin sand, which has been incredible and just isn't something I would ever have thought to use before. It creates really nice edges, so it's been really great to work with that. Another amazing discovery was the black lava, which has this kind of tar-like, grainy feel to it, and which has been so good for adding an extra layer of texture. I never would have thought to use any of this before but I definitely want to keep incorporating these different ways of adding texture into my work.
What's been your experience of the residency more broadly?
I've learned so much about how to use different materials that I would never have used before, and have really been able to open myself up to experimentation. Also, it's allowed me to be hugely productive, creating the most work I've ever made in such a short span of time. I have another job during the week, so really I've only been able to be here three days a week, but I've been so hugely productive. I think just being here and not having to think of anything else has really helped me to focus and just get the work done. It's been a really great experience.
What's your other job?
I'm a receptionist at a tattoo parlour, which is kind of funny because I don't actually have any tattoos. People ask me all the time "Do tattoos hurt?" and I reassure them, "No, not at all!" But I think they know I'm lying just to make them feel better.
So, next up you have this show in March.
Yeah, I currently have some paintings up at David Castillo gallery in Miami, and then I have this show coming up in March at Thames-Side Studios. After March's show I'm going to take a holiday because I need it!
Photographs by Louise Benson
All artists-in-residence are invited to document their time at the Elephant Lab in a Winsor & Newton sketchbook, filling it with drawings, paint samples, odds-and-ends and other personal reflections. This is Cynthia Cruz's. 
Residencies at Elephant Lab
Practising artists are invited to make proposals for a one month residency at Elephant Lab
APPLY NOW