Elephant believes that visual thinking triggers societal thinking. Elephant Lab exists in the spirit of this belief, a space to foster creativity and feed curiosity. We encourage experimentation and collaboration, bringing artists together with scientists to investigate the correlation between life and art.
Elephant Lab offers artists time, space, materials and access to specialized knowledge. Housed in a large (34m²), well-lit and fully equipped artists' studio, Elephant Lab is located next to the Innovation & Development laboratory of Winsor & Newton, Liquitex and Conté à Paris at the Studio Building in West London, close to our home of Elephant West.
Practising artists are invited to make proposals for a one month residency at Elephant Lab. Here is an environment where artists can investigate and innovate with materials supplied by the fine art brands, supported with specialist technical knowledge from the chemists in the I&D laboratory and art professionals on the Elephant team. All proposals should have one or more of the following attributes:
Experimental
Innovative
Collaborative
Covid 19 statement
It is our current intention to hold an Elephant lab residency in February 2021.  Social distancing can be maintained within the Studio Building providing all users observe protocols which will be made clear on taking up the residency. 
Selection Process
Proposals are reviewed quarterly in February, May, August and November. Shortlisted artists will be interviewed on Zoom and successful applicants can expect to take up their residency approximately three months after the review date. The next deadline is midnight on 22 November for one residency in February 2021. Applications will open from 13 October 2020.
Who Can Apply
Elephant Lab Residency Proposal
Goia Mujalli
2–27 March
Open Studio 26 March
My painting process works with intuition, colour, rhythm and movement setting up a space for my memories of the tropical to appear. From this, feelings of nostalgia and longing become present. As this space unfolds I go in search of specific sensations and affects such as the sentimental, celebration, joy and euphoria. This process generates questions that relate back to nature. From this position a transformation occurs that creates fictional spaces, which employs a celebratory method of painting. As such I am searching for repetitive motifs that can consistently reproduce this celebratory method. As a result further sensations of vibrancy and the feminine begin to unravel and produce meaning.
Catherine Chinatree
2–27 March
Open Studio 26 March
On the hunt for social situations that cross between the surreal and "ordinary". I link image, sound and video clips that I have captured from around the world. Piecing together a fictional reality, whilst connecting the disparate elements.
My focus is drawn to the meeting points at random, the idea of simultaneous possibilities co- existing allows me to explore and connect "different worlds at the same time". The reconstruction element within my work often gives reference to the complex layers of history, of movement of people and goods, and cultural displacement. I have taken much of my inspiration for the development of my work from the Rhizome concept developed by Deleuze and Guattari. "A Rhizome has no beginning or end" I develop my research into identity through a non-starting point, pushing the Connections and multiplicities that evolve within the work.
George Bolwell
2–27 March
Open Studio 26 March
My concern is the contested territory between the natural world, rational science and what is human. This relationship informs how we understand ourselves as actors within our environment.
My work combines layers of drawing, painting and collage. A mathematically composed base image provides the conditions for pareidolia to occur. Over-drawing encourages human error, individual interpretation and idiosyncrasy.
Visceral glimpses of spaces, objects and creatures. Motifs and snapshots are superimposed onto one another. Worlds emerge at both macro and micro scales. The pictures delight in the atmospheric qualities of space. Akin to being lost in the deep forest, time and space are ambiguous. Mystery and disorientation is encouraged. Parts meld into each other, location and dimension are unclear.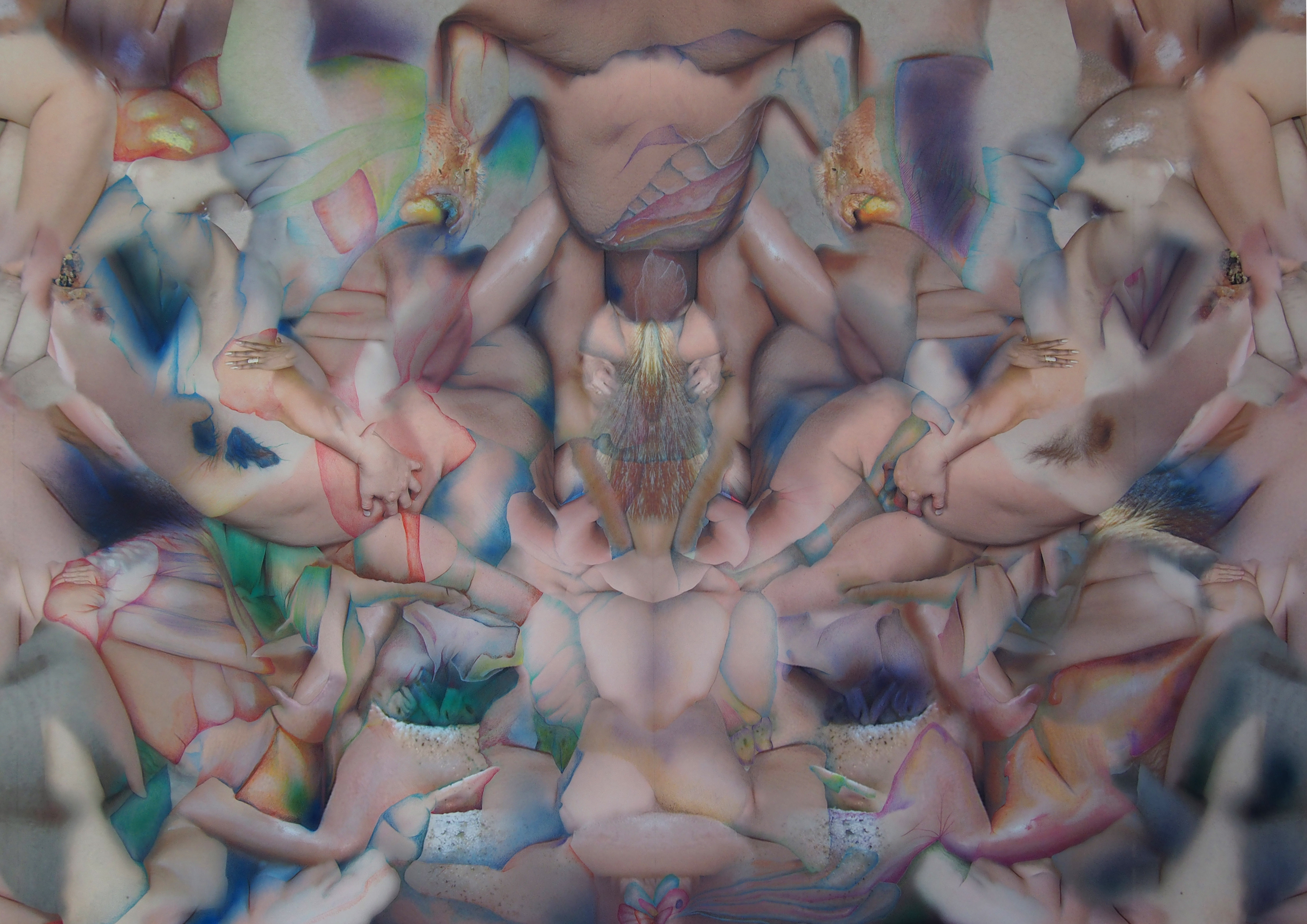 Location
The Studio Building
21 Evesham Street London W11 4AJ
Closest Station
Latimer Road or Shepherd's Bush