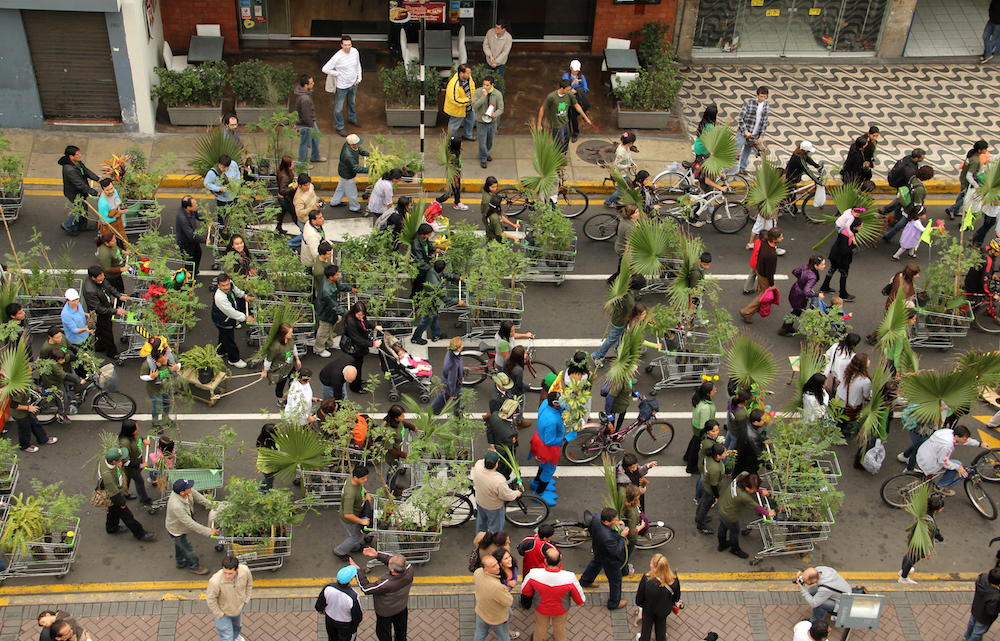 How often do you encounter a parade of plants marching down the street? Passers-by in Brick Lane and Spitalfields might think that they are imagining things this Saturday evening, although on closer inspection they will find crowds of people tangled beneath the foliage. Plantón Móvil is a surreal performance by Lucia Monge, started in Peru in 2010 and since transplanted to cities around the world, in which participants are invited to take tree saplings, flowers and assorted shrubs out for a walk. This Saturday, a new Plantón procession lands as part of Nocturnal Creatures, the inaugural late-night festival of contemporary art organized by the Whitechapel Gallery.
Situated amongst the surrounding east London streets, the festival takes performances, sculptures, video installations and sound pieces beyond the walls of the gallery. Following last year's Art Night, which also took place in the east end, Nocturnal Creatures brings a new series of artists together for one night only, in direct dialogue with the historic local area. Many of those taking part are also included in the London Open, the open submission group show presented at the Whitechapel once every three years. Artist tours of the annual public programme Sculpture in the City also feature. 
One of the most unusual locations on the trail is the Grade II* listed Whitechapel Bell Foundry, in operation from the 1740s until it finally closed last year, where some of the world's most famous bells were made, including Big Ben. Currently empty, the vast workshop is to be redeveloped into a hotel, while its historic shop front will become a café amid the machinery and other protected elements of its working past. Ahead of its transformation, artist Rachel Pimm takes it over on Saturday night (between 6pm and 10pm), in collaboration with audio artist Graham Cunnington of iconic industrial band Test Dept.
The pair's aim is to reanimate the foundry through sound, as well as explore its ongoing transformation. Test Dept became known in the 1980s for their political alignment with groups such as the striking miners in the north of England, visiting decommissioned sites to play the buildings themselves, using discarded machinery and oil drums to produce rhythm through noise. "I'll be creating a series of tableaux using salvaged objects that I find in the building, wheelbarrows, chains and various tools, and we will make a soundtrack of the ghosts of the building," Pimm tells me. "I'm thinking about the sounds of the process of making itself, and of the new sounds that can be discovered."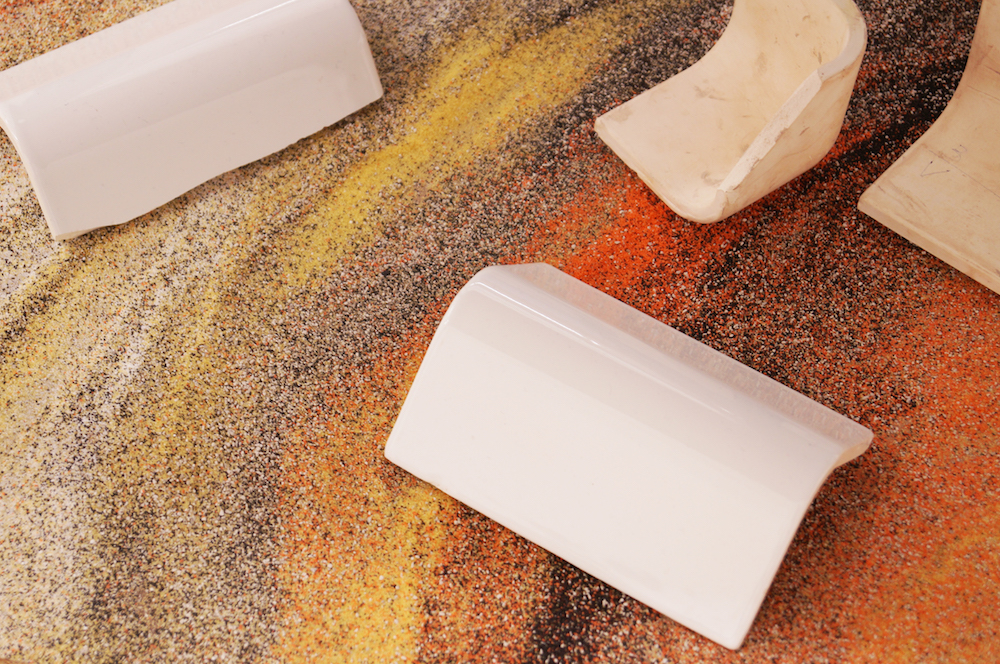 Rachel Pimm, Diagenetic Sequence Shelf, 2017
"The collision of performance and politics is a defining theme of the festival, as well as the connecting power of sound and music"
The five materials that go into the casting of a bell are clay, copper, horse hair, tin and loam, and Pimm has fastidiously sourced these from the original suppliers who worked with the foundry, using them as props and as storytelling devices. Five performers (including one of the original bell manufacturers and some of the live-in guardians currently occupying the space) will move the materials around the building, performing an alternative form of labour in a nod to its industrial workforce of earlier days. "The piece acts as a critique of the particular pressures that are placed on historical industrial sites, and an acknowledgement of the city in flux," Pimm reflects.
Another Nocturnal Creatures artist working with sound is Larry Achiampong. He will perform an audio-visual set twice on the night (at 7:30pm and 9:45pm), in collaboration with the artist Shiraz Bayjoo. Titled Forgotten Worlds, it is part of Achiampong's ongoing project Relic Traveller, and connects directly to colonial histories and their archives, looking at the marks that are left behind and asking how this will impact upon the future. "I'm asking what this all means as a young black person having grown up and living in the UK, and the conversations that affect me and others amidst the rise of nationalism," he explains.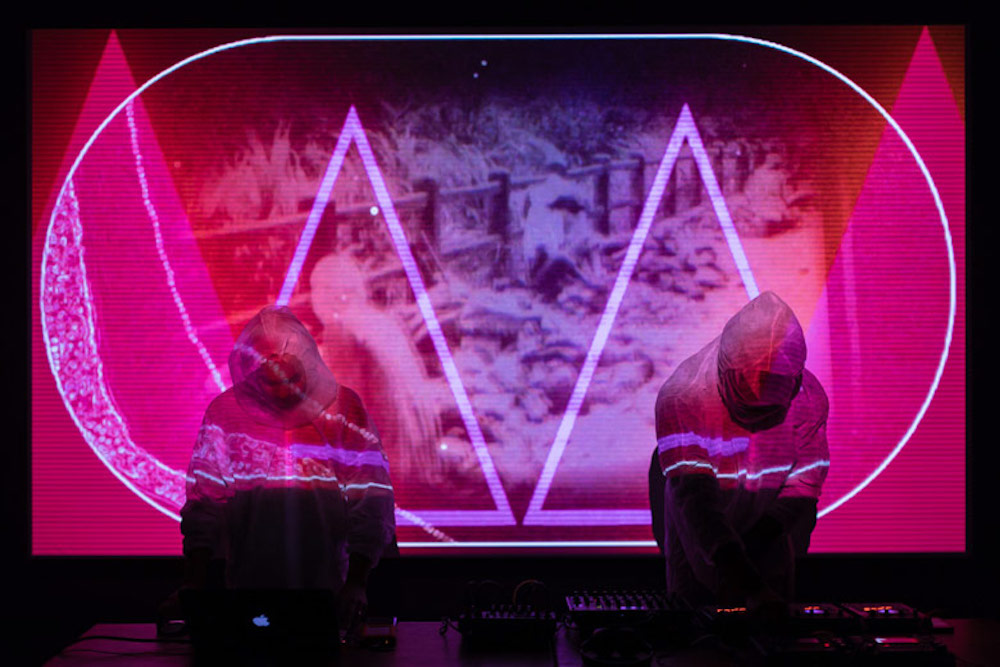 Larry Achiampong, Voyage of The Relic Traveller, Audio-Visual performance, 2017. Courtesy the artist
The beat-driven performance is built from sounds that Achiampong has sampled, from the highlife music associated with Ghanaian liberation to the original soundtrack of comedy show M*A*S*H to Nina Simone's Songs for Women. He emphasizes the international outlook of his chosen samples, picked from an array of sources worldwide. "It's really chewing up popular culture as we know it and jumping through different time periods," he says. "It's not just a soundtrack that's developed from the ground up, it's a collaborative range of ideas that relate to afrofuturism, fallen empire and many other disparate themes."
The collision of performance and politics is a defining theme of the festival, as well as the connecting power of sound and music. These are artists engaged not only with reflecting change but bringing it about, responding to the modern day and the city to fully embody the transformation that they would like to see. These are proposals as much as they are artworks, as seen in a series of readings organised by activist Andrea Luka-Zimmerman, who has invited speakers including housing campaigner Aysen Dennis, artist Evan Ifekoya and poet and film activist So Mayer. Each speaker will read texts from 1968 (between 8pm and 10pm) in order to reflect on the ongoing prevalence of poverty, racism and war today.
"The boundaries that we each draw between ourselves and others always seem a little looser and more permeable at night"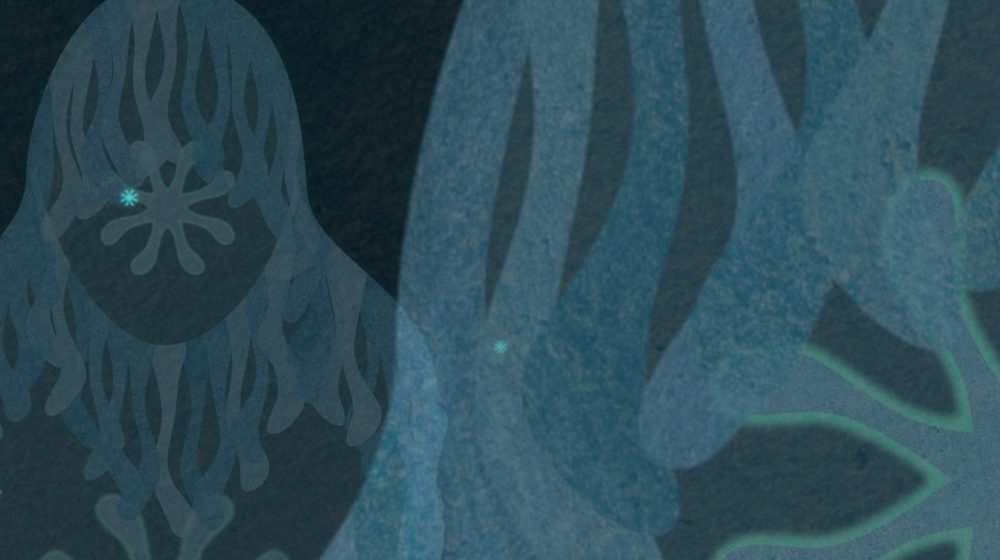 Tom Lock, Within, 2017 (detail). Courtesy of the artist and Focal Point Gallery, Southend-on-Sea
A different model for social integration is suggested by Tom Lock, whose immersive multimedia installation will be animated by dancers to imagine the assimilation of an alien race that has come to earth. Originally commissioned by Focal Point, the piece is based on Dawn, a science fiction novel by Octavia E Butler, and is brought to life in three performances (at 6:30pm, 8:30pm and 9:35pm) throughout the night. The accompanying visuals are almost psychedelic in their slow, hypnotic movement of shapes and colour across multiple screens and projections, showing droplets morphing together and separating once more in dreamlike sequences.
Set in Broadgate (a development commissioned in the 1980s within the heart of London's banking district) Lock suggests that the performances might enact some of this intermingling in real life, bringing together very distinct groups of people in their audience. "One of the strong factors behind the work is just to encourage people to think about assimilation and how we co-exist with one another," he says.
The boundaries that we each draw between ourselves and others always seem a little looser and more permeable at night, and I reflect aloud on this crucial aspect of Nocturnal Creatures. Lock agrees, "People are more likely to come together and connect with each other in the evening. The musician that I've been working with, there's a definite dance influence to the composition. It's important to me that there are moments in the work when people feel united, feel connected. It works with events that are traditionally associated with nighttime, clubs, bars, live music and the atmosphere that is in those places."
To open up access beyond the gallery and beyond daylight hours is an inherently political act, breaking down the barriers (both physical and figurative) that keep many people away from experiencing art. Encountering an artwork should never be an experience that is alienating or exclusive, just as the first step over the threshold of a gallery should not be intimidating—although to look at the gleaming front desks of many an exhibition space, it's hardly surprising that it often is.
As Achiampong puts it, "The white cube gallery space is just one minuscule option amid so many other possibilities. That people can just wander in on the night is very appealing to me." Pimm adds, "When you have a very broad audience, new types of people come and see the work who might not go into a gallery. Working in the bell foundry, it might work a bit like Open House, where people want to just come in and see the space who don't know my work. I'm quite happy to almost co-author it with the building, and let the building be the star."
"To open up access beyond the gallery and beyond daylight hours is an inherently political act, breaking down the barriers that keep many people away from experiencing art"
Left: Plantón Móvil, Noche en Blanco, 2012; photo Josip Curich. Right: Plantón Móvil, Willow Brook Primary, 2018; photo by Rob Harris
Lucia Monge's marching plants will take place from 6pm to 8pm. The piece began as a response to her observations on the lack of respect given to parks and other green spaces, and the parade imagines a garden that is able to take to the streets and become mobile, as if it could animate and advocate for itself. Monge tells me that she sees green spaces as a common right for all, and she aims to draw attention to their presence within the city by lending them mobility. "It's about recognising plants as our co-habitants in our city; they're part of the infrastructure," she says.
"I see the walk as a gesture of solidarity towards plants. There is some symbolism behind my work, and there's also some celebration, and a funny side to it to when you see people walking around with these plants, connected to them in strange ways. It has a nice side to it, but there's also a significance to it." All are invited to bring their plants out for a walk, and tree saplings from the march will then be planted in London later in the year. The march is a fitting embrace of the power of streets themselves, where strange and surprising encounters can occur and real change can be brought about through collective action. It is an outlook shared and amplified by Nocturnal Creatures as a whole—inclusive, roving and united.