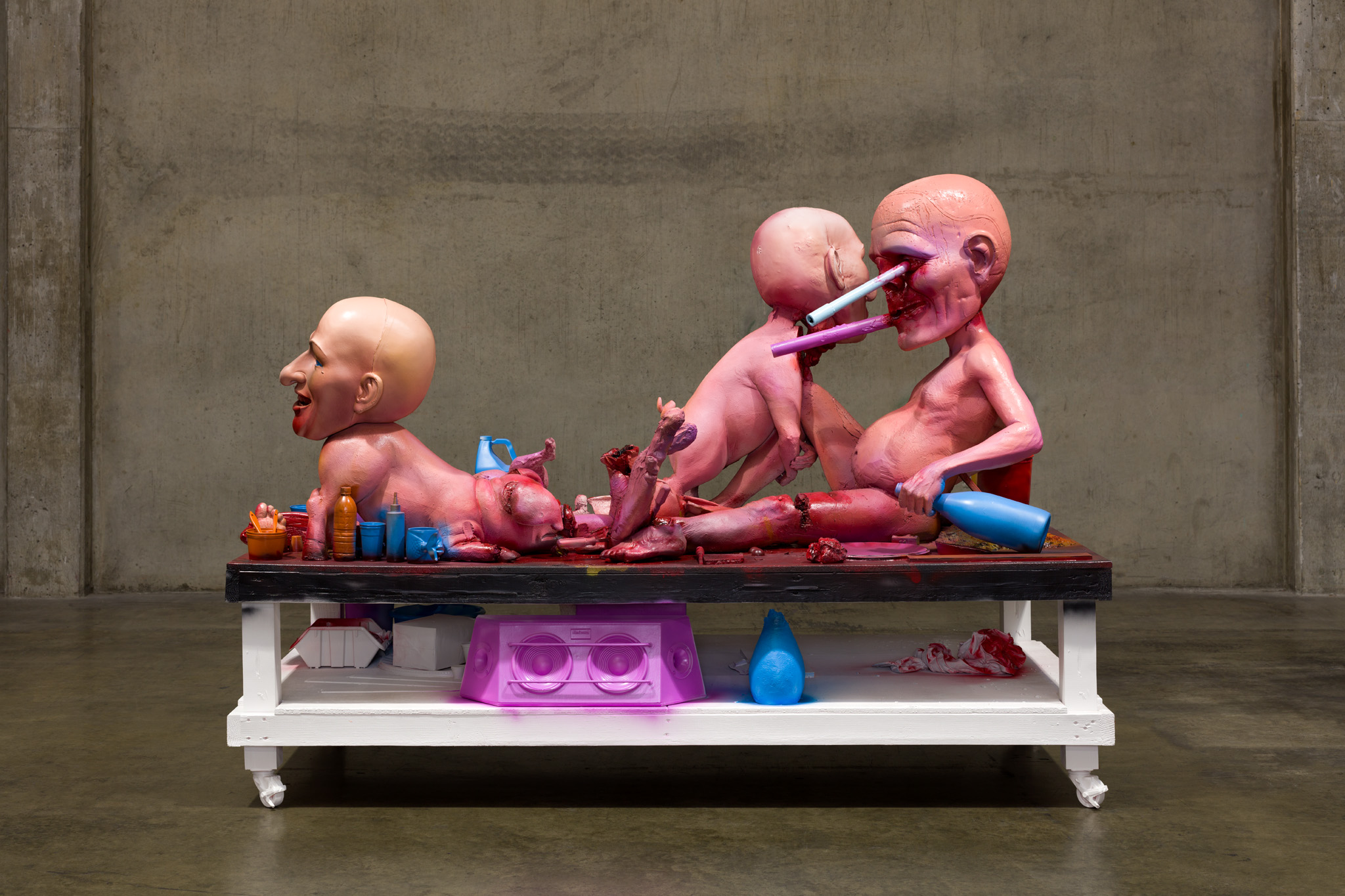 Paul McCarthy isn't an artist known for his subtlety. Throughout his more than forty-year career he has covered himself in ketchup and mustard, created chocolate butt plugs and built large-scale sculptures depicting Disney characters copping off with one another. McCarthy was covering himself in food and bodily fluids long before milkshakes became the political weapon of choice. Depraved and disturbing it might be, but his willingness to push to the extreme is what has made his name as one of the great American artists working today.
Through performance, sculpture, film, photography and painting, he holds a mirror up to the daily degradations of contemporary society, using humour and caricature to put in plain sight what others might shy away from. His subject of choice is the modern mythologies that surround us, whether that be pop culture icons or political leaders, taking aim at everyone from Donald Duck to Donald Trump.
Left: White Snow Dwarf 4, 2010-2018; Right: White Snow Dwarf Head 3, 2010-2018
"I think of my work as using a type of exaggerated normality," McCarthy tells me when we meet in Brussels on the occasion of his latest exhibition at Xavier Hufkens. "It's about using exaggeration as a sort of language to talk about a bigger situation." The varied exhibition, fittingly titled Mixed Bag, presents new iterations of several of McCarthy's seminal works, including Caribbean Pirates, a series of sexualized sculptures inspired by the Pirates of the Caribbean theme park ride at Disneyland, and White Snow, in which the seven dwarves have been morphed and melted in layers of synthetic resin until they are barely recognizable.
Two feature-length films, the result of a long-running collaboration between McCarthy and his son, extend this ongoing interest in the machinations of Hollywood. Set in a dystopian American Western-inspired world, sex, violence and death are pushed to their limit with an exuberant cast of damsels in distress, a John Wayne-influenced cowboy and a character named after Minnie Mouse—as well as a family referred to as Donald and Daisy Duck with a daughter named Bonkers, and even a Nancy Reagan. "They're caricatures that in a very swooping way represent, not completely society by any means, but at least a broader swoop of American culture."
"It's about using exaggeration as a sort of language to talk about a bigger situation"
"You could say they're images of bad taste, and I would just say they're exaggerations to try and encapsulate what's out there," McCarthy argues. In his new series of large-scale paintings, this subversive impulse can be found again, with pornographic images pulled from magazines melded together with traditional painting techniques. A naked model throws her head back in exaggerated ecstasy as splatters of paint surround her; the prurient connection is made clear. McCarthy has previously sent-up the seriousness of abstract expressionism that reigned supreme as he was starting out on his career as an artist in the late 1960s, incorporating food and bodily fluids in the place of paint into his early performances.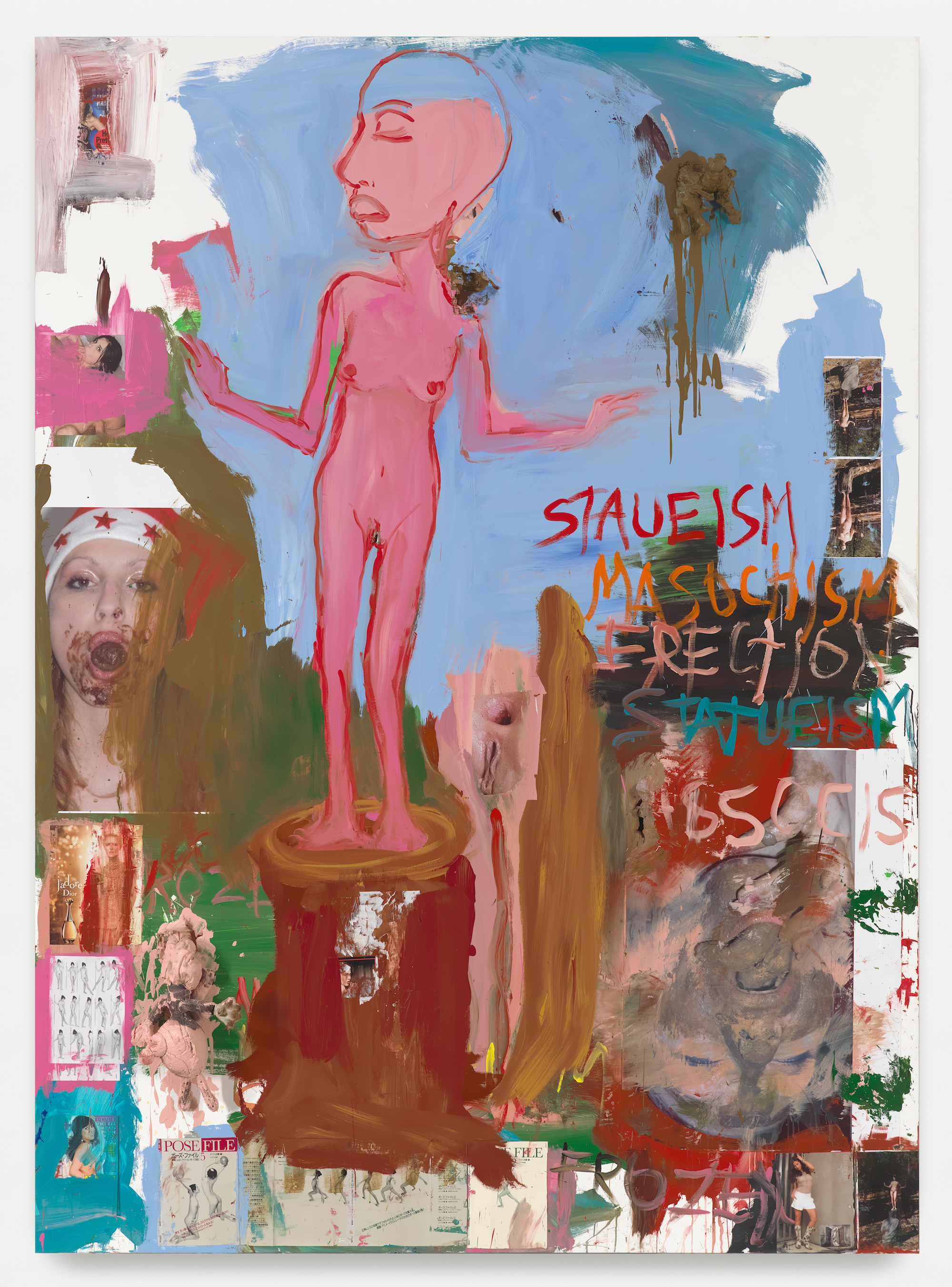 The newest iteration of his Caribbean Pirates sculptures, featuring the unapologetically-named Captain Ballsack, feature pigs engaged in sexual intercourse with McCarthy's varied characters, which have included political figures such as George W Bush. The everyday objects used in the construction of the works, from buckets to paintbrushes, remain littered around their protagonists, acting as a reminder of McCarthy's part to play in this all as artist and creator, and unpeeling the fantasy at its edges.
Left: Captain Ballsack, Painted, 2001–2018; Right: Piggies, Painted, 2006-2018
McCarthy has lived and worked in Los Angeles for the entirety of his career, and it is hardly surprising that the fusion of high and low culture enacted by this proximity to Hollywood shows through in his work. Viewed from so close-up, the film industry can't help but lose some of its sheen. McCarthy is vocal about the important part that the city has played in his artistic development: "I've always valued the isolation and the ability to have a large studio in LA; if you wanted it you could do it, especially if you just moved a little way out to edge—there were spaces that were vacant." Accordingly, his work has scaled up over the years, taking on film-set proportions, or even larger still—many will remember his recent "butt plug" Christmas tree erected in Paris back in 2014.
"You could say they're images of bad taste, and I would just say they're exaggerations to try and encapsulate what's out there"
Now at the age of seventy-three, McCarthy doesn't show any signs of slowing down. He is as vulgar, playful and confrontational as ever, delving into many of the same characters and themes that have populated his work over the years. He is quick to cite longstanding references, from Joseph Beuys to Gustav Metzger and Allan Kaprow, who continue to influence his intuitively visceral practice. He is critical of Trump, inevitably incorporating him into the latest works—notably a self-portrait taken in the character of the current American president, grotesquely smeared in lipstick with blonde wig askew. In the age of fake news and data mining, McCarthy's full-frontal critiques couldn't be more timely, with his combination of absurdity, fury and humour. "In a way, it's an attempt to rattle the cage," he concludes. "Is it funny? Yeah, it's funny, but in its most tragic way."
All images courtesy the artist, Xavier Hufkens and Hauser & Wirth. Photographs by Fredrik Nilsen
Paul McCarthy, Mixed Bag
Until 25 May at Xavier Hufkens
VISIT WEBSITE