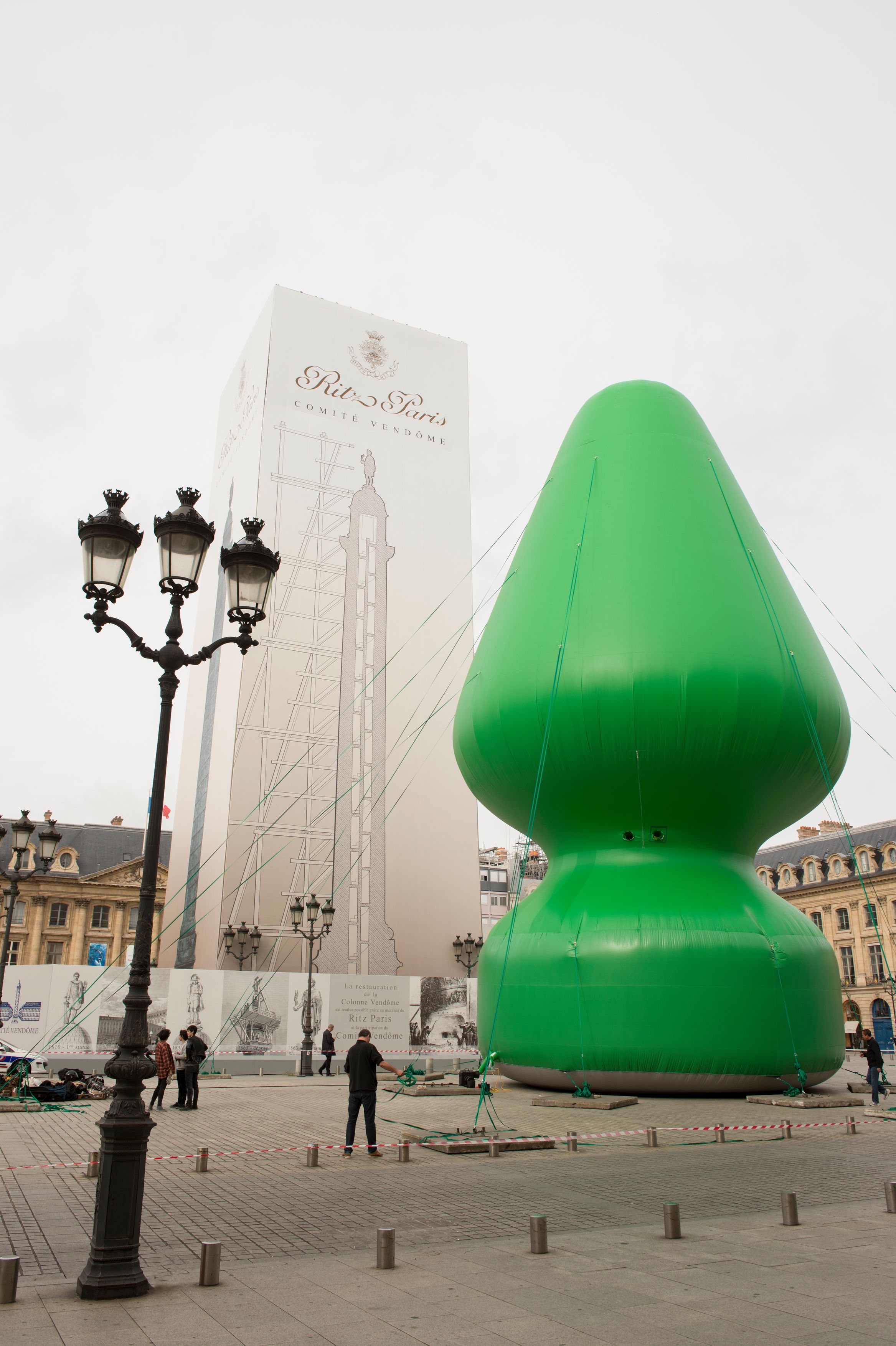 Christmas wouldn't be Christmas without a giant butt plug. For Elephant's Christmas Eve Contemporary Classic it would be remiss to overlook Paul McCarthy's brilliantly horrible festive Tree, which was placed in Paris in 2014. The work was vandalized—it was unplugged from its pump and rather limply deflated—when it was housed in the Place Vendrome, and the artist was allegedly assaulted by a man who slapped him in the face three times and ran off (that sounds like part of a magic spell).
Poor Tree was hated because of its resemblance to not just a modernist Christmas tree, but also an enormous green sex toy. Some were quick to point out that this is far less grotesque and shocking than many of the works McCarthy is known for, and the intense response to the piece highlights the different thresholds in taste and content that are held by those choosing to see works in a gallery space and those who are going about their daily business. Lord help McCarthy if one of his eroticized Disney characters were to be seen in a public square.
Though most of us like our family Christmases to feel quaint and warm, it is popular in the arts to turn the good festive vibes on their head. In film, the holiday season has provided us with Bad Santa—featuring Billy Bob Thornton's turn as an alcoholic, depressive shopping mall Santa—The Nightmare Before Christmas and Die Hard—a film that is terrifying for many reasons, not least Alan Rickman's wonderfully hammy villain and nuts German accent (the late Rickman was a creepy Christmas favourite, see also the misguided husband in British cheese fest Love Actually). In music, one of the biggest Christmas classics comes from Irish band the Pogues, with frontman Shane MacGowan and Kirsty MacColl spitting hurt lovers' venom at one another, with lines including: "Happy Christmas your arse / I pray God / It's our last."
Tidings of comfort and joy would feel totally out of place in contemporary art. In previous years of Tate's Christmas tree tradition, Tacita Dean's was gradually burned down by its own candles, Michael Landy chucked his in a skip and Sarah Lucas covered hers in fairy genitals. Compared to these, McCarthy's Tree, bright green and happily standing to attention, is actually rather jolly.
Photo: Marc Domage, courtesy the artist and Hauser & Wirth
SaveSave