Who owns the rights to anything anymore? It's a question that has been posed since a multitude of social media posts revealed some dubious replicas of famous works of art at Rabbit Town in West Java, Indonesia. The self-proclaimed "museum" and "selfie destination" features knock-offs of Yayoi Kusama's Obliteration Room (where visitors stick coloured dots all over a domestic interior) and Chris Burden's Urban Light installation at LACMA, not to mention some clones of various spaces at the Museum of Ice Cream. The site, which is the brainchild of Henry Husada, the chairman and CEO of the Kagum hotel group, has come under fire from journalists, art enthusiasts and even Diet Prada, the Instagram account famed for calling out plagiarism on the catwalk.
In a far more authentic take on the replica, the latest Fourth Plinth commission in London's Trafalgar Square has been unveiled. The sculpture by Michael Rakowitz features a life-sized reproduction of the winged statue that stood at the Nergal Gate of Nineveh, near Mosul, before it was destroyed by Isis in 2015. According to the Guardian the piece has been created from 10,500 empty Iraqi date-syrup cans, alluding to the devastating effects of iconoclasm but also the horrific destruction of Iraq's date industry, its biggest export after oil.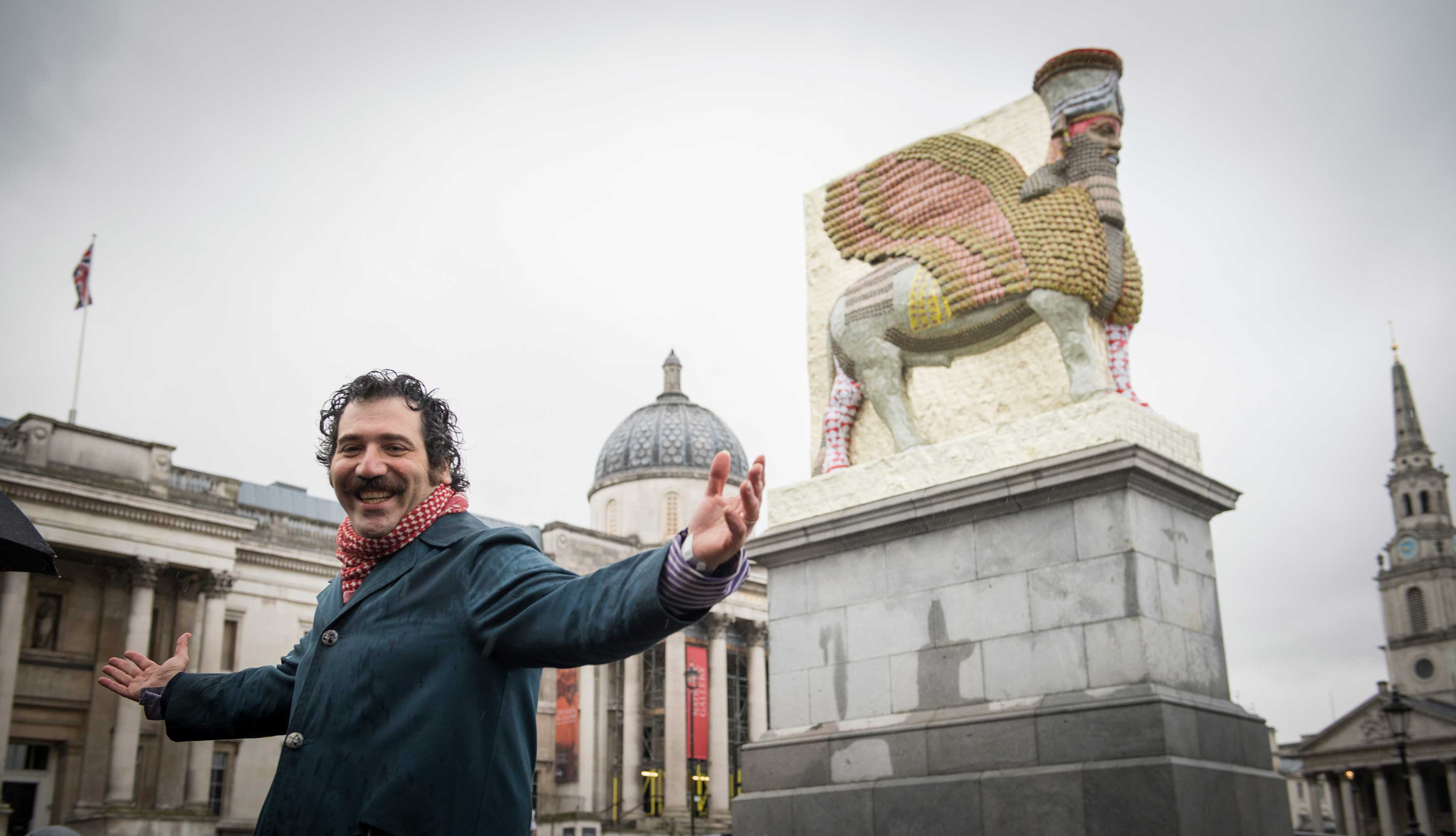 A different form of violence has also caused outrage this week, as accusations of cannibalism were aimed at Latvian artist Arthur Berzinsh. In a performance at the Grata JJ cultural centre, Berzinsh staged an event that saw two performers having flesh cut from their body, before it was fried up and fed to them. The performance was streamed live and is still available to view, if your stomach can handle it.
In more palatable art world news, Art Basel in Hong Kong is now in full swing. The Financial Times noted solid sales in the first two preview days, while The Art Newspaper's Lisa Movius explored the considerable gender imbalance that continues to plague the region, with rare shows such as Para Site's A Beast, a God, and a Line single-handedly lowering the predominance of male artists from "a whopping 85% to a slightly more balanced 80%".
The fair also seems to have caught the virtual reality bug. It has teamed up with Google Arts and Culture to present an exhibition of works by the likes of Cao Fei, Boychild, Robin Rhode, Sun Xun and Yang Yongliang, which were all produced by using Google's 3D VR painting application Tilt Brush. Likewise, Marina Abramović and Anish Kapoor were invited to produce VR works by the fair's "virtual reality partner" HTC. While Kapoor manifested a strange, abstract world, Abramović created her own avatar, which was subjected to slow drowning in a glass tank, in a thoroughly morbid interpretation of imminent climate change.
Similar digital experiences have also popped up in Los Angeles, where Prudence Cuming Associates has created an exact replica of the surface of Damien Hirst's Veil of Faith painting, to coincide with his new exhibition at Gagosian. According to Dezeen, "The team, which was made up of specialist photographers, filmmakers and VFX artists, used a specialist visual-effects software called Flame to start stitching together each shot, creating 3D versions of each blob of paint." As multiple news outlets discuss the validity of VR in terms of the art market and creative output, the New Yorker asks, "Are we already living in a virtual reality?"