A hologram prismatic floor greets visitors journeying down to the basement of Turin's Galleria d'Arte Moderna (GAM) in stark—and highly satisfying—contrast with the stilton-like marble staircase that leads to it, and the space's muted exterior. In Jim Lambie's Zobop (Prismatic), stripes of coloured vinyl forming larger geometric shapes flood across the floor reflecting watery, constantly moving rainbows from the lights on the ceiling above. The piece, created this year by the Glaswegian artist, appropriately leads the way to Vero Amore (translated to True Love)—a group show that focusses on Italian pop art from the GAM collections.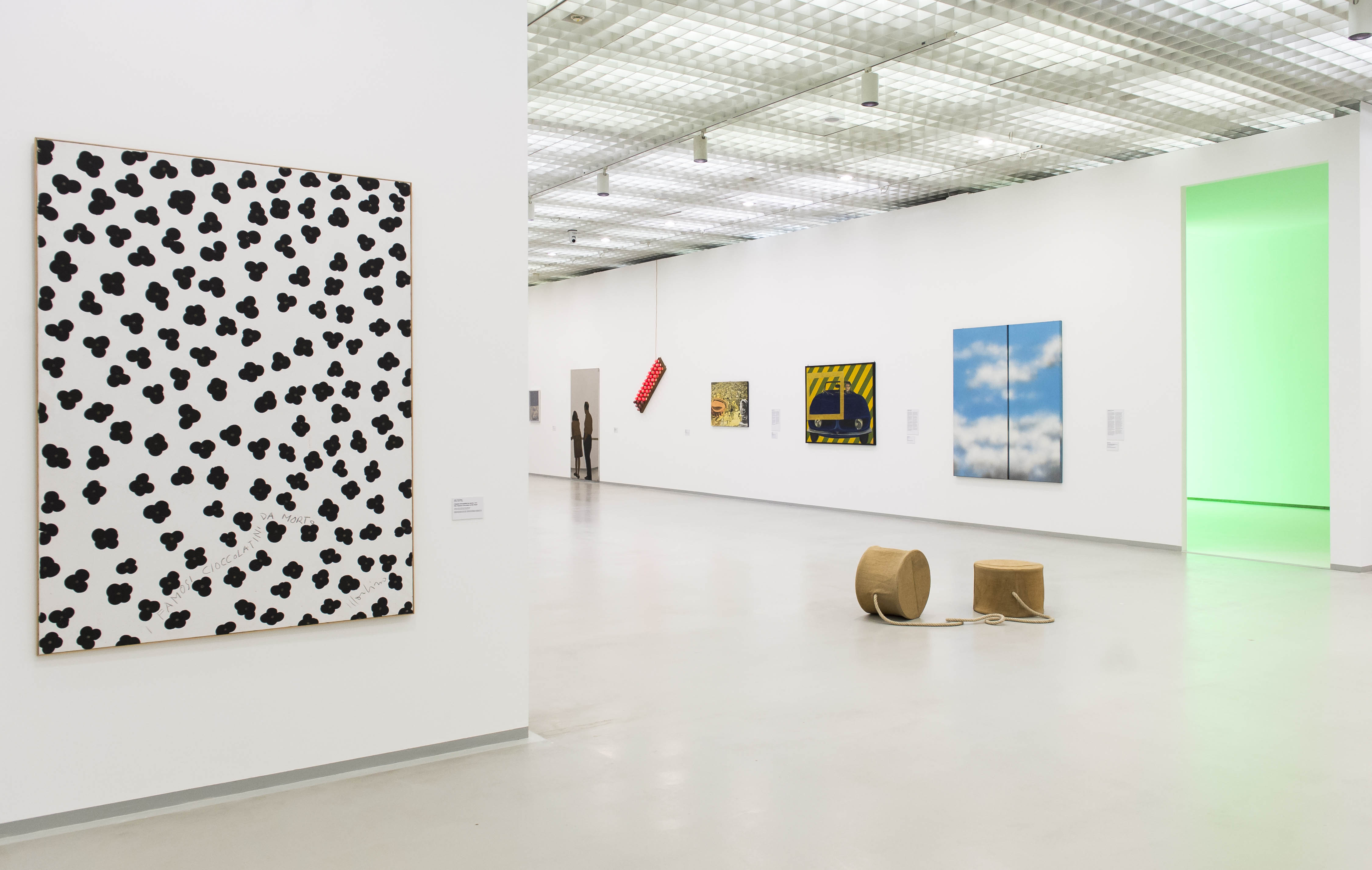 The show includes over sixty works—paintings, sculptures and videos from the 1960s onwards—and interrogates the development of pop art in Italy which was on the one hand believed to be heavily influenced by the international art at the 1964 Venice Biennale and the hefty boom of pop in the States at the time, and on the other could be considered to have developed as a natural and not entirely US-dependent response to the times in which it was created, from within Italy.
The works are variously wry—see Elio Marchegiami's horrific Design for a Neon Tombstone for James Bond, from 1965, which presents a wall-mounted gold and white "tombstone", emblazoned with a huge 007, crowned by a 3D pair of breasts and shoulders, the breasts covered in 007-shaped projections of light; meditative—the gorgeous, three-toned, light-filled installation of Carlos Cruz Diez which visitors are amusingly required to slip into blue plastic bag shoes for; and commanding—as in Salvatore Scarpitta's Rajo Jack, comprising an oiled-up race car and two petrol pumps, its crumbling aesthetic drawing undeniable parallels with the work of Robert Rauschenberg. What they all have in common, this being pop, after all, is a wholehearted dedication to the visual: bold, brash and arresting.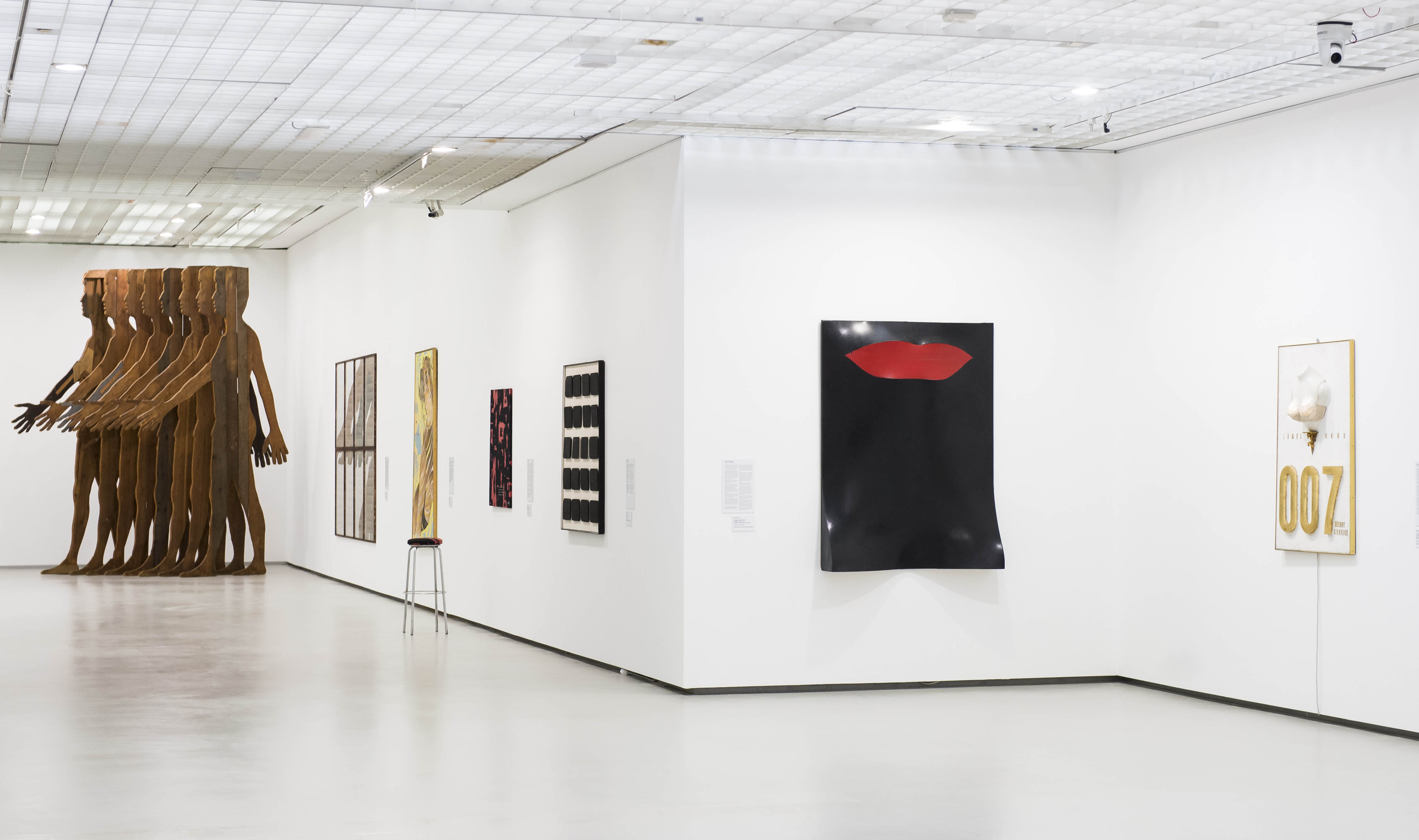 Turin lends itself to drama, its characterful and romantic settings demanding exhibitions that hold their weight. The gorgeous Castello di Rivoli, sitting high up above Turin (which is bathed in a fresh, misty glow when I visit, surrounded by bright red and yellow autumnal leaves) is housed in a former royal residence which is on the UNESCO World Heritage list. Its renovation is modern and innovative, sweeping slabs of glass replacing missing brickwork and vast window-lined staircases showcasing the surrounding view. Last year's Artissima week knockout combination of Ed Atkins and Wael Shawky, each residing in one of the two main buildings was pretty unbeatable—both artists creating works that really took the space into consideration, almost becoming one with the striking architecture and atmosphere of the Rivoli rather than simply being housed inside it. Atkins's work played with the eerie darkness of the attic-like third floor, while Shawky created mini castles within the castle and washed the walls with a vibrant blue. Despite the impressive line up of names this year (including Anna Boghiguian and Cécile B. Evans) the building somehow swamps the shows, so that works that are in themselves assertive are somehow diminshed. The most impressive rooms in the space this year, for me at least, belong to the permanent collection, where sculptures and installations from artists including Giuseppe Penone, Michelangelo Pistoletto and Maurizio Cattelan, each with their own individual room, fill the ornately decorated rooms.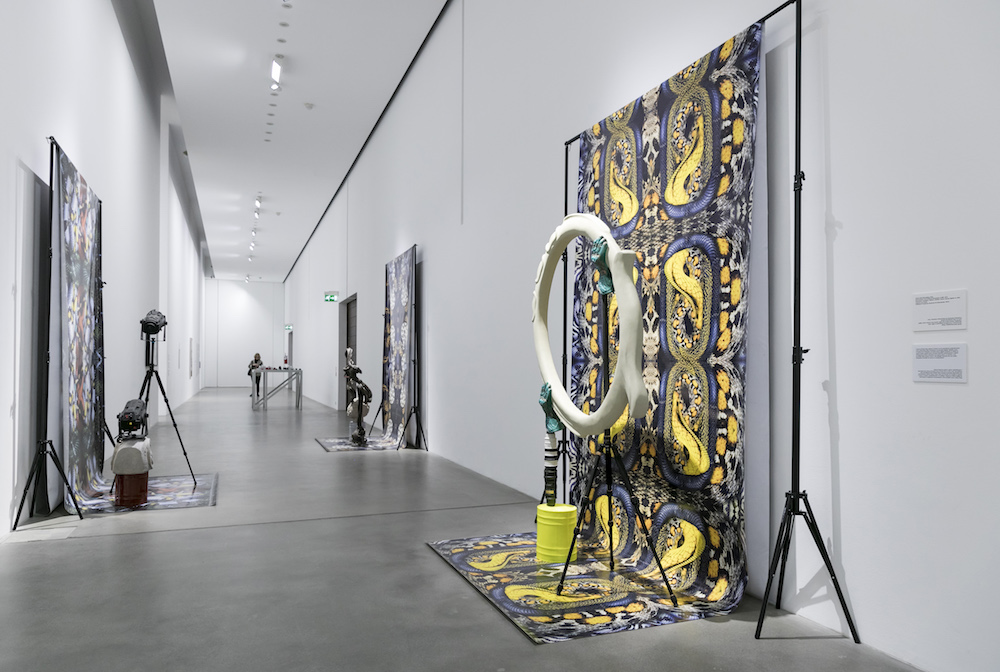 Last year was Ed Atkins's year during Artissima, as alongside his Rivoli show, Fondazione Sandretto Re Rebaudengo hosted the forceful Safe Conduct. This year, woman of the moment Hito Steyerl's 2015 Venice Biennale work—the immersive video installation Factory of the Sun was originally presented at the German pavilion—has a similarly compelling effect. Visitors lounge back on deckchairs (in some cases, falling back, the tipping action on these chairs can be a little swift and dangerous) to watch the artist's single-channel film at cinema scale as it switches genres between news, documentary, video gaming and internet dance videos, its spoken and musical soundtrack blasting out at a volume that can almost be felt in the chest. Exhibition visitors always wanting bigger and better, conversations inevitably compared the power of this iteration to the Biennale; thankfully I didn't see it in Venice, so this felt good enough for me.
The installation is part of Like a Moth to a Flame (a group show at the Sandretto space, which is also showing a solo exhibition from Sanya Kantarovsky) curated by Tom Eccles, Mark Rappolt and Liam Gillick and is being shown across the Sandretto and the Officine Grandi Riparazioni, the Sandretto housing the more political section of the exhibition. Amongst the many other brilliant works on show, Thomas Hirschhorn's is a standout, comprising a line-up of mannequins in a grubby display case along the back wall, lumps missing from their torsos, breasts, and necks, creating gaping holes that drill right through their bodies.
Of course, the key event of this week in Turin is Artissima fair, and while it's lacking in some of the most grimly gleaming "show-stoppers" that deck out many of the larger fairs, there is a consistent appreciation of visual power here. "LOOK", beams a giant pink neon from the wall of Enrico Astuni's booth. It's nigh on impossible to ignore the sign's command—once you've seen it it's too late to defy it, even if you want to. In front of this, David Medalla's dual columns proudly eject thick foam upwards, dripping down the sides and forming cloud-like pools around the base of the sculpture. The scene is being snapped on numerous iPhones as I walk past on the first day.
Elsewhere, Joel Andrianomearisoa's In the First Hours of the Night We Are All Sentimental spells out its title phrase in blue neon, another scream for Instagram attention. At Eduardi Secci's booth, I stop and stare at a ceiling-height stack of giant coloured balls in a long transparent box, some scattered around its base. There are many of this kind of colourful, eye-catching works at the fair, but there is just as much space less punchy presentations, Artissima's modest size allowing you to amble rather than sprint around the show. This year, the Disegni (Drawing) section is especially engaging, presented within a wide open space (numerous booths are only two-walled) that gives artists room, rare at a commercial fair. I especially enjoyed House of Egorn's presentation of Catherine Parsonage, a mix of paintings and flat glass works that play with the viewer's line of sight throughout the booth, catching glimpses of works through sections of others; an unusually coy presentation of visuals in this context.
SaveSaveSaveSaveSaveSaveSaveSave