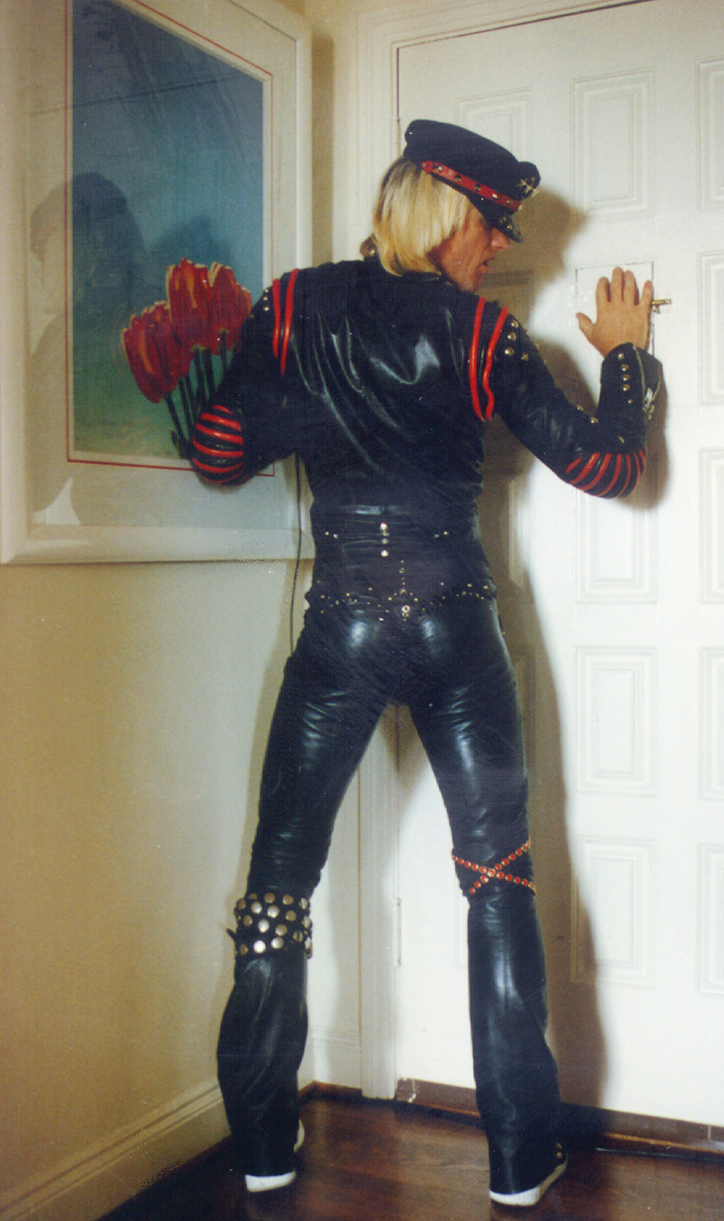 The opening pages of this lavishly printed book, simply titled Peter Berlin, exemplify the man himself. In one photograph he is able to look both coquettish and slightly troubled, leaning over a bed, back arched to show his taut buttocks in their glory, wearing nothing but a neckerchief and very small white pants. Next to him is an old Nikon camera and self-timer, set up for him to snap away at his own  flesh. The other image is more explicit, with full-frontal nudity. Peter stands, pouting into the lens with hand carefully placed next to his sizeable, erm, moneymaker, which sits matter-of-factly beneath a studded belt.
Most of Berlin's images in this tome run along similarly provocative themes, though as the page numbers increase, that manhood gets visibly far more pleased to see its audience. There's Peter, situating his trouser bulge alongside a Grecian  sculpture and fireplace in the shape of an eagle—for some reason, in this supposedly classical interior, he's decided to accessorise with a stetson. Then we see him all 1960s earth child: naked, covering his modesty with his hands and some very tall grass. Before long, you get to the Peter Berlin that has become most famous: cock out and toned torso, in a variety of settings—including those that prefigure the more recent obsession with "ruin porn" (essentially, he's posing is abandoned buildings).
For those unfamiliar with Peter Berlin, born Armin Hagen Freiherr von Hoyningen-Huene, he took it upon himself to become a multifaceted creature of intrigue. He was a sex symbol, photographer, pornographer, clothing designer, illustrator and more, who wound up being photographed by Robert Mapplethorpe and Andy Warhol. He was also drawn by Tom of Finland, whose iconic illustrated muscular bodied and blonde-coiffed figures almost mirror the physique of Peter Berlin himself. But long before being shot by the who's-who of the 1970s queer art scene, Berlin simply took matters into his own hands: his images were, as we'd say today, selfies—creating an entirely new, joyfully narcissistic approach to self-portraiture.  
"I did what girls and boys all over the planet do today by the millions, now with their smartphones, turning the lens on themselves"
The art direction and graphic design of this new monograph is by Omar Sosa's Apartamento Studios, which is behind the interiors magazine of the same name. Sosa made the unusual choice to have a full ten initial spreads made up purely of uncaptioned images. The text sections of essays, interviews (including one by Hans Ulrich Obrist) and missives from Berlin himself—as well as quotes from the likes of the "pope of trash" John Waters; AA Bronson, AKA the Grandfather of Zines; Butt and Fantastic Man cofounder Gert Jonkers and more—are distinguished by brown paper; with the photographic imagery set on stark black and white, letting the smouldering snapshots do the talking. 
As we discussed last year with Jim Tushinski, who directed the beautifully touching 2005 documentary That Man: Peter Berlin, his subject came to prominence at a time when in New York "there was a whole underground movement with Warhol and [Jonas] Mekas, and New York porn came out of the experimental film aspect of it… In the early seventies, no one expected to make money; they just wanted to show stuff that hadn't been shown and be experimental." That's the beauty of these photographs, too: they weren't necessarily a money-making scheme or  business venture, but the product of one gay man's dreams, imagination and sexualized, trouser-bulging confidence.
This confidence isn't just showcased through imagery in the book: in an interview, Berlin himself admits: "From the early days of puberty I was intrigued by the sexiness of boys and since I was one I was excited by my own image." He adds that his passion for "tight-fitting pants" heightened that excitement; and that "being desired for sex and the lustful look of men in public while cursing became an obsession." It was his drive to share feelings of "ecstasy" with "other aroused males" that triggered  Armin Hagen Freiherr von Hoyningen-Huene's transformation into Peter Berlin. "I did what girls and boys all over the planet do today by the millions, now with their smartphones, turning the lens on themselves… Though it still surprises me, what began for me in the late 1960s—the nudity, the eros, the raw sexuality—is still considered taboo today."
"From the early days of puberty I was intrigued by the sexiness of boys and excited by my own image"
Yet while this may be true when it comes to taboos in society more widely, it's in the art world and queer culture that such imagery has been embraced, as Ted Stansfield points out in his biography of Peter Berlin in the book, drawing comparisons between him and Robert Mapplethorpe.
The pair met in 1974, with Mappplethorpe asking to photograph Berlin, with the latter rather boldly claiming that he still preferred his own images. Stansfield writes that the two share the fact they were "both artists who belonged to the underground; both had wealthy friends or partners who helped finance their lifestyles; both applied rigorous studio techniques to their work; and both created pictures that will forever exist in the annals of queer imagery."
All images from Peter Berlin: Icon, Artist, Photosexual. Published by Damiani. Copyright of Peter Berlin