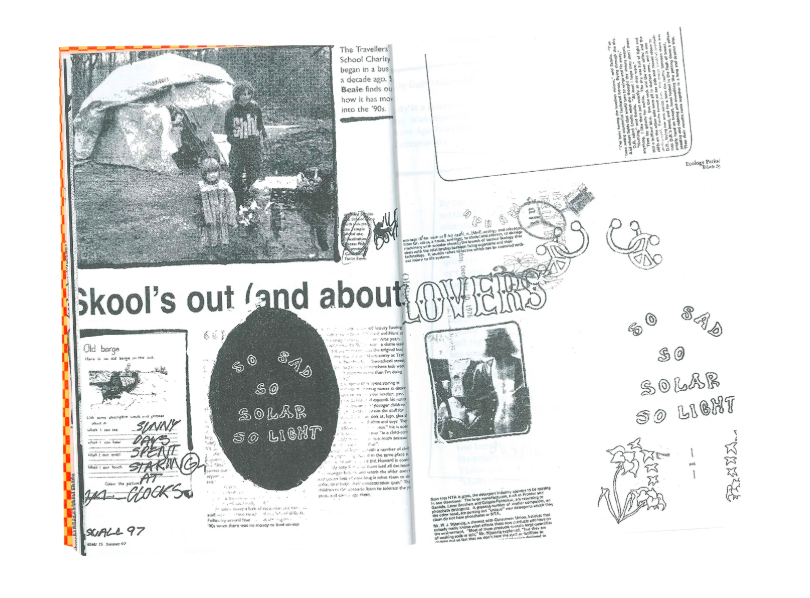 Book fairs often reiterate what's already known: who the big arts publishers are, that birds were once trendy, or that making books is expensive and requires some (not so) mysterious cashflow. They can present a narrow expression of who makes books, how and why; what people's concerns are and what a book can be. Occasionally, they buck this trend, and Bound Art Book Fair—organised by Robert Parkinson, Joe Torr and Lillian Wilkie—is a case in point.
Launched in 2017, Bound is focused on providing a platform for diverse artists and practitioners, publishers and distributors who are "committed to expanding the potential of publishing to communicate radical ideas and amplify underrepresented voices". It offers a platform for those based outside of London—whether that's elsewhere in the UK, or internationally—to make use of the space in innovative, experimental ways and to show work that often doesn't get seen because of the cost pressures surrounding many fairs.
This year's edition was curated with a particular focus on ideas around music, fandom, youth culture and collective experience; alongside the fair itself, Bound featured a rich public programme of free talks, workshops and performances that foregrounded those core ideas. From fashion workshops with youth groups in South Wales, football "femorabilia" and the question of how music can influence creative process, to rethinking how to talk to people you don't agree with, regional identity and performance as publishing, the programme encouraged the audience to rethink its preconceptions.
Below, we talk you through six of the artists, publishers and distributors who are making use of traditional forms to communicate radical ideas.
Founded by Ben Goulder, Snöar Press publishes limited edition books and zines with a focus on documentary photography, subcultures and personal histories. Although the press is London-based, a lot of the work it publishes is made by artists, photographers, designers and writers from elsewhere in the UK—particularly the North of England—foregrounding ideas and experiences that go beyond the capital.
Recent projects include Powerhouse by Sam Blackwood, which pulls together pictures taken around Hartlepool, alongside install shots of his installations, featuring objects and insignia that relate to stereotypes of working class culture. Another publication is St8 of Agency by Rosie Lee Wilson, an artist and designer living in a forest in Somerset. It recalls her childhood growing up in an anarchist commune, through a series of "stories about family", with overprinted images and text, stickers, patterns, drawings and logos.
Artist, photographer, designer and committee member at artist-led project space Serf in Leeds, Sam Hutchinson works with image-making, appropriation, sculpture, installation and printed matter. 2019-84 is a great example of how all these approaches can come together, a book of photographs of high-gloss corporate marble, self-help books, austere office details, red brick walls, flaming detritus, floppy discs and old computers. Sam describes it as both "satirical and cathartic".
"Red brick, Northern terraced housing. Primary colour. Minimalism. Too expensive. Grinning and bearing it. On, off, on. Several forms of communication, all day, every day. Constantly adding to the masses of redundant information and technology. Everything is ok and you're doing just fine. The sky is blue and you have a job. You're part of society." Co-designed by Daniel Baragwanath, the book is naked-bound in orange thread on thick cotton paper, printed with ornamental fades: "The DIY aesthetic is dead. At least, it is dead as an effective method of protest, or self-care, or placebo."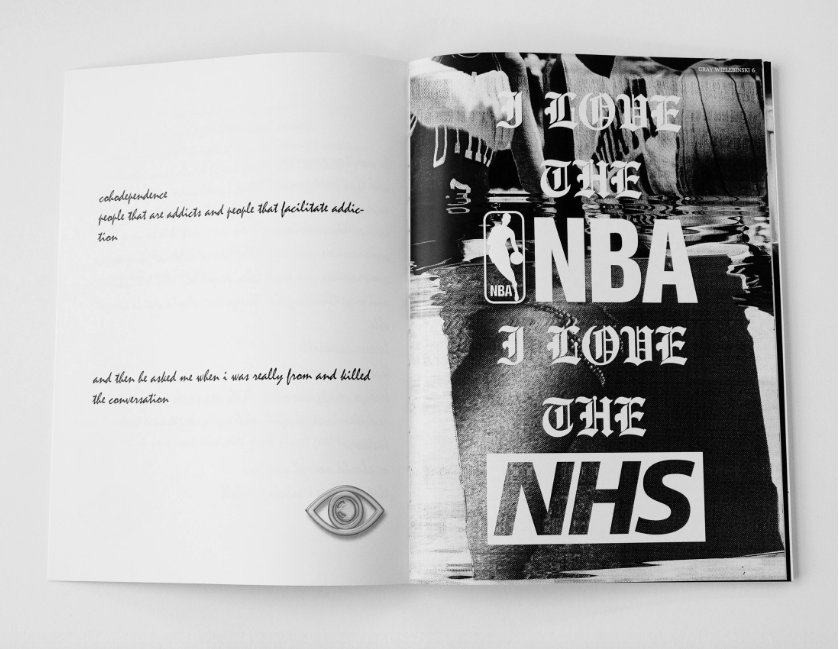 Set up by curator Cairo Clarke, SITE is a hybrid artist management and commissioning initiative focused on supporting artists who work outside of major institutional and commercial structures. It supports and produces exhibition projects, public programmes, performances, and publishing. The first issue of the publication launched in September, and like the larger project, it aims to carve out a space for non-traditional approaches and underrepresented practitioners, taking an intersectional, context-sensitive approach.
"As an expanded site of art and archive, SITE aims to interrupt the pace and production expected within art as a product of consumerism and capitalism. Instead…SITE affords more time to process, experimentation, agency, and exchange", Clarke says. The first edition includes contributions from Gray Wielebinski, Hannah Perry, Harriet Middleton Baker, Lotte Andersen and Sade Mica.
Sophie Jane Stafford is a photographer based in London. Her work is rooted in documentary, with recent series focused on Burma, Tunisia, Israel and Palestine, and she often publishes bound editions—whether as zines or photobooks—as part of each project. Burma, is a photo-zine of portraits of young workers in Mandalay, paired with Risograph-printed scans of pages found in Burmese fashion catalogues. The balance of posed and candid portraiture with pictures of foliage, buildings, furniture and board games, alongside the sort-of collaged catalogue scans makes for an evocative portrayal of the energy and atmosphere of a place, as well as the people who live there.
Rose of the Desert is a project focused on young people living in Douz, a town in rural Tunisia that Stafford visited during the Annual Festival of the Sahara, a celebration of North African Arab-Berber traditions. The pictures convey the shifting relationship to historic practices between generations and the changing nature of desert culture in the "Rose of the Desert"—as the town is referred to locally.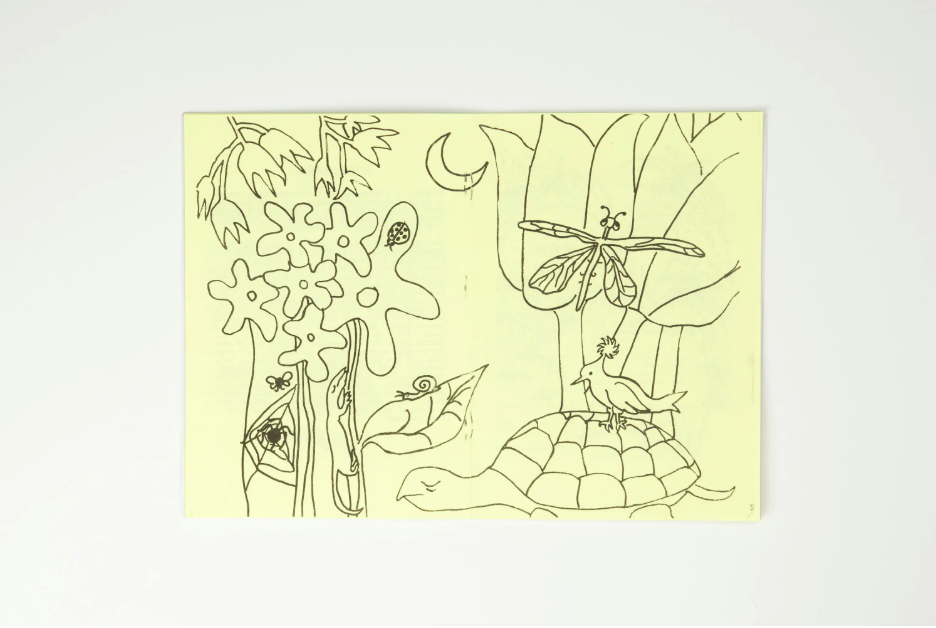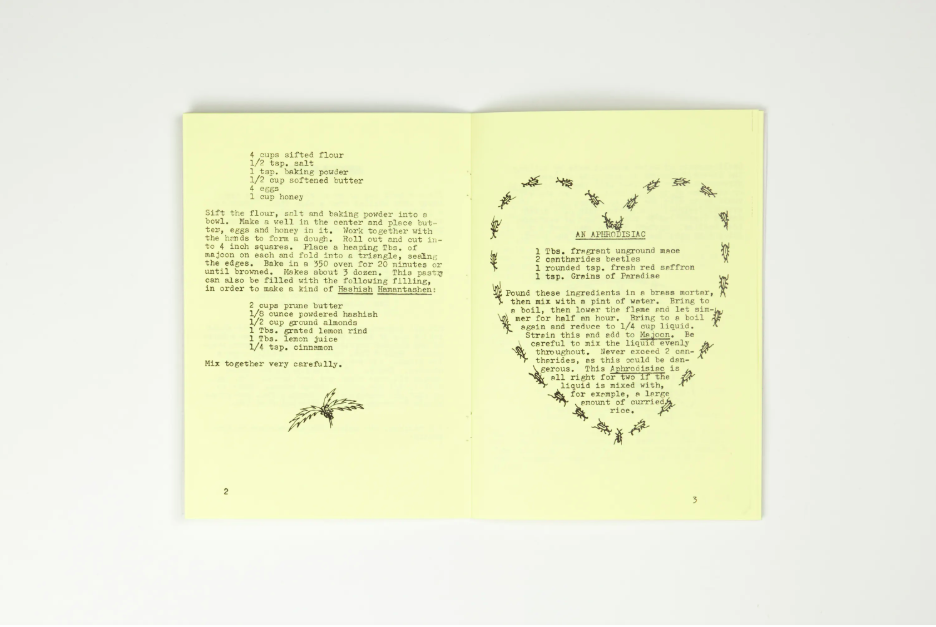 Rémi Brandon's Soccochico is an itinerant bookshop and small press, specializing in out-of-print, collectable publications and printed matter focused on the counter-culture, from Search & Destroy, VAGUE and Oz, through to self-published and bootlegged zines, and books focused on particular artists and designers, from Memphis to Marc Camille Chaimowicz. It's a broad remit, but one that's consistent in spirit. Soccochico's recent edition, The Hashish Cookbook, is a bootleg edition of a cookbook by Rose Panama, originally published in 1966; it includes a variety of recipes, from Hashish Harrera Soup to Christmas Pudding, in a typewritten, photocopied zine with silkscreen-printed, illustrated covers.
Founded by James Brook, Salt N Pepper Press is an independent publisher based in Leeds. It's output often focuses on documentary photography, and considerations of print and production methods are treated with the same attention to detail as the featured works. No Silver Bird by Dan Commons is a book of photographs that were printed in a makeshift darkroom in the artist's attic. The elements left up to chance, mistakes, solarisations and chemigrams become part of the work, in a non-traditional narrative publication of pictures Commons has taken over the last few years.
Beings by Philip Welding "remixes the everyday" in photographs that translate domestic objects into sculptural form—from plastic chairs and cups, to curtains, tyres and expanding foam. It's all mass-produced stuff "left in the world for me to find. Some have done strange things with it, perhaps out of boredom or to resist routine. I've reciprocated… whoever is ultimately responsible, these photographs are representative of human endeavour, both purposeful and playful", says Commons.