"Photography and a very cheap digital camera saved my life," says Mexican artist Diego Moreno. It sounds dramatic, but he means it. Born in San Cristóbal de las Casas, the cultural capital of Chiapas, southern Mexico, in 1992, Moreno had a difficult childhood: "abandoned" with his maternal grandmother when he was five because, as he puts it, his father "didn't want to deal with a child who would probably turn out to be homosexual because he was very sensitive".
Bullied at school because of this unusual family set-up, Moreno was eventually taken back by his parents at the age of 15, only to find himself mired in a macho, violent household. His first photograph was a self portrait, shot on his phone just after his father had hit him. "That image was very powerful and magical at the same time," he says. "I knew that I had an artifact with which I could see myself, that even if I was in a lot of pain, photography could help me build an image of myself."
And that's what he's striven for ever since, creating images that are intimate and yet universal. He says everything he's done is "deeply personal" and can't envisage working in any other way, but adds that it's this very quality that's allowed others to relate to his images, seeing him selected by the British Journal of Photography as One to Watch in 2016, and as a Young Mexican Talent by Foam Amsterdam in 2017. "Family and identity are universal themes that generate empathy with other individual and collective universes," he says.
His two current projects are cases in point. Malignant Influences (2020–ongoing) uses snapshots from his own family album, while Las Montañas Sagradas [The Sacred Mountains] (2021-ongoing) employs vintage images of Switzerland, collected at second-hand stalls and bookshops while on the Artist-Montreux Residence of Artistic Excellence. In both series the original images depict idealised versions of reality, which Moreno has disrupted with paintings of devils and ghouls. His interventions are inspired by a long-held fascination with monsters, which he interprets not as evil but as personifying the misunderstood and the marginalised.
In my mind there is never silence, 2014-20
"Throughout my life, the symbol of the monstrous and the abnormal was the only image I could empathise with, because of the rejection I faced," he says. "For me they are endearing, and I identify with them deeply. Part of the nature of my work is to unravel all that is pre-established, to create new possibilities of the monstrous. The idea of a monster or a demon should not be frightening, it should be beautiful. In fact, our world would surely be a little more magical if these figures lived among us."
Moreno's best-known project to date, In My Mind There Is Never Silence (2014–2020), also features monsters, taking the Panzudos Mercedarios figures traditionally made for the feast of the Virgin Mary on 22 September in his hometown, and putting them into unremarkable domestic spaces. The Panzudos are grotesqueries and are meant to symbolise sin, but for Moreno they have a more personal resonance, reminding him of his great aunt, Tía Cati. Suffering from a disfiguring autoimmune disease, she was hidden away by most of the family, always kept out of family photos and, on occasion, kept chained up at home. But Moreno, who lived with Tía Cati for a year, had a very different experience of her.
"I am fascinated by the idea of making decisions about your own way of conceiving yourself, of seeing the world"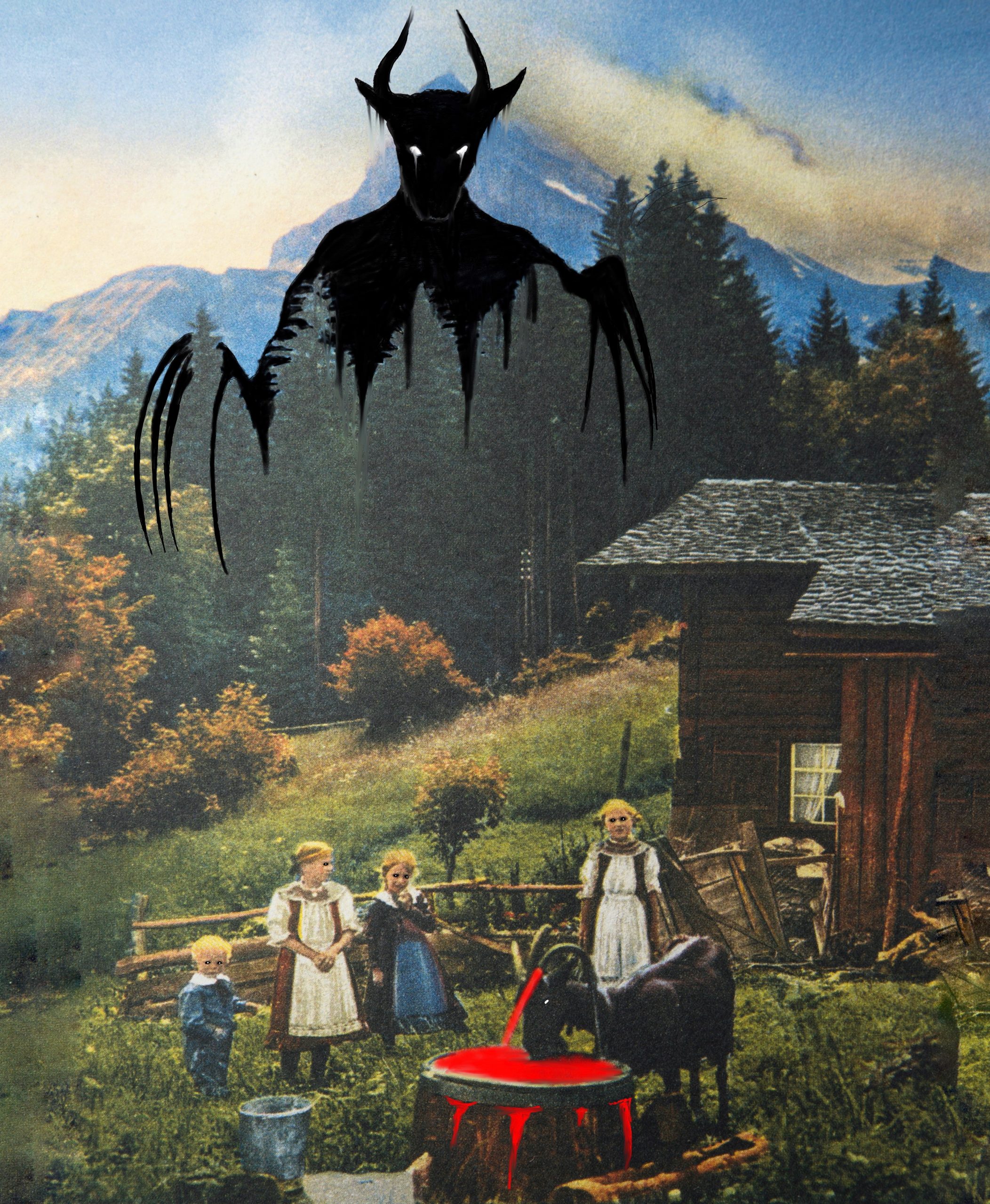 "Since I was a child, I was very fond of her," he says. "Her appearance didn't matter to me. She was very affectionate, she always wore big dresses with flower patterns and aprons, where she kept candies that she secretly gave me… Los Panzudos Mercedarios reminded me of her, because she considered herself a sin and was disconnected from the family, just as I felt outcast too. I decided to start building these characters, trying to reconstruct her and find a way to merge them into the domestic space, looking for a way to create everyday scenes that unintentionally became photographs full of symbolism and a deep psychological density."
This project was published as a monograph by Inframundo earlier this year. The respected Mexican photobook specialist also published Moreno's first major project, Huésped [Guest] in 2018. Photographed between 2011 and 2018 (beginning when Moreno was just 14), Huésped depicts members of his mother's side of the family, exploring the impact of domestic violence on its members. As with Malignant Influences, it includes family snaps, apparently happy scenes from which isolated individuals have crudely been removed.
Huésped also taps into the occult, one image showing a boy with an eye in his mouth, another showing three topless older ladies, eyes closed as if at a seance, a knife spearing a vegetable in front of them. Moreno says his imagination is "plagued" by images of rituals and demons, a legacy of the "ultra-Catholic environment" in which he was raised: he served as an altar boy, but says he was eventually rejected by the church when he realised he was gay. But this ultra-Catholic environment also intersects with older traditions in Mexico, and the rituals he shows in Huésped reflect that reality.
Mexico is unique in the way it lives its traditions, rituals and ancestral mythologies, he explains. In the artist statement for In My Mind There Is Never Silence, he references the country's "highly complex map of coexisting cultures". In his series Spectrum (2017–2021), he explores this rich cultural tapestry. Spectrum depicts close female family members and friends, all of whom are practising Catholics but, at the same time, are also "immersed in magic and mysticism".
"They all have empirical knowledge of botany and a deep spirituality," he explains. "My maternal grandmother is the main character of the story because she comes from a lineage of women healers. But, as they are also women who practice Catholicism, their healing, rituals and botanical medicine are a secret. They do not want to be considered witches, because witches in ancient times were punished and condemned."
"The symbol of the monstrous and the abnormal was the only image I could empathise with, because of the rejection I faced"
Moreno's residency in Switzerland ends in July 2021, after which he plans to return to Chiapas to work on a new project about masculinity. He also expects he'll keep going with Malignant Influences, which he found himself working on "obsessively" during the pandemic. He's got other projects on the go too, such as an ongoing series of collages he makes using photographs of male friends and lovers, or a recent commission from Mexican cultural body DR4MA, which saw him making images drawn from Pokémon. These characters were important to him as a child, he says, and he likes the fact that, like religious icons, they have become universal.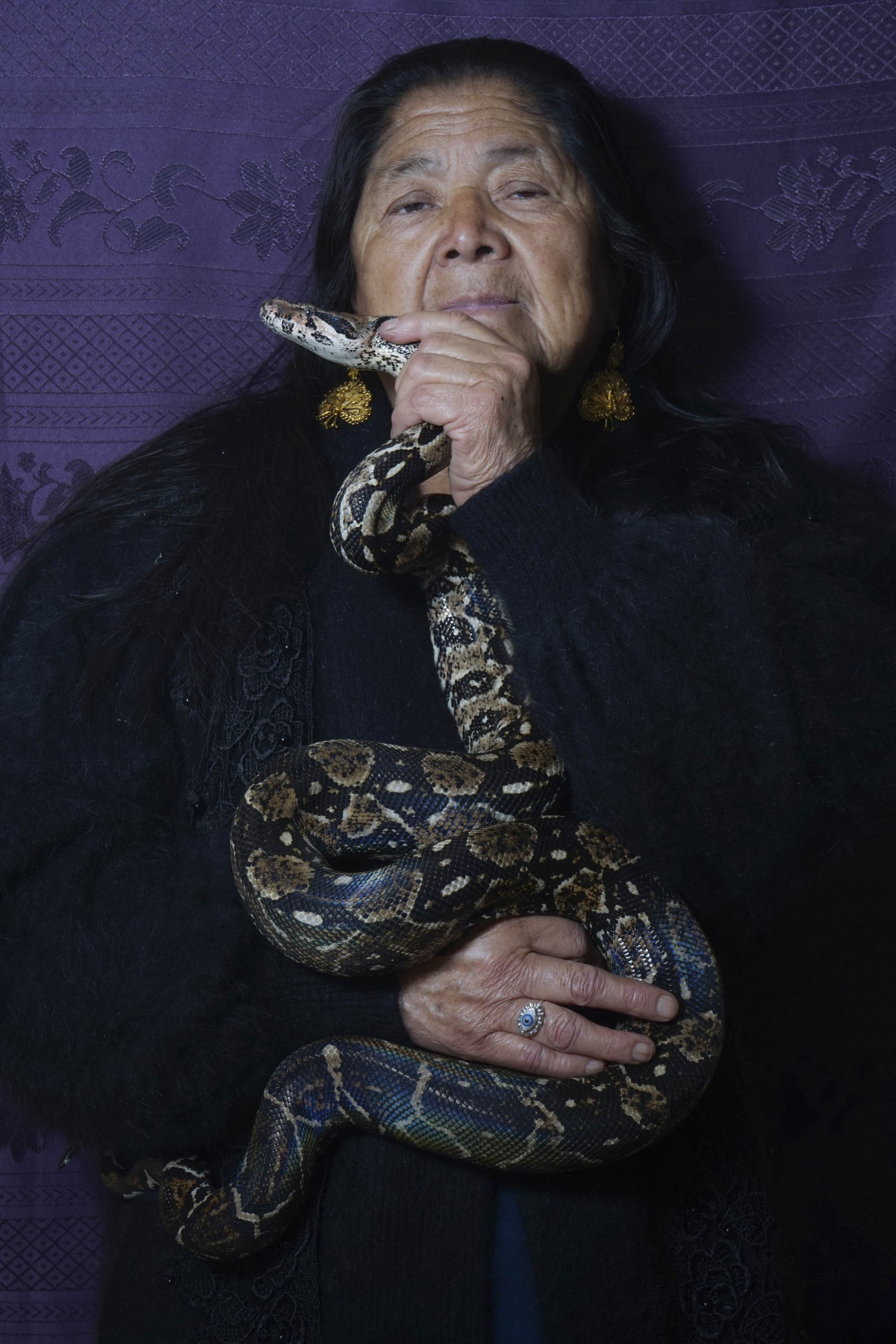 He also has an ongoing interest in tattoos, and has created many designs for his own, heavily-inked skin, designs which will be immediately familiar to anyone who knows his art. "Tattooing seems to me an incredible way to take ownership of your own body," he explains. "I am fascinated by the idea of making decisions about your own way of conceiving yourself, of seeing the world."
"Tattooing has also given me an aesthetic commitment to my own body," he adds. "Religion is a system of silent violence, it hurt me a lot because I grew up with a lot of guilt about my body. That's why I was also very rebellious from a young age, and it's something I will live with forever. So I honour rebellion very much, because it makes you reinvent yourself, and fill yourself with creativity."