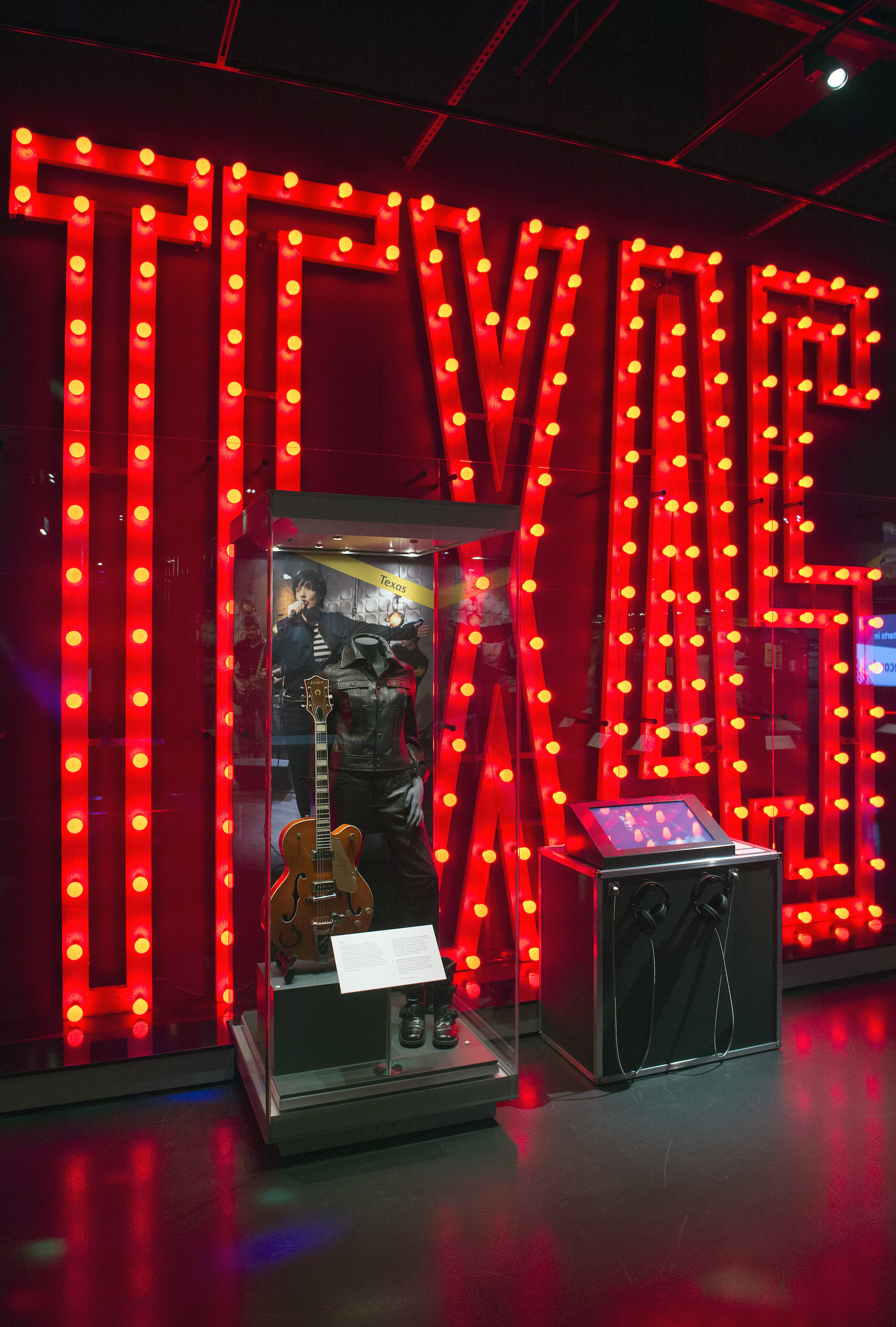 A "hit formula" hasn't yet been found when it comes to pop music exhibitions. In Britain at least, there have been various off-key attempts, including Sheffield's £15 million National Centre for Popular Music. It felt awkwardly vibe-free when I visited soon after its launch in 1999; it barely lasted a year after that, with its striking "steel drum" buildings now host to Hallam University's student union.
Likewise, the British Music Experience (originally within London's O2 dome, now relocated to Liverpool's waterfront) felt strangely fusty, despite interactive exhibits and an extensive collection of instrumental pieces from pop's past. Some of these exhibits have been pitched more as tourist attractions than studious displays: London's now defunct Rock Circus, for instance, featured a terrifying animatronic Janis Joplin (I still wonder where that robot is now), and a waxwork effigy of Gary Glitter (prior to his conviction for horrific sexual abuses) leering over Piccadilly Circus.
Part of the problem is that once pop music is hermetically sealed in a gallery or museum space, that tends to dampen the fire and frisson that makes its main players, and the experience of fandom, so thrilling. There have been rare but notable exceptions: the V&A's extraordinary 2013 exhibition David Bowie Is… was extensive and intimate, and ultimately felt like a moving swan-song from the creative chameleon (it also toured globally, becoming the most visited show in the V&A's history). The British Library's 2016 Punk exhibition punched above its compact size (and was aptly defaced by punk icon Viv Albertine, critiquing its lack of female figures). London's National Portrait Gallery is just about to open On The Wall: an exhibition of international art inspired by Michael Jackson.
"Once pop music is hermetically sealed in a gallery or museum space, that tends to dampen the fire and frisson that makes its main players, and the experience of fandom, so thrilling"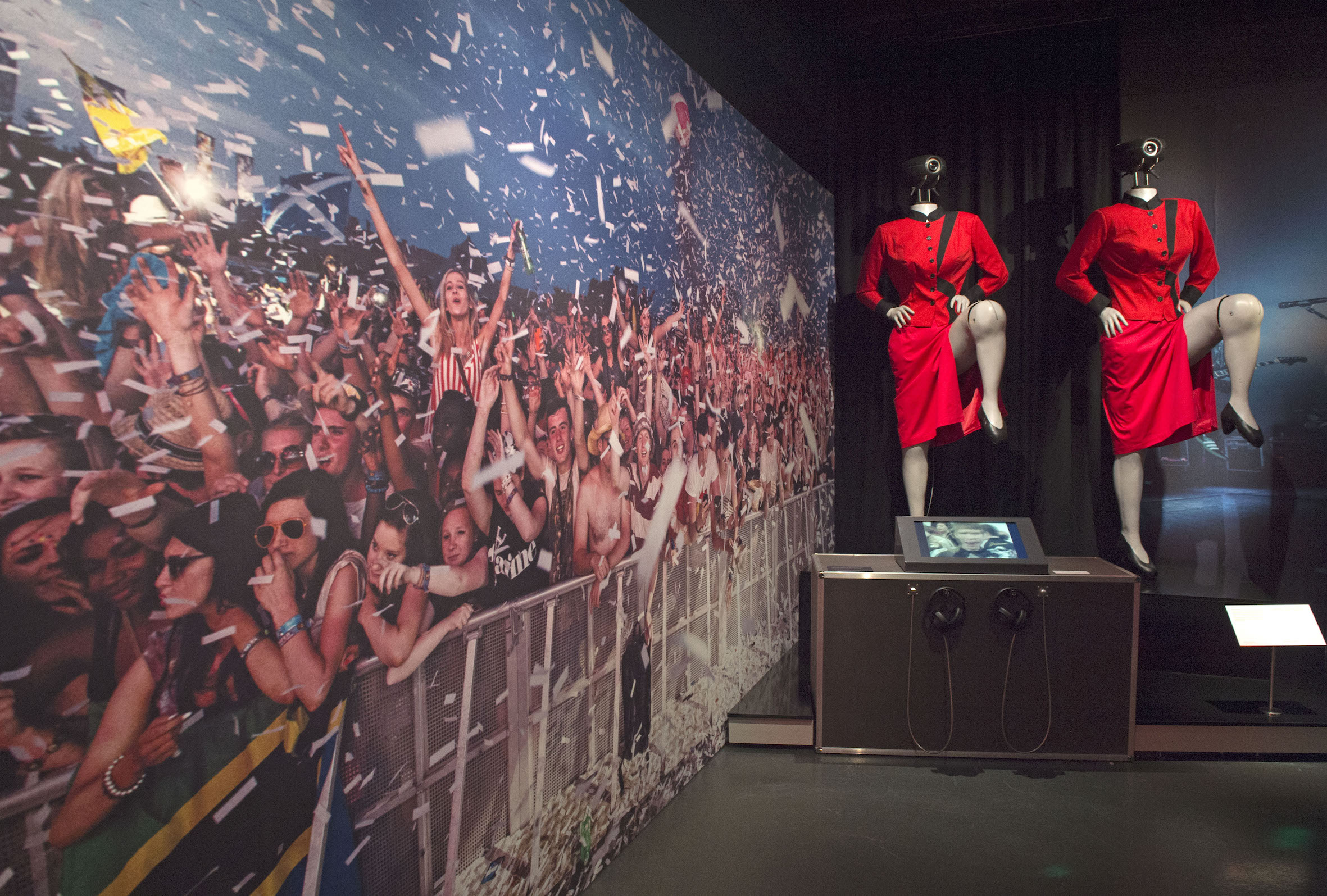 Rip It Up launches with such challenges, but also rich promise, as it explores "the story of Scottish pop". It marks an intriguing contrast from the more traditional programme at Edinburgh's beautiful National Museum of Scotland, more associated with acclaimed shows about Mary, Queen of Scots or Bonnie Prince Charlie than rock royalty. Although it lifts its name from the 1983 smash hit by Edwyn Collins's post-punk band Orange Juice, Rip It Up aims to chart Scottish pop's legacy from post-WWII dance halls, via the 1960s "youthquake" that shook up international pop culture, the Glasgow Art School scene, stadium rockers and much more.
"We always knew that Rip It Up was going to be a rich loans exhibition, which draws together different scenes," says Liverpool-born curator Stephen Allen, whose own love of music was originally sparked by Edinburgh late-seventies new wave punks The Rezillos (led by the fabulously spiky Fay Fife). "We have around 80 individual lenders, including direct loans from the artists and bands, and the material often comes in with great stories."
"The passion of fandom is a tangible force in Rip It Up. From the instant you step into its galleries, you're hit by an exciting headrush of soundtracks…"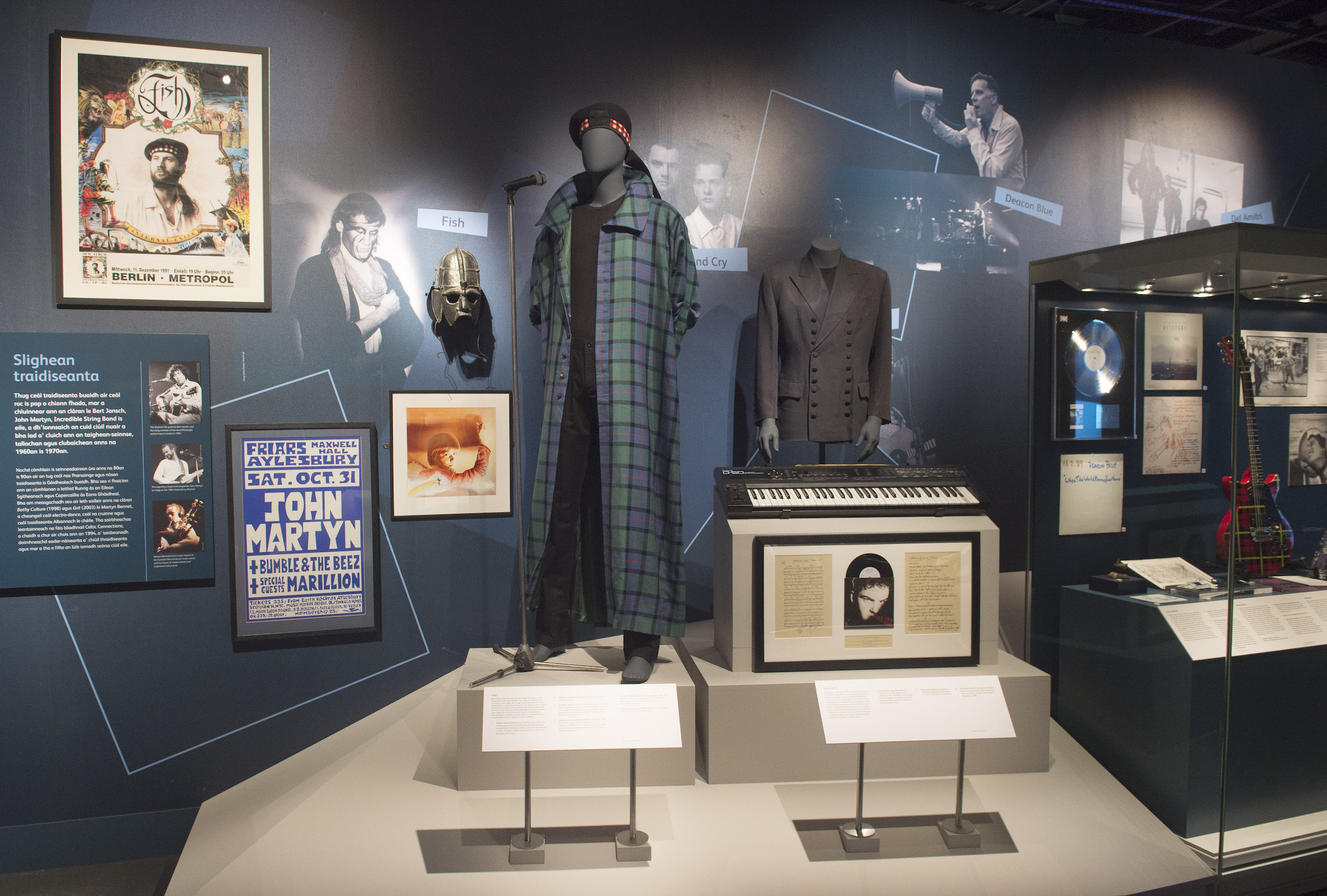 The passion of fandom is a tangible force in Rip It Up. From the instant you step into its galleries, you're hit by an exciting headrush of soundtracks (Eurythmics; Orange Juice; Franz Ferdinand; the urgent yelp of skiffle/rock 'n' roll pioneer Lonnie Donegan), and the sense of what Allen describes as "pop music as a gateway to other art forms". It also offers a multi-media mainstream accompaniment to Glaswegian visual artist and indie musician Ross Sinclair's recent Glasgow exhibition, Artists Who Make Music Musicians Who Make Art.
A sense of independence pulses throughout these varied Scottish scenes without any heavy mention of the political referendum. That autonomous creativity particularly comes across in Scottish artists' DIY responses to cultural movements including rock 'n' roll and folk revivals, and the fantastic visuals and visionary far reach of indie labels such as Fast Product (founded by Edinburgh College of Art grads Hilary Morrison and Bob Last), Postcard (inextricably linked to the artfulness of Orange Juice and Josef K), Creation (native home to Glasgow's Primal Scream, besides British and US acts from Oasis to Sugar), and indie hotbeds including Glasgow's Chemikal Underground (which donates a well-seasoned mixing desk from its former studio). Given the inspirational design flair on display inside, it's odd that the exhibition's own logo is so dull.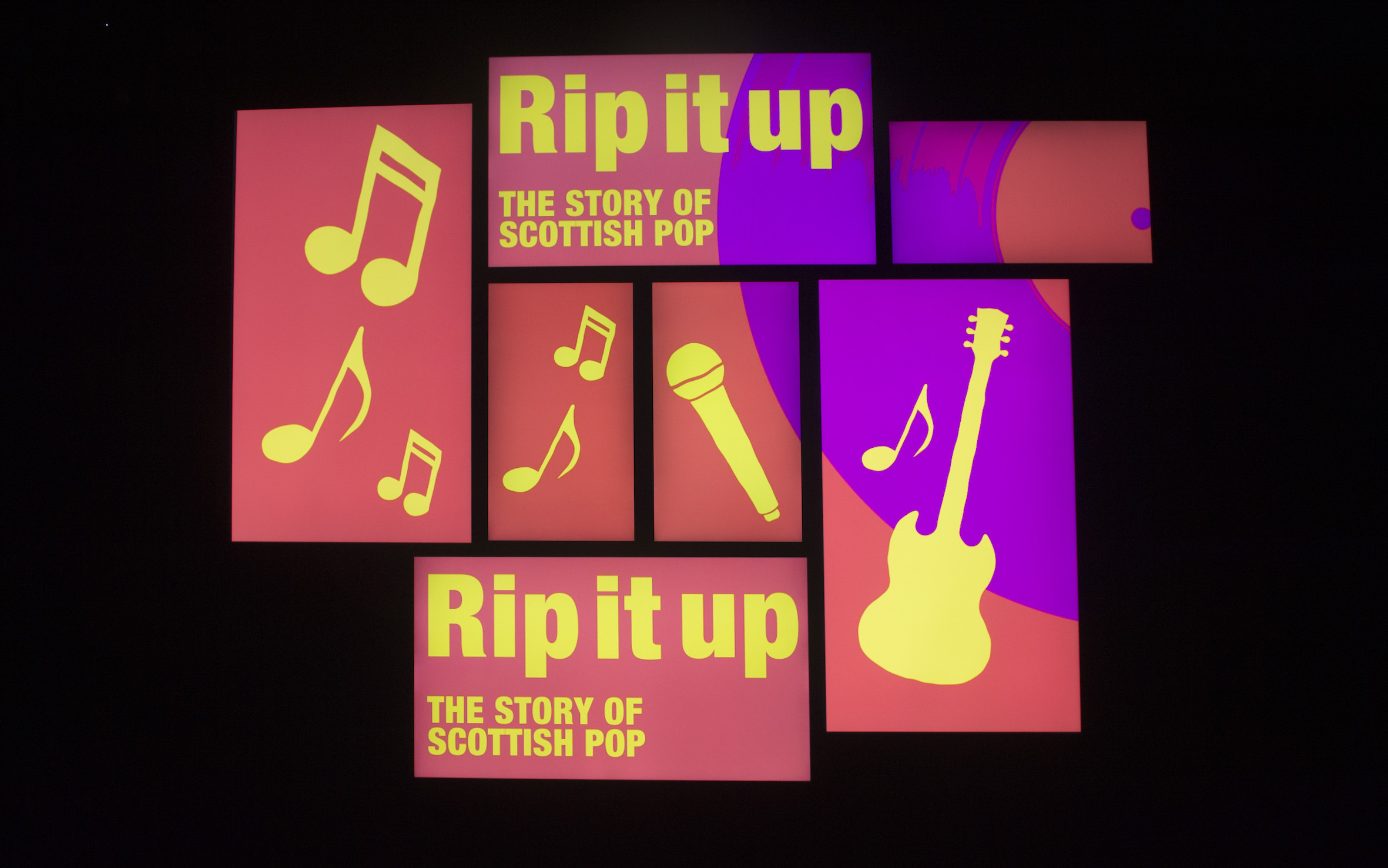 Rip It Up's personal approach is both persuasive and possibly limiting. The exhibition's sidelining of Scottish club culture and electronic dance music is baffling and would have benefited from a local expert's input on these scenes. Instead, it's relinquished to a corner with some toyshop disco lights, and while it's cool to view Guy Veale's atmospheric photograph of queues outside Glasgow's Sub Club and a cabinet of artefacts from Edinburgh rave-rockers Finitribe, it seems incredible that they haven't made more of the stratospheric rise of Dumfries-born EDM producer Calvin Harris.
There are numerous strong voices here, and rightly many significant females, including Annie Lennox (who inspired the V&A's House Of Annie Lennox exhibition in 2011), Shirley Manson, Sharleen Spiteri, Claire Grogan, Eddi Reader and Lulu. There are also emotive elegies to lost talent, including Alex Harvey, Billy MacKenzie and Frightened Rabbit's frontman Scott Hutchison, who tragically died last month.
BBC Scotland presenter and musician Vic Galloway's enjoyable accompanying book gives the music further necessary definition and context. It also raises important cultural questions such as: How do you define Scottishness, and what draws these expressions together? Allen argues that there are distinct characteristics to Scottish music: "Even the most surprising bands have an anthemic, epic quality, with catchy choruses," he says.
"Of course, no musical history can be completely definitive, because it is always evolving and sparking new life"
It does feel peculiar that Rip It Up's exhibition is so resoundingly white, despite a display from Edinburgh hip hop trio Young Fathers, including the Mercury Prize won for their excellent 2014 debut album Dead. Statistically, perhaps POC are a minority in Scotland, but Scottish cultures clearly aren't homogenous, and it's also bizarre that Scottish Asian artists aren't given a hearing here (these haven't been confined to the homegrown bhangra scene, although that did include crossover bands like Glasgow's Bombay Talkie).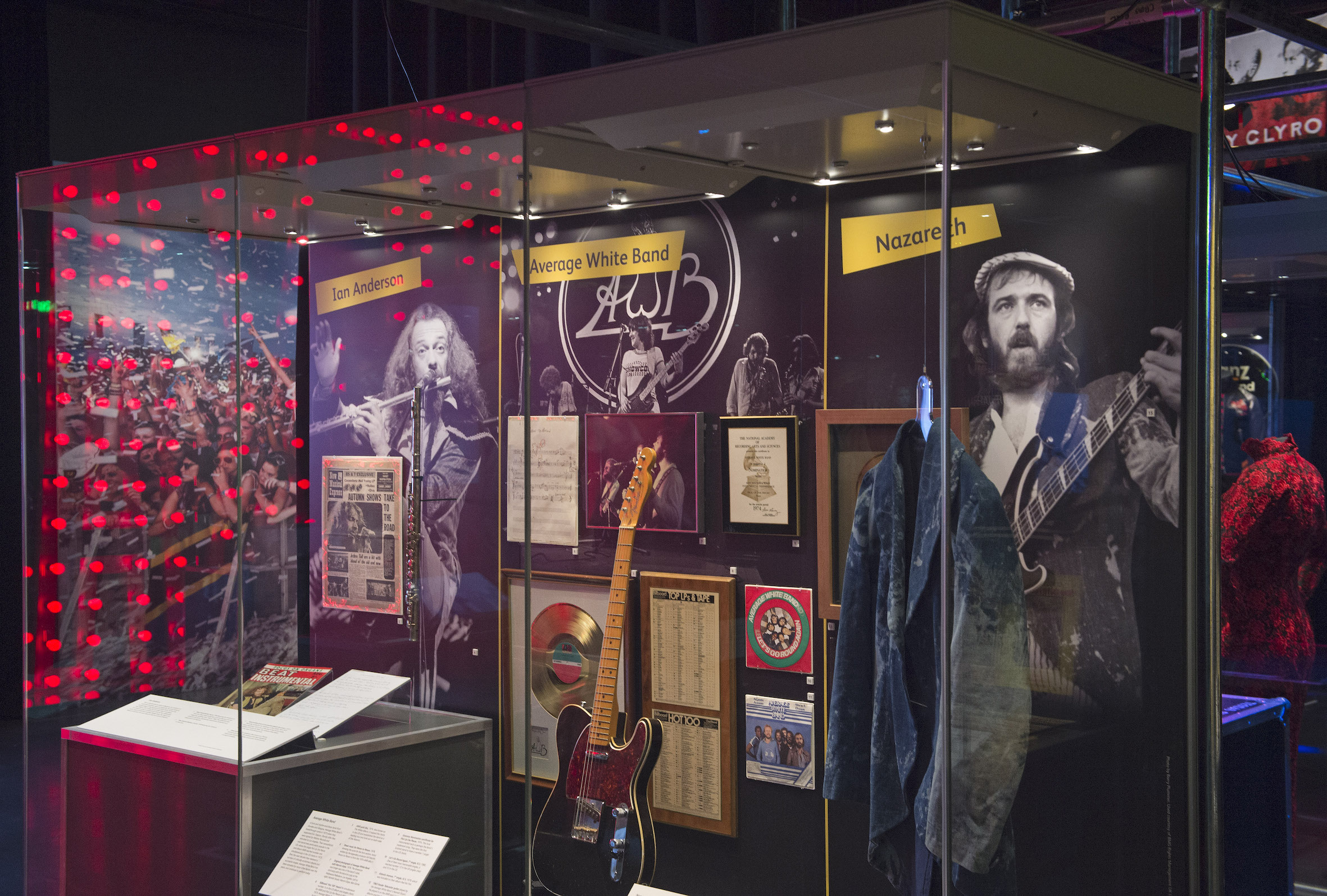 Constructing an exhibition around donated artefacts can yield some interesting revelations; both indie outfit Belle & Sebastian and hard rock trio Biffy Clyro showcase objects from their international fanbase (including a "'Mon The Biff" slogan sewn onto a Brazilian flag). Elsewhere, it creates a disjointed balance that doesn't really reflect cultural weight: the largely forgettable eighties jazz poppers Hue and Cry are given more gallery space than the intrepid Mogwai.
Of course, no musical history can be completely definitive, because it is always evolving and sparking new life. What Rip It Up does achieve is an immersive array of sounds and sights, and a multi-level platform for debate—which any pop culture exhibition ideally should be. In addition to the show, there's an accompanying series of gigs at Edinburgh's Summerhall live/gallery venue; Galloway's regional radio and TV series (which surely deserves a broader airing); and online forums and playlists. Rip It Up showcases an array of impressive legacies from this febrile land, and proves that its musical futures feel—to paraphrase an anthem from Scottish rockers Simple Minds—alive and kicking.
All installation images copyright Neil Hanna
Rip It Up
Until 25 November at the National Museum of Scotland
visit website