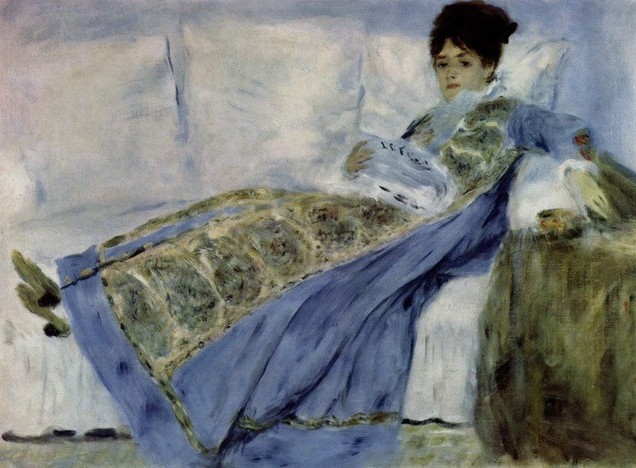 Under the Influence invites artists to discuss a work that has had a profound impact on their practice. In this edition, Rosalind Nashashibi, whose work encompasses both film and painting, reflects on the surprising influence Pierre-Auguste Renoir has had on her latest creations.
I really didn't want to choose Renoir. He's not a painter who I would normally think of as an influence. However, I have this big Renoir book in my studio that I got from the Oxfam bookshop on Upper Street in Islington, North London.
Renoir is an artist who has sparked a lot of dislike, and even controversy. He became, especially in the 1990s and 2000s, a bit obsolete. He kind of got killed… a bit like Gauguin. When artists get killed, we can look at them again, because we don't have to kill them anymore. Their reputations are already dead.
He's an interesting artist because he is on the border. He is a really incredible painter whose paintings are full of light and sensuality and touch, but on the other hand, that sentimentality sometimes goes into a kind of vulgarity or excessiveness, which can become almost grotesque. I find this borderline interesting.
I got interested in this friction when I was doing my display in the Spanish rooms of the National Gallery in London. I identified this borderline between religious passion and the sentimentality in some of the paintings there, by Murillo, for example. That's why Renoir crept up on me. I had to respond to the collection, to my situation in there with the Old Masters. I had to find a way in.
At first this involved copying certain details. I thought about the act of copying as an act of selection and filtering of things that I am interested in, a little bit like my films. I often begin with a painting, and then go through that process of making my version, which can be quite different. The unconscious comes into play when you're copying.
Rosalind Nashashibi, Pansies, 2021. Image courtesy the artist and GRIMM
Rosalind Nashashibi, Boy Fizzing, 2021. Image courtesy the artist and GRIMM
My painting, Mrs Tabouret, is a woman with her head almost pushed back between the pillows, reaching out for some stuffed dates. The source is a very impressionist and very free painting by Renoir called Madame Monet Lying on a Sofa. I decided to make a version rather than copy.
I painted an older woman and introduced this pathos. I was interested in her melancholy. I thought about her as maybe a wealthy woman, but somehow very stiff, awkward in her body and feeling ill at ease. I shortened her body a lot. I made her feet bigger and played with that awkwardness, which I find is another kind of beautiful. I think of a figure like Giulietta Masina, the wife of Federico Fellini, who played a clown in some of his movies.
For me, colour is such an intuitive process. Maybe my colours are harder juxtapositions than in Renoir's. His are gestural, an impressionist sketch. Mine are heavier. I'm interested in contrast. One of the things I do love about Renoir is luminosity. It's a mysterious quality in itself. It transports you in some way.
When something happens quickly in a painting and you're able to be there, it's a big success. The lightness and the speed speaks through the painting. Whereas in Boy Fizzing (a painting of my son), his face took several attempts. He's very mischievous. It started from a video he made of himself. He's somebody whose expression I really wanted to capture and get it right.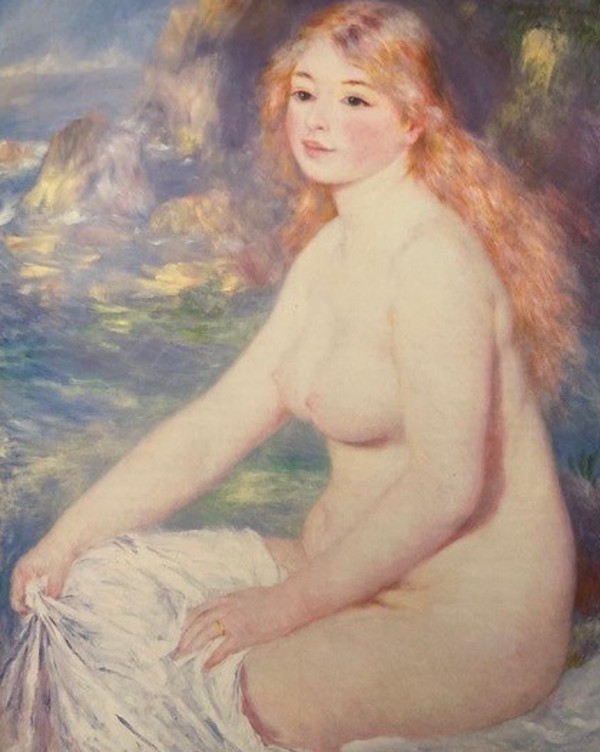 With Renoir, there's space for manoeuvre. There's a fallibility. That's where I find the space to go in and play with his paintings. Compared with Monet, Degas, or even Velazquez, you can have a real conversation with Renoir's paintings because they're already dubious.
As told to Ravi Ghosh, Elephant's editorial assistant
Grimm Gallery, New York, from 10 December to 15 January 2022
VISIT WEBSITE