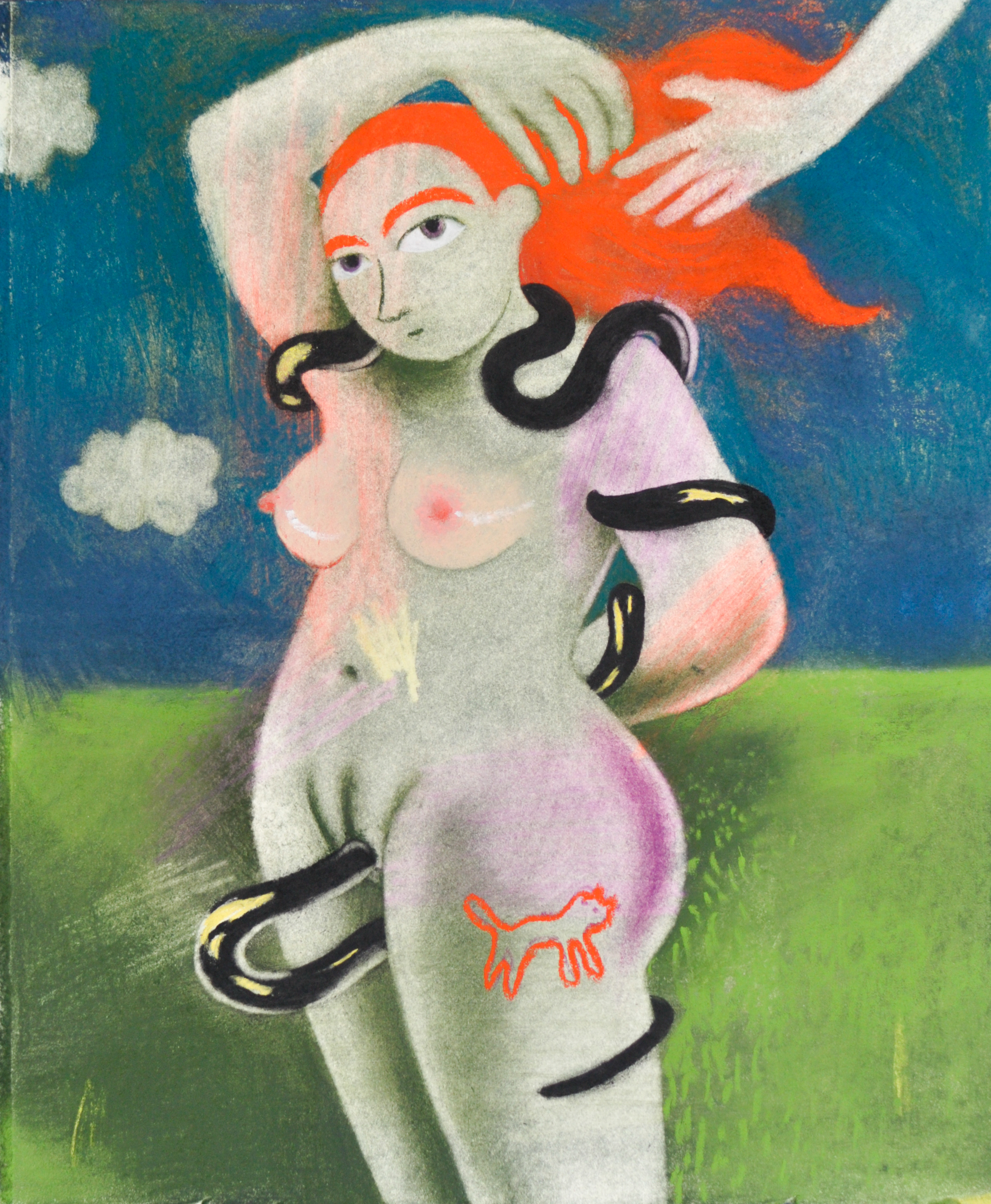 The women who appear in the drawings of Sara Anstis are up to something. The young Canadian artist portrays ladies at leisure—smoking, lounging and preening—in deft, sensuous strokes of pastel. Their eyes dart around them, as if they were aware of being observed by an unknown voyeur. The naked body is celebrated and, at times, transformed into new hybridized forms: a set of fingertips are given five pink nipples in one particularly surreal drawing, while genitalia is frequently emphasised and enlarged throughout.
The female gaze is central to Anstis's work, offering up a worldview that transcends and refutes the shame that is so often conferred upon women unafraid of their own sexuality. Her subjects are larger than life, powerfully sexualized and dominant in a feminine fantasy world.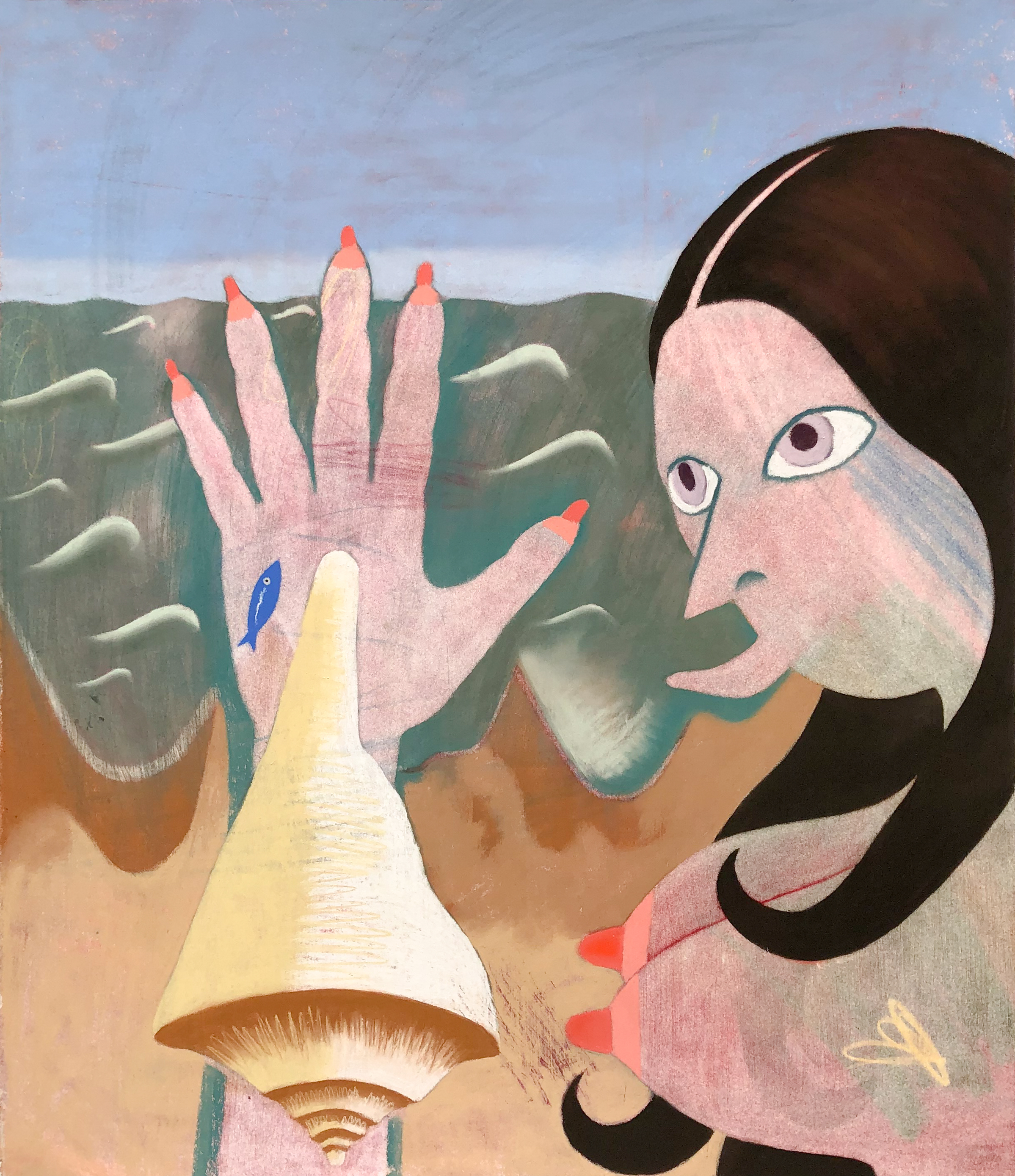 Why do you draw and paint mainly female figures in your work? Who are they, and what are they up to? They often look quite mischievous…
I'm still figuring it out. My work has changed a lot in the last year—I moved to London, I started using colour, I came away from a close use of source imagery. I became more open to being influenced by the images and people around me, mostly because I had nothing to lose. I was unhappy with how I was working in the studio. There's a vulnerability in moving somewhere new that made it possible to escape certain repressions.
I'm building a world that I'm excited to work on every day. It's emerging from what I drew as a child, and how I negotiate sexuality with humour and tenderness. My figures are in a world of their own but much of their mischievousness comes from being caught by a look and having a largely powerless witness for their actions and moods.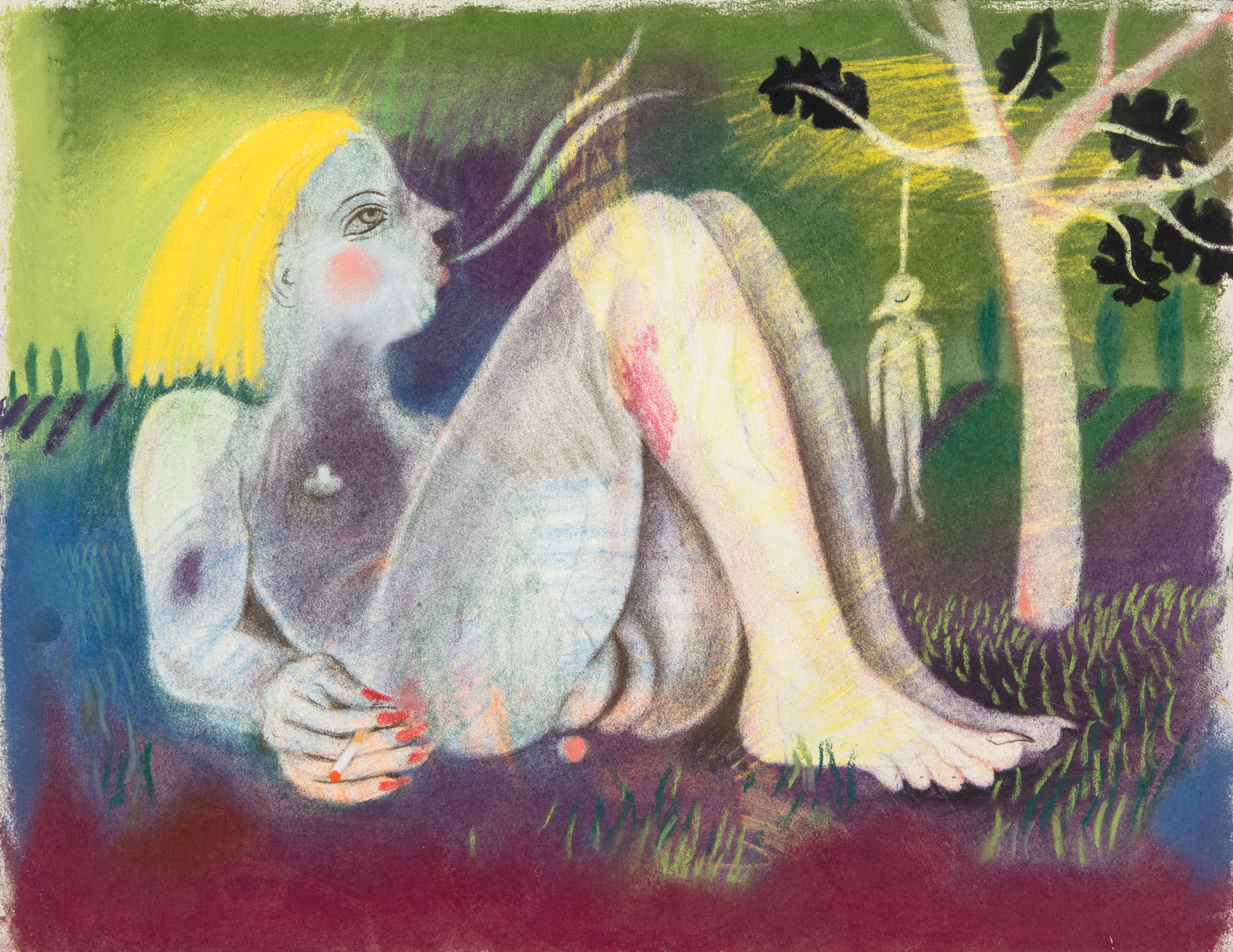 You previously studied sociology. How has this informed the compositions that you create now in the studio?
It informed my work more when I was basing my drawing installations on very loose participant observation research I did with social groups. I visited nudist groups and other people who have interesting relationships with their own notion of landscape. I was never completely comfortable in this role as it was a one-sided interaction, and this discomfort does influence my current work. I felt like a voyeur much of the time, whereas now I am peeking in through a keyhole at a group of people—my primarily female figures—who I can interact with on a different level and on mutual terms.
My research process consists of looking, exploring my unconscious, collecting and making up stories and spending time with animals and plants. There's a series of books called Les Malheurs de Sophie (Sophie's Misfortunes) I've been remembering from my childhood lately. They were written by the Comtesse de Ségur, a nineteenth-century author. In one of her books, Sophie cuts up her mother's small pet fish, without knowing why she does it or what will happen to them, though she sees them writhing and dying under her knife. I remembered this story and I was drawing a lot of fish at the time. I like stories that exemplify our lack of understanding for other beings, and for complicated animal worlds. In my images I want to stay in that space of not knowing, where something is not quite right and an other-worldliness can be sensed, where guilt and wonder are hand in hand and things are getting slippery.
Nudity is a common feature in your work. How important is the erotic for you in this context?
Nudity isn't always erotic but the nudity in my drawings usually is. I can't think of anything more boring to draw than clothing, though I love seeing how others do it. The exaggerated characteristics of my figures, the beautiful and enlarged labia and breasts that seemingly have their own agency, are created out of a bodily knowledge of sexual pleasure and the power this brings.
You work primarily with pastels on paper. What appeals to you about drawing in particular?
Soft pastels are a very sensual medium. I need a haptic relationship with the thing I'm making. I can rub pastels around on paper and my fingers have an unmediated connection with the surface. Paper is like skin: it remembers and it shows its history. Also I am impatient, and drawing is immediate.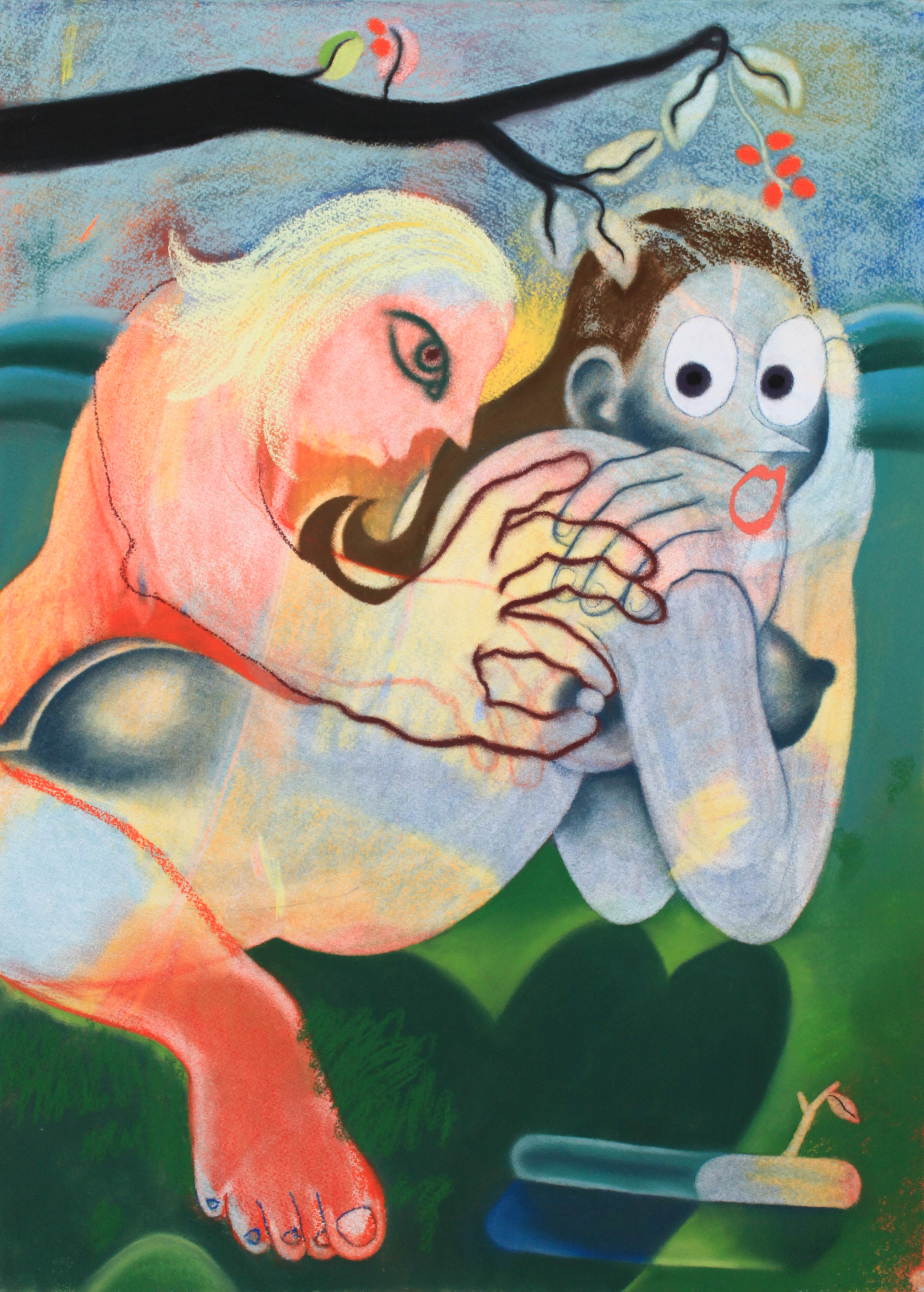 A number of young female figurative painters have found success in recent years, each with their own distinctive take on gender, sexuality and female representation. Where do you see your place in this burgeoning movement, and who are some of the artists (past and present) that have inspired you?
I couldn't say where I fit in there, but I do feel I fit and it's very exciting to see the work that's coming out of this development currently. Some artists who I admire include Tala Madani, Ambera Wellmann, Cheyenne Julien, Koak, Leonor Fini, Paula Rego, Paula Modersohn-Becker, Dorothy Iannone, Camille Henrot. I'm looking forward to seeing Carol Rama's watercolours and rubber paintings in the flesh for the first time next week at Lévy Gorvy in New York—I've been preoccupied with her for a while now—that and the Hilma af Klint exhibition.