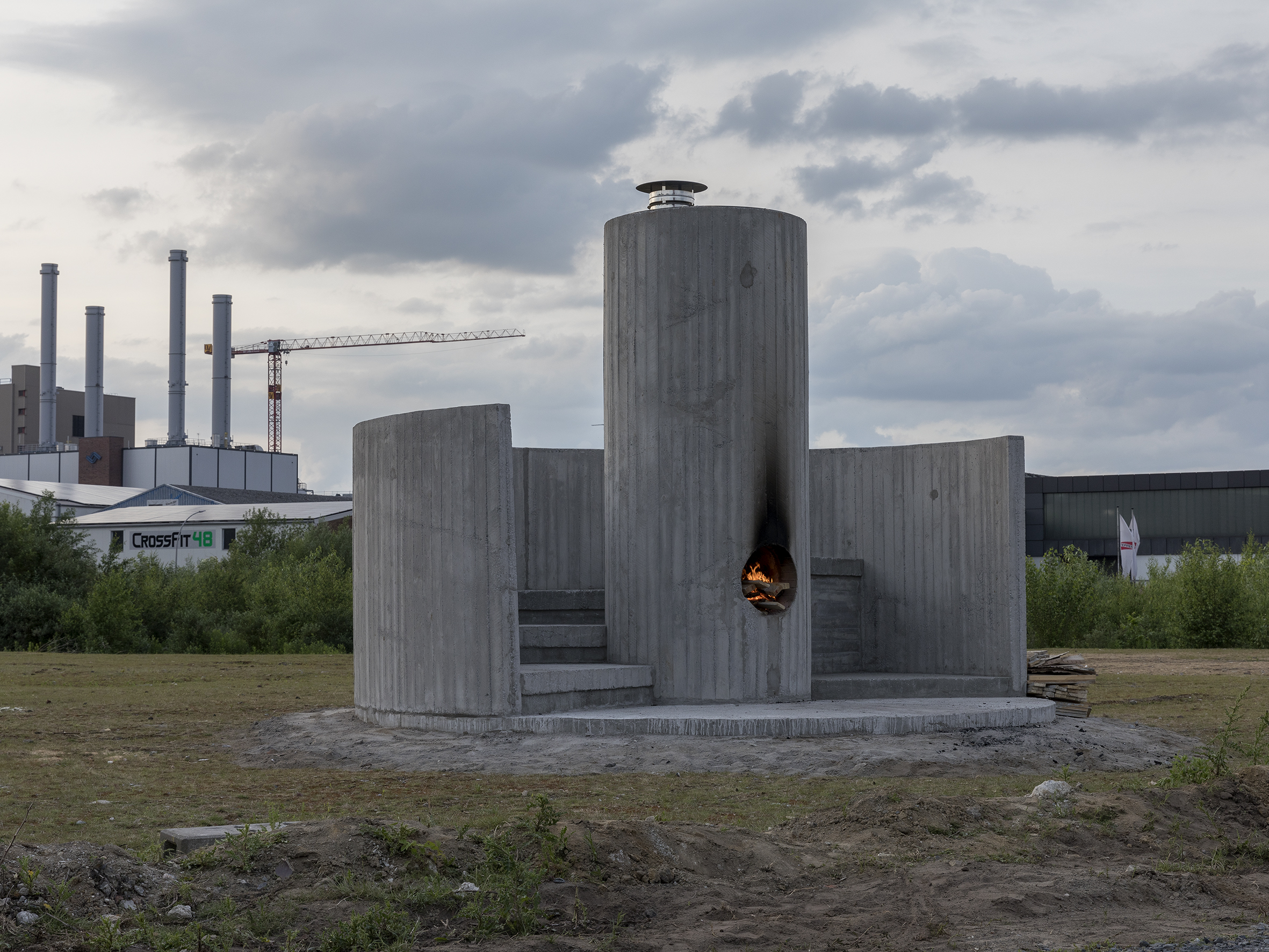 Most exhibitions begin with a vision and a clean white polished cube to exercise that viewpoint. What is entirely unique about Sculpture Projects Münster is that public art has been pasted into the city from as early as 1977. Every ten years the exhibition takes place, inviting artists from all over the world to deposit site-specific works into the North Rhine-Westphalia landscape. For the 2017 edition, Britta Peters and Marianne Wagner have curated the project, alongside longstanding artistic director Kasper Konig.
Collage, as a medium, is not an explicit focus of the very literal Sculpture Project, which is now in its fifth edition. Maybe it's even sacrilegious to mention the 2D cut and paste technique alongside such regal material vantage points, such as Claes Oldenburg's reinforced concrete Giant Pool Balls or Rachel Whiteread's alabaster book reliefs. However, coined and exercised in the early twentieth century by Georges Braque and Pablo Picasso, collage became the neo assemblage of the day. Flooded with modernity, politics, novelty, and the re-appropriation of life, the city of Münster evokes the uncanny feeling of walking through a collage in progress. Full of incongruent harmony and the bold gesture of public art against the backdrop of a bourgeois western daily life, readymades are pilfered, placed and arranged, leaving a neo gaze dripping from pages, canvases and streets alike.
The sculptures are dispersed all over the city and one has to simply seek and find. Oscar Tuazon is one artist who left the idyllic town centre in favour of the brutalist post-industrial surroundings near the river. The viewer must wander down a dirt path, past forgotten cranes awash with graffiti and rust, to find the work. En route, a gang of youths has decided to squat the elevated crane platform on the preview day. Their Adidas tracksuited legs and Nike 97s swing precariously in the air, the scene is reminiscent of Anne Imhof's performers, as they spit into the wind and holler, "It's down there–IT'S TOP! But we don't like rich people, let the proletariat rule and always love communism." The micro-monument is straight up ahead. Tuazon's concrete sculpture serves as a public fireplace, barbeque grill, outdoor heater and lookout point. Tuazon gives us the ultimate post-industrial real estate experience, the urban as the sensual, closer perhaps to the aforementioned gang's political wishlist for the future than most art world contributions. He encourages people to bring sausages to grill on his sculpture, jovial and hospitable. During the initial opening days, the fuel for the fire was the wooden formwork that originally cast the sculpture's mould, offset as a reminder of an automated past–not a 3D printed future. Although ironically this could also be the no-future postcard pic propped up on survivalist tendencies and end of the world narratives.
Hito Steyerl's work HellYeahWeFuckDie reacts to this dual positioning too, of a past and a future. Situated in a former zoo, the title is made up of the five most popular words in English-language pop songs from this decade, another Découpage of the contemporary, cut out and pasted in. Her multi-screened videos and monolithic concrete lightboxes present today's robots as tomorrow's dinosaurs. It has an unusual essayistic quality, looking at the way robotics progress today. The artist hones in on MIT and Robo Wars labs/field scenarios but there is no voiceover, she does not anthropomorphize the machines. We watch silently as they are hit, pushed, kicked and eventually collapse from their creator's efforts to improve them. What doesn't kill you makes you stronger, right? The second film part of Steyerl's installation is entitled Robots Today, and it explores the imagined life of thirteenth-century scholar Al-Jazari amidst images of the destroyed Kurdish city Diyarbakir in Turkey, where he worked. A child's voiceover asks Siri, the intelligent personal assistant app, "Who destroyed the city, Siri?". The app replies, "I'm not sure I understand". The stark contrast of the two films, in our empathy towards the robots as they fall and Siri's lack of comprehension of human disaster, asks the unbearable question: Who is the protected species in technology today? Do we value innovative form over life? The beauty of collage is that it manages to address the serious with the comic.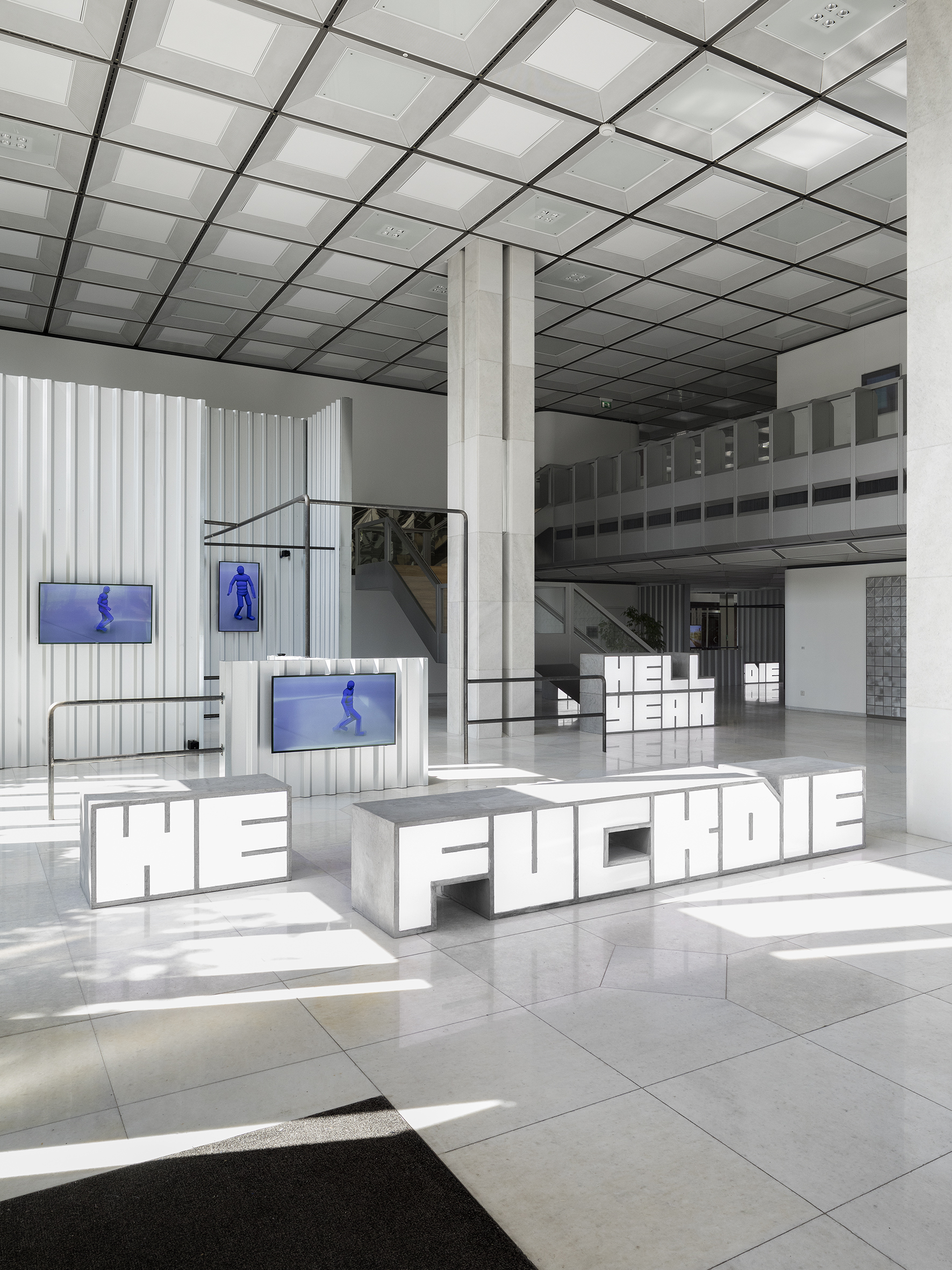 Close by Steyerl's work you can find Thomas Schütte's Kirschsäule. Erected in 1987 it is a simple sandstone pillar with two large glossy red cherries perched on top. This pop sculpture cutout has become the iconic emblem of Sculpture Projects Münster. The fun kitsch touch of adorning things with oversized fruits has wide appeal, permeating everyday lives with a little light relief of surrealism in this all too cryptic and equivocal world.
Another new commission is a large erected gable-headed tomb, emblazoned by the artist duo Peles Empire with what could easily be photocopied zine cutouts of the Peleş Castle in Romania (famously known for its outrageous cross-pollination of decor and home innovation). The structure blends with the traditional gabled architecture of the old city, resting neatly in a staged pseudo-reality. It's both robust and crumbling as the aluminium sheeting allows water to drip into the enclaved hollow. On the opposite side of the road, Ludger Gerdes's Angst glows in a manner that is reminiscent of a shop sign, with cute yellow calligraphy announcing impending (or saleable) angst, framed between a golfer and a church silhouette. The piece was originally installed in Marl in 1989 has been re-housed opposite the LWL Museum as part of the Hot Wire project between Marl and Münster. The two municipalities have exchanged works to allow for a new reading in alternate environments. It's fitting that Gerdes's work was one that was chosen as he dealt so often with the philosophical and aesthetic reflection of human existence in public space. Quietly but pointedly his work ruptures the skyline.
Konig playfully ended the press conference with a quote from the Dutch modernist and De Stijl innovator Theo van Doesburg. He declared, "Art cannot replace a toothbrush". A jab at Documenta 14's failing art activist programme perhaps, or merely a legitimate observation. What is refreshing about Sculpture Projects Münster is that it seems to humbly adhere to the simple articulation of public art for the public. Now, this may not seem revolutionary but it often feels as though star curators on public funds forget who they are supposed to be engaging with. Sculpture Projects Münster will not open the eyes of any well-trained cultural viewer to radical new ideas, but it does devolve from the machine of the art world in favour of a relaxed, outstretched expanse of public art which sits far more comfortably in the public sphere than most breathless white cubes.