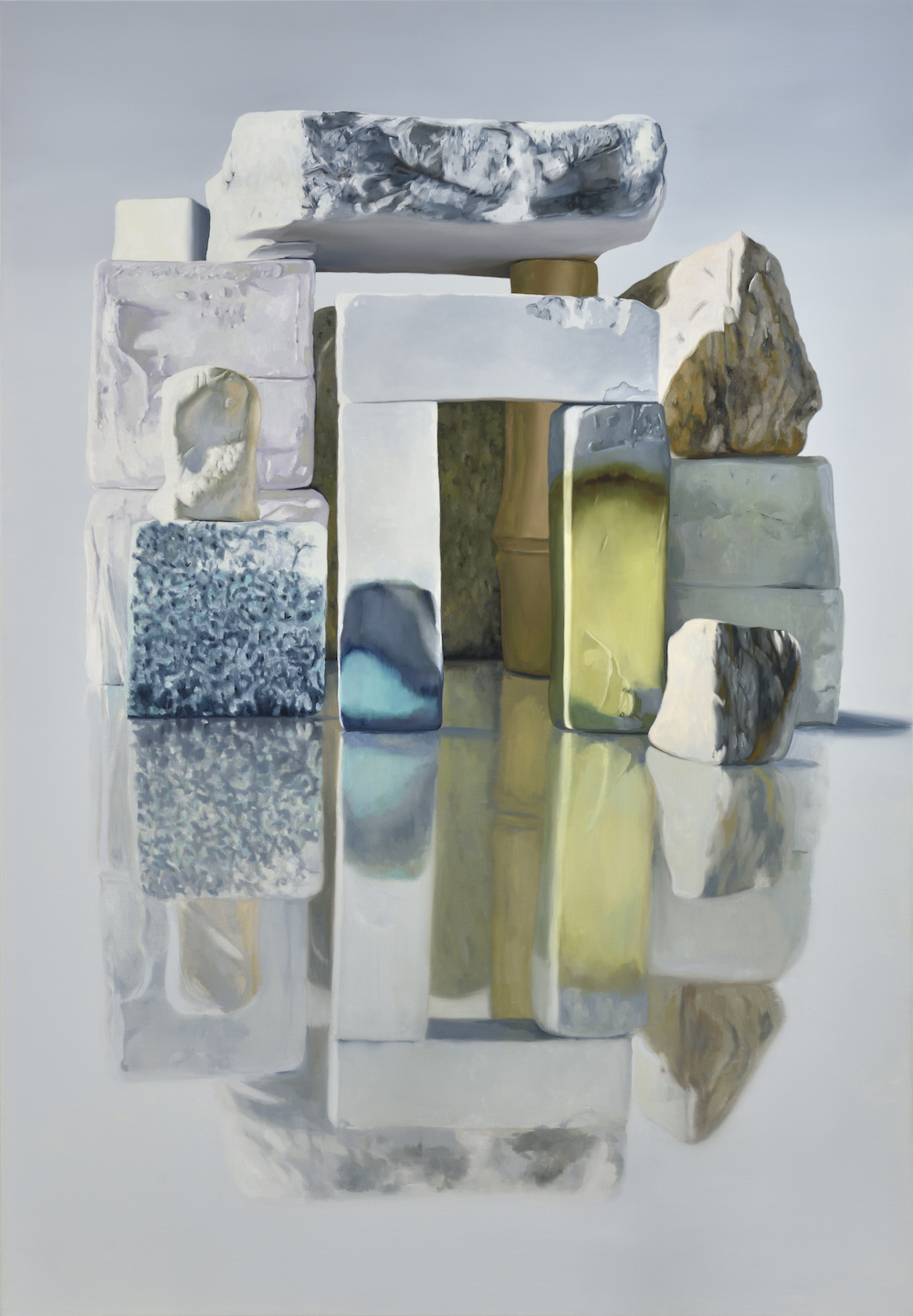 KUKJE gallery, the only Korean space included in the Kabinett section of the fair, have one of the strongest selections of art from within Asia. They have brought together Kimsooja, Kyungah Ham, Kim Yong-Ik, Haegue Yang and Wook-kyung Choi, with a selection of works which often utilise traditional techniques and materials, such as Chinese ink, to form impactful contemporary works; from Haegue Yang's energetic The Intermediate-Ikebana Dragon Ball, which looks as though it could spring to life and run off at any second, to Kwon Young-Woo's intricately painted 80s work, Untitled. The luminous, egg-like installation, Deductive Object, from Kimsooja is another highlight with the gallery, which sits separately in the Encounters section.
We're reminded of China's strong ceramic history in numerous pieces by western artists, from Danish-born Kirsten Coelho—her pared-back porcelain works are showing with Melbourne's THIS IS NO FANTASY + dianne tanzer gallery alongside hyper-real paintings of books from Australian artist Chris Bond—and Thomas Schütte, who is showing the deeply coloured and metallic urn-shaped ceramic sculpture, Gartenzwerge at carlier | gebauer.
The Berlin gallery is also showing work from Korean artist Kyungah Ham at the fair. Her What you see is the unseen/Chandeliers for Five Cities looks like a digital smear of city lights in motion or a series of threads up close. Listed materials include; North Korean hand embroidery, silk threads on cotton, middleman, anxiety, censorship, wooden frame. Anxiety, (though not listed as a material in any more pieces) can be found in other works with the gallery also, from Guillaume Leblon's empty, screaming aluminium hoodie in Bad Mouth, Bad Habits, to Peter Stauss's frenzied painting A-Boy and collector.
This sense of unease carries on with another Berlin gallery, Galerie EIGEN + ART, where strange events transpire in Neo Rauch's purple and yellow-tinged painting Das Messen, two central characters looking as though they're about to enter into a dispute, a small man's head popping out of another's backpack, while all around them, characters sleep, walk the streets and go about their business seemingly unaware of the potential fracas that lies in wait. Tim Eitel's characters are also lost in thought, wandering, in his paintings, into pulsing blocks of colour or viewed unaware through large glass windows.
Julian Charrière's COCONUT LEAD FONDUE is a particularly strong solo project at DITTRICH & SCHLECHTRIEM. Characteristically adventurous—literally—the body of work includes large-format photographs, coconuts in lead sarcophagi and found Bikinian coconuts on highly polished stainless steel pedestals. Parts of the world are presented as though they've come from another planet entirely, beautiful but oddly alien, and offering a glimpse of the dangers of human activity—the images, for example, from FIRST LIGHT, have had sand from nuclear 'hot' sites placed on the negatives during development.
Beijing gallery Tang Contemporary Art present photographic works from Zhao Zhao, which also displays the world in a strange manner; whether showing enormous track marks in sand from above, vastly outsizing the human figure who walks between them, or man-made, household constructions, sitting alone in the middle of a sun-beaten desert.
Pi Artworks, from London, present more otherworldly pieces, as with Maude Maris's painted tower of ice-like forms in Attique III, and Susan Hefuna's silvery, cast aluminium work, Beyond. Strangeness from the human world is included at the gallery also, as in Volkan Aslan's If I were someplace else—found porcelain and ceramic statuettes, including a curiously pained-looking cat in a floor length oriental robe.
Wang Jianwei twists the body in other, dark ways at Long March Space. Another No.8 depicts a man in a chef's hat, with one eye and his mouth turned, with the simple use of large black circles, into cavernous, skull-like holes. Other paintings, such as …the event matured, accomplished in sight of all non-existent human outcomes. create a disconcerting scene of the everyday, in this case, simply by aligning two large green bins within the yellow markings of a parking space.
Antwerp's Zeno X Gallery, is perhaps the most angst-ridden booth of all, combining Michaël Borremans's terrifying painting Mercy (a head and shoulders, zipped entirely, face and all, into a close-fitting, gold-toned hood) and Luc Tuymans's Twenty Seventeen, which depicts the horrified face, eyebrows arched and mouth agape, of a subject who has, just maybe, witnessed Borremans's hooded villain entering the room. Elsewhere at the gallery, slices of sculpted face, moodily-painted animal skulls and bodiless legs offer no help whatsoever in alleviating the impending sense of dread.
Art Basel Hong Kong is open to the public from 23-26 March. artbasel.com/hong-kong